Starting Today Admission to Orlando's Best Theme Park Is Up To 50% Off
What if I told you about a place in Orlando near it all, but feels like you've been whisked to a tropical island? A day destination that's nestled in between resorts and iconic theme parks but feels worlds away from the crowds and long lines of America's vacation capital. Well, starting November 9,  you can go to the theme park voted Orlando's best for as much as 50% off. 
It's Like a Day Trip to A Exclusive Tropical Island
A place where you can relax and explore rocky lagoons, and reefs teeming with fish, float down winding rivers with birds flying overhead, and stick your feet into soft white sandy beaches amidst lush island-like landscaping. You genuinely feel like you're on a Caribbean vacation right in the heart of Orlando.
Discover a Luxe Bucket List Experience Sheltered From the Hustle and Bustle of Orlando
It's not a Florida heat-induced mirage; it's Discovery Cove Orlando. This unique, all-inclusive, all-day outing offers guests a one-of-a-kind opportunity to swim with dolphins, snorkel among thousands of tropical fish and rays, hand-feed exotic birds, and encounter playful otters—all in a surprisingly stunning tropical atmosphere just 12 miles from Orlando International Airport. And you can get it all for much less with their Black Friday ticket sale. 
Travelers Voted It The Best Theme Park in Orlando in the USA Today 10 Best Poll
Discovery Cove is a 35-acre park right in the heart of Central Florida. Still, you'll think you're in the Caribbean or another island paradise. So if you've dreamed of experiencing the animal encounters at The Atlantis, but a trip to The Bahamas is not in the cards, consider this Orlando getaway with immersive animal experiences and opportunities to relax in a truly tropical environment. 
Beautifully framing it all is a meticulously maintained landscape of lush rainforests, vibrant tropical floral displays, cave, and beach settings, with all the conveniences of an all-inclusive resort. 
Their Black Friday Deal is The Best Time to Buy Tickets
Save up to 50% on reservations now through December 31, 2024, by booking their Black Friday deal between November 9 and November 24, 2023.

Choose from a Day Resort admission or the Signature Dolphin Swim package, which includes all the amenities and experiences of a Day Resort, including freshly prepared meals, snacks, and beverages, snorkeling among thousands of tropical fish and rays, hand-feeding exotic birds, and more – plus an intimate encounter with a bottlenose dolphin.
Add-ons are Also on Sale
Save 30% on selected upgraded experiences:
Day Beds: Lounge in luxury; day beds seat two adults comfortably and offer a covered setting with plush chaise lounges overlooking the park's tropical landscaping and pristine beaches.
Private Cabanas: Seat 6-8 guests in a secluded setting. They include tables and chairs, chaise lounges, a private locker, unlimited snacks and beverages, fresh towels, eco-friendly sunscreen, and more.
SeaVenture: is an underwater walking tour that allows guests to come face-to-fin with tropical fish and velvety rays in The Grand Reef.
Animal Trek: takes place in a lush, private oasis where guests encounter a variety of bird species and animal ambassadors such as an anteater, armadillo, kinkajou, or sloth.
Over 20 Years of Mature Luscious Landscaping Immediately Transports You
First opened in 2000, this lush tropical oasis's entire property comprises 60 acres of managed landscaping maintained around the clock. That's why you feel completely transported, yet only 9 miles away from Epcot and 6 miles from Universal Studios. 
While built 23 years ago to create an ideal natural habitat for the animals, the park's landscaping also creates a relaxing atmosphere for day guests who love an island getaway without actually having to travel to an island.
So Leave Those Long Lines and Crowds Behind
If you love Orlando, but don't like the throngs of people in America's largest travel destination, book a day at Discovery Cove. It caps ticket sales at approximately 10% of Magic Kingdom's capacity, so even during peak travel periods, like our Spring Break visit, you'd never know the city is filled to the brim with tourists. 
Reservations are required to keep the park to a smaller amount of visitors and you feel it. It's not only an utterly relaxing vibe but one that feels exclusive. Long gone are the giant entry lines of other theme parks. Instead, your VIP day starts in a Polynesian-style reception building with a 1:1 check-in. You'll soon walk down a nature-rich path, spotting animals and hearing waterfalls. 
It's An All-Inclusive Day in An Orlando Oasis
And when you're ready for a meal, snack, beverage, or cocktail, it's all included in admission. Like a cruise, freshly prepared delicious meals, snacks, and drinks are available throughout the day, anytime. Breakfast, lunch, beer, and wine are included with the base ticket option.
It's An Animal-Lovers Paradise
Visitors can swim with dolphins in a naturalistic lagoon, glide through the water among thousands of tropical fish and rays in The Grand Reef, hand-feed hundreds of exotic birds in the Explorer's Aviary, encounter playful otters in the Freshwater Oasis, drift through underwater caves on Wind-Away River, and simply relax under the sun and swaying palms on the sugar-white beaches.
And the fantastic part is, you don't have to choose from the long list of things to do. Their generous hours plus no lines allow you to experience all Discovery Cove offers in one day. 
See Animals in Their Home
Discovery Cove is home to Atlantic bottlenose dolphins, sharks, southern and cow nose rays, otters, thousands of brilliantly colored tropical fish, and more than 250 exotic birds.
They are dedicated to conservation as well as inspiring others to appreciate, respect, and love animals.
Connecting the outdoor adventures to the importance of protecting these natural wonders and the animals that call it home is part of the Discovery Cove mission. For example, the orientation before a Dolphin encounter includes a brief but powerful educational message that we'll all remember.
A Once In a Lifetime Experience – The Dolphin Lagoon
The highlight of most visits to Discovery Cove is the opportunity to get up close with an Atlantic bottlenose dolphin. Accompanied by a trainer, groups of seven to nine guests wade into shallow water and become acquainted with a dolphin through various animal behavior demonstrations. Swimming with a dolphin was my young daughter's dream. So when Discovery Cove invited us for a visit, we jumped at the chance to have this once-in-a-lifetime experience. 

Children must be six years old for the dolphin experience and our kindergartener was just old enough to participate. The trainer and staff were warm and caring about her nervousness and slow acclimation to the lagoon's cool water.
The Oh So Grand Reef 
A below-the-surface world teeming with sea life is at one end of the park. The Grand Reef contains multiple levels of exploration, from shallow waters to deeper swimming adventures for different comfort levels. Our six-year-old, who didn't want to snorkel, enjoyed wading in the shallow water and having the rays swim right up and around her.
It Also Offers Experiences for Older Guests
My husband enjoyed snorkeling in deeper waters as thousands of exotic fish and graceful rays swam about in canyons inspired by real-life reefs from around the world. Grab a wet suit, as The Grand Reef's water is colder than other parts of the park.
Kids Not Comfortable Snorkeling? It's Still Worth It
Families can build castles along the white sandy beaches, explore along the water's edge or cross a bridge to see sharks swimming below if the colder waters, snorkel gear, or animals are too much for younger ones.
There's Lazy Rivers and Then There's the Wind Away River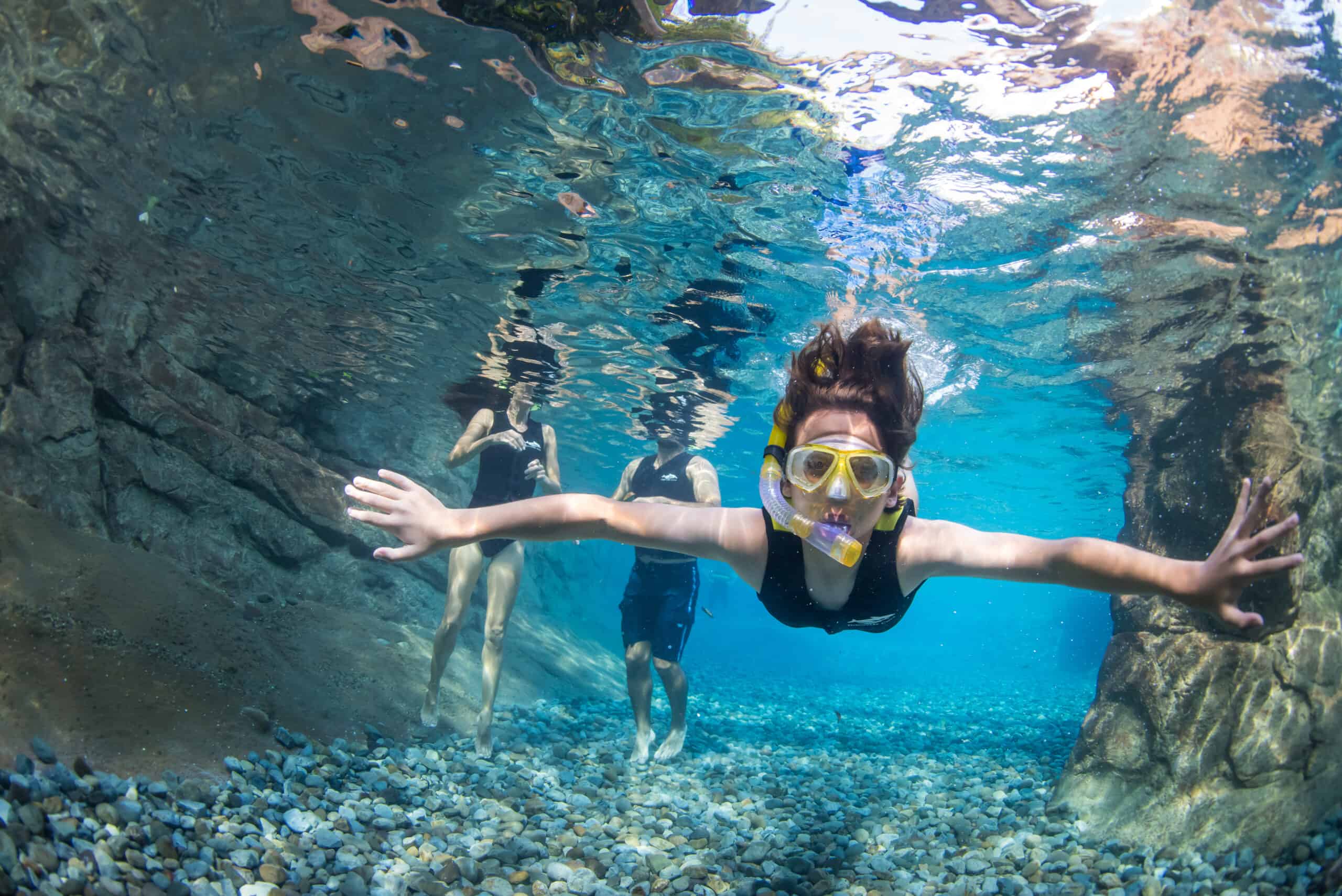 This waterway meanders through the park, encountering beaches, palm-covered walkways, and rocky lagoons. Guests swimming through the Wind-away River see different environments, such as a sunny island beach, a dense tropical forest, and an underwater cave. Those who prefer a more relaxing river experience can grab a floatation device.
Don't Skip The Freshwater Oasis
As you float along the river, remember to stop for face-to-face encounters with playful otters in the cave and curious marmoset monkeys along the river.
Designed with a rainforest canopy above and sparkling clear springs below, guests can see these animals close up. Remember your goggles, as the otters' cave includes an underwater option where you can watch them dive for their meal. That is, if you can hold your breath long enough.
The Explorer's Aviary
Is there another lazy river in the world with beautiful birds flying above your head? Well, Discovery Cove's free-flight space with over 250 exotic birds neighbors the river providing a fun preview of the Aviary. Here you can hand-feed hundreds of birds and interact with some as tall as four feet.
Serenity Bay Beaches and Pools
Take a break; it's vacation, after all! Laze on Discovery Cove's sugar-white beaches, lined with swaying palms, tropical foliage, and quaint thatched huts. Thanks to their limited admission policy, sunning lounges and beach chairs are always available no matter what time you're looking for one. Buckets and sand toys are sprinkled along the beach for kids to enjoy, as well as premium pool noodle-type floats to relax in the water.
There's No Need To Pick –  Try All the Fab Food and Drink Options
Included with admission, guests at Discovery Cove can enjoy unlimited access to a fantastic selection of food and drinks all day. So try a little bit of it all!
Laguna Grill
A freshly prepared breakfast is served at Laguna Grill from 7:30 a.m. to 10:30 a.m., followed by lunch from 11 a.m. to 3 p.m. From familiar fare to chef specials, all dishes are prepared with fresh ingredients. Offerings include daily seafood selections, salad options, and vegetarian dishes available. We thoroughly enjoyed our coconut-crusted salmon and mojo pork with fab sides.
No Need To Eat Only At Certain Times
Marketplaces throughout the park offer all-day service, from yogurt and soft pretzels to fruit smoothies and gourmet coffees. When taking a break from the water, grab ice-cold beverages, including bottled water, soft drinks, or adult drinks.
Kids will enjoy the selection of non-alcoholic frozen drinks, such lemon or mango, perfect for a hot Orlando day.
There's No Blues at the Blue Bamboo Bar
This spot has a fun, island-style tiki bar vibe where guests can hang out on the playful swing seats or pick up unlimited grab-and-go snacks throughout the day.
My elementary-aged kids loved getting chocolate chip cookies, soft pretzels, and chips whenever they wanted, right next to Serenity Bay.
Love Tropical Drinks? Don't Miss Their Delicious Signature Cocktails
The bartenders are serving up four refreshing new signature drinks, available for purchase a la carte or as part of Discovery Cove's premium drink package. We loved enjoying these refreshing, tropical-style cocktails throughout the day. 
The Fun Hibiscus Hideaway
On your way to or from The Great Reef or The Dolphin Lagoon is a chance to sample food, especially with kids in tow. Grab freshly baked pizza slices from 10:30 a.m. to 4:30 p.m. and Dole Whip-like pineapple soft serve or vanilla ice cream.
Or just relax in one of the swings with a drink in hand. 
A Very Special Add-on: Animal Trek
This experience gives guests six years and older a private behind-the-scenes tour and meet-and-greet with birds and small mammals. The trek begins in a private park oasis where guests come face to beak with various bird species and meet an anteater, armadillo, kinkajou, or sloth.
Early Risers Can Feed The Rays
This exclusive opportunity allows guests to feed the stingrays during a private tour of the Grand Reef before it opens for the day. Visitors six years and older can experience this exciting and educational hands-on experience.
Yes, You Can Walk Under Water
If you've watched any Discovery Cove YouTube videos, the odds are that you've seen people doing the impossible – walking underwater. On SeaVenture, guests ten years and older can wear dive helmets, sink the bottom of the Great Reef to view dozens of sharks and experience one-on-one touches with unique animals and schools of fish and gentle rays.
You Can Even Swim with Sharks
If you're ten or older, and brave enough, the Discovery Cove Shark Swim program provides closer-than-ever encounters with these legendary predators. Under the careful guidance of the park aquarist team, you'll get the chance for hands-on interaction and a white knuckle snorkel through their habitat.
Become a Discovery Cove Trainer For A Day
The Trainer for a Day program allows guests to indulge their love for animals. You'll be able to have a second enhanced deep-water interaction with dolphins, along with a private photo session with two dolphins (vs. just one in the dolphin encounter. )
You'll also receive a behind-the-scenes tour of all Discovery Cove support areas, shadowing a real trainer for the day, feeding tropical fish, and special meet-and-greets with tropical birds and small mammals.
Planning a Couples Trip To Orlando?
Yes, Discovery Cove is a fantastic family outing, but don't dismiss it for a special couples day out. It was awarded The Most Romantic Thing to Do in Orlando on USA Today's 10Best for a reason.
Romantic Occasion or Extra Special Celebrations Are Another One of Their Specialties
Discovery Cove dolphins have assisted in countless watery wedding proposals, launched love notes, and been a splash at the best birthday celebrations. Imagine a bottlenose dolphin delivering a personalized message on a keepsake buoy at the end of your dolphin experience. 
Plan ahead for 2024 big moments and save big!  Book this offer directly on their website or call 407-513-4600.
25 Day Trips from Orlando Once You've Done The Theme Parks
Odds are you're planning or thinking about a trip to Orlando. The most visited tourist destination in America draws 75 million people a year. Despite being known as the theme park capital of the world, there are many other things to do in Florida in and around Orlando.
So if you're looking to add variety to your next Orlando vacation, consider one of these 25 day trips to Florida's beaches, parks, historical sites, museums, and nearby towns.
25 Day Trips from Orlando Once You've Done The Theme Parks
 17 Thrilling Orlando Golf Courses (Starting at $16 a Round)
Did you know that Orlando is also The Happiest Place on Earth for golfers?
From world-renowned championship courses to breathtaking resort layouts and family-friendly par 3s, there's something for everyone and every budget. Whether you're an experienced golfer, just starting, or looking for a course to take your kids, choosing from the over 200 Orlando golf courses can be daunting.
Check out our curated list of the best Orlando golf courses so that no matter which one you choose, your day playing is sure to be a memorable one!
17 Thrilling Orlando Golf Courses (Starting at $16 a Round)
30 Reasons Families Prefer Legoland Florida to Disney World Theme Parks
Our family spent the last two Spring Breaks in Orlando, the most visited destination in America, but we had two very different experiences.  In 2022, we had a typical Orlando family vacation visiting Disney theme parks. Then, in 2023,  we went to non-Disney theme parks, including Legoland Florida, and it was a night-and-day experience.
After these two trips, our family prefers Legoland Florida to Disney World. And it turns out we're not the only ones. After interviewing 25 other families who feel the same, here's why people are opting for days with Emmet, Lloyd, and Master Wu instead of Elsa, Luke, and Mickey Mouse. 
30 Reasons Families Prefer Legoland Florida to Disney World Theme Parks
Small Vacation Budget? No Problem! New Report Unveils The Top 10 Cheapest Destinations
If you're one of the 20% of recently surveyed Americans whose financial concerns significantly impact the decision to travel soon, this new report could save your next vacation. If you're over road trips and ready to explore more of the world, here are the top 10 cheapest destinations on average for US travelers based on flight prices.
Small Vacation Budget? No Problem! New Report Unveils The Top 10 Cheapest Destinations
Here's How I Saved $7,000 On Our Summer Family Vacation To Hawaii
With its unique aloha spirit, volcanic mountain terrain, tropical rainforests, national parks,  fantastic food, and the best beaches in the world, it's not a surprise that Hawaii is a top destination on people's vacation wish lists.
If you think it's out of reach for your family to visit the Aloha state, here's how I saved $7,000 on our trip with just two booking strategies. 
Here's How I Saved $7,000 On Our Summer Family Vacation To Hawaii
This article was produced by Planner at Heart.