Celebrate Disney World's 50th Anniversary by Looking Back at 30 Memorable Moments
The resort is pulling out the stops to bring new experiences to Orlando guests during an 18-month fete celebrating Walt Disney World's 50th anniversary, from a sparkling Cinderella Castle "glow-up" and "EARidescent" partywear for Mickey Mouse, Minnie and the gang to a new ride and innovative restaurant concept at EPCOT.
To help you look back, and perhaps rustle up some of those childhood memories, here are 30 incredible photos that showcase Walt Disney World's 50-year history ahead of the anniversary. But since nostalgia has always been the name of the game for Walt Disney World fans, there's no better way to get excited about looking forward than to first look back at some of the meaningful milestones that have made the Most Magical Place on Earth just that.
1. Transport Yourself Back to The Happiest Place On Earth
Just as the iconic plaque reads as guests pass beneath the Walt Disney World Train Station and enter the Magic Kingdom — "Here You Leave Today And Enter The World Of Yesterday, Tomorrow And Fantasy" — Walt Disney World is as much about the past as the future.
2. Walt and Roy O. Disney Announce Plans for Walt Disney World — 1965
Disney / SimpleMost
On Nov. 15, 1965, during a press conference in Orlando, Walt and Roy O. Disney announced their plans for Walt Disney World. Ground was broken on May 30, 1967, and the gates opened to guests less than four-and-a-half years later. Here, a photo of construction on Main Street, U.S.A. shows a mostly complete train station and, in the top right corner, the beginnings of the building that now houses Tony's Town Square Restaurant and the Town Square Theater.
3. Dumbo the Flying Elephant Under Construction — 1971
Disney / SimpleMost
Dumbo the Flying Elephant was one of 23 opening-day attractions in Magic Kingdom Park at Walt Disney World on Oct. 1, 1971. The first version of the beloved spinner ride, based on the 1941 animated film "Dumbo," first opened at Disneyland Park in 1955.
Other opening-day attractions at Magic Kingdom Park included: the Mad Tea Party, Grand Prix Raceway, Swiss Family Treehouse, Mr. Toad's Wild Ride, Jungle Cruise, Mike Fink Keel Boats, "it's a small world," Frontierland Shootin' Arcade, Hall of Presidents, Haunted Mansion, Mickey Mouse Revue, Diamond Horseshoe Revue, Tropical Serenade, Country Bear Jamboree, Snow White's Adventures, Walt Disney World Railroad, Skyway and 20,000 Leagues Under the Sea: Submarine Voyage.
4. Haunted Mansion Under Construction
Disney / SimpleMost
Another opening-day attraction, Walt Disney World's Haunted Mansion exterior design was a major departure from the original version, an antebellum-style Southern mansion that opened in Disneyland Park's New Orleans Square area on Aug. 9, 1969. Set in Colonial-era Liberty Square, Magic Kingdom's Haunted Mansion incorporates Dutch Gothic elements "typical of pre-Revolutionary New York's lower Hudson River Valley," Jason Surrell wrote in "The Haunted Mansion: Imagineering a Disney Classic."
5. Cinderella Castle Under Construction
Disney / SimpleMost
Walt Disney World's Cinderella Castle took just 18 months to build. The castle's chief designer, Herb Ryman, also worked on Disneyland's Sleeping Beauty Castle. Ryman and his team drew inspiration from European castles as well as original designs from the 1950 animated film "Cinderella." The design of the lower portion of the castle is Romanesque, inspired by medieval fortresses of the 11th to 13th centuries, while the top portion is Gothic. The castle was built using a combination of concrete, steel, cement, plaster and fiberglass.
6. Topping Off Cinderella Castle
Disney / SimpleMost
Completed in July 1971, Cinderella Castle measures 189 feet tall, which, at the time of construction, was the tallest a structure in Florida could be without needing a warning light at the top, as required by the Federal Aviation Administration (FAA).
While the castle is indeed tall enough to be visible from the surrounding resorts, across the Seven Seas Lagoon and from a number of elevated viewpoints across Walt Disney World, on the ground, it appears even taller than it is thanks to the use of forced perspective.
The castle's original iconic gray, blue and gold color scheme has been replaced with a primarily pink "EARidescent" makeover for the 50th-anniversary celebration.
7. Disney's Polynesian Village Resort Construction — 1971
7 / 30
Disney / SimpleMost
Two resorts opened along with Magic Kingdom on Oct. 1, 1971:  Disney's Polynesian Village Resort and Disney's Contemporary Resort. Construction began on Disney's Polynesian Village resort less than eight months before it opened to the public. The resort first opened with 492 rooms in eight longhouses and was expanded in 1978, 1984 and 2015. The 2015 expansion introduced Disney Vacation Club's Disney's Polynesian Villas & Bungalows. A room reimagining completed in July 2021 introduced a Moana-inspired theme to the resort's hotel rooms.
8. Magic Kingdom Opens — Oct. 1, 1971
Disney / SimpleMost
Walt Disney World's Magic Kingdom in Orlando opened on Oct. 1, 1971, 16 years after Walter Elias Disney's first theme park, Disneyland, opened in Anaheim, California, on July 17, 1955. The park welcomed 10,000 guests on opening day, with 23 rides and attractions available. A number of restaurants that remain open today also opened on Oct. 1, including Crystal Palace Restaurant, Sunshine Tree Terrace, Pinocchio Village Haus, Pecos Bill Café and Liberty Tree Tavern.
The Walt Disney World Monorail system, Disney's Polynesian Village Resort and Disney's Contemporary Resort all opened on Oct. 1, 1971 as well and will all be celebrating their 50th anniversaries along with Magic Kingdom this year.
9. Disney's Contemporary Resort Opens — 1971
Disney / SimpleMost
Disney's Contemporary Resort opened with Walt Disney World on Oct. 1, 1971, and today remains one of Disney World's most iconic visuals, with the Monorail running through the resort's A-frame tower. The lobby's interior is similarly memorable with the vibrant, kinetic energy of the Monorail passing by and a 90-foot-tall tile mural created by Disney Legend Mary Blair, who was also responsible for the colors and designs of the "it's a small world" ride as well as animated films such as "Alice in Wonderland" and "Peter Pan."
10. Inside Top of the World Restaurant at Disney's Contemporary Resort
Disney / SimpleMost
California Grill, one of Walt Disney World's most popular restaurants, opened on the 15th floor of Disney's Contemporary Resort in 1995. But before it was California Grill, it was Top of the World Restaurant, which opened in 1971. Guests have flocked here for 50 years for the great food and incredible views of Magic Kingdom, Seven Seas Lagoon, Bay Lake and the surrounding resorts.
The restaurant served fine-dining classics of the time, like shrimp cocktail and prime rib. A three-course meal with salad, appetizer and entree cost just $8, and guests could splurge on a la carte desserts for just $0.75-$0.85!
In honor of the restaurant's 50th anniversary, California Grill is serving a limited-time three-course prix fixe menu featuring some dishes inspired by 1971 favorites.
11. Walt Disney World Dedication Ceremony — Oct. 25, 1971
Disney / SimpleMost
Although Magic Kingdom Park opened on Oct. 1, 1971, a three-day grand opening ceremony was held several weeks later. Walt Disney died in 1966 and was never able to see his "Florida Project" come to fruition, but his memory was honored during a dedication ceremony held on Oct. 25, 1971. Walt Disney's brother and business partner Roy O. Disney was present to read the official dedication, which included the following:
"Walt Disney World is a tribute to the philosophy and life of Walter Elias Disney … and to the talents, the dedication and the loyalty of the entire Disney organization that made Walt Disney's dream come true. May Walt Disney World bring joy and inspiration and new knowledge to all who come to this happy place … a Magic Kingdom where the young at heart of all ages can laugh and play and learn — together."
Roy's dedication was particularly poignant in that it echoed inspiration his brother Walt's now-iconic words spoken in 1955 at the dedication of Disneyland: "To all who come to this happy place — welcome."
12. Pirates of the Caribbean Construction — 1973
Disney / SimpleMost
Despite the ride's popularity since opening at Disneyland on March 18, 1967, Pirates of the Caribbean was not originally planned for Walt Disney World. But it wasn't long before the plan changed and one of the Disney World's most enduringly popular rides was built and opened at Magic Kingdom on Dec. 15, 1973.
The attraction has received two particularly notable updates during its more recent history. On July 7, 2006, timed to coincide with the release of "Pirates of the Caribbean: Dead Man's Chest," the attraction introduced updates inspired by the film, including the addition of characters Capt. Jack Sparrow and Capt. Barbossa.
On March 19, 2018, Disney flipped the script on the controversial bride auction scene, recasting the Redhead character who had been up for auction, this time as Redd the pirate.
13. Tomorrowland Expands — 1975
Disney / SimpleMost
Tomorrowland's crown jewel, Space Mountain opened on Jan. 15, 1975, part of a second phase of development for Walt Disney World that included Pirates of the Caribbean, the Star Jets (now Astro Orbiter) and an expansion of Disney's Fort Wilderness Campground. Space Mountain's iconic design was dreamed up by Disney Legend John Hench in the 1960s, but it took many years for the technology to catch up with Hench's design enough to make the ride a reality. The success of Magic Kingdom's Space Mountain led Disney to open a version at Disneyland in 1977.
14. Lake Buena Vista Village
Disney / SimpleMost
Before there was Disney Springs there was Downtown Disney, and long before that, there was Lake Buena Vista Village. Lake Buena Vista Shopping Village opened on the shores of Village Lake on March 22, 1975. The area featured "clusters of boutiques, and handicraft merchandise shops, with atmosphere and activities designed to form a 'harmonious whole,'" according to a post by D23.
The area continually evolved through the years, first to Walt Disney World Village in 1977, then to Disney Village Marketplace in 1989, Downtown Disney Marketplace in 1997 and eventually to The Marketplace at Disney Springs, part of the vibrant shopping, dining and entertainment district we know today.
A 1977 addition to the area that is still particularly recognizable today is the triple-decker paddleboat that now houses the restaurant Paddlefish. Opened first in 1977 as the Empress Lilly, named for Walt Disney's widow, Lillian, the restaurant later became Fulton's Crab House before opening as Paddlefish in 2017.
15. Big Thunder Mountain Railroad Construction
Disney / SimpleMost
It's hard to imagine Magic Kingdom without "the wildest ride in the wilderness," but the park was open nearly nine years before guests were holding onto their hats and glasses and taking off on the beloved runaway train ride. Disney World's Big Thunder Mountain was preceded a year earlier by Disneyland's version, designed by Walt Disney Imagineer Tony Baxter to resemble Bryce Canyon National Park in Utah. Walt Disney World's version takes its inspiration from Monument Valley.
A new interactive queue, opened in 2013, introduced an enhanced backstory and new leading character, Barnabas T. Bullion, to the ride. Bullion is the owner and president of the Big Thunder Mining Company, and he's also a member of the Society of Explorers and Adventurers, a fictional organization and mythology that connects a wide range of stories and attractions across the Disney parks worldwide.
16. EPCOT Construction Begins
Disney / SimpleMost
Walt Disney recorded a film on Oct. 27, 1966, that outlined plans for the "Florida Project," including Disney World and an Experimental Prototype Community of Tomorrow (EPCOT), but he died less than two months later, on Dec. 15, 1966. It wasn't until July 14, 1975, that preliminary plans for EPCOT were formally announced, and on Oct. 1, 1979, construction began.
"EPCOT will always be in a state of becoming. It will never cease to be a living blueprint of the future," Walt Disney famously said, and the quote still holds true today, and EPCOT continues to undergo a massive multi-year transformation.
17. Epcot Opens — Oct. 1, 1982
Disney / SimpleMost
Eleven years to the day after Walt Disney World opened, Epcot Center (now just EPCOT) opened on Oct. 1, 1982. Five Future World pavilions — Spaceship Earth, Universe of Energy, World of Motion, Journey Into Imagination and The Land — opened on day one along with nine World Showcase pavilions — Mexico, China, Germany, Italy, The American Adventure, Japan, France, United Kingdom and Canada. The Morocco pavilion opened in 1984 and the Norway pavilion opened in 1986.
The Living Seas, which is now The Seas with Nemo & Friends, ride at EPCOT on Jan. 15, 1986. The pavilion houses the 5.7-million-gallon Caribbean Coral Reef Aquarium, one of the world's largest man-made ocean environments.
18. Mickey's Birthdayland Opens at Magic Kingdom — June 18, 1988
Disney / SimpleMost
Mickey's Birthdayland at Magic Kingdom opened on June 18, 1988, in celebration of Mickey's 60th birthday. The three-acre area featured toon-themed buildings inspired by Duckburg, with Mickey's house at the center. The land was a stop on the Walt Disney World Railroad and a popular meet-and-greet area to meet Mickey Mouse and Minnie Moo, a real cow with Mickey-shaped spots. Originally planned as a temporary land for the year-long celebration, the area's popularity led to its evolution into Mickey's Starland in 1990.
19. Disney's Hollywood Studios Opens — May 1, 1989
Disney / SimpleMost
Disney World's third theme park, Disney's Hollywood Studios, opened as Disney-MGM Studios on May 1, 1989. The park's grand opening gala was held in front of the Chinese Theater, which at 9:10 scale is a near replica of the original Hollywood landmark. The Chinese Theater originally housed The Great Movie Ride, which was replaced by Mickey & Minnie's Runaway Railway in 2020.
20. Disney's Typhoon Lagoon Water Park Opens — June 1, 1989
Disney / SimpleMost
Walt Disney World guests got a new way to beat the Florida heat in the summer of 1989 with the opening of Disney's Typhoon Lagoon Water Park. Inspired by the popularity of Disney World's first water park, Disney's River Country, which opened in 1976 and closed in 2001, Disney's Typhoon Lagoon began with only a name, recalled Typhoon Lagoon senior concept designer Chris Runco in a Disney Parks Blog post:
"A group of us were asked to come up with a style and a story that fit the name — this is backwards from the way most WDI projects were done; usually the name is settled on later," Runco said. "My first take, scribbled late at night in my garage, was a fishing boat stuck in an immense, Swiss-Family-Robinson-scale tree. Then I settled on landing the boat up on top of a mountain, with waterslides gushing down in all directions — and a geyser shooting out of the ship's smokestack."
The rest, as they say, is Disney history, as the idea stuck and the park's story of a massive and unexpected storm and a subsequent tidal wave developed from that name and Runco's concept. The park's iconic centerpiece is a ship, the "Miss Tilly," stranded atop Mount Mayday.
21. EPCOT Area Resorts Begin to Open — 1990
Walt Disney World Swan and Dolphin Resort / SimpleMost
Beginning with the opening of Disney's Yacht and Beach Club Resorts in November of 1990, the Epcot resort area we know today began to take shape. In 1991, the Walt Disney World Swan and Dolphin opened in January and June, respectively. Five years later, in July of 1996, Disney's Boardwalk Resort and the restaurants and entertainment of Disney's Boardwalk opened, creating a lively network of resorts and dining a quick walk from EPCOT and rivaling the Monorail loop.
Designed by famed architect Michael Graves with direction and vision contributed by former Disney CEO Michael Eisner, the Walt Disney World Swan and Dolphin Resort is well known for its unique facades and massive statues that top each structure. Two 56-foot tall dolphin statues and two 47-foot swans, each weighing 60,000 pounds, are visible from numerous vantage points across Walt Disney World.
This fall, a new resort, the Walt Disney World Swan Reserve, will open as part of the Walt Disney World Swan and Dolphin Resort complex, adding a new destination to the Epcot resort area.
22. The First Walt Disney World Marathon
Disney / SimpleMost
The first-ever Walt Disney World Marathon was held on Jan. 16, 1994 (1997 marathon pictured). The inaugural 26.2-mile course took the 8,200 participating runners through all three (at the time) Disney World theme parks, Magic Kingdom, EPCOT and Disney's Hollywood Studios. A passionate Disney running community has been growing ever since that first marathon, and runDisney races have become extremely popular, with runners and walkers looking forward to returning to in-person races for the 2021-2022 runDisney race season, which kicks off Nov. 4-7 with the 2021 Disney Wine & Dine Half Marathon Weekend.
23. The Twilight Zone Tower of Terror Construction
Disney / SimpleMost
Disney's Hollywood Studios (still called Disney-MGM Studios at the time) expanded in 1994 with the opening of the Sunset Boulevard area and its marquee attraction, the Twilight Zone Tower of Terror. The now-iconic thrill ride originated at Walt Disney World, with new versions following at Disney California Adventure park at Disneyland, Walt Disney Studios Park in Paris and Tokyo DisneySea. Tower of Terror at Disney's Hollywood Studios is 199 feet tall, coming in just shy of the 200-foot height that would require a warning light at the top to comply with FAA regulations.
24. Walt Disney World Celebrates 25 Years With A Castle Cake — 1996
Disney / SimpleMost
Who could forget the castle cake?! In celebration of Walt Disney World's 25th anniversary, in 1996, Cinderella Castle was decorated like a very big, very pink birthday cake, and people had opinions. Most Disney fans look back on the cake with nostalgia — and a whole lot of relief that it was temporary.
Cinderella Castle has gotten the pink treatment again for the 50th anniversary. The castle has been painted an "EARidescent" pink with blue and gold accents and jeweled embellishments. At night, lighting and projections will transform the castle, and the three other park icons, into Beacons of Magic. It remains to be seen whether the castle will remain pink after the 18-month celebration or whether it will be restored to its classic blue and gray look.
25. Disney's Animal Kingdom Opens — 1998
Disney / SimpleMost
Walt Disney World's fourth theme park, Disney's Animal Kingdom, opened in 1998 on Earth Day, April 22. Disney World's largest theme park at more than 500 acres, the park is home to hundreds of species and thousands of animals.
Incorporating live animals into a Disney theme park realizes a dream Walt Disney expressed even before Disneyland opened in 1955.
"Walt did originally want to have real animals in the Jungle Cruise," Walt Disney Imagineer Vanessa Hunt said in Disney+'s "Behind the Attraction." While in the end Imagineers opted for animatronic animals on Jungle Cruise, Animal Kingdom's Kilimanjaro Safaris, which takes guests on an open-air safari across a savanna where animals seemingly roam free, sees Walt's concept to fruition in a new way.
The park's awe-inspiring icon, the Tree of Life, features more than 345 animals carved into its trunk. The 145-foot-tall tree was built using an upside-down oil rig as its base and has more than 8,000 branches.
26. Millennium Celebration Begins at EPCOT – 1999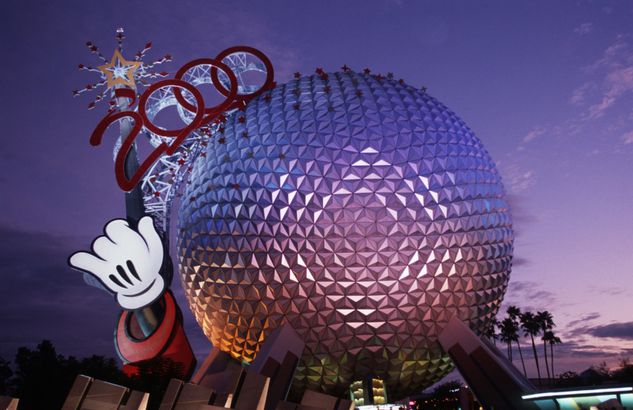 Disney / SimpleMost
On Oct. 1, 1999, a "Millennium Celebration" kicked off at EPCOT, and Spaceship Earth got a massive temporary embellishment: Mickey's arm brandishing a wand and a "2000," which was later changed to "Epcot" and remained until 2007.
During the 15-month celebration, beloved nighttime spectacular IllumiNations: Reflections of Earth debuted and ran for 20 years before being replaced with temporary fireworks show EPCOT Forever, which will be retired when the new nighttime spectacular Harmonious debuts Oct. 1, 2021. The Tapestry of Nations parade and Millennium Village also debuted during the Millennium Celebration.
27. Expedition Everest — Legend of the Forbidden Mountain Construction — 2004
Disney / SimpleMost
Disney's Animal Kingdom isn't just a habitat for countless animals, it's also home to some of Disney World's most popular attractions, like Avatar Flight of Passage and Expedition Everest — Legend of the Forbidden Mountain.
The Asia area of the park opened in 1999, introducing Kali River Rapids and Maharajah Jungle Trek, but the area's marquee attraction, Expedition Everest, didn't open until April 7, 2006. The ride takes guests on a thrilling train journey through the Himalayan Mountains and face to face with a terrifying yeti.
At just shy of 200 feet tall, Expedition Everest is Disney World's tallest "mountain" attraction.
28. 100 Years of Magic — 2001
Disney / SimpleMost
On Oct. 1, 2001, a "100 Years of Magic" celebration was launched to honor the 100th anniversary of Walt Disney's birth, and Disney's Hollywood Studios got a new icon — a 122-foot-tall Sorcerer Mickey hat.
The hat was removed in 2015, restoring the Chinese Theater and the ride it now hosts, Mickey & Minnie's Runaway Railway, as the main focal point for guests entering the park. The Twilight Zone Tower of Terror is treated as the park's main representative icon though and will be transformed into a "Beacon of Magic" during the 50th Anniversary celebration.
29. Mickey's Toontown Fair Closes to Make Way for New Fantasyland Expansion —2011
Disney / SimpleMost
Mickey's Toontown Fair was the last in an ongoing rebranding of the area that originally opened as Mickey's Birthdayland in 1988. The area was rethemed as Mickey's Starland in 1990 and Mickey's Toontown Fair in 1996. On Feb. 11, 2011, Mickey's Toontown Fair closed, paving the way for a massively expanded Fantasyland, which opened on Dec. 6, 2012, and nearly doubled the size of the original Fantasyland at Magic Kingdom.
The land's large centerpiece statue of Cornelius Coot, the founder of Duckburg, U.S.A., is now housed at the Walt Disney Archives.
30. Wishes Nighttime Spectacular Premieres — 2003
Disney / SimpleMost
"Wishes: A Magical Gathering of Disney Dreams," Magic Kingdom's beloved nighttime spectacular, debuted Oct. 8, 2003. Hosted by Jiminy Cricket, the show's theme centered around — you guessed it — wishes. A moving soundtrack and character voiceovers from characters like Peter Pan, Ariel, Snow White and Aladdin gave guests all the feels, all the way to the tearjerking final lines:
"Wishes can come true if you believe in them with all your heart. And the best part is you'll never run out of wishes. They're shining deep down inside of you. 'Cause that, my friends, is where the magic lives."
Wishes was retired May 11, 2017, making way for the replacement show "Happily Ever After," which will have its final performance on Sept. 29, 2021. "Disney Enchantment," Magic Kingdom's upcoming new fireworks show, debuts Oct. 1, 2021, just in time for the launch of the 50th-anniversary celebration.
This article originally appeared on Simple Most and was syndicated via MediaFeed