I've Been to Hawaii 35 Times – Here's My Best Tips for Visiting with Kids
I'm Marcie. I've visited Hawaii more than 35 times, and my kids have already extensively explored Oahu, Maui, and Kauai. Are you planning a trip to Hawaii with the kids? Here are my top tips for traveling to Hawaii with kids for an easy and stress-free Hawaiian vacation.
Hawaii is a Great Family Vacation Destination
My mom lives over there, so we have a great excuse to visit as much as we can. But, that doesn't mean every trip to Hawaii with kids smooth sailing. Because my family loves to travel, and travel often, I have picked up a few tips along the way. Below are a few suggestions to consider when traveling to Hawaii with kids.
1. Plan Ahead
Many dream of taking the fly-by-the-seat-of-your-pants vacation where you don't have a plan for what you'll do and where you'll go. As exciting as this sounds, adding children to the equation can backfire. Kids are unpredictable as it is, so it is best to give your Hawaiian vacation a little forethought and plan ahead.
First, consider not surprising the kids with the vacation. It can be exciting to plan the perfect moment to surprise the kids with a fun adventure, but children do not always react favorably to surprises, especially younger ones. Vacations can be exhilarating but potentially stressful and anxiety-inducing for children who are accustomed to routine and structure and prefer predictability.
Watch YouTube Videos Before To Prepare Them
There can be a lot of unknowns that may throw them off or confuse them. They may worry: Where are we staying? How are we getting there? How long are we staying there? What can I bring? Are we leaving right now? Not all children react this way, however. You know your children best, and if the unknown is the enemy watch videos of your hotel and activities to prepare them. 
What Would Your Kids Like To Do?
Children need and love to be engaged, and the younger they are, the more engagement they require. Not all children will find joy in lounging on the beach all day like the adults dream of. Hawaii is full of activities for kids of all ages. My suggestion is to have a few activities planned and scheduled in advance so they have specific activities to look forward to.
2. Ease Into Activities
It can be tempting to jump into adventures the moment you land, but you may want to consider easing into activities requiring travel when in Hawaii with kids. Even though these islands are a shorter flight from the West Coast than most other tropical destinations, you may still experience jet lag. If Daylight Saving Time can throw your kids off, just imagine what jet lag can do!
The First Day –  Give Yourself the Day to Acclimate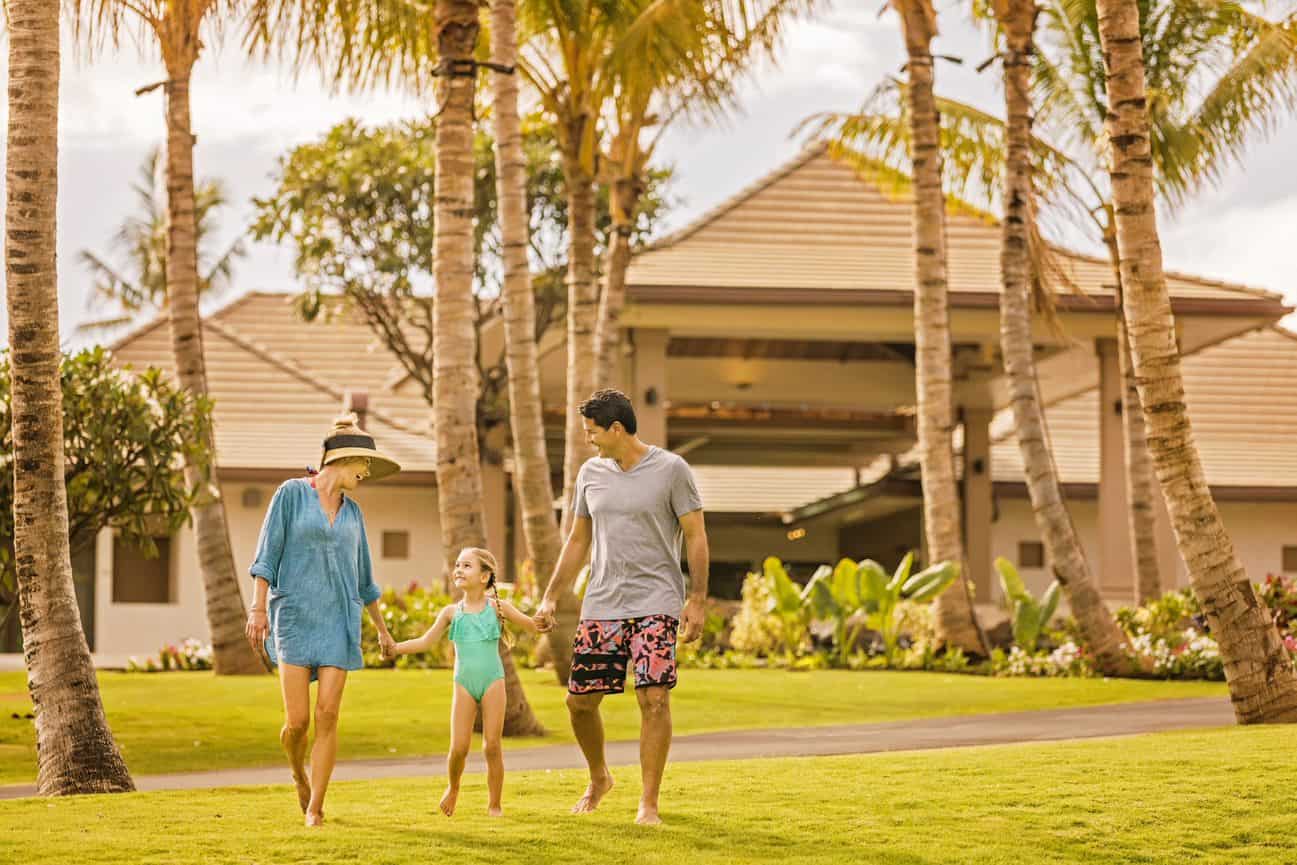 Take a day to get settled into your hotel. Unpack and explore your surroundings and get a good night's sleep because chances are, you will be awake fairly early. Speaking of waking up early, take walks along the beach to see the sunrise, since you're likely to be up anyway. When you're in Hawaii with kids, try to make the most of it! Even when it's 5 am in the morning.
3. Choose Age-Appropriate Activities
Hawaii offers a vast array of family-friendly activities designed to enhance your adventure and make memories that will last forever. When deciding on excursions for the family, it is important to choose activities everyone will love (which may prove challenging) but also age-appropriate.
Surfing
Surfing is always a hit with teenagers. Teens may take lessons in groups, but younger children will require private lessons for safety reasons. Many surfing lesson companies will take photos and video during the excursion, which are always fun to see.
Snorkeling
Whether you go on your own or join a group tour, snorkeling with kids is always a blast. It's a great way to check out Hawaiian sea life. Snorkeling is perfect for kids ages 5 and up. Younger kids will love doing a snorkeling boat tour that has kick boards with plastic windows so they can see underwater.
Zip Lining
Hawaii is simply stunning and one of the coolest vantage points is from the air. Children as young as 5 can zip line through the palm trees and over the jungle. The minimum weight requirement can range anywhere between 50 and 80 pounds.
Horseback Activities
Horseback riding is also a popular activity in Hawaii for kids. You can go riding on the beach or in the mountains. The minimum age for horseback riding can range between 7 and 10, depending on the company.
Helicopter Rides
Helicopter rides, while pricey, are adventurous and exhilarating. Children as young as 2 could possibly ride a helicopter, but there usually is a minimum body weight requirement. Each activity has its own height, weight, and age requirements, so it is best to check with the resort or local shops before sharing with the children.
Carefully Consider Scenic Drives
The Road to Hana, for example, is a tourist must-do activity, but it's sometimes best for school-age children. The many hairpin turns won't be much fun with toddlers or preschoolers who get carsick or bored easily. We have taken a toddler on the Road to Hana and he had a blast, but he doesn't get carsick.
You can even do a Half Hana road trip if your kids are more antsy.
4. Create an Itinerary
It's always helpful to have a plan when traveling to Hawaii with kids. That way, you can make sure to balance your day with activities that are close in proximity. We like to plan our activities for the morning and leave our afternoons fairly open in case our kids need a break.
We also like to add in "free days" every few days in case we want to just hang out by the resort pool or go back to a favorite beach. The most important thing is to chat with your family to make sure everyone gets to do their top activity. If you have a kid who thrives on routines make sure to keep their important daily rituals in mind.
5. Pack Wisely
Packing for an entire family is both an art and a science. You need to make sure you have the right essentials for the plane ride, and also for when you arrive in paradise. When traveling with little kids, you'll want to take extra time packing for your flight. Make sure to include wipes, Pull-Ups, and diapers. But, I also think it's best to purchase full size packages of those items once you arrive.
This saves space and weight in your luggage. Be sure to purchase these on the larger islands because they will be pricier and harder to find on the smaller islands. You may be tempted to forego packing sunscreen and beach toys in favor of purchasing them when you arrive, but I encourage you to pack these things. You will find these and other items to be significantly more expensive on the islands. Many hotels offer complimentary life vests, so check with your hotel before lugging your own.
You'll be Swimming a Lot– Keep That In Mind
If you plan to do a lot of swimming, it is best to bring at least two swimsuits per person. This allows you to take a break from the beach for lunch and nap time, put on a dry suit and continue the fun! I also suggest packing clothes you aren't particularly attached to, just in case something gets lost or destroyed.
Along the same lines, pack inexpensive flip-flops because, again, chances are they may be lost on the beach anyway. You may want to pack closed-toe shoes because this is required attire for many activities such as horseback riding Don't forget to pack a set of warm clothes– pants and a jacket– for the colder mornings and evenings. This is especially helpful if you plan to seeing the sunrise at Haleakala or go exploring the mountains/volcanoes in Hawaii.
6. Pick a Family Friendly Hotel
Planning a family trip can be stressful, and traveling to Hawaii with kids offers its own set of unique challenges.
One final suggestion I have for you is to consider a resort with lots of activities and amenities, like Disney's Aulani, Marriott's Ko Olina or the ultimate Hawaii family resort, The Hilton Hawaiian Village.  Family resorts take away the stress and hassle of planning your trip to Hawaii with kids if your main goal is to relax. Many hotels also offer kids club or childcare options, so look at those first!
When's the Best Time to Visit Hawaii? Here's 13 Answers Based On What's Important To You
With its unique aloha spirit, volcanic mountain terrain, tropical rainforests, national parks,  Hawaiian flowers and world-class beaches, it's not a surprise that Hawaii is a top destination on people's vacation wish lists. If you're thinking of planning your first trip to Hawaii, you probably have a lot of questions, including When is the Best Time to Visit Hawaii?
Well, that's not an easy question to answer. That's because if you're a surfer, you're going to want to come at a different time of the year than someone who wants to whale-watch. And if you're on a tight vacation budget, you're going to want to steer clear of the most popular times to visit the Aloha state when prices double or triple!
When's the Best Time to Visit Hawaii? Here's 13 Answers Based On What's Important To You
A Guide to Aulani, Disney's Only Hawaii Resort
Imagine a week filled with Disney magic and a tranquil escape to Hawaii, all in one. When staying at Disney Vacation Club's Aulani, a Disney Resort and Spa, guests experience just that. Located in Oahu's Ko Olina development you're not too far from Honolulu International Airport, but far away from the crowds of Waikiki.
A Guide to Aulani, Disney's Only Hawaii Resort
Hilton Hawaiian Village: The Ultimate Family Resort On The Best Part of Waikiki Beach
They say that unicorns don't exist. But travelers who return to this resort year after year might disagree. So if you're traveling to Oahu with kids and want to stay in Waikiki, take a vacation planning shortcut and book a room at The Hilton Hawaiian Village.
Hilton Hawaiian Village: The Ultimate Family Resort On The Best Part of Waikiki Beach
Don't Miss the Hilton Hawaiian Village Fireworks: A Beloved Waikiki Beach Resort's Free 10 Minute Show
The Hilton Hawaii Village Waikiki Beach Resort is not just a fantastic family hotel; a stop here is one of the most popular things to do on Oahu for Waikiki visitors and even locals. It's especially true every Friday night when a crowd gathers on Duke Kahanamoku Beach for the free Hilton Hawaiian Village Fireworks show. 
Don't Miss the Hilton Hawaiian Village Fireworks: A Beloved Waikiki Beach Resort's Free 10 Minute Show
A Local's North Shore Oahu List: The Best 11 Things to Do
If you're visiting Hawaii and coming through Oahu, save time on your itinerary for a road trip to The North Shore Oahu. We've asked Oahu locals and the surfing experts at Hans Hedemann Surf School to recommend the best things to do on the North Shore Oahu. You won't regret adding this to your vacation must-do list!
A Local's North Shore Oahu List: The Best 11 Things to Do
This article was produced by Planner at Heart.