The Best Days to Visit Walt Disney World Theme Parks Revealed
Seventy-four million people go to Orlando annually, making it America's most visited destination. And more than half of those people who travel to Florida's theme park capital visit Walt Disney World. So, if you're planning a trip to Disney, it's essential to think about when you can avoid the crowds and the summer heat. Well, new research reveals the three best days to visit based on a crowds-to-weather score. 
These Dates Were Chosen Based on Attendance Data
Disney travel planning experts MagicGuides analyzed past park attendance data to predict future crowds at Disney World's four theme parks: Magic Kingdom, Epcot, Animal Kingdom, and Hollywood Studios. The data compared the average temperature expected on each day to the predicted crowd level, and the best days to visit each park between August 2023 – June 2024 were determined based on the combined score.  
58 Million People Visit Disney World a Year, So Always Expect Some Level of Crowds
However, crowds can fluctuate throughout the year, so choosing your vacation dates is crucial.  The study revealed that October 26th, 31st, and November 1st are the three best days to visit Walt Disney World in the next 12 months. 
Additionally, they did pinpoint the specific days to visit each of Disney's four theme parks in Orlando so you can plan the ultimate trip to these parks. 
What Are the Best Days to Go to Magic Kingdom?
With some overlap, the data revealed that an ideal Magic Kingdom day would be October 26th, 31st, and November 1st. 
EPCOT Has Six Perfect Days to Schedule a Visit
For those who have always wanted to eat and drink their way around the world at EPCOT's Food and Wine Festival, now you've got an even better reason. The yearly festival falls within the best days of the year to visit EPCOT: October 24, 25, 26, 31, and November 1 and 2. 
When's the Best Time to Enjoy Hollywood Studios?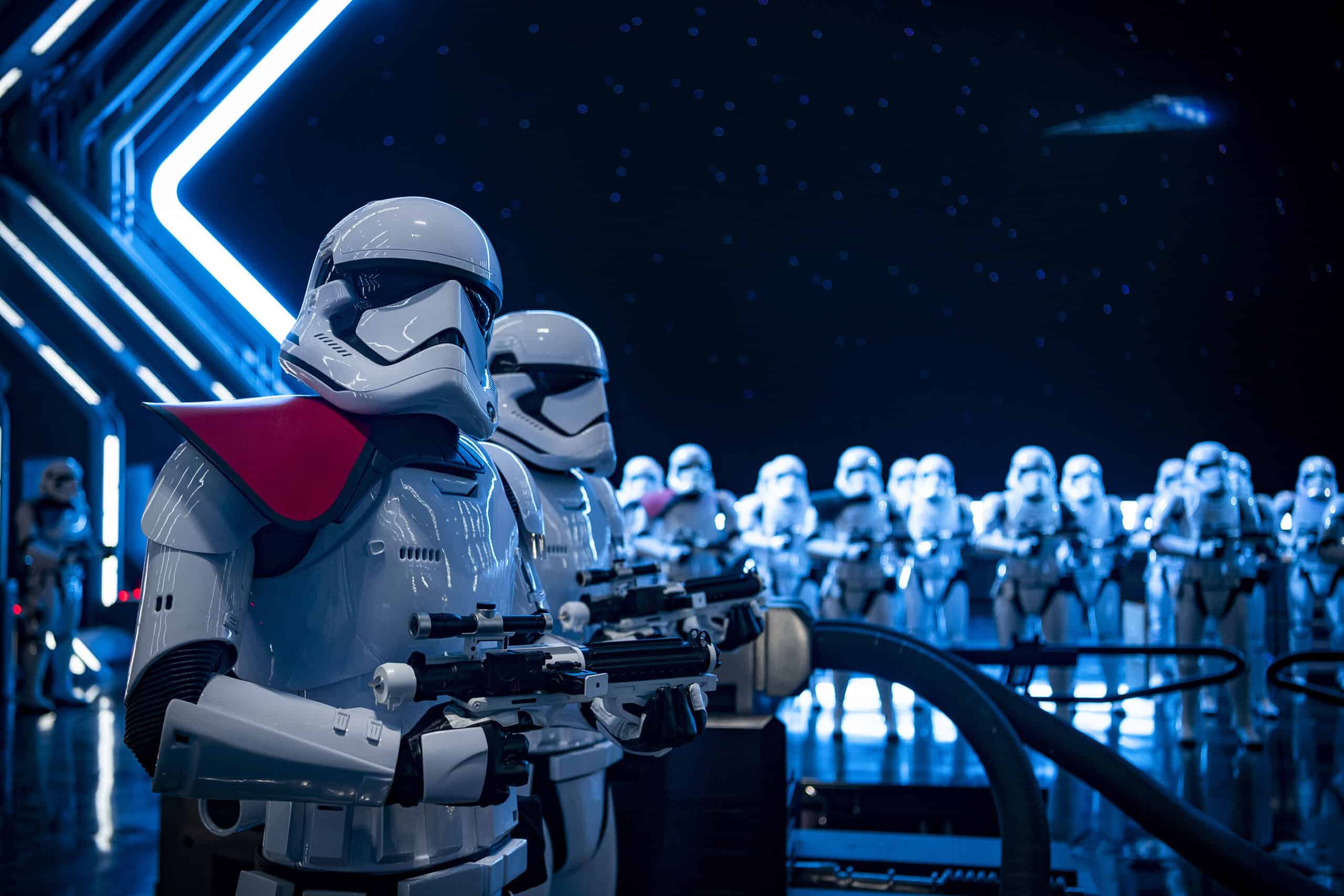 Grab those Star Wars costumes and plan a Halloween visit to Hollywood Studios. The best days to visit this Disney park are October 24, 25, 26, 31, and November 1 according to Magic Guides. 
You'll Be Soaring Through Park Lines at Animal Kingdom on These 12 Dates
Enjoy a less crowded day at Animal Kingdom and shorter ride lines on October 23, 24, 25, 26, 27, 30, 31, and November 1, 2, 3 ,7, and 8. 
So, Halloween at Disney Sounds Delightful
Interestingly, the dates are similar for each park, highlighting that the last week of October is the best week to visit Disney World for crowds and weather.  So why not have a bucket-list Halloween experience by attending Mickey's Not So Scary Halloween Party?
This frightfully fun experience returns on select nights—from August 11 to November 1, 2023, in Magic Kingdom only and does require a separate ticket. 
What Are Other Times of Year When the Park is Less Crowded?
Walt Disney World's parks are typically the least crowded around: 
January 2nd until just before Presidents' Day week (the third Monday in February) 
The week after Labor Day until just before Thanksgiving week
The week following Thanksgiving weekend until the week before Christmas. 
Labor Day marks the end of summer vacation for most American kids, so the month after is the least crowded time of year. Also, July and August can be good times to go if you can manage the sweltering weather. 
Be Careful of Hurricane Season
The downside to visiting Disney World in September is that this month is during hurricane season in Florida. There is the possibility of an increase in rain and storms during your visit. Guests worried about hurricane cancellations should utilize travel insurance and book refundable flights. 
When is Disney World The Most Crowded? 
Weekends are typically more crowded than weekdays, with Mondays and Fridays tend to be slightly more crowded than Tuesdays, Wednesdays, and Thursdays. The parks generally experience their highest attendance when children are off of school:
Presidents' Day week (the third week in February) 
Spring Break period, from mid-March through to late April 
Memorial Day weekend, summer (mid-June through Labor Day) 
Thanksgiving week 
Christmas week, till January 1st  
5 Experts Explain The Dreaded Disney Rash and How To Avoid This Disney Disaster
What happens when Americans visit a Disney theme park and take 20,000 steps or more daily in hot, humid weather? Many get the Disney rash.
If you're planning on visiting Disney or any other theme park in a warm climate, here's what you can do to prevent it and what items you should bring to treat it.
5 Experts Explain The Dreaded Disney Rash and How To Avoid This Disney Disaster
The Ultimate 2023 Guide to Epcot Rides, Attractions, and Activities
Epcot, the second of the four theme parks built at Walt Disney World in Florida has a cult following. While the past decades have typically drawn more adults, the addition of rides from blockbuster kids movies like Frozen and Ratatouille has attracted younger families to Epcot once again.
No longer are the days where kids say they just want to go to Magic Kingdom! Instead, Epcot has become a fan favorite not only with adults but also with children. Here we will cover a brief history of Epcot, must-know tips for Epcot rides and attractions, and some exciting additions coming soon.
The Ultimate 2023 Guide to Epcot Rides, Attractions, and Activities
A Disney Travel Agent's Guide to Animal Kingdom Rides and Attractions (Plus Insider Tips)
Animal Kingdom is undeniably Disney World's most beautiful park. It was not built as a zoo but as a completely immersive experience with nature featured as the shining star.  Lands are inspired by African Villages, Asian Rivers and Mountains, and animals of the past, present and fictional worlds.  
Want to experience your best day ever in Animal Kingdom? The key is creating a balance.  Enjoy all the best Animal Kingdom rides and shows. But also make time to take a break from the hustle and bustle and soak in the beauty of nature on the trails and at the animal viewing locations.
A Disney Travel Agent's Guide to Animal Kingdom Rides and Attractions (Plus Insider Tips)
30 Reasons Families Prefer Legoland Florida to Disney World Theme Parks
Our family spent the last two Spring Breaks in Orlando, the most visited destination in America, but we had two very different experiences.  In 2022, we had a typical Orlando family vacation visiting Disney theme parks. Then, in 2023,  we went to non-Disney theme parks, including Legoland Florida, and it was a night-and-day experience.
After these two trips, our family prefers Legoland Florida to Disney World. And it turns out we're not the only ones. After interviewing 25 other families who feel the same, here's why people are opting for days with Emmet, Lloyd, and Master Wu instead of Elsa, Luke, and Mickey Mouse. 
30 Reasons Families Prefer Legoland Florida to Disney World Theme Parks
Disney's No Longer Orlando's Best Theme Park – Travelers Voted Discovery Cove Into the Top Spot and It is Now Half Off
What if I told you about a place in Orlando near it all, but feels like you've been whisked to a tropical island? A day destination that's nestled in between resorts and iconic theme parks but feels worlds away from the crowds and long lines of America's vacation capital. And their Black Friday deal means 50% off for a limited time. 
It's not a Florida heat-induced mirage; it's Discovery Cove Orlando. This unique, all-inclusive, all-day outing offers guests a one-of-a-kind opportunity to swim with dolphins, snorkel among thousands of tropical fish and rays, hand-feed exotic birds, and encounter playful otters—all in a surprisingly stunning tropical atmosphere just 12 miles from Orlando International Airport.
Disney's No Longer Orlando's Best Theme Park – Travelers Voted Discovery Cove Into the Top Spot