Will You Get Tricked By The 8 Most Common Travel Scams Around The World?
After years of visiting national parks, wide-open nature retreats, and domestic tropical island getaways during the pandemic, Americans show renewed interest in border-crossing in 2023. According to AAA booking data, international travel is up more than 200% compared to last year. As you set out to explore the world, keep your guard up for the most common travel scams.
What Scams Are Travelers Fooled By Most?
Close to half of U.S. travelers surveyed (46%) have been tricked into paying too much for food or drinks while begging or "help" scams have  gotten 34% of tourists. Pickpocketing has caught 21% off guard and taxi scams got the best of 18%.  The lure of free or cheap tours has proven irresistible to 17% of travelers, who later discovered the hidden costs of their "deal."
Watchout for the seemingly "helpful" stranger as well which took advantage of  16% of travelers out of their hard-earned money. Fake charity scams have caught 11% of travelers off guard while the flirtatious local and the friendship bracelet scams have each tricked 10% of tourists.
Where Around the World are Americans Being Scammed the Most?
A deep dive into the data reveals that Southern Europe, Western Europe, the Caribbean, South America, and Central America have been particularly challenging regions for American travelers, with these scams reported more frequently in these areas.
Travelers are Losing Hundreds of Dollars To Scams
A shocking 52% of Americans surveyed by Scams.info have either lost money to travel scams or know someone who has, with the average amount lost totaling $380. So keep your money in your pocket by preparing to face these most common scams targeting tourists around the world.
The Flirtatious Local
 The scam most frequently encountered by Americans traveling to Australia and Oceanian starts with a glimmer in the eye of a local. The flirtatious local can  play out when a stranger strikes up a conversation, makes you feel good, and invites you to a local bar or club. The next thing you know is a monstrous bill you must pay. But that's just one way this encounter could play out. 
The Begging or Helping Scam
In the Caribbean, Central & South Asia, and the Middle East, however, unsuspecting travelers are more likely to be caught by begging or 'help' scams. This trick is nothing more than when the scammer assumes the role of a beggar or a desperate soul in need, to take advantage of sympathy. But other times it takes the shape of someone trying to help out a tourist who looks like they are lost or don't know what to do. 
The Helpful Local Isn't Always As It Seems
"I was traveling in Italy with my parents and we were taking the train from Rome to Florence. Since we're Americans, we aren't used to traveling by train to we arrived at the station a bit too early—our train's info and platform wasn't even showing up on the digital screens yet. I saw a printed time table across the station and told my parents to wait while I went to check it out, said Elise, Founder of What The Fab. 
"It took me a few minutes but I was able to figure out which platform our train would be coming to in a couple hours. When I turned around, I saw someone talking to my parents and thought, "Oh no, they're getting swindled." The individual had seen my parents looking lost and confused and played the "helpful stranger," asking if they needed assistance finding their train. My parents assumed that she worked at the train station, but once she gave them the information, she held out her hand for money, and that's when they knew they'd been scammed."
Sometimes Helpful People Go Beyond and Impersonate Staff
"After a long flight to Bali we were at the baggage claim waiting for our luggage when a man approached us holding a paper with the name of the travel agency and asked if he can help us with the luggage. When we were at the arrivals hall he told us that he will no longer accompany us so we need to tip him now to get our luggage back. That was the point when we realized that he was not from the travel agency," said Emese Maczko, of Ecolodges Anywhere.

"We had no option but to give him money for "his services of carrying our luggage from baggage claim to arrivals" to get our luggage back. He showed which paper money he expects and we gave him that. It was about USD 10, not the end of the world, but it was very cheeky. After he finished with us he went back towards the baggage claim."
Pickpocketing
Central America, Northern Europe, South America, Southern Europe, and Western Europe, on the other hand, are hotbeds for pickpocketing one of the oldest travel scams out there. 
One Traveler's Tale from Colombia
"I had an experience in Colombia where I was alone in the country on the first day of my four-month trip. I was trying to figure out the local money while buying something in the supermarket, and when I walked out of the supermarket, I noticed that my phone was gone, said Marjoline. 
"It wasn't a new phone, and it wasn't that big of a deal, but it was such a hassle. I had to get a replacement sim card, buy a new phone in a foreign country, and tell everybody what happened. It all turned out okay; luckily, a friend of a friend lived in Colombia and helped me buy a new phone. To this day, I always keep my hand on my phone when we're in crowded areas, or somewhere I'm unfamiliar with."
Taxi Scams
Travelers navigating the bustling streets of Eastern Europe, Northeastern Asia, Northern Africa, and Southeastern Asia should be wary of taxi scams, the most prevalent hustle in these regions. Drivers may charge higher-than-normal rates, take longer routes, or manipulate the meter.
One Traveler's Taxi Scam Story in Istanbul
'The first taxi scam we ever experienced was in Istanbul, when we gave the driver 50 lira to pay for our fare. He quickly exchanged the 50 lira for 5 and said we haven't given then correct amount. We didn't notice until we got out of the car that we did indeed give him 50! He swapped the note around so quickly that our eyes just didn't catch it," said Sarah Borg Barthet, Founder of Dukes Avenue. 
Another Asia Taxi Scam Story
"In Beijing, we had a taxi cover the meter with masking tape and say it's not working, when the red light was clearly visible underneath. A huge argument followed where he wouldn't accept less than what he asked for, despite the amount on the meter being far lower," continued Barthet. 
The Moscow Meter Trick
"In Moscow, the first taxi we took had a driver use a random app on his phone as a meter and explain this was normal – it then became apparent that it wasn't. His 'meter', of course, charged a much higher price," Barthet added. 
Overpriced Food or Drinks
While you'll see stories from Greece or other European capitals of Americans being fleeced for food and drinks in tourist spots, it's actually the most common scams Americans find when traveling domestically, as well.
Fake Charity Scam
Southern Africa stands alone, with the fake charity scam being its most frequently reported trickery.
Bracelet Scam
While not the top trick in any country or region it's important to keep an eye out for this one as well. Often a stranger offers  you a free bracelet, but before you can say no, they've tied one around your wrist. Then the stranger demands payment for it or even uses the opportunity to pickpocket you.
Here's What This Scam Looks Like
"I went to Milan with friends when I was 17. Someone tied a bracelet around my wrist while I admired the Duomo and took pictures. No questions were asked, and no warning was given. Then, when the bracelet was around my wrist, they started demanding money. I wasn't charmed by the person doing that and insisted that I didn't want the bracelet and wouldn't pay for it," outlines Marjoline.
"After a couple of times back and forth, I told them they could take the bracelet off if they wanted to. Of course, that wasn't a possibility as it was very tightly tied around my wrist. Eventually, I walked away, and that was that. I also know many people who caved in and gave them some money just to get rid of them, so I'm not the only person I know that this happened to."
Currency Exchange Is Confusing – And Some Take Advantage
"During my taxi ride, the driver kept complimenting me and claiming he wanted to "help" me. I didn't trust him but made polite conversation. When we arrived at the terminal, I paid him 500,000 VND because it was the only note I had from the ATM. He then tried to return 100,000 VND and 20,000 VND to me, but I refused them," said Caitriona, Founder of TPR Teaching. 
"As a first-time currency user, I got confused when the cab driver gave me the change. I asked him to return the correct amount, but he played with the notes, making me even more bewildered. I thought he gave me 200,000, so I left the cab but soon realized I only got two 10,000 notes. At that point, I decided to let it go but later realized I gave the driver approximately $21, which was way above the standard rate in Vietnam," she added.
"While it did not set me back too much financially, I was annoyed that I got scammed the moment I set foot on Vietnamese soil. I'm pretty sure that made his day," she concluded. 
Here's The Safest Places to Travel In 2023
International travel is booming. One-third of Americans said they are more interested in vacationing outside the U.S. in 2023. But when news reports show U.S. State Department warnings about travel to certain countries, violence in some international destinations, or individual travel horror stories, it can put your dreams of exploring the world on the back burner.
Well, get your passport back out. Here are the safest countries and cities around the world for you to explore without worry.
Here's The Safest Places to Travel In 2023
Dream Destinations Unveiled: TIME Magazine's Exclusive List of the World's Greatest Travel Spots for 2023
Want to explore our big beautiful world but need help figuring out where to start? Well, TIME magazine revealed its fifth annual list of the World's Greatest Places, highlighting 50 extraordinary travel destinations around the world.
To compile this list of the top spots to visit this year, TIME solicited nominations from its international network of correspondents and contributors, with an eye toward those offering new and exciting experiences. The result is a combination of far-flung and familiar spots plus seven don't miss U.S. destinations for those staying closer to home.
Dream Destinations Unveiled: TIME Magazine's Exclusive List of the World's Greatest Travel Spots for 2023
A Real-Life Fairytale City: It's Venice Meets The Shire From Lord of The Rings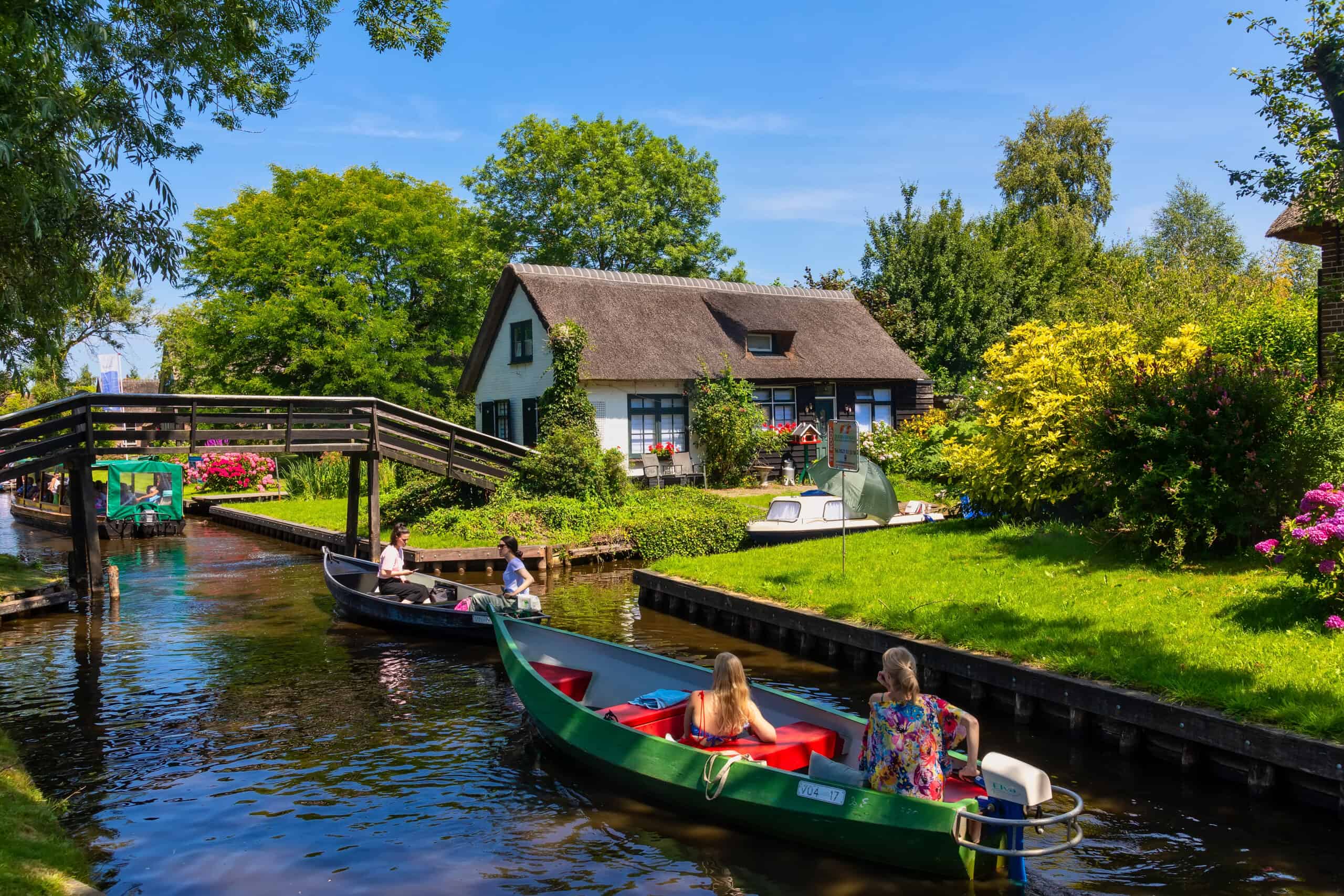 Imagine a quaint European village that's described as the Venice of the Netherlands plus the lush shire of the Lord of The Rings. Mix in luxurious accommodations and a Michelin star restaurant, and you've got a bucket list-worthy trip. It's not a dream, its a real town.
A Real-Life Fairytale City: It's Venice Meets The Shire From Lord of The Rings
Are Timeshares a Scam? Here's The Surprising Answer
John Oliver recently roasted timeshares calling them a scam. His segment is consistent with a recent survey where in a word-association exercise, 62% of survey participants think "scam" or "rip-off" as the first thing that comes to mind about timeshares. So are they?
Are Timeshares a Scam? Here's The Surprising Answer
Dave Ramsey's Terrible Advice Sparks $150 Million Lawsuit from Disgruntled Listeners
For years, Dave Ramsey touted, endorsed, and advertised Timeshare Exit Team's services as a trusted company that his followers could turn to when they no longer wanted their vacation ownership. These listeners didn't know that he was being paid approximately $30 million to recommend this company's services.
After a lawsuit by the State of Washington, an Inside Edition investigation, a Better Business Bureau "F" rating, and hoards of complaints, Timeshare Exit Team closed, taking outstanding cases and Dave Ramsey listeners' hard-earned money with them.
Dave Ramsey's Terrible Advice Sparks $150 Million Lawsuit from Disgruntled Listeners