20 of The Best Florida Beaches for Your Next Getaway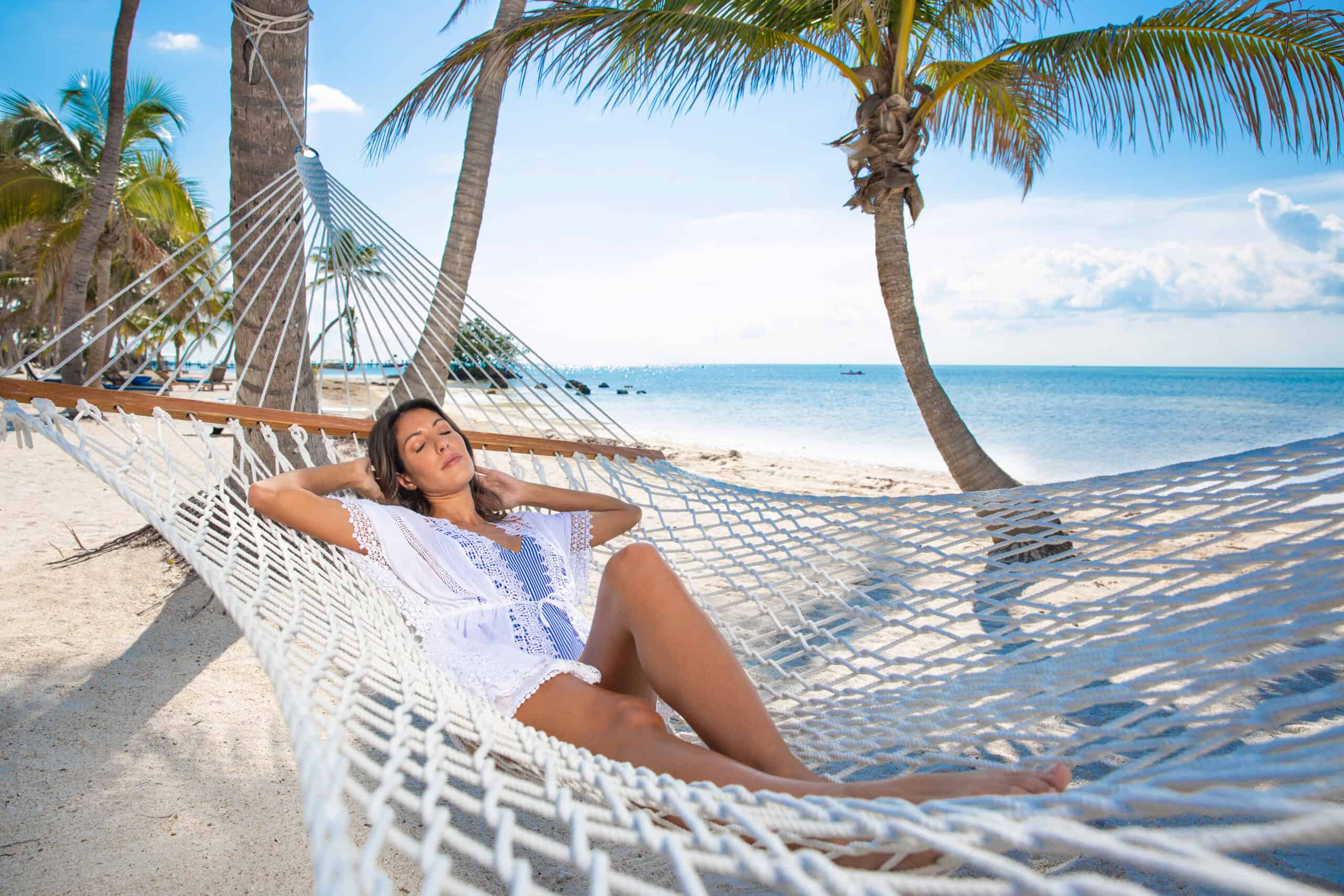 Want to walk on sugary-soft sand with only the sound of waves lapping softly on the shoreline to break the silence? Or do you want to walk off the beach right into some of the best nightlife America offers? Well, Florida beaches offer not only those two options but everything in between.
There are Florida beaches for camping, luxe stays, spring breakers, and families. And even options for dogs-lovers and lovers of being clothes-free. With both Atlantic and Gulf Coast choices, there really is a Florida beach for everyone.
With its sunny climate, cerulean waters, and over 1000 miles of coastline, the Sunshine State is the perfect place for a beach vacation or a fun day trip with friends.
Between the superb surf spots, national parks, and lively coastal towns, Florida beaches are ripe with variety. In this article, we're revealing 20 of our favorite Florida beaches. Have one you think deserves a spot on our list? Leave us a comment below!
1. St. George Island
St. George Island is consistently rated one of the best Florida beaches and one of America's best as well. And for a good reason. Despite its popularity, this 28-mile barrier island remains remarkably unspoiled. It's a real paradise, with strict building codes that have helped maintain its tranquil community vibe. Expect crystal clear Gulf waters, secluded stretches of sand, and incredible wildlife on display.
2. Panama City Beach
It's hard to list the best Florida beaches without mentioning Panama City Beach! One of the most popular stretches of shoreline in the state, what it lacks in peace, it makes up for in atmosphere and attractions. Get ready for 27 miles of alabaster beaches with bottlenose dolphins and the neighboring state parks of St. Andrews and Camp Helen.
3. Seaside Beach
Famous for featuring in the Jim Carrey movie, The Truman Show, Seaside is a charming, family-friendly beachside community in South Walton. Boasting sun-bleached sand and pastel-colored beach houses, it's truly postcard-perfect. There's a lot to do in town, including watching live music at its open-air amphitheater and exploring the local art galleries and boutique stores. 
4. Clearwater Beach
Regularly voted America's best beach, Clearwater Beach offers gentle turquoise waters, powdery white sand lined with sun loungers, and a promenade that calls for you to walk, bike, or rollerblade along it. Volleyball adds to the appeal, as do the high-quality restaurants and hotels you're a mere stone's throw from. To top this beach off, Pier 60 offers a first-class vantage point for watching the sunset.
5. Naples
A quintessential Floridian destination, this upscale city on the Gulf of Mexico is renowned for its luxury resorts, golf courses, and world-class shopping and dining opportunities. Visiting Naples usually requires deep pockets, but spending time on its beaches doesn't cost a dime! Both Delnor-Wiggins Pass State Park and Naples Municipal Beach provide panoramic views, snorkeling, and an abundance of wildlife.
6. Navarre Beach
Navarre's small-town community vibe, peaceful surroundings, and family-friendly nature make it one of the best Florida beaches for those seeking solitude. Located along the Emerald Coast in a far-flung corner of Northwest Florida, it offers 12 miles of pristine white sand, a fishing pier, water sports…and not much else!
7. South Beach Miami
From one extreme to the other, we have Miami's notorious South Beach. A 2.2-mile stretch of sand, this isn't just one of the best Florida beaches; it's also one of the most famous. A land of chiseled bodies, wealthy and expensive cars, people come here for the hustle, bustle, and endless nightlife! So steer clear if you're on a budget or looking for peace and quiet, but a good time's guaranteed for everyone else.
8. Fort Lauderdale Beach
Like the sound of South Beach but want a quieter and family-friendlier affair? Try Fort Lauderdale Beach instead. Another part of Florida's Atlantis coast boasts many of the same amenities with (slightly) less chaos! The beach is beautiful, large, and clean, making it great for young families; the promenade behind it is lined withpalm trees and countless places to eat, drink, and shop.
We enjoyed staying right in the center of it all at Marriott's BeachPlace Towers.
9. Cocoa Beach
Birthplace of the infamous surfer Kelly Slater, Cocoa Beach is one of the best Florida beaches for anyone who wants to catch some waves. Don't worry if surfing or boogie boarding isn't your thing! The warm waters and laidback beachfront bars make Cocoa Beach a winning destination, whatever you like doing for fun.
10. Amelia Island
Head northeast in the Sunshine State to enjoy the 13 miles of uncrowded coastline and abundant native wildlife on this magical barrier island. Another haven for family vacations, it's a prime spot for good old-fashioned fun and is wheelchair accessible too. If you are tired of the beach, you can venture into town for mini-golf, museums, and much more.
11. Bowman's Beach
You'll find this outstanding Florida beach on the equally-beautiful Sanibel Island, located around 30 miles off the coast of Fort Myers. The ideal location for languid days, Bowman's Beach remains wonderfully undeveloped and perfect for tranquil getaways. Its gentle waters, white sand, water sports, and world-class shelling opportunities make it hard to resist.
If you're planning on a vacation to any Sanibel Island beach, you'll most likely need to stay on the mainland as most Sanibel Island hotels, Hurricane Ian destroyed restaurants and buildings in 2022.
12. Juno Beach Park
Are you planning a trip to Palm Beach? You can head to Juno Beach Park. With over 5 acres of pristine coastline and all the basic amenities you need for a successful day out (think showers, free parking, and picnic tables), it's another top spot for relaxing beside the ocean with friends or family. Oh, and the Loggerhead Marine Life Center is a short 15-minute walk down the beach as well – a major boon for nature lovers!
13. Caladesi Island State Park
Unlike other Florida beaches on this list, Caladesi Island State Park is only accessible by boat. That might sound off-putting if you're looking for a quick and easy day at the beach, but its remoteness is a massive part of the appeal!
An untouched island along the Gulf Coast, it looks like something you'd see plastered across a travel agent's wall. Expect crystal clear waters, birdlife, and the whitest sands you've ever seen. It's paradise.
14. Henderson Beach State Park
Warm emerald-green waters and 30-foot-tall sand dunes that shimmer pearly white under the Florida sun make this beach in Destin downright unmissable! A stunning stretch of the Gulf Islands National Seashore, it attracts as many animals as it does people. Stop by to see turtles, pelicans, dolphins, and other fantastic examples of Panhandle wildlife.
15. Marco Island Beach
Located 20 miles south of Naples (a name you may recall from earlier on this list of the best Florida beaches), the western side of this small barrier island is much-loved for its white-sand wonders and water of the clearest kind. Wade out to sandbars at low tide, revel in the tidal lagoon at Tigertail Beach Park, and embrace the tranquil waters on a paddleboard. Birdlife abounds here too.
16. Blowing Holes Reserve
Located on Jupiter Island, this Nature Conservancy preserve earned its name from the plumes of saltwater that shoot 50 feet in the air whenever rough seas collide with the rocky limestone shoreline. A natural marvel, complete with rare plants and animals (including a range of sea turtles), Blowing Holes Reserve is one of Florida's most unique and peaceful places.
17. Bahia Honda
Putting 524 acres of breathtaking beach park at your disposal, Bahia Honda's another exceptional place to spend the day.
A prime stop during the Key West to Miami drive, it's located in the Florida Keys – right at the meeting point of the Gulf of Mexico and the Atlantic Ocean. Get ready for fantastic near-shore snorkeling, clear waters, powdery white sand, and everything from wading birds and sea turtles to bottle-nosed dolphins.
18. Fort De Soto Park
A true treasure of Tampa Bay, this beach park in Pinellas County boasts some of the best Florida beaches. There are five separate islands here, and they're all surrounded by glorious white sands.
Join the millions of people who visit Fort De Soto Park each year to walk along its nature trails, kayak around its mangroves, and enjoy its first-rate fishing and shelling opportunities. Keep an eye out for bottlenose dolphins and manatees in the area as well!
19. Siesta Key Beach
Hate burning your tootsies while walking across scorching hot sand? You'll love Siesta Key Beach. The sand here's comprised almost entirely of quartz, which stops it from getting too hot.
It's also some of the finest white sand you'll encounter in Florida! The beach, located in Sarasota along the Gulf of Mexico, is long, wide, pristine, and popular. Child-friendly and convivial, it's hard to beat.
20. Madeira Beach
Referred to by the locals as Mad Beach, Madeira Beach is a small town located on a barrier island off the west coast of Florida.  The city is known for its remarkable Gulf beaches and fishing village atmosphere.
Which One of These Florida Beaches Will You Go To Next?
People flock to Florida beaches every year to embrace its warm weather and beautiful stretches of sand without the need for a passport. Heck, the Sunshine State's practically synonymous with beach vacations. But with mile after mile of pristine coastline to choose from, it can feel impossible to know where to go first…
With options from popular spots to hidden gems, we hope this list of the best Florida beaches has clarified the right water for you.
This article was produced by Planner at Heart