Tour Big Bend National Park In 21 Stunning Pictures Until You Can Visit
You may think you know what Texas is, but one look at Big Bend National Park and you realize what a variety of landscapes Texas has. Big Bend is one of the Lone Star state's most awe-inspiring natural attractions, and visiting – especially with a good camera – should be one of the items on your bucket list.
A Tour of Big Bend In Pictures to Hold You Over
Established in 1944, the park borders Mexico in the western part of the state, along the Rio Grande river. At over 800,000 acres, it's the largest protected area of the Chihuahuan Desert in the United States. That generous space is home to all kinds of terrain, from desert grasslands to montane woodlands and more. The park's Chisos Mountains are home to over 1,700 plant species, over 400 bird species, as well as fish, reptiles, amphibians, and other mammals.
It sounds great, but it looks even better. So take a look at these epic photos of Big Bend National Park, and explore the park from your home until you can make a trip there yourself!
Panoramic views abound
Maxwell scenic drive gives you an amazing view of the Chisos Mountains for many, many miles. NASA has photographed these mountains from space.
You'll probably see snow if you go at the right time
It's Texas, so daytime temperatures frequently soar above 100 degrees, but it's the high desert, so expect freezing temperatures and even snow during winter months.
The Rio Grande is everywhere
The famous river serves as the southern border to the park and is visible from many vantage points
You'll see miles and miles of Texas … and Mexico
There are many areas of Big Bend where visitors can see across the river into Mexico.
It's home to stunning Santa Elena Canyon
Big Bend isn't just home to mountains and desert, it's also home to the Santa Elena Canyon, where you might get a shady reprieve from the sun.
Wildlife is abundant throughout the park
This coyote is one of the many different types of animals that call Big Bend home. Just remember, if you see one, it's not a dog, so be careful.
You may even spot a bear … or two
Likewise, the plant life is abundant
If you're a cactus stan, you'll have plenty to look at and photograph for your collection.
If you're lucky, you'll see the desert in full bloom
Prickly pear cactus and bright purple sage fill the foreground with Chisos Mountains in the background.
Scenic drives abound
The Ross Maxwell Scenic Drive en route to Cerro Castellan. You can just make out the moon above the mountain.
Summer storm clouds gather over the mountains
Blooming agave plants rise from the desert floor
Historic buildings are there but rare
There's little evidence of humans in large parts of Big Bend. These historic structures in the Castolon Historic District are just a few you may come across in your travels.
Hot springs
There are hot springs all over the region. If you're lucky, you'll be able to have one of these beauties all to yourself.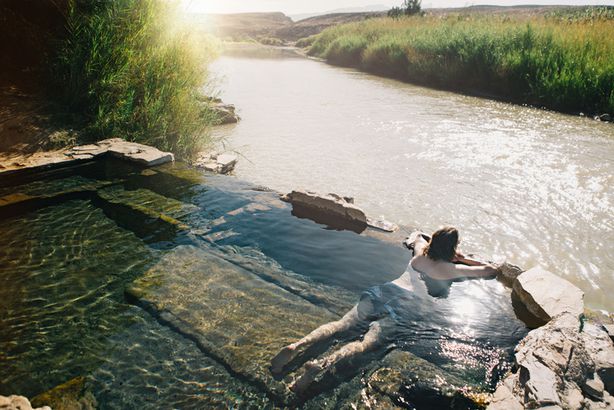 Hiking in the Chisos
The views from the many trails in the Chisos Mountains offer great glimpses of the desert below and the rest of the mountain range.
The Rio Grande is very narrow in many places
Spend enough time and you'll see cattle, horses and even wildlife crossing the Rio Grande from Texas into Mexico and vice versa. Life along the river here doesn't worry about international borders.
You can't beat the sunsets …
The Window is a great spot to view the sun setting and have cool beverage at the end of a long day of hiking. You won't have the view all to yourself, but it's so beautiful you won't care.
But the sunrises come close
Juniper Canyon is a great place to catch a sunrise.
You'll find lots of hiking options
Both in the mountains and across the desert floor, there are hiking trails for almost every level of fitness.
Cat Tail Falls is another great hike
You may spot some black bears on this hike, so be alert.