Miss Those Perfect 85 Degree Days? Plan a Visit To These Award-Winning Indoor Water Parks
Are you dreaming of those perfect summer days? One that is warm but not too hot? A fun family outing that can't be ruined by rain, snow, or a sudden change in weather? A place where you can drive, park your car, and enjoy a day, two or three of family fun all in one place?  Until the weather can be controlled, head to one of these award-winning indoor water park resorts, where it is always 85 degrees. 
1. Great Wolf Lodge 
Many people equate indoor water parks with Great Wolf Lodge, and it's not hard to see why. With 19 locations (and a 20th one coming in 2023), they are North America's largest family of indoor water parks.
The centerpiece attraction at each one of their lodge-themed resorts is a large indoor water park featuring water slides, pools, and play areas. Additionally, each resort offers other attractions such as ropes courses, arcade games, miniature golf, bowling, and their branded exclusive interactive game, MagicQuest.
Great Wolf Lodge Locations
Great Wolf indoor water parks can be found in:
Wisconsin Dells, Wisconsin
Sandusky, Ohio
Traverse City, Michigan
Kansas City, Kansas
Pocono Mountains, Pennsylvania
Mason, Ohio
Grapevine, Texas
Grand Mound, Washington
Fitchburg, Massachusetts 
Charlotte, North Carolina
Garden Grove, California
Manteca, California
Bloomington, Minnesota
LaGrange, Georgia
Gurnee, Illinois,
Scottsdale, Arizona
Perryville, Maryland (2023)
Niagara Falls, Ontario, Canada
2. Kalahari – 4 Indoor Water Parks and Counting
The resort's African theme was inspired by a Nelson family trip to Africa more than 20 years ago. To date, Kalahari Resorts purchased $5.5 million worth of African art, and textiles for their indoor water parks from multiple countries to support African artists, craftspeople, and entrepreneurs.
"Our goal is to provide families with an all-under-one-roof getaway unlike any other with something for everyone to enjoy," said Todd Nelson, president, and owner of Kalahari Resorts and Conventions
Award-Winning Family Resorts
Privately owned by the Nelson family, these indoor water parks are home to some of the country's largest indoor waterparks. Kalahari Resorts include guest rooms, a full-service spa, a family entertainment center, on-site restaurants, and shops.
Over the years, they've won many awards, including Condé Nast Traveler's #1 World's Coolest Indoor Waterparks, Sensory Friendly Certified, Parents' Magazine Kids' Travel Award Winner, and TripAdvisor's Travelers' Choice Awards.
Kalahari Locations
Kalahari indoor water parks can be found in:
Sandusky, Ohio
Pocono Mountains, Pennsylvania
Wisconsin Dells, Wisconsin
Round Rock, Texas
Spotsylvania County, Virginia (TBD; 2024 Potentially)
3. Aquatopia, Pennsylvania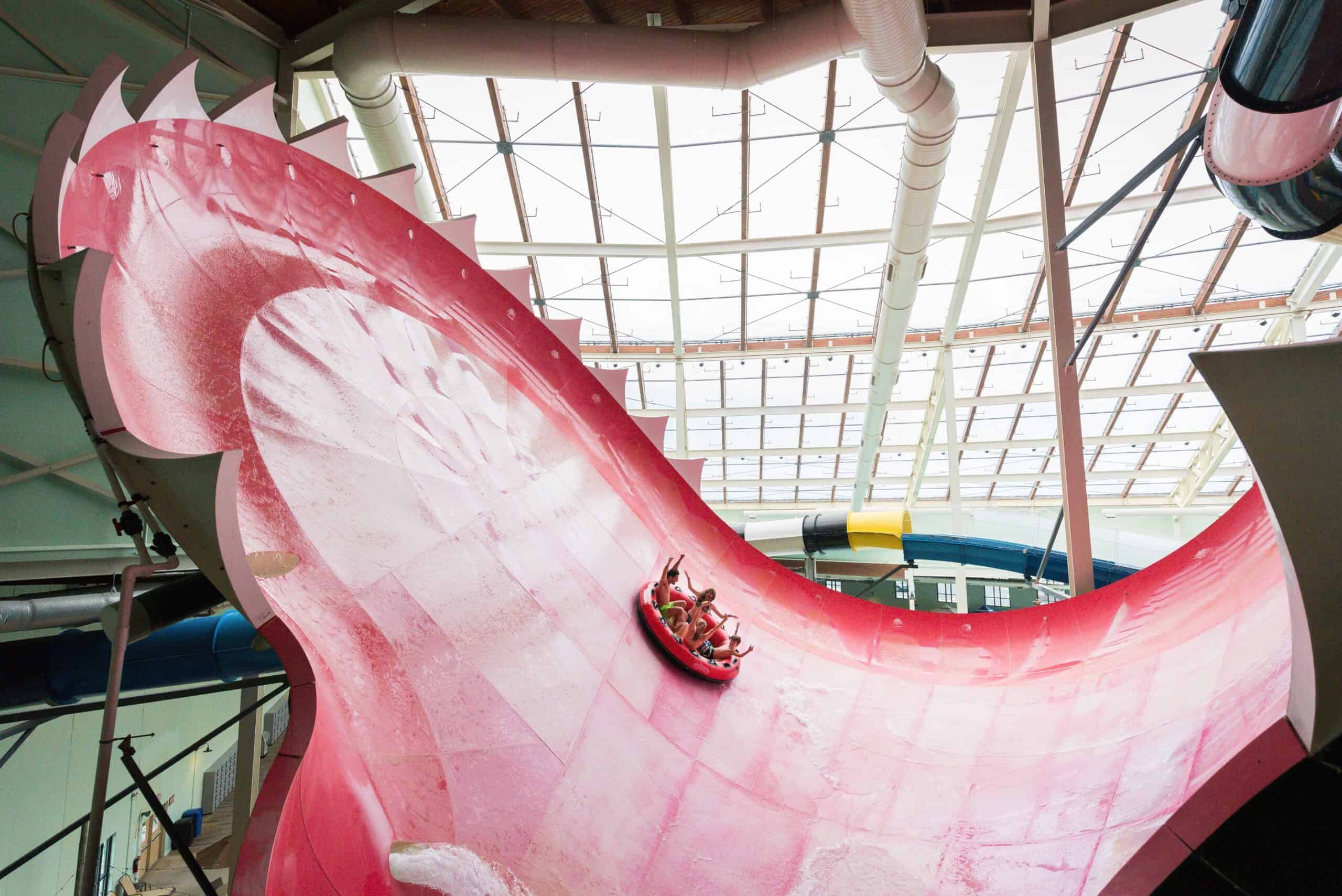 Camelback Resort, a 560-acre four-season resort is located 90 minutes from New York City and two hours from Philadelphia. It includes Camelback Mountain offering skiing ,snowboarding, and snow tubing, Mountain Adventures with ziplining, a treetop obstacle course, and alpine mountain coaster. 
Additionally, this resort includes Camelbeach Mountain Waterpark, Pennsylvania's biggest outdoor waterpark, and Aquatopia Indoor Waterpark, voted by USA Today as the  #1 Indoor Waterpark.
Give The Feeling of Being Outside, Indoors
The indoor waterpark is 84 degrees year-round and features North America's largest Texlon transparent roof. Themed around world exploration and discovery, the waterpark has exciting water slides, signature thrill rides, an AquaPlay structure, and seven pools. 
Numerous Activities and Admission Options
Outside of water fun, they also have a dry indoor family adventure center with laser tag, a rock-climbing wall, a ropes course, a virtual reality experience, and more. Gamers of all ages will love their  30,000 square feet of 100 video and interactive games, including the Axe Master, VR Rabbids, Mirror Maze, Lift Your Loot Escape, and Escape Space Obscura. 
For those who live nearby or frequently visit family in the area, they offer multiple-day pass options: Unlimited, Value Spring, Value Summer, and Value Fall that grant access to a variety of Camelback attractions without having to book a resort room. 
4. Dreamworks Water Park, New Jersey 
One of the newest indoor water parks on this list, the world's first Dreamworks Animation Water Park, is also the largest in North America. Located in the brand new shopping and entertainment complex American Dream Mall next to Giants Stadium, this complex is conveniently located at the intersection of major New Jersey highways and only 7 miles from New York City's Lincoln Tunnel. 
American Dream is also home to Nickelodeon Universe indoor theme park, Big SNOW indoor ski slope, Angry Birds Not So Mini Golf Club, The Rink ice skating, Out of This World Blacklight Mini Golf, Legoland Discovery Center play place, SeaLife Aquarium, dining, and retail stores.
You'll Find Kids' Favorite Characters Too
This over-the-top water park, where the worlds of DreamWorks Animation's most adored characters and shows are brought to life, is a great day trip for locals, or an add-on day for those visiting nearby New York City. 
Swirl through an ogre's swamp on Shrek's Sinkhole Slammer, find your inner champion with the Dragon Warrior Po at Kung Fu Panda's Temple of Awesomeness; be among the first to hang ten in the world's largest 1.5 acres indoor wave pool, relax on the Bubbly Lazy River or discover your secret operation at the Penguins of Madagascar Play Zone, you can do it 365 days a year at American Dream.
Wilderness at the Smokies – Tennessee 
Wilderness at the Smokies, the Smoky Mountain's Largest Waterpark Resort & Family Adventure Center, is located in Sevierville, Tennessee, in the foothills of the Great Smoky Mountains.  More than 92% of the area's visitors drive, eliminating expensive plane tickets and complicated flying days. Sevierville is a relatively quick drive from most major metros east of the Mississippi, and more than 50 percent of the total U.S. population can drive here in one day or less.
The resort includes 714 rooms, suites, and villas, an 84-degree, year-round indoor waterpark, two seasonal outdoor waterparks, an indoor family adventure center, dining, shopping, and a 36-hole championship golf course.
Families Vote It One of America's Best Resorts
Awarded USA TODAYS's "10Best Readers' Choice," some of its attractions include:
Storm Chaser Thrill Ride – four-person tube slide featuring a 55-foot drop into a swirling funnel of water with night illumination
Trail Twister Tube Slides – two swirling, adrenaline-filled one and two-person tube slides
Runaway Canyon – four-person tube slide that careens 450 feet through the water curtains, tunnels, turns, and loops
Smokies Surf Rider – simulated body-surfing experience, the only of its kind in the the region, powered by more than 50,000 gallons of water
The Great Wave – 10,700 square-foot wave pool capable of generating waves up to five feet tall
Washout Mountain – multi-level play structure with 750-gallon bucket dump, 50 play and-spray features, body and kiddie slides
Magnolia Grove Indoor/Outdoor Hot Spa
Snapping Turtle Indoor/Outdoor Play Lagoon – basketball hoops, balance courses and more
Flying Squirrel – zero-depth entry toddler area with two mini-slides and swing tree
Here's How To Score Resort Room Deals
It's one of the few U.S. timeshare resorts with indoor water parks. The property's Great Smokies Lodge has a Club Wyndham section, and timeshare owners with a RCI Membership can exchange into this property. 
If you don't own a timeshare but love scoring great room deals, you can vacation at this award-winning resort and save serious money by renting a room from a timeshare owner who isn't using theirs. Trusted websites include Redweek, Go-Koala, Timeshares Only, and the Timeshare Users Group Marketplace. 
Wilderness Resort –  Wisconsin Dells
Located in Wisconsin Dells, known as the Waterpark Capital of the world, is The Wilderness Hotel & Golf Resort, America's largest waterpark resort. This mega-property includes four indoor water parks and four outdoor ones, a dozen non-water attractions, three arcades, and an 18-hole golf course over a mind-boggling 800 acres. 
7. Massanutten Resort, Virginia 
The Ultimate Family Four Season Resort, Massanutten, is around the bend from the Swift Run Gap entrance of Shenandoah National Park and only 120 miles from Washington, D.C.
The mid-Atlantic's premier all-season resort's award list is almost as long as its extensive list of on-site amenities. From the top family-friendly ski resort in the Southeast to one of the top mountain resorts in the world to the best indoor water park, there are over 100 daily activities across their 6,000-acre property.
Massanutten WaterPark, heated to 84° Fahrenheit, was voted "#2 Indoor Water Park in America" by the USA Today 10Best Readers' Choice poll.  Enjoy their water fortress, inflatable adventures, body slides, pools, lazy river floats, and hot tubs, or learn how to surf on the FlowRider Endless Wave. 
It's Acres and Acres of Family-Friendly Activities
The Virginia Resort offers three escape rooms, the Family Adventure Park, and a petting zoo. Seasonal sports activities include two challenging 18-hole golf courses, skiing, ice skating, and snow tubing, and 12 on-site dining options. 
Condo Rooms Inside a Resort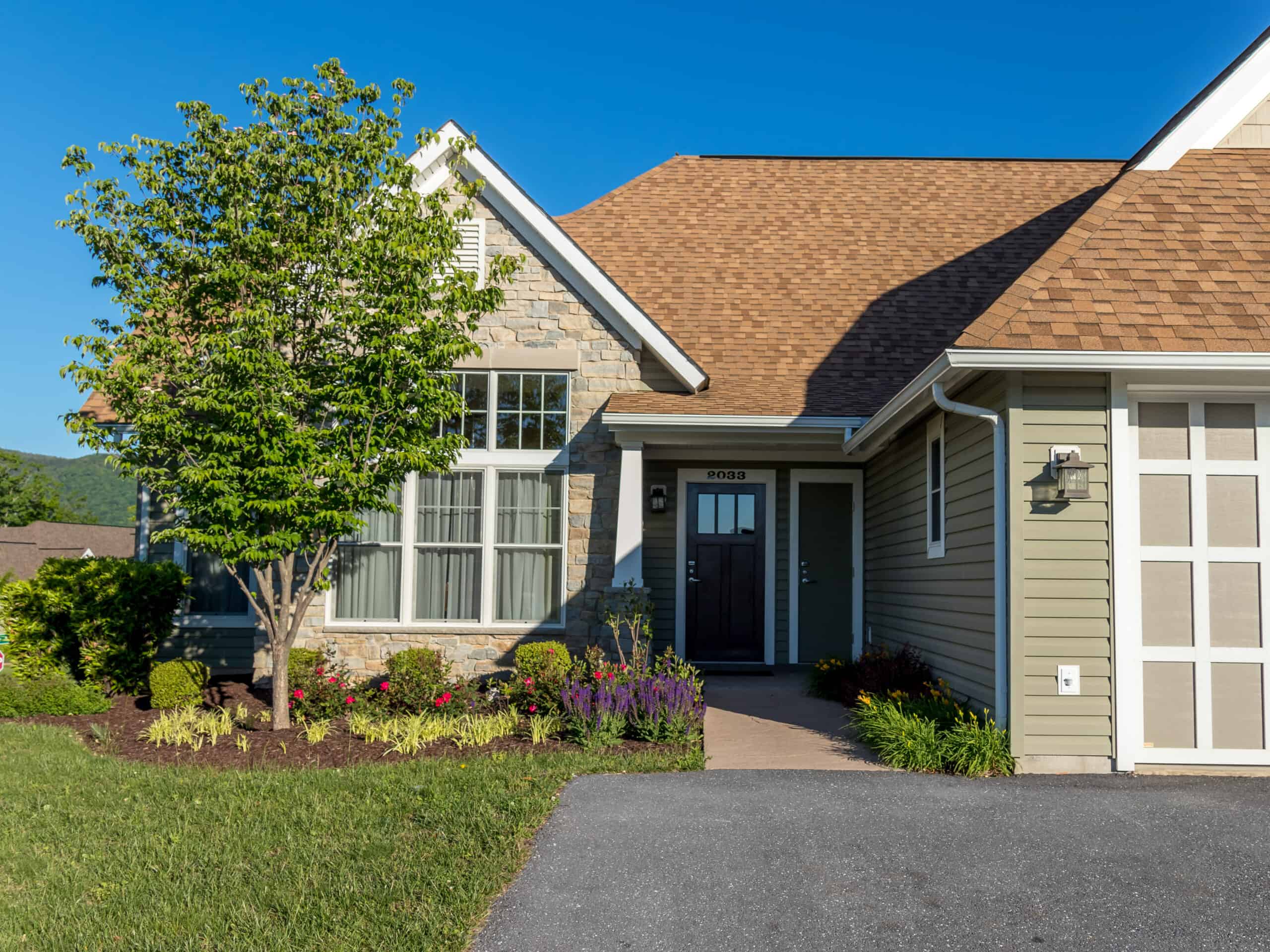 At the end of your day, you can relax and spread out in their accommodations, ranging from hotel rooms, condos, townhouses, or private gated homes that can sleep 2 to 14 people. This timeshare resort is a favorite of both timeshare owners and renters.
You can score amazing deals by renting a resort room at this award-winning RCI Gold property by renting a room from a timeshare owner. You can stay here for under $100 in a one-bedroom condo unit and enjoy all the property offers.
Sound Waves – Nashville
In a destination known as "Music City," you can have a first-of-its-kind water and music experience at Sound Waves, Nashville, one of the unique indoor water parks on this list. SoundWaves is a 4-acre, 3-level upscale indoor/outdoor water attraction with dedicated recreation zones for adults, young children, and families. 
The resort combines water, music, amenities, and activities with an upscale touch you'd expect from its parent company, Gaylord Resorts. From thrilling rides to relaxing decks and an adult-only pool enhances each experience with paired musical components from country to pop. There are even attractions that play music and a giant screen with music programming at the outdoor wave pool, all set to a comfortable 84 degrees year-round. 
Waterpark Admission is Only for Resort Guests
You'll have to not only be a resort guest to experience the water park but also purchase the hotel package with admission tickets. Don't wait until the last minute, as capacity is capped to ensure wait times aren't too long and attractions aren't too crowded. One night's stay grants you access to the indoor water park for two days – from the time it opens on the day of check-in until noon on the day of check-out. So plan to get there early on your check-in day. 
If you're staying longer, the hotels provide complimentary transportation to and from downtown, so you can experience Nashville's Honky Tonks and return to SoundWaves away from the hustle and bustle of the downtown scene.
Kartrite Resort & Indoor Waterpark – New York
Built by the same people behind Aquatopia, is the largest indoor water park in the state of New York. Opening in 2019, The Kartrite is located in the lower Catskills, less than 100 miles from New York City, right down the street from Resort World Casino and 15 minutes from Legoland New York. 
It's a Stunning Indoor Water Park
"Inspired by the architecture of indoor water parks in Europe, the Kartrite's unobstructed column-free construction features a stunning,  barrel-shaped transparent Texlon roof that will bathe visitors in natural sunlight throughout the year and allow tropical flowers and plants to thrive inside the waterpark, giving off tropical island vibes right in the mountains of New York," said Ken Ellis, Co-Owner of The Kartrite Hotel & Indoor Waterpark and CEO of Aquatic Development Group.
Plenty of Options to Play
Similar to Soundwaves, it's another indoor water park where you get two days of admission to the water park for one night's stay. On your check-out day, you can stay the entire day until the park closes at 7 pm. 
Day passes are available for those who live in the area or are already staying in the region on vacation. If you're planning on going to nearby Legoland, the largest amusement park in the world, get your tickets at the front desk and save $20 off each one. 
We Went To The #1 Indoor Water Park –  Here's Why My Kids Think It Won the Crown
Earlier this year, readers of USA Today voted on a selected group of twenty indoor water parks shortlisted by a panel of experts. Aquatopia at Camelback Resort was once again voted the best indoor water park in North America.
So, my family took a road trip to the Poconos to see why it is repeatedly crowned the best place for indoor water thrills and family fun.
We Went To The #1 Indoor Water Park –  Here's Why My Kids Think It Won the Crown
Most Disney Die-Hards Say It's Too Expensive; Families Going To Great Wolf Lodge Instead
According to Time2Play, 92.6% of surveyed Disney World enthusiasts said they believe the cost of a Disney vacation is now out of reach for average families. What used to be regular vacation for middle-class families has evolved into a luxury trip with pricey add-ons everywhere you look. 
That's why many are leaving The supposedly Happiest Place on Earth for a more carefree, joy-filled, and affordable family vacation. According to Newsweek, families across America are replacing a trip to Disney with a trip to a Great Wolf Lodge instead.
Most Disney Die-Hards Say It's Too Expensive; Families Going To Great Wolf Lodge Instead
It's Emmet Over Elsa: Here's Why Families Prefer Legoland Florida to Disney World Theme Parks
Our family spent the last two Spring Breaks in Orlando, the most visited destination in America, but we had two very different experiences.  In 2022, we had a typical Orlando family vacation visiting Disney theme parks. Then, in 2023,  we went to non-Disney theme parks, and it was a night-and-day experience.
After these two trips, our family prefers Legoland Florida to Disney World. And it turns out we're not the only ones. After interviewing 25 other families who feel the same, here's why people are opting for days with Emmet, Lloyd, and Master Wu instead of Elsa, Luke, and Mickey Mouse. 
It's Emmet Over Elsa: Here's Why Families Prefer Legoland Florida to Disney World Theme Parks
Disney's No Longer Orlando's Best Theme Park – Travelers Voted Discovery Cove Into the Top Spot
What if I told you about a place in Orlando near it all, but feels like you've been whisked to a tropical island? A day destination that's nestled in between resorts and iconic theme parks but feels worlds away from the crowds and long lines of America's vacation capital.
A place where you can relax and explore rocky lagoons, and reefs teeming with fish, float down winding rivers with birds flying overhead, and stick your feet into soft white sandy beaches amidst lush island-like landscaping. You genuinely feel like you're on a Caribbean vacation right in the heart of Orlando.
Get a Glimpse of Paradise: Tour in Pictures The Tropical Oasis Experience Voted Orlando's Best Theme Park
25 of the Best Zoos In the World for Your Next Family Vacation
Many of us treasure our memories of a childhood trip to the zoo. It's easy to underestimate what a fantastic experience this can be for a child. It will likely be the first time that they get to see real-life animals they're so familiar with in books and cartoons. Also,  a zoo trip can be the highlight of your family vacation for little ones, so when building your trip itineraries, don't forget to add some of the Best Zoos in the World to your list.
25 of the Best Zoos In the World for Your Next Family Vacation
This article was produced by Planner at Heart.