19 Fun Filled Things to Do in Branson MO – The Orlando of the Midwest
Growing up on the East Coast, I wasn't familiar with this vacation spot, but I can see why some describe it as the Orlando of the Midwest with so many things to do in Branson Mo!   With three lakes, over 100 live shows, amusement parks, a variety of resorts, endless family fun really does await here. If you're a regular reader, you might remember that we're timeshare owners and love to travel this way. I truly believe that the world is my oyster as I can exchange my Catskills timeshare for a week in 4,000+ timeshare resorts worldwide.
Branson, it so happens, isn't just an Associated Press Top Family Vacation Destination, but it also happens to be a place with tons of fantastic timeshare resorts. When I find these win-wins, I put them on our travel bucket list and start thinking about a trip there! As you're thinking about places to visit, or planning a trip to Branson too, here's 19 things to do in Branson MO for your itinerary!
Things to Do in Branson MO: Outdoor Gems
Vacationers have been traveling to this region for fun-filled getaways for over a century. Between the stunning land, outdoor activities, and warm people, it's not a surprise that over 9 million people a year come to Branson. Let's take a look at some of the outdoor things to do in Branson MO.
1. Endless Activities at Big Cedar Lodge
 Johnny Morris, founder and CEO of Bass Pro Shops, is often referred to as "the Walt Disney of the Outdoors." Also, a conversationalist, he decided to purchase a Branson resort after being inspired by Table Rock Lake and how much the area reminded him of his childhood fishing trips. He wanted to create a special place for families to connect with nature, and boy did he ever! The endless list of outdoor activities one can do at the resort is epic. My children are both super into fishing right now, and I know they would love the activities, and mom and dad would love the luxury resort!
"If you stay at Big Cedar Lodge, chances are you won't want to leave. Sweetly sitting in a quiet cove on Table Rock Lake in the rolling Ozark Mountains of southern Missouri, Big Cedar Lodge aims to please no matter the season," says Tanya Raedeke from Rad Family Travel.
"Kids and adults love hopping on the free resort shuttle between the resort pools. Enjoy a little friendly competition on the mini-golf course or free smores at night by the campfire—Head towards the Bent Hook Marina for fishing, boating, and water sports on Table Rock Lake. Or tee off on a premier golf course, take a cave tour, unwind at the brand new spa, go horseback riding, and so much more. "
2.Play on Nationally Awarded Golf Courses
Speaking of Mr. Morris, his investment in the area has also helped Branson become one of the country's top golf destinations. Surrounding Big Cedar Lodge are five nationally awarded golf courses with beautiful views and beautifully designed play. While you may not have thought of golf as one of the things to do in Branson MO, the options here are stunning.
3. Explore Table Rock Lake
"Table Rock Lake, found in the Ozark Mountains of southwestern Missouri, is an alluring stretch of hidden beaches and crystal clear waters. Spanning an area of almost 50,000 acres and 800 miles of shoreline, it has become a popular vacation spot in the U.S., drawing people from all over to hike, camp, fish, and enjoy a wide range of water sports,"  says Rai from a Rai of Light. "There is certainly no shortage of things to do, and Table Rock Lake, with its beautiful scenery and recreational activities, is a must-visit."
4. Sail Table Rock Lake in Style
If you want to see Table Rock Lake from a different vantage point, set sail on the Showboat Branson Belle! You can cruise the water, have a three-course meal and see a Branson-style show! For over 20 years, "The Queen of the Ozarks," a 700 passenger paddle-wheel-style boat, has recreated the vacation experience from the 1800s. Whether you have small kids, have older grandparents traveling with you, or looking for more accessible outdoor activities, check out their lunch or dinner cruise options.
5. Silver Dollar City Theme Park
Silver Dollar City amusement park is one of the most popular things to do in Branson MO!
"Planning a Silver Dollar City trip is a must if you are visiting the area. It is an amusement park with an 1800's style theme. With over 40 rides and attractions, live shows, and concerts, Silver Dollar City is the real deal when it comes to amusement parks," says Lisa from Planning Away. "It has roller coasters but also has 18 award-winning restaurants, 60 specialty shops, live demonstrations from local artisans, and amazing shows.  Silver Dollar City is fun for the whole family and is worth spending a day or even two exploring the park."
6. Wolfe Creek Preserve Zipline
"Branson Zipline at  Wolfe Creek Preserve offers a premier Eco-Adventure experience," says Utkarsh from Journeys from Heart. "The tour begins with a 10-minute overview of Zipline safety. After this orientation, you are taken from Wolfe Creek Station to the top of Wolfe Mountain. The zipline adventure constitutes 7 ziplines,10 sky bridges, and a 40-foot dynamite drop.  You can trek through swinging suspension bridges, cross walkways covered in the canopy, and much more here. All the guides are Association for Challenge Course Technology (ACCT)-accredited which ensures that you are in safe hands."
Things to Do in Branson, MO: Historic Downtown & The Theater District
These two sections of town contain a lot of the most popular things to do in Branson MO! If you're only in town for a short period of time, you can see many iconic Branson attractions in these two areas.
1.Downtown Trolley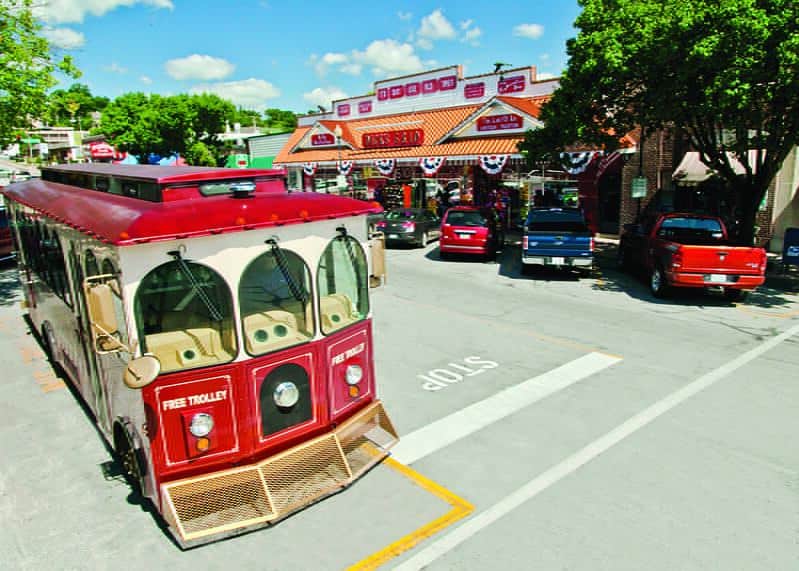 "Riding the trolley in historic downtown Branson is an absolute must-do for visitors. Not only are the tours free, but they also take you to the best historical sightseeing spots around town, which is not only convenient but gives first-time visitors a sense of where everything is," says Victoria from Guide Your Travel.  "Tours run daily from 9:00 am to 6:00 pm although they can get quite busy during popular times so come early if possible. There are 12 stops along the trolley route, including Branson Landing, the Convention Center, and Main Street."
2. Dick's Five and Dime
"Dick's 5 & 10 old-fashioned variety store is an enjoyable place to stop into and one of the many nostalgic things to do in Branson MO. Children won't know where to start with all the toys and candy, " says Elizabeth from The Fearless Foreigner.  The store has been around for 60 years. The young at heart will love taking a trip down memory lane while reminiscing about all the old-fashioned items and treats."
If you visit Branson at Christmastime, it is the perfect place to find unique gifts for those last-minute holiday stocking stuffers!
3. WonderWorks
"WonderWorks is an indoor amusement park in the Entertainment District. Spread over 48000 square feet, it specializes in 'edutainment'- education and learning with an entertaining twist. The building exterior itself will leave you gaping as it is upside down," said Tanya from My Right Sock.   "Inside, there are three floors worth of hands-on exhibits, from light and sound-based activities and gravity-defying challenges to space exploration zones. It also has video games, a 4D motion theater, laser tag – amongst numerous other activities.
Wonderworks offers a fun day out in Branson for the whole family, and especially for kids. The premise is wheelchair and stroller accessible if you're on a multi-generation trip.  While you might need several days to cover all the exhibits, save at least 3-4 hours for Wonderworks whenever you visit!
4. The Titanic Museum
"The Titanic Museum in Branson is not the only museum about Titanic, the ship that struck an iceberg in 1912. But the way it takes you back in time with a unique display of real memorabilia, exhibits, interactive activities, and an iceberg at the entrance that you can touch- is what makes it worth your time," says Deb from The Visa Project. "There are self-guided audio tours and knowledgeable guides to bring the exhibits to life. "
5. Aquarium at the Boardwalk
The Aquarium at the Boardwalk is one of the indoor things to do in Branson MO for those days when the weather isn't cooperating!
"The 100 foot tall shiny silver octopus on the building's facade is an eye-catcher and a favorite Instagram photo spot in Branson.  Inside, don't miss the amazing water tunnels.   The jellyfish are like moving glow sticks and so fun to watch. You'll feel like you're walking through a parted sea of animals," said Tanya fromwww.travelsandtreasures.com. "The fish tanks are equally amazing to see, with oversized mermaid statues. There are hands-on experiences where you can touch live stingrays and plenty more photo opportunities on a seahorse carousel and in a diving suit." 
6. Branson Ferris Wheel
"For the best views in the city, a ride on the Branson Ferris Wheel comes highly recommended. Standing 150 feet tall, this popular amusement park ride boasts amazing views of the city, its entertainment corridor, and the surrounding Ozark Mountains. Found in Branson's Entertainment District at Track 4, it is an excellent choice for families looking for a fun thing to do," says Rai from Rai of Light. 
"Don't miss the music and light show every hour on the hour after dark, during which 16,000 LED lights light up the entire wheel whether you ride or not! If you're looking for free things to do in Branson MO their light show is one of them! Tickets cost $10.95 with the ride lasting 15 minutes and are sure to leave any visitor smiling throughout the experience."
7. Hollywood Wax Museum
"Located in the heart of Branson on Highway 76, the Hollywood Wax Museum should be included on any list of things to do in Branson MO," says Rai from A Rai of Light. "This sought-after tourist attraction features replicas of famous people over two floors where visitors interact with the stars for fun selfies using the props and costumes on hand. In addition to the Wax Museum, the Hollywood Entertainment Center also features the Castle of Chaos and Hannah's Maze of Mirrors. The All-Access Pass provides entry to all these attractions and makes for a really fun and memorable visit."
8. Branson Scenic Railway Ride
"The Branson Scenic Railway is quite the attraction in Branson and the nearby Ozarks! A set of vintage passenger cars takes you through the foothills of the Ozark mountains on a journey that roughly lasts about 45-50 minutes," says Lavina from Continent Hop.

"What makes this ride even more special is that it starts from the 1905 downtown depot, which is a historical one. The ride passes through the wilderness of Arkansas and Missouri and takes one through tunnels and some of the most spectacular locations in these areas. From April to September, the 5 PM ride even has the option to opt for a four-course candlelight dinner!"
Things to do in Branson MO: The Infamous Shows
With more than 100 shows, Branson's Entertainment District has something for everyone! For more than 50 years, people have enjoyed various shows morning, noon, and night! If you're visiting during peak season, make sure to book your tickets in advance, it's one of the most popular things to do in Branson, Mo! Here's a small selection of shows to get your trip planning started!
1.WhoDunnit Hoedown Murder Mystery
Dubbed the top new murder mystery dinner show, the WhoDunnit Hoedown takes place at Playhouse Theatre at Shepherd of the Hills. When legendary Fiddler Squeeky Bowman dies and the list of Who Dun It is longer than then their dinner menu! Tickets for the hilarious show and dinner are $45 for adults and $26 for kids 4-16. Dinner includes pulled pork, chicken rice, corn, salad, cake, and beverages.  It sounds like a winner-winner chicken dinner to me!
2. Sight & Sound Theatre
The original Sight and Sound in Lancaster, Pennsylvania, added another location when they opened this theater in 2008 with the production of  Noah, The Musical. Taking inspiration from Jesus's teaching through storytelling style, the owners wanted to build a place to bring the Bible to life with live, entertaining stage productions. They call it Sight & Sound for a reason!
But this isn't a mom-and-pop production. It's the city's largest building with a 26,000 square foot wrap-around stage, 2 million watts of lights, 70 surround sound speakers, and seats for 2,000. Productions like Joseph, The Miracle of Christmas, Moses,  Noah, and Samson come to life with live animals and soaring actors!
3. Amazing Pets
Whether you got kids who wake up super early, or it's a morning of bad weather, keep Amazing Pets on your shortlist. My animal-obsessed daughter would absolutely freak out over this "pet tricks" show at Grand Country.
4. Dolly Parton's Stampede Dinner
Some say Dolly Parton's Stampede is the most fun place to eat in Branson! For over 25 years, 32 magnificent horses and their riders compete in races, tricks, and amazing stunts. The mixture of comedy, competition, and family-friendly atmosphere has made Dolly Parton's Stampede a fan favorite for decades! If you're looking for a fun family dinner show, check this one out!
5. Presley's Country Jubilee
I saved one of the most infamous things to do in Branson MO for last– The OG Show of the Region. The Presley Family built the very first live music theatre in Branson in 1967. Dubbed The First Family of Entertainment, four generations perform their unique mix of comedy plus country, gospel, and bluegrass music. Definitely put this show on your shortlist of things to do in Branson MO!
Hope this list of things to do in Branson MO is shortcut for your vacation planning! Happy Travels, ya'll!
PS – This story is also available on Google Web Stories