Disney Closed Their Most Popular Ride; Perhaps It's Not a Surprise Attendance is Down And Their Stock Price Hit Its 10 Year Low
Sunday, January 22, 2023, marked the last day of the iconic Disney ride Splash Mountain. A fan-favorite ride for decades will be closed for two years and transformed into Tiana's Bayou Adventure. This permanent closure comes after many decades of complaints of racist stereotypes and Jim Crow-era songs and imagery. Yet, a new analysis reveals that Splash Mountain was the top fan favorite ride. 
Is It One Reason Why Crowd Levels are Down?
July 4th week saw something rare in Disney Parks –  room to spread out.  Whether you looked at the data or attended in person, park attendance was way down. How much? It was Disney's lowest ticket sales for the July 4th weekend in decades. And if you've looked at Disney's stock price this summer, it has hovered at its five-year low for months and then hit its 10 year low without the large amount of park ticket sales to keep it up and other business troubles. 
What are The Top Fan Favorite Disney Rides?
The research by Disney travel planning experts MagicGuides examined every ride from all four Orlando theme parks at Walt Disney World Resort: Magic Kingdom Park, Epcot, Disney's Animal Kingdom, and Disney's Hollywood Studios.
They considered three key factors: Instagram hashtags, Tripadvisor ratings, and average monthly search volume for each ride. These data points were combined in an index to give each ride a total score to discover the most popular rides at Disney World.
1. Splash Mountain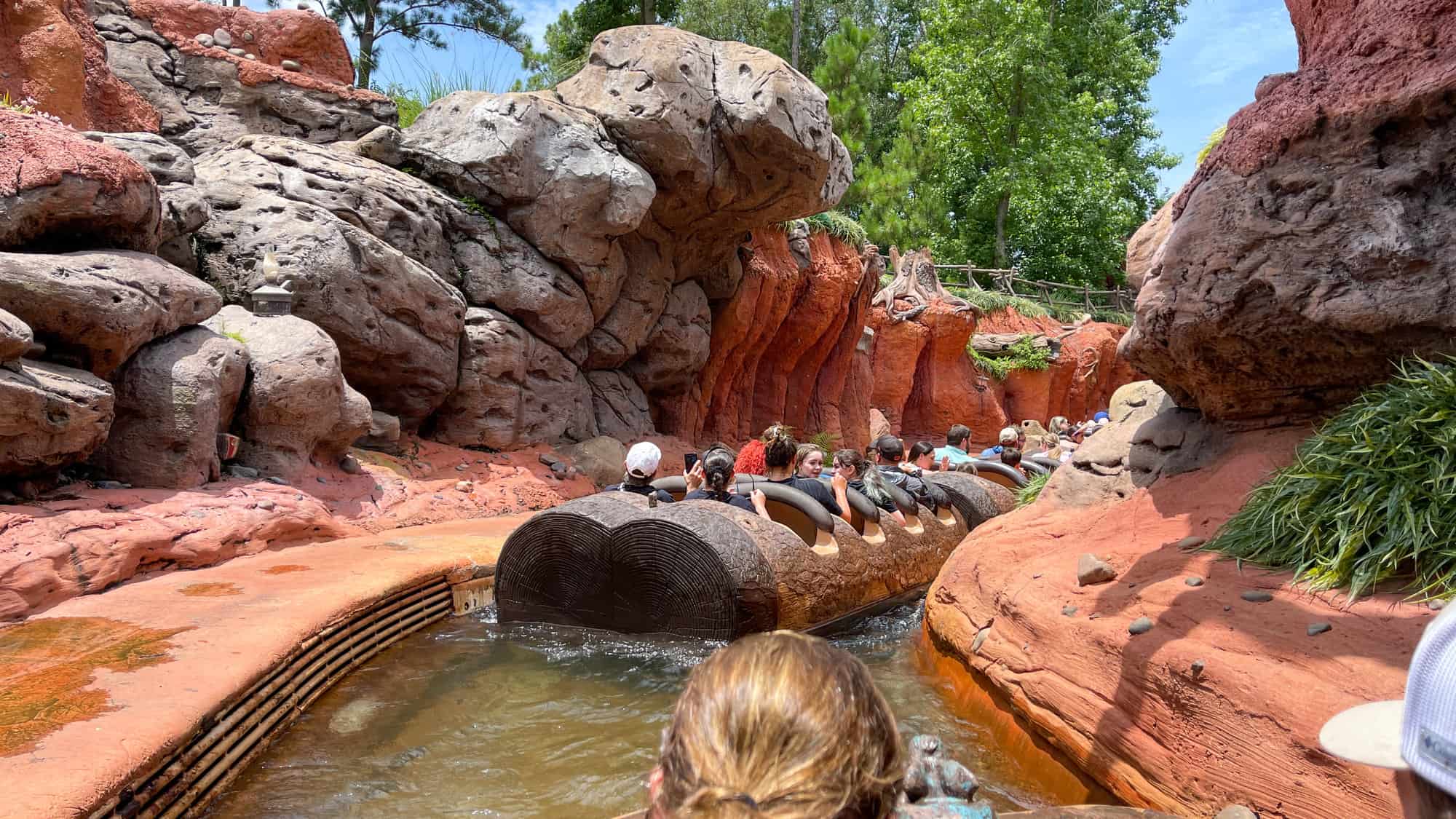 This study revealed that Magic Kingdom's Splash Mountain is still at the top of the Disney-goer's interest despite being closed since the beginning of the year. The beloved log flume ride has always been a favorite among fans and receives an average of 205,193 monthly searches, 323,813 Instagram hashtags, and a high rating of 4.5 out of 5 on Tripadvisor. 
But What Will The New Ride Be Like?
Disney describes the upcoming attraction as "In Tiana's Bayou Adventure, you'll join Princess Tiana and jazz-loving alligator Louis during Mardi Gras season as they prepare to host a one-of-a-kind celebration for the people of New Orleans. This new scene is the thrilling moment you first drop into the bayou and encounter some friends both new and familiar."
However, Florida Residents' Don't Rank Splash Mountain as Number One
The research revealed that Splash Mountain is the number one favorite attraction in 49 states, except for Florida. Interestingly, Splash Mountain does not rank as one of their top three favorite rides.  Instead the new Guardians of the Galaxy: Cosmic Rewind ride takes Florida residents' top spot. This new thrilling Epcot ride takes you on an intergalactic chase through time and space alongside Marvel's Guardians of the Galaxy. 
2. The Twilight Zone Tower of Terror 
Located in Disney's Hollywood Studios, Tower of Terror is a thrilling drop tower ride with a haunted hotel theme inspired by the classic TV series. And it ranks number two in the study.  The spooky ride has the highest number of hashtags out of any ride on Instagram, with 465,274 hashtags, a 4.5 out of 5 rating on Tripadvisor, and receives an average of 75,943 monthly searches in America. 
What is The Tower of Terror Ride Like?
Struck by lightning on Halloween night, the infamous Hollywood Tower Hotel still stands tall frozen in time around the Golden Age of Hollywood.  As the story goes, a family was in the elevator when the lightning struck, taken to the Twilight Zone and never to return. Now it's your turn to take a ride on the elevator and visit the Twilight Zone – will you return?
Might Be Too Scary for Young Children
"This is one of my favorite thrill rides, although I caution you it can be very scary for children," said Disney Travel Agent and Mom of three young kids," Kristin Scordilis.  The elevator ride will pull you down with sudden drops and take you back up, opening the doors to see the sights of Hollywood Studios. "
3. Space Mountain
Space Mountain is the second most Googled Disney World ride in America, receiving 128,593 average monthly searches, and has the fourth highest number of Instagram hashtags in the ranking, with 128,593 hashtags. Opening in 1975 in the Magic Kingdom, Space Mountain's popularity has stood the test of time, as it is also the oldest operating rollercoaster in Florida and still ranks third overall on this list. 
What is Space Mountain Like Inside Its Dome?
This thrilling indoor rollercoaster in Tomorrowland will make you feel like you are in space with its amazing theming, music, and sounds. This ride is completely in the dark and has lots of twists and turns. Similar to Big Thunder Mountain Railroad, Space Mountain is also a very jerky rollercoaster, so be prepared for a bumpy ride. 
4. It's A Small World
Over 250 million people have ridden the 'It's a Small World' Magic Kingdom ride, the gentle boat ride that showcases different cultures from around the world. The ride receives an average of 49,558 monthly searches and has 352,796 hashtags on Instagram. 
It's A Ride Full of Nostalgia
It might not be one of the most exciting rides at Walt Disney World, but it's a classic, original opening-day ride, so it is a must do on your next visit.
This 10-minute gentle, whimsical boat ride will fill you with nostalgia. You'll cruise along the Seven Seaways Waterway as you listen to the audio-animatronics children from all over the world singing, "it's a small world." It's fun to see the scenes from all the different countries and what makes their culture unique.
5. Star Wars: Rise of The Resistance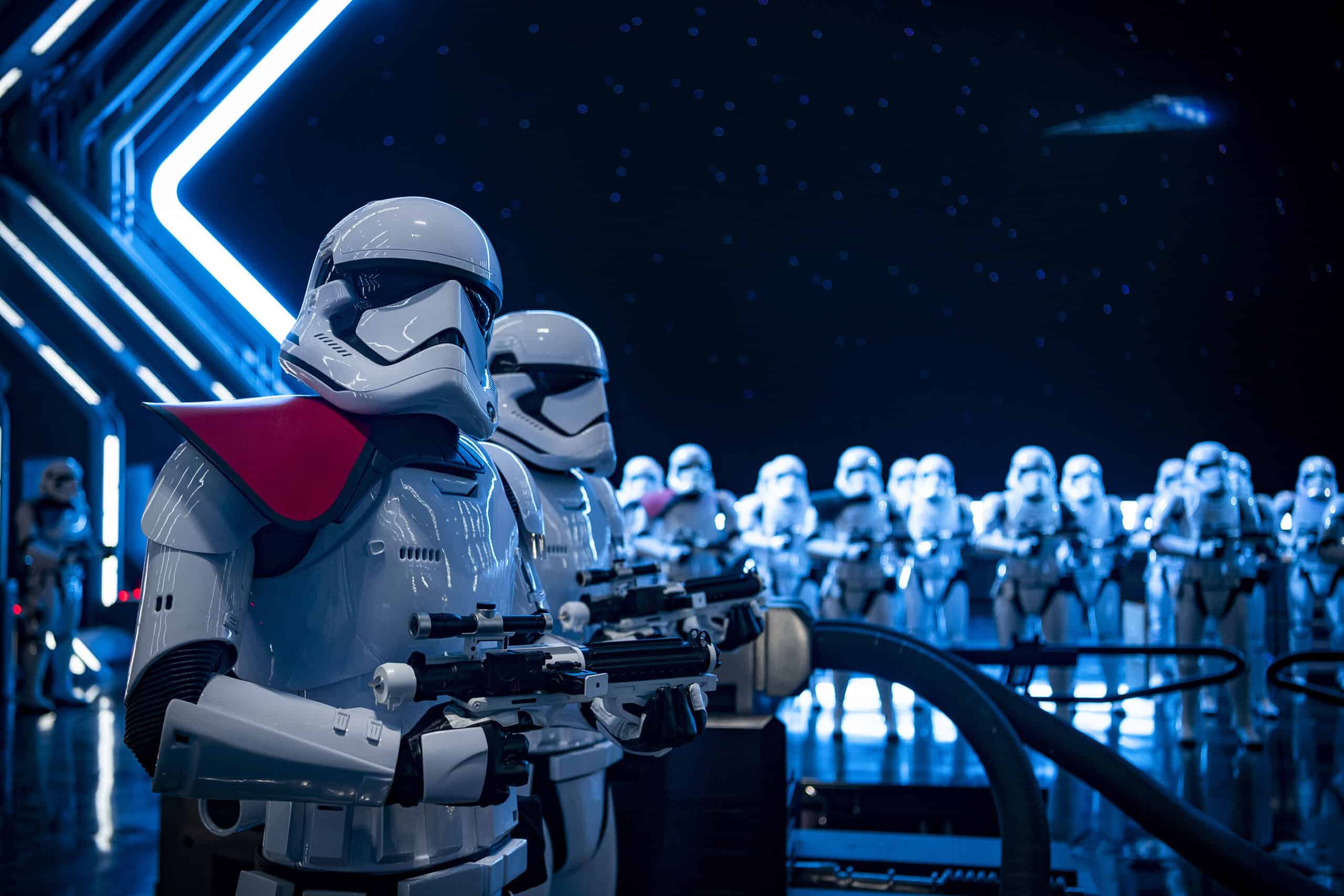 As the newest ride to feature in this top 10 list, the ride opened in 2019 in Disney's Hollywood Studios as part of Star Wars: Galaxy's Edge.  Rise of the Resistance receives 84,218 Google searches a month in America, the third highest number of searches for any ride, and has 130,677 Instagram hashtags. 
What Exactly Is This Attraction?
Talk about immersion – this entire ride is an experience from the moment you walk in.  Consisting of multiple ride systems, it is one-of-a-kind and a must do. Help the Resistance in a mission to battle against the First Order and encounter your favorite characters along the way. 
If you do not want to purchase an Individual Lightning Lane this is a great attraction to Rope Drop or use Early Entry.  Though, you will still wait because lots of people have the same idea.  If you decide to book an Individual Lightning Lane, do so as soon as you can – that's 7 am for resort guests and at park open for all other guests.  
6. Expedition Everest
The study revealed that Animal Kingdom's Expedition Everest is the sixth most popular Disney ride. The almost 200-foot-tall rollercoaster is the only ride from the top 10 to have a 5 out of 5 rating on Tripadvisor and one of only three rides in the top 15 to have this rating too. The other rides are Rock 'n' Roller Coaster Starring Aerosmith and Avatar Flight of Passage.  
It's an Expedition Through the Legend of the Forbidden Mountain
On this thrill ride, you will board a train to the top of the Forbidden Mountain. After encountering the Yeti and a broken track, your train races to escape. Be prepared for forward and backward motion, big drops, dark caves, high speeds, and loud scary sounds and effects.
7. Haunted Mansion
The classic Haunted Mansion ride secured a spot on the list despite being a 52 year-old attraction. One of the original attractions that has been around since the opening day of the Magic Kingdom in 1971 you'll find it in Liberty Square.
You'll ride on a doom buggy at Haunted Mansion through a dark, spooky haunted mansion. Even though it is dark and has ghosts, it's family-friendly and might not be too scary, even for the youngest children.
8. Big Thunder Mountain 
Big Thunder Mountain Railroad is a fun, family-friendly roller coaster so it's not a surprise that it made the list.  This amazingly themed coaster will take you over mountains and through the caverns of the Old West.
Even though it's technically family-friendly, it's very bumpy and can be too much even for older elementary aged children.  However, there are no big drops; it's mainly fast and jerky plus one dark cavern. You know your family best; some kids will love it, while it will be too much for others.
9. Star Tours
An updated version of the original Star Wars themed attraction at the park also made it on the list of favorite Disney rides.  Join R2-D2 and C-3P0 on a 3D motion-simulated space adventure to a planet somewhere in the Star Wars universe. What you might not expect is how funny your family finds it! 
Also, the story changes every time keeping you on your feet with new jokes and adventures.  You never know where you are going, what you will be doing or who you will see throughout the flight. With so many different combinations, it's highly unlikely you'll ever experience the same story twice.  
10. Jungle Cruise
This fun-for-all-ages-ride just makes it to the Top 10 list. Jungle Cruise will take you on a 10-minute riverboat cruise through the murky jungle waters of Asia, Africa, and South America.
This riverboat cruise travels along the water on a concealed track. As you cruise down the river, your "skipper" will entertain you with jokes as you encounter various mechanical animals, including elephants, lions, and hippos.
Magic Kingdom Has More Beloved Rides Than Other Disney Parks
The research revealed that Magic Kingdom, the oldest and most-recognized area of Walt Disney World, was the clear leader in popular rides. It has six out of the Top 10 most beloved rides located at the Magic Kingdom Park, and seven out of the Top 15. 
Will The New Splash Mountain Also Rank Number One?
A spokesperson for MagicGuides commented on their findings saying "Splash Mountain has been a favorite among fans for many years, so it will be interesting to see if the ride still holds the top spot once it reopens as Tiana's Bayou Adventure in late 2024." 
5 Experts Explain The Dreaded Disney Rash and How To Avoid This Disney Disaster
What happens when Americans visit a Disney theme park and take 20,000 steps or more daily in hot, humid weather? Many get the Disney rash.
If you're planning on visiting Disney or any other theme park in a warm climate, here's what you can do to prevent it and what items you should bring to treat it.
5 Experts Explain The Dreaded Disney Rash and How To Avoid This Disney Disaster
When's The Best Time to Go To Disney World? Here's 5 Major Factors
The best time to go to Disney World resort varies depending on weather, crowd levels, and seasonal entertainment. Guests can avoid intense crowds at the Walt Disney World resort by knowing which dates to avoid.
These dates often align with higher Disney World discounts but may clash with hurricane season. There is a bit of back and forth when picking the best times to visit Disney World.
When's The Best Time to Go To Disney World? Here's 5 Major Factors
The Ultimate 2023 Guide to Epcot Rides, Attractions, and Activities
Epcot, the second of the four theme parks built at Walt Disney World in Florida has a cult following. While the past decades have typically drawn more adults, the addition of rides from blockbuster kids movies like Frozen and Ratatouille has attracted younger families to Epcot once again.
No longer are the days where kids say they just want to go to Magic Kingdom! Instead, Epcot has become a fan favorite not only with adults but also with children. Here we will cover a brief history of Epcot, must-know tips for Epcot rides and attractions, and some exciting additions coming soon.
The Ultimate 2023 Guide to Epcot Rides, Attractions, and Activities
30 Reasons Families Prefer Legoland Florida to Disney World Theme Parks
Our family spent the last two Spring Breaks in Orlando, the most visited destination in America, but we had two very different experiences.  In 2022, we had a typical Orlando family vacation visiting Disney theme parks. Then, in 2023,  we went to non-Disney theme parks, including Legoland Florida, and it was a night-and-day experience.
After these two trips, our family prefers Legoland Florida to Disney World. And it turns out we're not the only ones. After interviewing 25 other families who feel the same, here's why people are opting for days with Emmet, Lloyd, and Master Wu instead of Elsa, Luke, and Mickey Mouse. 
30 Reasons Families Prefer Legoland Florida to Disney World Theme Parks
Why is Disney's Business and Stock Having So Many Problems?
While Disney World is the happiest place on Earth, Disney investors and executives aren't too happy right now. Between a decline in theme park attendance, an actors and writers' strike, trouble with their TV business and a drawn-out battle with Florida Governor Ron DeSantis, Disney's got many problems right now. 
Why is Disney's Stock and Business Having So Many Problems?