18 Things to Do in Western Australia On Your Next Trip
If you travel to Australia, make sure you put the country's west coast on your itinerary. There is an incredible range of attractions and things to do in Western Australia. From ancient gorges, weathered deserts, and coral reefs to wineries and gourmet food, Western Australia is a destination for travelers who love adventure.
Many of Western Australia's best attractions are beyond its capital Perth, so it is a great place for a road trip. Even if you fly into regional centers like Broome and Exmouth, you will still need a car to get around this big state. How long do you need to see Western Australia? You could spend 3 months exploring, but one to two weeks is enough for a great experience.
A Quick Overview of Western Australia
Western Australia is vast. If it was a country, it would be the tenth biggest in the world. It is best to look at the things to do in Western Australia in regions. Depending on your travel interests and how much time you have, you might want to choose one or two areas of the state to explore. Here are some of the best things to do in Western Australia divided into regions so you can get an idea of how to plan your trip.
Things to do in Western Australia: Perth and The Surrounding Areas
Perth is Western Australia's biggest city and if you are flying it is probably where your visit to the state will begin. While there are many amazing things to do in Western Australia, most are outside the city. But, if you have a couple of days in Perth, here are the best things to do.
1. Meet the Quokkas on Rottnest Island
Rottnest Island is a 30-minute ferry ride from Fremantle or a 45-minute cruise from Perth. The island has beautiful beaches, great snorkeling, swimming and surfing spots, and walking and bike trails. But the stars of Rottnest Island are the quokkas – a tiny wallaby said to be the happiest animal in the world. Their furry, smiling little faces and placid personalities make them irresistible selfie subjects.
2. Explore Fremantle's cafes and history
The vibrant port city of Fremantle has a thriving market, café, gallery, and restaurant scene. If you are a foodie or shopper, you will love it.  As well as its maritime history, the old Fremantle Prison is a fascinatingly grim place to visit.
3. Sample local food and wine in the Swan Valley
Whether you drive yourself or go on a Swan Valley tour, this is the ultimate treat for foodies. Only 25 minutes from Perth, the Swan Valley is home to over 40 wineries, artisan food shops, and local crafts. The 30km loop through the valley has over 150 shops, stalls, restaurants, and attractions.
4. Relax in Kings Park
Kings Park in the center of Perth has lovely walks with views over the city and Swan River. There is lots of birdlife and the trees provide plenty of shade on a hot Perth day. The 620-meter-long elevated Federation Walkway is literally a highlight of the gardens. The park and botanical gardens are the perfect spot to relax in Perth.
Things to do in Western Australia: The Coral Coast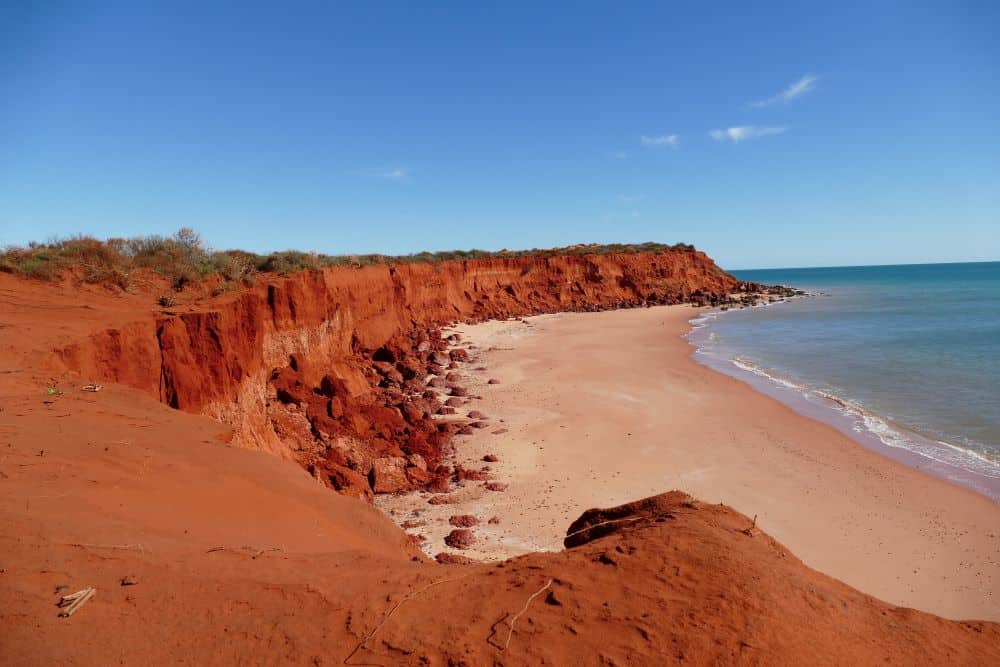 The Coral Coast starts 2 hours north of Perth and extends for 1200km to Exmouth. The drive from Perth to Exmouth is a great road trip that you could take a couple of weeks to do. Along the way, you'll experience some of the best things to do in Western Australia from the Pinnacles Desert to the beauty of the world heritage listed Ningaloo Reef.
5. Explore the haunting beauty of the Pinnacles
The limestone pillars dotted across the yellow sand of the Pinnacles Desert are a spectacular sight. You can follow walking trails between them or go on a short loop drive. Against the backdrop of the Indian Ocean, the mounds and columns of rock are a great sight any time of day, but you can get some great pictures at sunrise and sunset.
6. Swim with sea lions at Jurien Bay
Jurien Bay is a small coastal town, and the islands just offshore are home to playful Australian sea lions. Going on a tour to the islands and snorkeling with the sea lions is one of the best nature experiences in Western Australia. Expect to come face to facemask with these cute and curious puppies of the sea.
7. Take a scenic flight over Hutt Lagoon and the Abrolhos Islands
Hutt Lagoon glows bubble gum pink thanks to the salt-loving bacteria that grow there. The sunnier the day, the pinker the lake. From there you can fly over the Abrolhos Islands surrounded by coral and turquoise water. You can also drive to Hutt Lagoon or take a cruise to the Islands but seeing them from the air is the perfect way to appreciate their color and size. Flights leave from Geraldton.
8. Discover the two sides of Kalbarri National Park
Kalbarri National Park has both deep, rugged gorges and a stunning coastline. Inland, Murchison Gorge zigzags its way across the landscape. Check out Natures Window – a hole in the rock that perfectly frames the river and gorge. Get amazing views of the gorge from the Kalbarri Skywalk – twin viewing platforms that extend out from the gorge 100m above the river.
Follow the Bigurda Boardwalk along coastal cliffs in the ocean section of the park. From the walkways and lookouts, you can spot whales, rays, sharks, and dugongs. From August to November, Kalbarri National Park is also one of the best places in Western Australia to see colorful wildflowers
9. Visit the Monkey Mia Dolphins and Shark Bay
Base yourself in Denham to explore Shark Bay; a world heritage listed region 800km from Perth. Walk along Shell Beach – a 60km long beach made entirely of tiny white cockle shells. Take the boardwalk through the billion-year-old Hamelin Pool stromatolites and see where blood-red cliffs meet turquoise water in Francois Peron National Park.
The area also is also rich in marine life. Monkey Mia is one of Western Australia's best-known attractions. Here you can see dolphins swimming meters from shore. From Money Mia, you can also go on a cruise to spot one of the many dugongs that live in the bay. Allow 2 or 3 days to see everything in Shark Bay.
10. Swim with Manta Rays at Coral Bay
Coral Bay is an idyllic beachside holiday town that sits meters from Ningaloo Reef. It is a brilliant spot to go snorkeling on the reef. It is also one of the best places in Western Australia to get up close to manta rays. Swimming with the manta rays is one of the best experiences you can have in Western Australia. You'll also likely spot sea turtles.
11. Swim with Whale sharks
From April to August one of the big reasons people visit Western Australia is to swim with whale sharks. They migrate to Ningaloo Reef to feed on the nutrient-rich water. Seeing one of these 10m long fish appear out of the blue is an experience you won't forget. Whale shark tours leave from Coral Bay and Exmouth.
12. Snorkel on Ningaloo Reef
Ningaloo Reef is the largest fringing reef in the world. The great thing about a fringing reef is that it is close to shore. Unlike the Great Barrier Reef that you get to by boat, you can be snorkeling on Ningaloo Reef from as close as 30m from the beach. You'll see a huge range of tropical fish, turtles, rays, (harmless) reef sharks, dugongs, and maybe even manta rays. The best places to snorkel on the reef are at Coral Bay and Turquoise Bay near Exmouth.
Things to do in Western Australia: The Wild Northwest
If you want to have yourself a travel adventure, the Northwest of Western Australia is where to go. It is remote, rugged, beautiful, and has some of Western Australia's best attractions and best-kept secrets. Visit here between April and October. Outside of these times, the area gets monsoonal rains and high humidity and temperatures. You can fly to the main town in the region, Broome, or drive the 2200km from Perth.
13. Ride a camel on Cable Beach
The historic pearling town of Broome is the gateway to the Northwest, or Kimberley, region of Western Australia. Broome has one of Australia's most iconic beaches – Cable Beach. Ride a camel by the water, take a long walk or relax in the evening at one of the best sunset locations in Australia. While in Broome, also step back in time at Sun Pictures Outdoor Cinema or go even further back with a hovercraft tour to the dinosaur footprints in Roebuck Bay.
14. Jet boat through Horizontal Falls
Western Australia's north has huge tides. As the water rushes between the rocky archipelagos, it creates horizontal waterfalls or rapids. Catch a seaplane from Broome then get on a jet boat that takes you right into the falls. The scenery is beautiful and the ride to and through the horizontal falls is thrilling. It's not a cheap activity, but it is one of the best things to do in Western Australia.
15. Hike the gorges in Karijini National Park
Colorful layered rock. Deep gorges. Fern-lined pools, Waterfalls. Wading through chest-deep water. Palms growing out of red rock walls. Karijini's gorges are one of Western Australia's best-kept secrets. They are near the town of Tom Price, 1500km north of Perth. Allow 3 days to have a good look around Dales, Hancock, Weano, and Knox Gorges. Everyone who visits here says it is the highlight of their trip to Western Australia.
Things to do in Western Australia: The Green Southwest
Not all Western Australia is a hot semi-desert. The southwest not only has some great surfing beaches, but it also has towering forests of 1000-year-old trees. If you're a wildflower spotter, this is the place to be in spring, the southwest of Western Australia is one of Australia's go-to destinations for native flora. Try the Stirling Range National Park or Torndirrup National Park for carpets of blooms and rare plants.
16. Margaret River Food and Wine
Three hours from Perth, Margaret River is the perfect place to relax. There are over 200 wineries, gourmet food experiences, spectacular beaches, health retreats, and farm stays. On your way to Margaret River, stop and stretch your legs at the 1.8km long Busselton Jetty. There is a fantastic underwater observatory at the end, and you can even catch a train back if you don't want to walk.
17. Valley of the Giants Tree top Walk
Get a bird's eye view of the giant red Tingle trees in the forests near Walpole. The trees can be up to 75m tall and have enormous hollowed-out bases. The skywalk takes you 40m above the forest floor, and even from there, you'll strain your neck looking up into the canopy. Also, check out beautiful Elephant Rocks near neighboring Denmark. The narrow bay, giant boulders, and crystal-clear water are an awesome sight.
18. See the whitest sand in Australia at Lucky Bay
Esperance is a remote coastal town that you are most likely to get to if you do the incredible road trip across the Nullarbor Plain between Western Australia and South Australia. Crossing the Nullarbor is a wild adventure and getting to Lucky Bay near Esperance is one of the many rewards. Lucky Bay is in Cape Le Grand National Park and has the most brilliant fine white sand. Throw in iridescent turquoise water and kangaroos on the beach and you have one of the most beautiful places in Western Australia.