Vacation Like Food Network Star Jeff Mauro in The Cayman Islands
Three in four Americans who have traveled in the last five years went for the food, according to a OnePoll/Hello Fresh Survey. One of those travelers is Emmy-Nominated Food Network Star, The Sandwich King, Chef Jeff Mauro, who said, "I want to go to places with great food. And Cayman never ceases to amaze me. I like going to new places and discovering new things, but out of all the places that we have been, this is the one that we come back to," Mauro explained to the audience at the recent Taste of Cayman Food & Drink Festival.
A Special Place for His Family
"The Cayman Islands holds such a special place not only in my heart, but it has been the backdrop of fabulous memories for my entire extended family for more than 30 years. I have been singing the praise of Cayman's culinary scene for many years. There is nowhere I'd rather be than in Cayman with my toes in the sand and a delicious jerk chicken sandwich in my hand," he proclaimed. 
You might spot him driving a Jeep Wrangler around town, enjoying the following places with his immediate family or the 35-plus extended family troupe he regularly visits with. 
What Does A Food Network Star Eat In The Culinary Capital of The Caribbean?
The Cayman Islands has more than 200 restaurants with an array of 5-star establishments, brilliant brunches, freshly caught fish prepared straight out of the turquoise waters, causal cafes, and beloved take-out places. Its delicious offerings are influenced by global cuisine, a reflection of the 142 nationalities of its residents. 
One of His Favorite Casual, Affordable Picks
"We always have a Chicken-Chicken night, which I love; it's legit," he said while preparing a jerk chicken sandwich for Festival attendees. "I love the shredded chicken version of the jerk without the bones. Next thing you know, you've eaten four pounds of jerk chicken. It's the real deal."
His Favorite Restaurant
But his all-time favorite place is Cayman Cabana. "We've been going  since we started coming here. He makes some really good food that I fell in love with," the Chef stated.
While in town for the 35th Food & Drink Festival, he ate at their weekly Thursday farm to table dinner and said, "Everything we ate was from the sea right beside us(fresh tuna), the palm above us (the greatest coconut ceviche on the planet), or a small family farm down the road (callaloo, beets, and so so many ripe mangoes). Just an amazing meal."
Or Have Their Catering Team Come to You
"They [catering team] also come to where our family stays and makes all my favorite food that I eat on the island. He'll bring a smoker, make jerk chicken, jerk pork, whole snapper, potato salad, hardo break, mangoes, escabeche peppers," stated Mauro. 
Here's What He Does In Between Meals
This trio of islands between Cancun, Mexico, and Jamaica is a destination fit for all kinds of travelers, including divers, honeymooners, adventure seekers, families, and of course, foodies.
"My wife Sarah and I always make sure we start the day with some good ol' fitness. We love the hot yoga classes at One Heart Yoga Studio and Bliss.  We also enjoy throwing some weight around at F45. Gotta pay to play," Mauro said. 
Cayman Islands Has World Class Scuba Diving Sites
"I got certified and fell in love with the SCUBA diving in Cayman, so I always plan a couple of dives every time I visit. I love the art and sport of Lion Fish hunting and how important it is to help reduce the population of that invasive species. Plus, it's way more challenging than you think," he continued. 
Or Just Enjoy the Stunning Beach
"I know this is not a traditional activity, but throwing bags on the beach during sunset –  my lord, does it recharge and reinvigorate my soul. Not many things make me as happy as a golden hour corn hole game outside our condo on Seven Mile Beach with friends and cousins, cold Island Hopper IPA in hand, and the Dead on the Bluetooth," he proclaimed. 
His Home Base When on Grand Cayman
Grand Cayman, the largest of the three islands, offers a range of accommodations, from luxury villas to home and condo rentals, timeshares, resorts, and hotels. 
His extended family rented the same large house for over ten years, but recently that property wasn't available for rental anymore. Now, his home base while in Cayman is the beachfront condos at The Coral Stone Club. 
A Beautiful Condo Resort
This private luxe boutique complex offers 29 beachfront 1800 square foot 2-3 bedrooms condos in the heart of Seven Mile Beach. Fully stocked with everything you need to enjoy a  home-like vacation plus an oceanfront swimming pool, it is centrally located and a great jumping-off point to explore the island.
Is Cayman a Possible New Home For this Chicagoan?
"Every time I come here, I meet more and more people and feel more and more embedded on the island, in the culture, the people, and the food," he said. 
As a former stand-up comedian, it's hard to tell a joke from fact with Jeff Mauro. However, at the Taste of Cayman Food & Drink Festival demonstration with Young Cayman Chef of the Year winner Brittney Bodden, serving as sous chef, he asked if he should move to The Cayman Islands in four years after his son graduates high school.
Will He or Won't He Open Up a Cayman Casual Eatery?
"Should Brittney and I open a sandwich shop?" he asked, taking suggestions from the crowd for its name. People suggested Between the Buns, his food truck name on Season 7 of The Food Network Star, and Crust to Crust Café, a nod to his infamous phrase about the proper way to apply schmeers to a sandwich (Crust to Crust Is a Must.)
He did reveal his choice for a potential Cayman Island casual eatery – St. Lorenzo's Subs, an homage to the patron saint of both chefs and comedians. "We'll open it up, and I'll live on the beach and never have to go home again," Mauro said. 
Only time will tell if this Food Network Star is moving to the Cayman Islands.
I Toured Tons of Cayman Resorts and Rental Accommodations: Here's My Hand-Picked List Across the Three Islands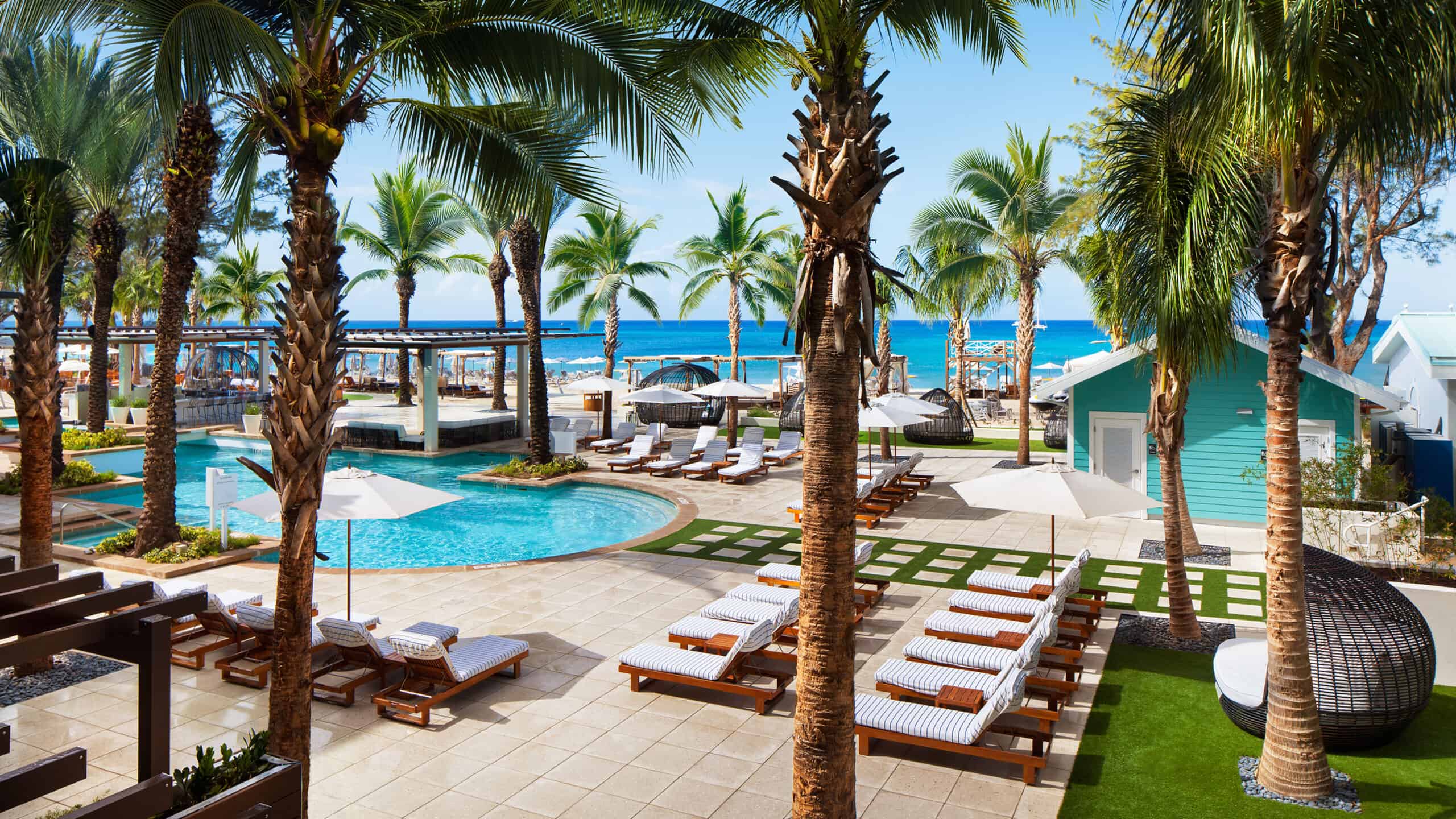 When dreaming of an island getaway, you want something that checks all the boxes. Sunny warm weather with stunning sandy shores. Turquoise water so clear you can see your feet at the bottom and fish swimming by. Residents that welcome guests warmly no matter who you are or where you're from. Delicious cuisine that surprises you in all the best ways. Easy to get to with many non-stop flight options. And lastly, accommodations for all types of travelers and budget points.
The Cayman Islands seemingly checks all those boxes. I was fortunate to tour a whole host of Cayman resorts and rental accommodations on my recent trip. Here's a list of 17 hotels, resorts, condos, timeshares, and private villas to consider for your next couples, family, or group getaway.
I Toured Tons of Cayman Resorts and Rental Accommodations: Here's My Hand-Picked List Across the Three Islands
The Beautiful Bimini Bahamas: 8 Things To Do in This Less Crowded Gem
Do you love the beauty of The Bahamas but don't love the crowds of New Providence or Paradise Island? Then perhaps it's time to consider another of the Bahamas' 16 islands.
Bimini Bahamas is a breathtaking island known for its crystal-clear waters, white sandy beaches, and smaller island feel. With only a few resorts and accommodations, it's a different vacation vibe. 
The Beautiful Bimini Bahamas: 8 Things To Do in This Less Crowded Gem
31 of The Best Things To Do In Puerto Rico to Explore The Island and Culture
Puerto Rico is described as the heart and soul of the Caribbean. Yes, this island boasts 720 miles of coastline with over 300 stunning beaches, but it offers so much more. From one of the world's very few bioluminescent bays to the lush mountaintops of El Yunque National Forest, plus history and some of the world's most delicious food, there is something here for every traveler.
So whether you want a getaway that's jam-packed with adventure, or you want to do nothing at all there's are so many things to do in Puerto Rico. And bonus, no passport is required if you're traveling from the United States.
31 of The Best Things To Do In Puerto Rico to Explore The Island and Culture
15 Things to Do in Barbados From Someone Who Has Visited More Than 10 Times
With miles of white-sand beaches fringed by lazy palm trees, Barbados is a true paradise. That's why I returned to this Caribbean island time and time again.  Each trip I discover more things to do in Barbados and I fall in love with it all over again.
15 Things to Do in Barbados From Someone Who Has Visited More Than 10 Times
For the Second Year in a Row, Travelers Voted This Vacation Destination the Best in the World
TripAdvisor Travelers' Choice Award winners are chosen by millions of travelers worldwide who provide honest and unbiased reviews or opinions on destinations, activities, and experiences. For the second year in a row, the luxe  Dubai was voted the #1 place to go in the world.
For the Second Year in a Row, Travelers Voted This Vacation Destination the Best in the World
This article was produced by Planner at Heart.