The Best Time to Visit New Zealand from Someone Who Lived There for 18 Months
New Zealand is many things. Home to more sheep than people, it's raw, stunning, and wild. It's scenic, diverse, and a land of spectacular contrasts- not to mention jam-packed with natural beauty and a sense of adventure. But it's also really, really far away.
For most of us, the Land of the Long White Cloud is literally on the other side of the planet! Now, this isn't necessarily a bad thing (any closer, and it'd be saturated with tourists all year round). But it has practical implications for people who wish to visit. Case and point –  Deciding when to go!
After all, if you're flying thousands of miles and spending lots of money to get there, you want to make sure you travel at the right time. So it begs the question: When is the best time to visit New Zealand?
If you've been wondering exactly that, then this guide should help. So read on to discover what this incredible country's like throughout the year and glean all the information you need to decide the dates for your trip!
When Is The Best Time To Visit New Zealand: Consider the Seasons, Weather, & Climate
Many travelers' best time to visit New Zealand will depend mainly on the weather! So, let's start there…
New Zealand enjoys a pleasant and mild maritime climate throughout its four seasons, thanks to its small size and the oceans surrounding it. I'll dive into seasonal specifics in a moment, but here's the TL: DR version:
Winter's cold but seldom freezing; summer's hot but rarely scorching!
That said, there's certainly a lot of variety in the weather. Indeed, local Kiwis often joke about experiencing all four seasons in a day. So no matter when you go, be prepared for the temperature to fluctuate. Carrying an umbrella in midsummer might seem overkill, but it could come in handy!
Different regions of New Zealand have their own micro-climates too. For example, the top of North Island in summer is subtropical. Head to South Island's alpine areas in winter, and you can expect sub-zero temperatures.
Lastly, it's worth remembering you'll be in the southern hemisphere. That means everything's backward in terms of the seasons! Summer for us is winter in New Zealand; springtime is fall, and vice versa. Let's dive into the particulars of summer, fall, winter, and spring.
Summer in New Zealand
If there were four words to fill my heart with joy, these would be the ones! Extending from December through February, summer in New Zealand's hard to beat.
This is when authentic Kiwi culture's in full swing. So you'll be in your element if you love fishing, BBQs on the beach, water sports, spending time outdoors, and sipping ice-cold beers beneath a blazing sun.
According to newzealand.com, you're looking at average high temperatures of around 21 to 25°C. From personal experience, though, it gets much hotter. Expect 30°C days regularly, complete with glorious sunshine and late sunsets.
Top tip: Don't forget the factor 50! The NZ sun is notoriously intense, so lathering yourself in sunscreen is a must if you don't want to burn.
Fall in New Zealand
There's a lot to love about New Zealand in fall too. In fact, for reasons I'll talk more about later, it's arguably the best time to visit New Zealand…
This season runs from March through May and is basically an extension of summer. Those lucky Kiwis enjoy a temperate few months, with the average daytime temperature ranging from 17 to 21°C! Expect the nights to get cooler and rainfall to increase as you move from April into May, but don't let that put you off.
Autumn remains a great time to enjoy all the things to do in New Zealand outdoors and experience the best this amazing country offers.
Winter in New Zealand
You might expect winter to be the worst possible season to visit a land renowned for its outdoor pursuits. Yet New Zealand's full of lovely surprises! While the winter months of June, July, and August get cold (the average daytime temperature sits at 12 to 16°C) and wet, there's still plenty to see and do- including certain activities that aren't available any other time.
Venture to Central Otago on South Island, for instance, and you'll encounter snowy conditions that attract skiers and snowboarders from all over the world. There are also countless natural hot pools across the country, which are extra special when it's icy outside! Dry winter days are cool and crisp, too, making them ideal for hiking. If that wasn't enough, winter's also when you can see migrating humpback whales off the coast of Kaikoura and the Bay of Islands, for example (more on this later)!
Top tip: If you like seeing New Zealand in winter but want to avoid anything too cold, stay in the area north of Auckland, called Northland. This place has earned the nickname "the winterless north" for its mild year-round climate!
Spring in New Zealand
Although spring in New Zealand might be too damp for some, the months spanning September to November are nothing short of spectacular in terms of the sense of hope and optimism that linger in the air! So get ready for longer, warmer days (think 16 to 19°C during the daytime) that invite you into an outdoor world teeming with brightness, color, and new life.
Heads up, if you'd like to see some epic waterfalls in full raging glory, spring is undoubtedly the best time to visit New Zealand! There are dozens of mind-boggling falls in this country- all swell and multiply at this time.
When is the Best Time to Visit New Zealand? Consider  High, Shoulder, and Low Travel Seasons
The weather in New Zealand isn't the only thing to change throughout the year. The number of tourists exploring the two islands does as well!
Of course, these factors go hand-in-hand (good weather brings more people; bad weather turns them away), so it's essential to consider them simultaneously when deciding the best time to visit New Zealand. This section will go through the three distinct travel seasons and what to expect from them.
High Season: December to February
The high season in New Zealand is synonymous with summer. Not only is it the holidays, but the weather's glorious, which attracts travelers like moths to a flame- particularly those from the northern hemisphere who get enticed by the promise of sunshine in what should be their winter.
Combine the good weather with Aotearoa's endless outdoor attractions, and it's no surprise summer's so popular. But it comes at a cost- literally. So get ready for higher prices and an abundance of no-vacancy signs! If you travel here in the high season, prepare for crowds and book your accommodation, tours, and activities in advance. Don't, and you might miss out.
Shoulder Season(s): March to May and September to November
If you're looking for good weather with fewer crowds, then the best time to visit New Zealand will be either autumn or spring. These are the two shoulder seasons, and they're both extraordinary exploring times! Sure, the days aren't as hot, and the sun isn't as high in the sky, but what you sacrifice in weather, you make up for in space.
In spring, the bulk of tourists is yet to arrive. Then, come autumn, most have gone home! The result is a quieter country that costs less to travel around. The vibe's less frenetic, and you get the incredible sense of having New Zealand to yourself.
Low Season: June to August
Winter is the low season in New Zealand. Although the snowsports that become available in places like Wanaka draw large crowds of locals and travelers, most of the country feels very quiet. The atmosphere in the low season isn't as exciting, but you do feel privy to a different side of the country. It's like peeking behind the curtain- getting a glimpse of local life without the influence of tourism.
And, of course, it doesn't get any less beautiful! If you don't mind the cold and rain, you can experience some of New Zealand's top attractions without a fellow soul in sight. Similarly, if you're looking for the cheapest time to visit New Zealand, this is it! With less demand for accommodation, prices rocket right down.
FAQs About the Best Time to Visit New Zealand by Interests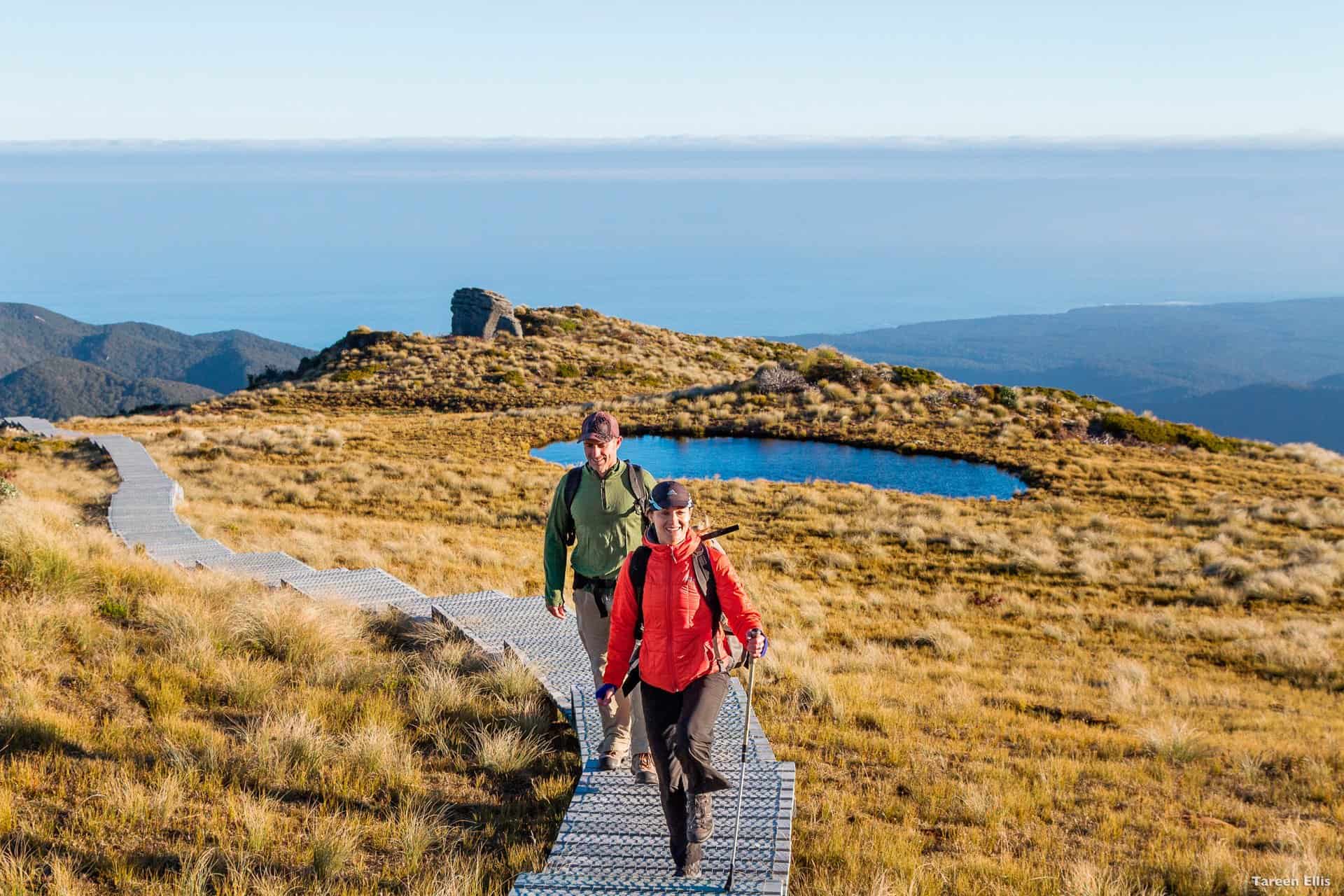 People have common questions about the best time to visit New Zealand! This section could seal the deal if you haven't decided when to go.
When is the Best Time to Hike in New Zealand?
Regardless of where you are in New Zealand, you're never far from a wonderful walk! However, I think the best time to lace up your boots is early to mid-autumn. The weather's perfect (sunny without being too hot), and although there are other people around, the trails don't feel overcrowded.
When is the Best Time to Visit New Zealand's Beaches?
100% summer! It's a busy period, but there are so many beautiful bays in this country that you can almost always find your own little slice of paradise. Likewise, going to the beach in summer is practically a religion in New Zealand! You'll get a sense of Kiwi culture, revel in the happy atmosphere, and swim in pristine waters, surrounded by sumptuous scenery with a hot sun overhead.
When is the Best Time to Go Whale and Dolphin Watching?
This one depends on where you are in the country and what you want to see! For instance, go to Kaikoura on the South Island, and you can spot sperm whales all year round. Head there in summer, though, and you might also witness pods of orca. The Kaikoura coastline hosts everything from migrating humpbacks to blue whales between June and August!
On North Island, the Bay of Islands (on North Island) is another popular place to go whale and dolphin watching. You can see dolphins there throughout the year and orcas (although they're mainly present between October and March). Humpbacks and blue whales are also present here between June and August.
So, When Is the Best Time to Visit New Zealand?
Ultimately, there's no "right" or "wrong" time to visit the Land of the Long White Cloud. Every season has pros and cons, so the best time to visit New Zealand usually comes down to good old-fashioned personal preference!
For me, you can't beat New Zealand in the late summer/early autumn. Yet that's because I love the outdoors, don't like getting too hot, hate overpaying for accommodation, and try to avoid crowds of tourists! By contrast, an avid skier desperate to hit the slopes is sure to prefer midwinter.
Whenever you decide to go, the joy of traveling in such a remarkable place is that there are always unique perks and stunning activities to enjoy. So with that comforting thought in mind, all that's left to do is book your trip!
This article was produced by Planner at Heart.