Feel Like Tom Cruise in Mission: Impossible With This Local's List of Exciting Experiences in Abu Dhabi
If you've seen Mission: Impossible – Dead Reckoning Part One, you've got a small glimpse of the exciting adventures and thrills that Abu Dhabi and the United Arab Emirates provide.  It's not the first time that Tom Cruise or the Mission: Impossible series filmed mind blowing scenes in the country, known for not just luxe life, but also adrenaline-filled activities. 
What Is Abu Dhabi?
Did you know Abu Dhabi means the Land of the Gazelle in Arabic? While the local legend says that this land was founded when a wandering tribe followed a young antelope to fresh water on an island, its name also alludes to what awaits visitors to United Arab Emirates' capital city. 
A place named after an animal that is both fast and graceful, you'll see all the elegant, modern cosmopolitan elements of this high-rise city mixed with its ancient history and heritage. So that means you'll take your pick of stunning nature, beautiful beaches, high-end luxury, incredible wildlife, family-friendly adventures, world-class shopping, renowned golf courses, high-speed world-class sporting events, and cultural experiences.
Abu Dhabi Is Made For Sea-side Fun
A city that sits off the mainland on an island in the Persian Gulf offers five miles of waterfront, dubbed the Abu Dhabi Corniche.  If you've wanted to travel to the Middle East, especially with kids, but have concerns about safety, the county, and all its destinations, are ranked as one of the safest cities in the world. 
So if you're flying into Dubai, reserve a day or two for Abu Dhabi. There are many ways to travel between Dubai and Abu Dhabi in just over an hour and explore another part of this country. 
A Wide Range of Accommodations
The UAE as a whole has some of the best customer service you can experience in the world; whether you stay in a four-star resort or one of the many American hotel brands' properties in the destination, there is a stay for most budgets from familiar hotels like Ramada, Marriott, Hyatt, W, Hilton, Radisson and more.  For lower-priced holidays, avoid the times of the year with major sporting or celebrity events. 
You Can Even Stay at a Former Palace, Turned Hotel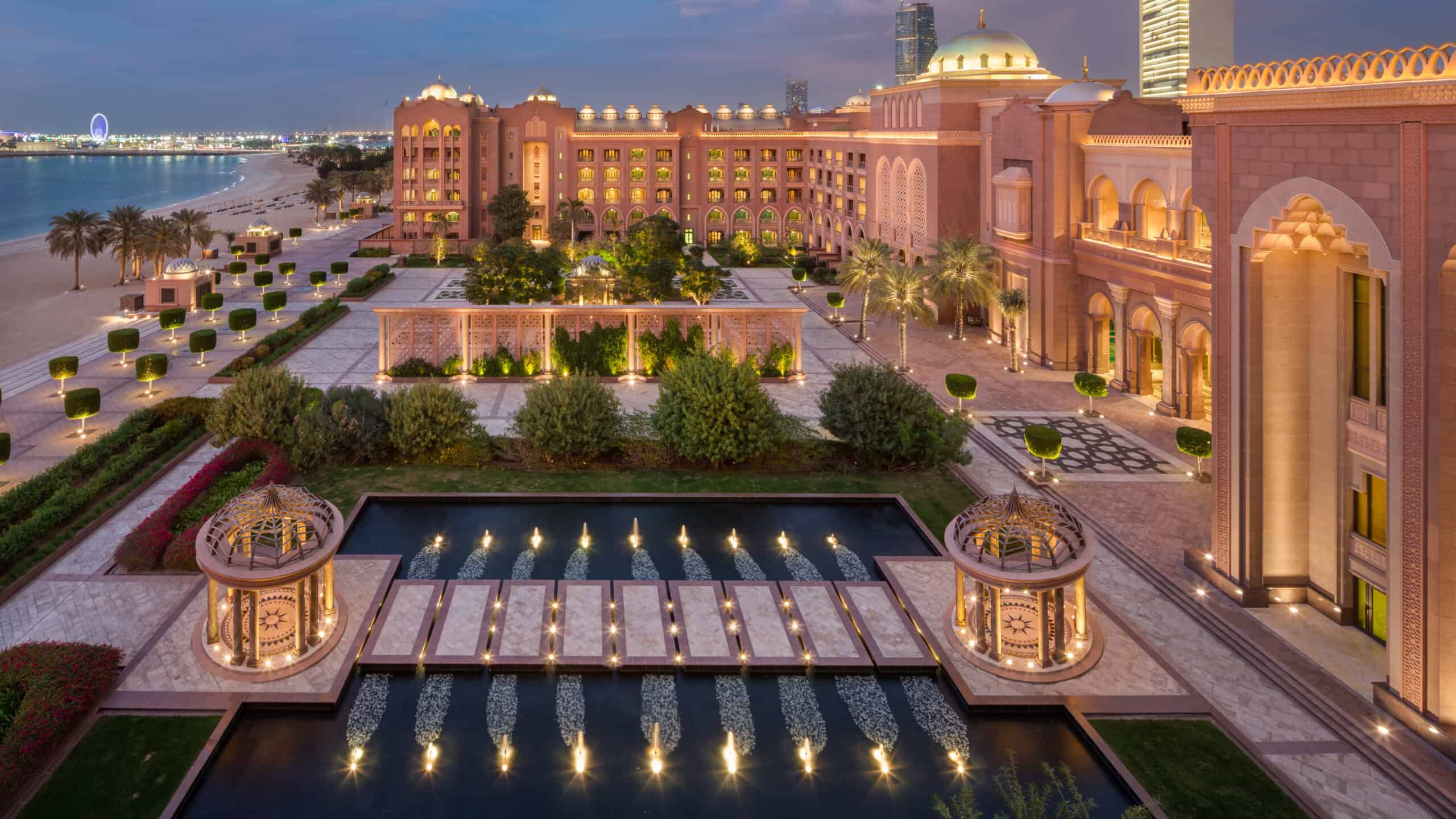 Abu Dhabi is also home to some of the best luxury hotels in the world, including the iconic Emirates Palace Hotel. Yes, it was an actual palace before becoming a hotel. How cool is that?!

It's an incredible feeling as you drive through the large royal gates, into the manicured gardens, and up to the grand hotel entrance. Offering world-class amenities, including a spa and fitness center, multiple swimming pools, restaurants, and even an on-site marina. The stunning interior design and dedicated staff will make your stay unforgettable.
Visit the Beautiful Sheikh Zayed Grand Mosque
The Sheikh Zayed Grand Mosque is a mesmerizing sight, with all of its white marble and intricate flower details. Built-in honor of the late Sheikh Zayed bin Sultan Al Nahyan, the mosque is an impeccable example of Islamic architecture.

The sheer size and grandiose design will leave you in awe, especially at the golden hour when the sun starts to set, which is definitely when we recommend you visit! It is also one of the largest mosques in the world and one of the most popular reasons for visiting Abu Dhabi.
Enjoy a Diversity of Food
The city has fantastic restaurants, cafes, and bars, so you'll never go hungry or thirsty while exploring Abu Dhabi! The mixture of a large expatriate population means you'll find every possible food imaginable.

Everything from traditional Emirati cuisine to internationally renowned restaurants like Hakkasan. So whether you're craving sushi or want to know why you keep seeing TikToks about Shawarma sandwiches, then Abu Dhabi is the place for you! Make sure to try a Karak tea with a Regag bread sandwich!
Shop Till You Drop in Abu Dhabi's Malls
Abu Dhabi is a shopper's paradise, with everything from traditional souks to high-end designer stores. So whether you're looking for souvenirs or designer clothes, you can find them in Abu Dhabi.
The malls are especially popular with tourists, as they offer a variety of stores and restaurants. So take a trip to the Abu Dhabi Mall, Marina Mall, or Yas Mall for some of the best shopping experiences in the city!
Explore the Country's History
The city's rich culture and history can be explored at museums like the Sheikh Zayed Heritage Centre and the Qasr Al Hosn Fort.
See Exclusive Art Pieces
You can also explore the city's art scene, with galleries like Warehouse 421 and the UAE Pavilion at Saadiyat Island. The Louvre Abu Dhabi is another must-see destination for those seeking exclusive fine art collections, including one of the world's most expensive paintings 'Salvator Mundi' by Leonardo Da Vinci.
Spend a Day at Thrilling Theme Parks
If you're a thrill seeker, there are many incredible theme parks to explore. Don't tell Dubai, but Abu Dhabi has way better theme parks, and even Yas Waterworld is a favorite amongst locals versus Dubai's water parks! Yas Island's Ferrari World has one of the fastest roller coasters in the world, while Warner Bros Abu Dhabi is the world's largest indoor theme park and offers rides and attractions for all ages. Featuring characters from popular films like Superman and Batman!
Thaw Out In Their Warm Weather and Sun
The desert climate in Abu Dhabi is perfect for spending time outdoors during winter; the winter season is lovely, with temperatures ranging from 15°C to 26°C.
Abu Dhabi has some of the best beaches, so you can soak up the sun and take a break from sightseeing for a day or two! Abu Dhabi Corniche has beautiful long walkways and cycle paths to enjoy or sun beds for rent for lounging, depending on what type of activity you prefer. So take a break from the sightseeing and soak up some of the sun!
Want to Show Your Kids The World? It's a Family-Friendly Destination
There are plenty of family-friendly activities in Abu Dhabi, making it the perfect destination for a family vacation. From waterparks to zoos, there's something for everyone to enjoy. The Yas Waterworld theme park is a great place to cool off, while the Abu Dhabi Falcon Hospital offers tours for an educational experience for all ages. Generally, Abu Dhabi is more family orientated than Dubai.
Fewer People Than Dubai; Still Many Attractions
Abu Dhabi is only a 1-hour drive from the bustling city of Dubai, so you can enjoy all that both cities offer. However, Abu Dhabi has become increasingly popular in recent years and boasts many of the same attractions as Dubai – without the large crowds!
Explore the varied landscapes of Abu Dhabi and Step Back in Time
From rocky outcrops to sand beaches and sandy dunes, the landscape of Abu Dhabi offers a variety of spectacular sights. Take a desert safari and explore the Liwa Desert for some fantastic views of dunes, or take a trip to Jebel Hafeet for breathtaking vistas. Why not kayak in the Abu Dhabi Mangroves? Or adventure on an animal safari at Sir Bani Yas island? Abu Dhabi offers the best of both worlds!
Attend Global Events like Abu Dhabi Grand Prix
If you love celebrity spotting or enjoy the high luxury life, then the Abu Dhabi Grand Prix is for you. If you want a VIP experience, you can buy a yacht ticket or a hospitality package. It doesn't stop in the day either; the party continues into the night with open-air concerts. Past artists have included Usher, Beyonce & The Killers.
Get Out on Epic Golf Greens
While Abu Dhabi has fewer golf courses than Dubai, its seven greens offer impressive options. Many golfers want the bragging rights of playing the iconic Abu Dhabi Golf Club, while other advanced players want to try the country's best course –  Yas Links. 
For golfers who prefer seaside courses, make a reservation at the Gary Player-designed Saadiyat Beach Golf Club, the Arabian Gulf's first beachfront golf course.
Which one of These Things to do in Abu Dhabi Will You Try?
So what are you waiting for? Add Abu Dhabi to your travel list today! With its stunning architecture, luxury hotels, rich culture, and endless activities, this Arabian gem has something for everyone! Plus, it's less well known than its neighbor Dubai, meaning you can enjoy many of the same luxuries without as many crowds!
Where Is Dubai? Plus 17 Reasons It Draws Millions of Vacationers Every Year
Europeans have long been escaping rainy, dreary, and winter weather by holidaying in Dubai. Americans have recently caught on to this fabulous vacation destination, becoming the 4th largest group of international visitors. If you don't know much about it, you may be thinking, Where is Dubai, and what do 14 million people a year do on vacation there?
But when finding the answer to Where is Dubai, you also uncover the destination's draw. As the Persian Gulf flanks it on its west and the enormous deserts and Hajar mountains to the east, Dubai has a more dramatic natural landscape than a typical desert city.
Where Is Dubai? Plus 17 Reasons It Draws Millions of Vacationers Every Year
10 Gorgeous Dubai Golf Courses for Your 2023 Holiday
If you've seen any pictures of Dubai, you know that they've dreamed big in the past 50 years and brought those dreams into reality. And that goes for Dubai Golf Courses as well.
For a small riverside city that rose from desert sands in a relatively short time, the Dubai golf options are awe-inspiring. So many of the city's sporting facilities are beautifully woven into the city's jaw-dropping architecture, and the vistas from Dubai golf courses are one of a kind.
10 Gorgeous Dubai Golf Courses for Your 2023 Holiday
The World's 30 Most Difficult Golf Courses
Most golfers appreciate a good challenge, but when it comes to course design, there's a fine line between difficult and sadistic. So we've taken a look around the globe and picked out some of the golf courses that have brought even the best players in the world to their knees.
The locations featured here have been given diabolical ratings by the USGA, which closely monitor the difficulty of courses in America and beyond. We've ranked these courses in terms of their difficulty, using the USGA's ratings from the farthest tees offered to non-professionals as a baseline. Of course, you'll want to invest in some lessons before dragging your golf clubs to these spots.
The World's 30 Most Difficult Golf Courses
TIME Magazine Announces The World's Greatest Travel Destinations for 2023
Want to explore our big beautiful world but need help figuring out where to start? Well, TIME magazine revealed its fifth annual list of the World's Greatest Places, highlighting 50 extraordinary travel destinations around the world. 
Of the 2023 list, TIME editors write: "The travel industry is back in full swing in 2023, but not without notable shifts in how and where we wander. Steeper costs and increased interest in sustainability and authenticity are reshaping the landscape." 
TIME Magazine Announces The World's Greatest Travel Destinations for 2023
The Safest Places to Travel In 2023 Announced
For the eighth year in a row, travel insurance provider Berkshire Hathaway has combined travelers' feedback with data to create the State of Travel Insurance Safest Destinations report.
So if you want to book an international vacation in 2023, take a travel planning shortcut and book a trip to one of their 15 safest countries or 15 safest cities. 
The Safest Places to Travel In 2023 Announced
This article was produced by Planner at Heart.