Finally Focus on You at 20 of the Best Wellness Retreats Around the World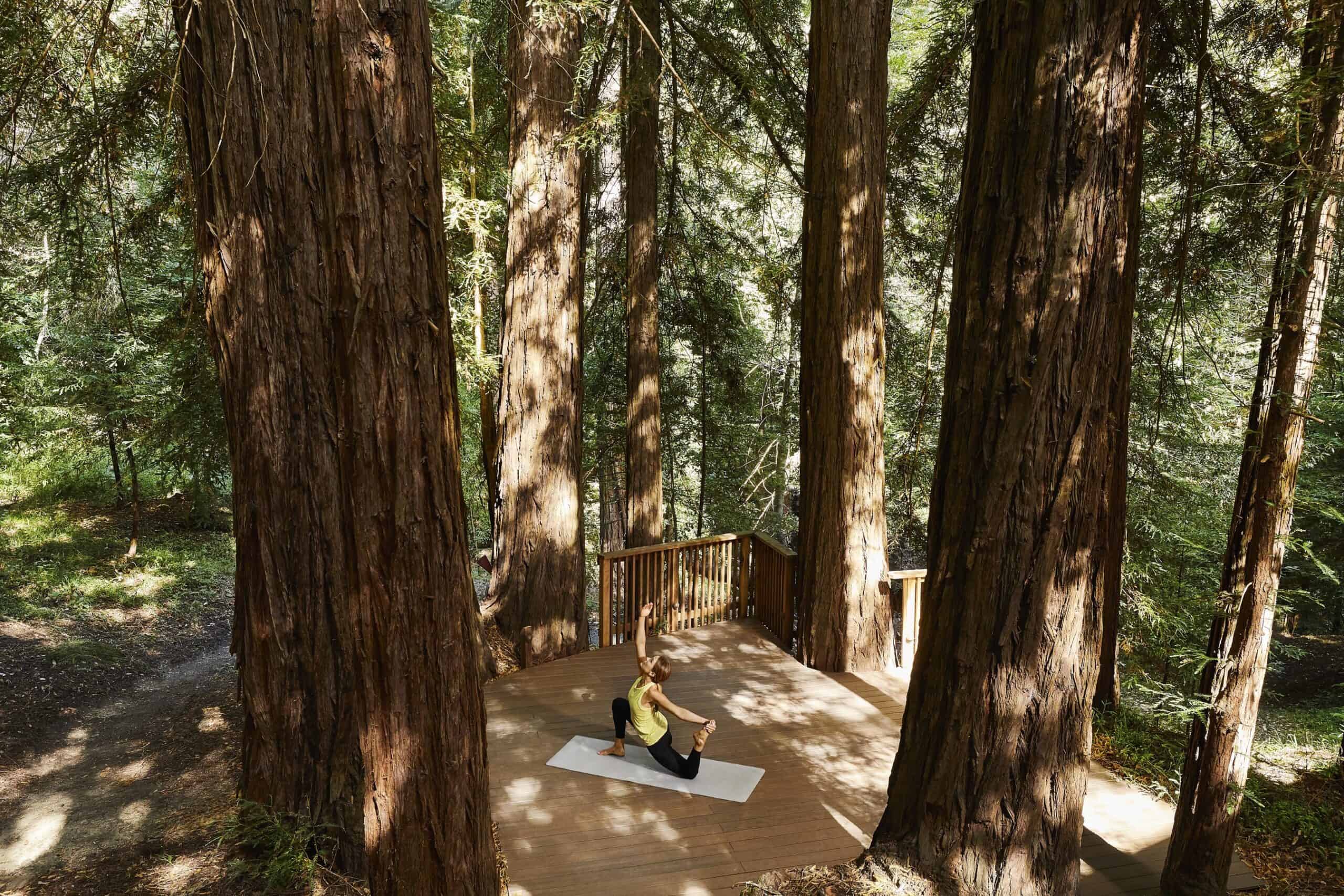 After the three years that we've all had, it shouldn't be a surprise that wellness retreats and holistic focused vacations are on the rise and more popular than ever. The sanity-busting pandemic coupled with travel restrictions keep us at home and wrecked havoc on our overall wellness. Now, millions of travelers are prioritizing their health and destinations are ready for them.
There's a long list of wellness retreats around the world from the breathtaking beaches of Bali to the gorgeous mountains of Colorado, each waiting to refresh, recharge, and re-energize you. If you're in need of some rest and relaxation the last think you want to do is spend hours researching possibilities. Well, we've got you.
Here's a curated list of the best wellness retreats in the United States and around the world. These retreats have activities for everyone, whether you want to do yoga, meditate, go hiking, jump start healthy habits or just unwind. So pack your bags and prepare for a life-changing experience at one of these amazing retreats.
But First, What Are Wellness Retreats?
Wellness retreats are travel experiences that aim to enhance people's general well-being through diverse activities like yoga, meditation, spa treatments, healthy eating, and other health-related activities.
Wellness retreats aim to encourage people to detach from their regular routines and focus on their own well-being, leisure, and personal growth. In addition to offering programs that can last anywhere from a few days to many weeks, wellness retreats can be found worldwide, from remote rural settings to tropical beaches.
Best Wellness Retreats in North and South America
1. Maui Healing Retreat (Hawaii) – Great For Holistic and Sound Healing
The Maui Healing Retreat is located among the stunning natural beauty and tranquil atmosphere of Hawaii. The retreat is well-known for its holistic healing options, including yoga, meditation, massage therapy, and mindfulness training.
A unique offering of the Maui Retreat is its sound healing sessions using tuning forks. By using solfeggio frequency tuning forks, sound wavelengths with exceptional healing powers penetrate the mind, creating a powerful energetic field that relaxes and soothes the body and spirit.
2. The Ranch (Malibu, California) – Great for Luxury Fitness and Weight-Loss Programs
The Ranch in Malibu is a luxury wellness resort renowned for its distinctive program that mixes walking, exercise, yoga, and plant-based cuisine to encourage both physical and emotional wellness.
In order to help participants reach their goals, the program, which is built on the ideas of endurance, well-being, and sustainability, emphasizes pushing people both physically and emotionally.
3. The Himalayan Institute (Pocono Mountains, Pennsylvania) – Great for Authentic Yoga and Meditation Experiences
Located amongst the scenic Pocono Mountains, The Himalayan Institute is based on a 4000-acre campus where one can truly feel at one with nature's spirit. The institute was founded by Swami Rama, a yogi and meditation master, and till today maintains the authenticity of his traditional teachings to the practices of yoga and Ayurveda.
4. The Chopra Center (Carlsbad, California) – Great for Ayurveda Yoga and Meditation
As the name suggests, The Chopra Center was founded by renowned author Dr. Deepak Chopra and Dr. David Simon, a board-certified neurologist. The Chopra Center is distinctive because it combines cutting-edge science with age-old therapeutic practices like meditation and Ayurveda.
The "Perfect Health" program is one of the most popular wellness retreats at the center – a six-day Ayurvedic regimen intended to assist participants in attaining physical and emotional balance through a combination of nutrition, yoga, and meditation. The Chopra Center also provides a variety of online courses and activities, opening out its teachings to a global audience.
5. Shou Sugi Ban House (Hamptons, New York) – Great for Personalized Holistic Wellness Consultations
The Shou Sugi Ban House is based on the Japanese-inspired principles of wabi-sabi, meaning the spirit of oneness and exploration. It offers a range of traditional wellness treatments which aim to re-connect one with their spirit and the world, reminding them of the importance of living kindly and in harmony with our surroundings.
6. KyCo Wellness (Tulum, Mexico) – Great for Chakra Healing
With a holistic approach to wellness that focuses on the chakras, the body's energy centers, the KyCo Wellness Retreat outside of Cancun Mexico stands out among Mexico's wellness retreats.
Yoga, meditation, sound healing, and Reiki are just a few of the programs the retreat offers. Utilizing the native Huichol people's shamanic healing techniques, the KyCo center stands out with a distinct approach to help balance and heal the chakras, from the root to the crown chakra.
7. The Canyon Ranch (Tucson, Arizona) – Great for Mindfulness Healing & Luxury Accommodations
The Canyon Ranch offers a unique retreat program that uses daily positive affirmations routines, as well as courses that emphasize the power of positive thinking, to give participants a chance to reframe negative self-talk and limiting beliefs and develop a more positive mindset.
8. The Kripalu Retreat (Stockbridge, Massachusetts) – Great for Self-Discovery and Spiritual Transformation
The Kripalu Center is known for its distinctive fusion of Kripalu yoga which focuses on grounding, spiritual connection, ad asana sequences. With a focus on individualized therapy and self-discovery and a breath-taking natural location, the center offers the perfect setting for visitors to escape the pressures of daily life and re-establish their connection to their bodies and minds.
9. Uxa Casa Resord & Residences (Bahia, Brazil) – Great for Crystal Healing
Uxa Casa Resort is a hidden breathtaking piece of paradise. It is famous for its crystal healing pool, which is lined with more than 40,000 green aventurine crystals, which are thought to have therapeutic qualities that purify the body, mind, and soul.
10. Sanctuary Lodge (Machu Picchu, Peru) – Great for Shamanic Healing
The Sanctuary Lodge is renowned for its shamanic healing offerings, which are an age-old Andean healing technique. The retreat provides a variety of shamanic healing treatments, including energy healing and readings from coca leaves, which are conducted by local experienced shamans.
The breathtaking natural beauty and rich history of the area around Sanctuary Lodge contribute to the possibility for guests to have a spiritually enlightening experience.
Best Wellness Retreats in Europe
10. The Spinoza Expereince (Maarn, Netherlands) – Great for Psychedelic Healing Experience
This Netherlands retreat is a one-of-a-kind three-step healing program that claims to be able to reconnect the soul and body.
In the past couple of years, the use of psychedelics has been heavily researched. It has proven many of their benefits have a positive impact on conditions such as depression, anxiety, and post-traumatic stress disorders. Spinoza provides a guided experience to help you access the deeper levels of your consciousness.
11. Villa Stéphanie (Baden-Baden, Germany) – Great for Combining Traditional and Holistic Medicine
By integrating conventional and alternative medicine, Villa Stéphanie provides a distinctive approach to wellness.
They provide a wide range of services, such as individualized diagnostics, dietary coaching, and exercise programs. Moreover, you can enjoy the beautiful nature of the Black Forest in one of Germany's most well-known spa towns and taste the delicious Michelin-star cuisine the hotel offers.
12. Yogiville (Lake Begovac, Croatia) – Simple Retreat Experience
Yogiville is a health resort in Croatia's picturesque Lake Begovac. It is run by experienced Yogi Ashokananda, who offers a variety of programs, including Vinyasa, Yin, and Ashtanga, that are appropriate for all skill levels.
The retreat is unlike any other, as accommodation is provided in simple log cabins, also known as 'monk pods' that allow one to better connect with nature and focus on spiritual healing without luxury spoils.
13. Maison de Lunel (Saint-Germain-de-Confolens, France) – Great for Weight Loss and Cleansing
Maison de Lunel is a terrific option for anyone seeking a serene and cleansing experience. The retreat uses organic and locally sourced products to create a special cleansing diet for its guests, promoting weight loss and detoxification. It also specializes in fitness sessions and wellness workshops and provides therapeutic services, including hydrotherapy and massages.
14. Reclaim Yourself (Lapland, Finland) – Great for a Snowy Winter Escape
Reclaim Yourself offers a unique snowy retreat in the heart of Lapland, which is focused on connecting with nature and learning from the wisdom of the indigenous Sámi people. Alongside the usual wellness activities of yoga, meditation, and breathwork, you can take part in husky sledding and elevate your mind over matter by swimming in ice-cold waters.
Best Wellness Retreats in Asia
15. Kamalaya Wellness Sanctuary (Koh Samui, Thailand) – Great for Detoxing and Spiritual Growth
Kamalaya Sanctuary provides a wide range of wellness programs, from detox and weight loss to emotional balance and spiritual growth, all of which are catered to your individual needs and goals.
In order to support physical, mental, and emotional well-being, Kamalaya also provides a range of therapies, including Ayurveda, Traditional Chinese Medicine, and Naturopathy, as well as holistic spa services like massages and facials.
16. Vana Wellness Retreat (Dehradun, India) – Great for An Authentic Spiritually-Enriching Getaway
The Vana Wellness Retreat is a quiet but eye-opening retreat focused on the spiritual and authentic experience. They focus on unique therapies like the Tibetan healing techniques Sowa Rigpa, panchakarma, Ayurveda, acupuncture, and traditional oil massages, among many others.
Vana is also a great place for those looking to detox, with restaurants offering healthy eating options based on local in-season fresh produce.
17. COMO Shabhala Estate (Ubud, Bali) – Great for Shambhala healing
The COMO Shambhala Estate is situated in the serene countryside of Bali. The retreat stands out because it provides a comprehensive approach to well-being based on Shambhala's teaching, which is based on the belief in the fundamental goodness of the human spirit. The resort offers a tailored healing program, and you will also be able to take in a unique water blessing ceremony by a local priest.
18. Ananda in the Himalayas (Uttarakhand, India) – Great for Healing Based on Ancient Indian Sciences
Ananda in the Himalayas provides various health programs that fuse contemporary wellness treatments and therapies with age-old Ayurvedic, yoga, and Vedic practices.
Ananda provides a range of holistic therapies, including aromatherapy, hydrotherapy, and reflexology, to support physical, mental, and emotional well-being. These treatments include tailored Ayurvedic consultations, yoga courses, and wellness programs.
19. The Farm (San Benito, Philippines) – Great for Plant-based and Restorative Healing Treatments
The Farm features a wellness approach with a focus on detoxification, wholesome eating, and natural treatments. In order to improve physical, mental, and emotional well-being, The Farm offers a variety of treatments like colon hydrotherapy, ozone therapy, and detoxification programs, in addition to a variety of holistic therapies like acupuncture, reflexology, hydrotherapy, and Thai Chi.
20. Amanemu (Ise-Shima, Japan) – Great for Hot Spring Treatments
Amanemu is based around an onsen, a Japanese hot spring, and it integrates contemporary wellness treatments and therapies with ancient Japanese healing traditions. It offers a variety of therapies, including individualized consultations with traditional Japanese healers, meditation sessions, and holistic therapies, such as acupuncture, shiatsu massage, and aromatherapy.
Which one of these wellness retreats will you try first?