Disney Charged More For Less; Now Park Attendance Is Way Down and Their Stock Fell to a Nearly 10 Year Low
This summer saw something rare in Disney Parks – room to spread out. Whether you looked at the data or attended in person, park attendance was way down. How much? It was Disney's lowest ticket sales for the July 4th weekend in decades. And if you've looked at Disney's stock price recently, this summer, it's been hovering at its five-year low without a large amount of park ticket sales to keep it up. And just last week it feel even further, to nearly its 10-year low, due to a contract expiration and subsequent disagreement on how to offer ESPN, ABC, Disney Channel, National Geographic and FX  to Spectrum TV customers. 
It Used to Be Within Reach for The Average American Family
When Magic Kingdom opened in 1971, a single-day admission ticket was $3.50. Someone earning federal minimum wage in 1971 ($1.60 an hour) only needed to work 2.19 hours to pay for admission. Fast forward to today, and prices have skyrocketed. A one-day ticket to a single Disney World park varies from $109 to $159 per day, depending on the day.
But Now It's Beyond Reach
To put that into perspective, a minimum wage worker visiting a single Disney World park on the cheapest days would have to work 15.03 hours to afford admission, an increase of 586% since the park first opened. If the same person wanted to visit the park on a high-demand day, they would have to work 21.90 hours, a massive jump of 900% since 1971.
Is this really the dream that Walt Disney envisioned?
Even CEO Bob Iger Thinks Their Theme Park Ticket Prices are Too High
"I always believed that Disney was a brand that needs to be accessible," said Bog Iger, CEO of Disney, at a March Morgan Stanley media conference. "And I think that in our zeal to grow profits, we may have been a little bit too aggressive about some of our pricing."
They Were Using High Ticket Prices as A Way To Cut Down the Massive Crowds
"One of the things that we had to do is we had to improve the guest experience by reducing crowding. And it's tempting to let more and more people in. But if the guest satisfaction levels are going down because of crowding, that doesn't work," CEO Bog Iger told the attendees at a recent Morgan Stanley conference.
But It Soured Too Many People
"We had to figure out how we reduce crowding but maintain, obviously, our profitability. And we did that well, but we have to be careful about that as well because, in doing that, you're actually — you actually end up increasing the price or putting features into your pricing that are viewed by some consumers as perhaps being a little too aggressive, and that's where we're being careful about," he continued.
Did Disney's Greed Turn Them Into Ebenezer Scrooge?
According to Time2Play, 92.6% of surveyed Disney World enthusiasts said they believe the cost of a Disney vacation is now out of reach for average families. What used to be regular vacation for middle-class families has evolved into a luxury trip with pricey add-ons everywhere you look.
The Average Ticket Price Disney Touts Isn't Most Families Experience
With admission prices that change based on demand, a one-day, one-park base ticket for Disney World costs $141.74 on average, according to a LendingTree analysis. However, purchasing tickets during popular travel periods, park hopping, or reserving ride times to skip crowds can double the cost of tickets. 
They Aren't Planning On Returning to Disney
"Our Spring Break Disney World tickets were $1,646 for two days of park hopper passes and ride reservations for two adults and two kids," says Daniel, a dad from New Jersey. "Our per-person cost was almost double the average ticket price at $205.75. Given the exorbitant cost, huge crowds, and super-long Magic Kingdom ride lines, I don't see our family returning to Disney anytime soon."
During Covid They Took Away Things – And Never Brought Them Back
As with most amusement parks, resorts and other businesses things changed during the pandemic. At Disney, that meant less shows and less of that special Disney magic. However, they still haven't brought everything back and still raised ticket prices. 
A Day at Disney is Too Complicated
In 2021, Disney World ditched its Fast Pass system after more than 20 years for the new Genie service and its paid companion Genie+. Most park loyalists have poorly received this change.  66.9% report feeling they won't get the whole Disney World experience if they don't upgrade to Genie+ and purchase additional Lightning Lane entries to certain Disney park rides.
They've Put Tickets On Sale Recently; But the Damage is Done
Between putting their tickets on sale directly and working with their largest authorized Disney Ticket Seller Undercover Tourist on special promotions like adult tickets for the price of children's admission, they are trying to get more people in the parks. However, families have already moved on to different vacation plans. Will their latest $1,000 back promo for Holiday packages be enough to get people in the parks? Only time will tell. 
Despite Disney Ticket Discounts; Families Skipping It For These Summer Destinations
"Apart from the fact that I'm not willing to spend the crazy amount of money, we'd need as a family for a two-day vacation in Disneyland, there's an even greater reason why we're not going to this popular theme park," said Tyler Seeger, RetirementBeing. "Simply, I don't want my kids to look forward to exploring a fantasy world on every vacation; I want them to look forward to exploring the real world and get excited about visiting new places every year," he added.
5 Experts Explain The Dreaded Disney Rash and How To Avoid This Disney Disaster
What happens when Americans visit a Disney theme park and take 20,000 steps or more daily in hot, humid weather? Many get the Disney rash.
If you're planning on visiting Disney or any other theme park in a warm climate, here's what you can do to prevent it and what items you should bring to treat it.
5 Experts Explain The Dreaded Disney Rash and How To Avoid This Disney Disaster
Even Disney's CEO Thinks It's Too Expensive – Families Headed to Great Wolf Lodge Instead
68.3% said rampant price increases and nickel and diming have made it feel like Disney World has lost its magic.  That's why many are leaving the supposedly Happiest Place on Earth for a more carefree, joy-filled, and affordable family vacation. According to Newsweek, families across America are replacing a trip to Disney with a trip to a Great Wolf Lodge instead.  
Even Disney's CEO Thinks It's Too Expensive – Families Headed to Great Wolf Lodge Instead
30 Reasons Families Prefer Legoland Florida to Disney World Theme Parks
Our family spent the last two Spring Breaks in Orlando, the most visited destination in America, but we had two very different experiences.  In 2022, we had a typical Orlando family vacation visiting Disney theme parks. Then, in 2023,  we went to non-Disney theme parks, including Legoland Florida, and it was a night-and-day experience.
After these two trips, our family prefers Legoland Florida to Disney World. And it turns out we're not the only ones. After interviewing 25 other families who feel the same, here's why people are opting for days with Emmet, Lloyd, and Master Wu instead of Elsa, Luke, and Mickey Mouse.
30 Reasons Families Prefer Legoland Florida to Disney World Theme Parks
Tour in Pictures Discovery Cove, The Tropical Oasis Experience Voted Orlando's Best Theme Park
What if I told you about a place in Orlando near it all, but feels like you've been whisked to a tropical island? A day destination that's nestled in between resorts and iconic theme parks but feels worlds away from the crowds and long lines of America's vacation capital. It's not a Florida heat-induced mirage; it's Discovery Cove Orlando.
This unique, all-inclusive, all-day outing offers guests a one-of-a-kind opportunity to swim with dolphins, snorkel among thousands of tropical fish and rays, hand-feed exotic birds, and encounter playful otters—all in a surprisingly stunning tropical atmosphere just 12 miles from Orlando International Airport.
Tour in Pictures Discovery Cove, The Tropical Oasis Experience Voted Orlando's Best Theme Park
We Went To The #1 Indoor Water Park –  Here's Why Aquatopia Wins The Crown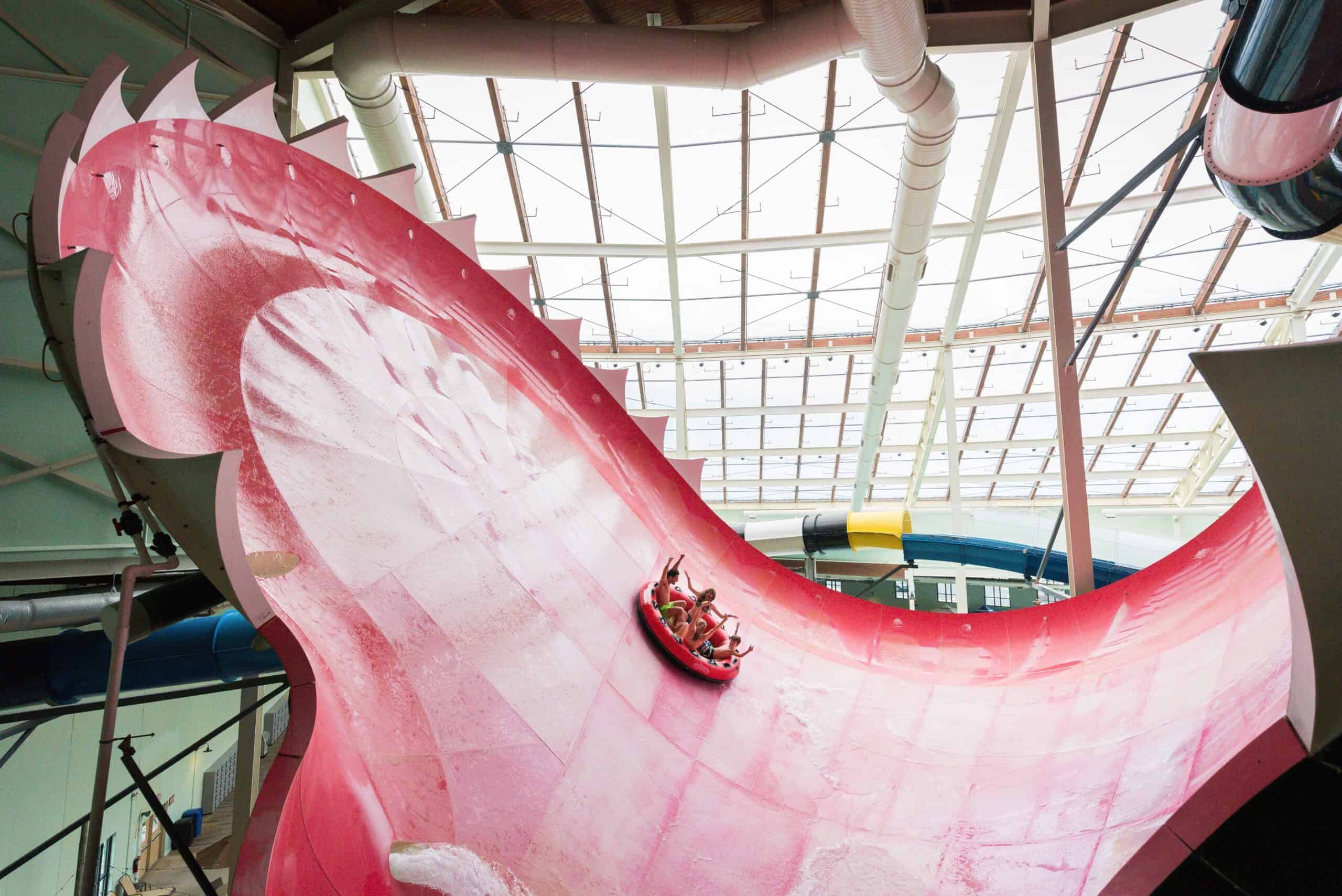 Earlier this year, readers of USA Today voted on a selected group of twenty indoor water parks shortlisted by a panel of experts. Aquatopia at Camelback Resort was once again voted the best indoor water park in North America.
So my family took a road trip to the Poconos to see why it is repeatedly crowned the best place for indoor water thrills and family fun. Here's what we found. 
We Went To The #1 Indoor Water Park. Here's Why Aquatopia Wins The Crown