Even Disney's CEO Thinks It's Too Expensive; Despite Ticket Sales Families Headed to Great Wolf Lodge Instead
When Magic Kingdom opened in 1971, a single-day admission ticket was $3.50. Someone earning federal minimum wage in 1971 ($1.60 an hour) only needed to work 2.19 hours to pay for admission. Fast forward to today, and prices have skyrocketed. A one-day ticket to a single Disney World park varies from $109 to $159 per day, depending on the day. 
For The Average Family, Disney is Just Too Much Money
To put that into perspective, a minimum wage worker visiting a single Disney World park on the cheapest of days would have to work 15.03 hours to afford admission, an increase of 586% since the park first opened. If the same person wanted to visit the park on a high-demand day, they would have to work 21.90 hours, a massive jump of 900% since 1971.
Is this really the dream that Walt Disney envisioned?
Even CEO Bog Iger Thinks Their Theme Park Ticket Prices are Too High
"I always believed that Disney was a brand that needs to be accessible," said Bog Iger, CEO of Disney, at a Morgan Stanley media conference. "And I think that in our zeal to grow profits, we may have been a little bit too aggressive about some of our pricing."
It's Been a Summer of Disney Sales; Will It Work?
When Disney needs a boost in ticket sales, they turn to their #1 authorized ticket seller, Undercover Tourist, to get more people in their theme parks. Earlier this summer the sold adult tickets for the price of kid ones. Also, guests can get up to a $1,000 Disney Dining Card when they book a non-discounted 5-night, 4-day vacation package at Walt Disney World this holiday season. 
But will it be enough to get people into the theme parks instead of other vacation destinations for the rest of the year? And will it help bring a much-needed lift to the Disney stock price, which has been hovering at its 5-year low for most of the summer. 
Why Is Disney Putting Their Tickets on Sale?
While Disney World is the happiest place on Earth, Disney investors and executives aren't too happy right now. Between a decline in theme park attendance, an actors and writers' strike, movies that weren't wildly successful, and a drawn-out battle with Florida Governor Ron DeSantis, Disney's got money problems and more ticket sales can help. 
Turns Out Fewer People are Going to Disney Parks
July 4th week saw something rare in Disney Parks –  room to spread out.  Whether you looked at the data or attended in person, park attendance was way down. How much? It was Disney's lowest ticket sales for the July 4th weekend in decades. Coming off of their massive 50th Anniversary celebration, Disney executives have noted that park attendance is down, and will mostly likely continue for the rest of the year. 
High priced tickets bring tons of cash to Disney's balance sheet; the business warts can't be as covered with less of it. 
Did Disney's Greed Turn Them Into Ebenezer Scrooge?
According to Time2Play, 92.6% of surveyed Disney World enthusiasts said they believe the cost of a Disney vacation is now out of reach for average families. What used to be regular vacation for middle-class families has evolved into a luxury trip with pricey add-ons everywhere you look. 
The Average Ticket Price Disney Touts Isn't Most Families Experience
With admission prices that change based on demand, a one-day, one-park base ticket for Disney World costs $141.74 on average, according to a LendingTree analysis. However, purchasing tickets during popular travel periods, park hopping, or reserving ride times to skip crowds can double the cost of tickets. 
Families Aren't Returning To Disney
"Our Spring Break Disney World tickets were $1,646 for two days of park hopper passes and ride reservations for two adults and two kids," says Daniel, a dad from New Jersey. "Our per-person cost was almost double the average ticket price at $205.75. Given the exorbitant cost, huge crowds, and super-long Magic Kingdom ride lines, I don't see our family returning to Disney anytime soon."
A Day at Disney is So Complicated- You Need a Disney Doctorate
In 2021, Disney World ditched its Fast Pass system after more than 20 years for the new Genie service and its paid companion Genie+. Most park loyalists have poorly received this change.  66.9% report feeling they won't get the whole Disney World experience if they don't upgrade to Genie+ and purchase additional Lightning Lane entries to certain Disney park rides.
The Disney Magic Has Dulled
But the disillusionment doesn't stop there. 68.3% said rampant price increases and nickel and diming have made it feel like Disney World has lost its magic. 
That's why many are leaving the supposedly Happiest Place on Earth for a more carefree, joy-filled, and affordable family vacation. According to Newsweek, families across America are replacing a trip to Disney with a trip to a Great Wolf Lodge instead.
Great Wolf Lodge – 19 Indoor Water Park Resorts and More On the Way
Many people equate indoor water parks with Great Wolf Lodge, and it's not hard to see why. With 19 locations and two more under construction, they are North America's largest family of indoor water parks.
It's All About Family Fun, Without The Other Theme Park Headaches
"For more than two decades, Great Wolf Lodge has provided a close, convenient getaway for families to come together to laugh, play and strengthen their family bonds," shared Brooke Patterson, Senior Vice President of Brand Experiences for Great Wolf Lodge. 
It's an All In One Place Vacation
The centerpiece attraction at each one of their lodge-themed resorts is a large indoor water park featuring water slides, pools, and play areas. Additionally, each resort offers other attractions such as ropes courses, arcade games, miniature golf, bowling, and their branded exclusive interactive game, MagicQuest.
Unlike Disney, It Actually Does Offer Deals and Sales
According to CouponCravings, Great Wolf Lodge's regular room rates are between $199 and $329 per night, depending on the room type. However, mid-week stays are often discounted and rooms can be purchased on Groupon or Living Social for as low as $99 to $149 a night. Additionally, day passes are available for purchase for those who live nearby. 
Timeshare Owners Can Exchange into Great Wolf Lodge
If you're (or you know) one of the 9.9 million timeshare owners in the U.S. you can also secure a room reservation at Great Wolf Lodge resorts across the country via a timeshare exchange.  Through RCI, you can exchange your timeshare for a 3,5, or 7-night stay at a Great Wolf Lodge. 
It is a Go-To Family Vacation Spot
"Great Wolf Lodge has been our favorite destination for family fun for years. We tried other water parks but nothing compares to a cozy and homey feel of Great Wolf Lodge, said Iryna, Mom and Founder of Lavender and Macarons. 
"Kids love their entertainment program and the water park is top notch. We love going there in cold winter months. When we're not swimming, we love hanging out in the lobby where there's usually a giant Christmas tree, Santa and a crackling fireplace."
It's Family Vacation Ease
"I enjoyed having one place to entertain my kids during a weekend away at their Georgia resort. Everything we wanted to do was inside Great Wolf Lodge. We were not impacted by weather because all the activities were indoors," said Sarah, Founder, On the Road With Sarah. 
"I also appreciated the fact that all my kids could play together. There is an eight year age gap between my youngest and oldest, and sometimes it is difficult to find activities that will make everyone happy. Great Wolf Lodge definitely made everyone in our family happy."
It's A Family Vacation Where Parents Can Actually Relax Some
"We really enjoy taking our boys to Great Wolf Lodge. It's the perfect spot for them to have fun, and for us to relax a bit," said Jake Cain, Founder of Sampling America.  "Once they're inside the water park, they're off exploring all the different slides, while we get to kick back at a table nearby.
"We like how secure it is too – they check everyone's wristbands at the entrance. With our kids being older and pretty responsible, we're comfortable letting them have their own adventures, while we know they're safe in one place."
Where Are Great Wolf Lodge Waterpark Resorts?
They can be found across America in:
Wisconsin Dells, Wisconsin
Sandusky, Ohio
Traverse City, Michigan
Kansas City, Kansas
Williamsburg, Virginia
Pocono Mountains, Pennsylvania
Mason, Ohio
Grapevine, Texas
Grand Mound, Washington
Fitchburg, Massachusetts 
Charlotte, North Carolina
Garden Grove, California
Manteca, California
Colorado Springs, Colorado
Bloomington, Minnesota
LaGrange, Georgia
Gurnee, Illinois,
Scottsdale, Arizona
Niagara Falls, Ontario, Canada
Perryville, Maryland (2023)
Naples, Florida (2024)
A Disney Vacation is Now Too Costly and Complicated: Here's Where Families Are Heading for Summer Vacation Instead
68.3% said rampant price increases and nickel and diming have made it feel like Disney World has lost its magic. So parents across the country are making other vacation plans. From wanting to show their kids the world now that borders have re-opened, to showing them the wonder of mother nature, families are saying bye bye to Mickey and Minnie and hello to these vacation destinations. 
A Disney Vacation is Now Too Costly and Complicated: Here's Where Families Are Heading for Summer Vacation Instead
It's Emmet Over Elsa: 30 Reasons Families Prefer Legoland Florida to Disney World Theme Parks
Richard Campbell, a frequent traveler and theme park visitor, visited international and U.S. Disney and Legoland amusement parks nine times in the past five years. 
"I never liked Disney until I had kids, and the first family trip to Disney in 2014 changed my mind, as it was such a wholesome family trip. But, over the last ten years, the experience has changed and, unfortunately, become worse," he says. "We worked hard to use crowd calendars and travel weird weeks when no schools are off, but still, it's always packed."
"Overall, Legoland is a clear winner with younger children due to price, experience, and ease. I don't know when we will go to Disneyland or Disney World next as it's simply too crowded," Campbell continues. 
He's not the only one to think this way.
It's Emmet Over Elsa: Here's Why Families Prefer Legoland Florida to Disney World Theme Parks
We Went To The #1 Indoor Water Park – Here's Why Aquatopia Wins The Crown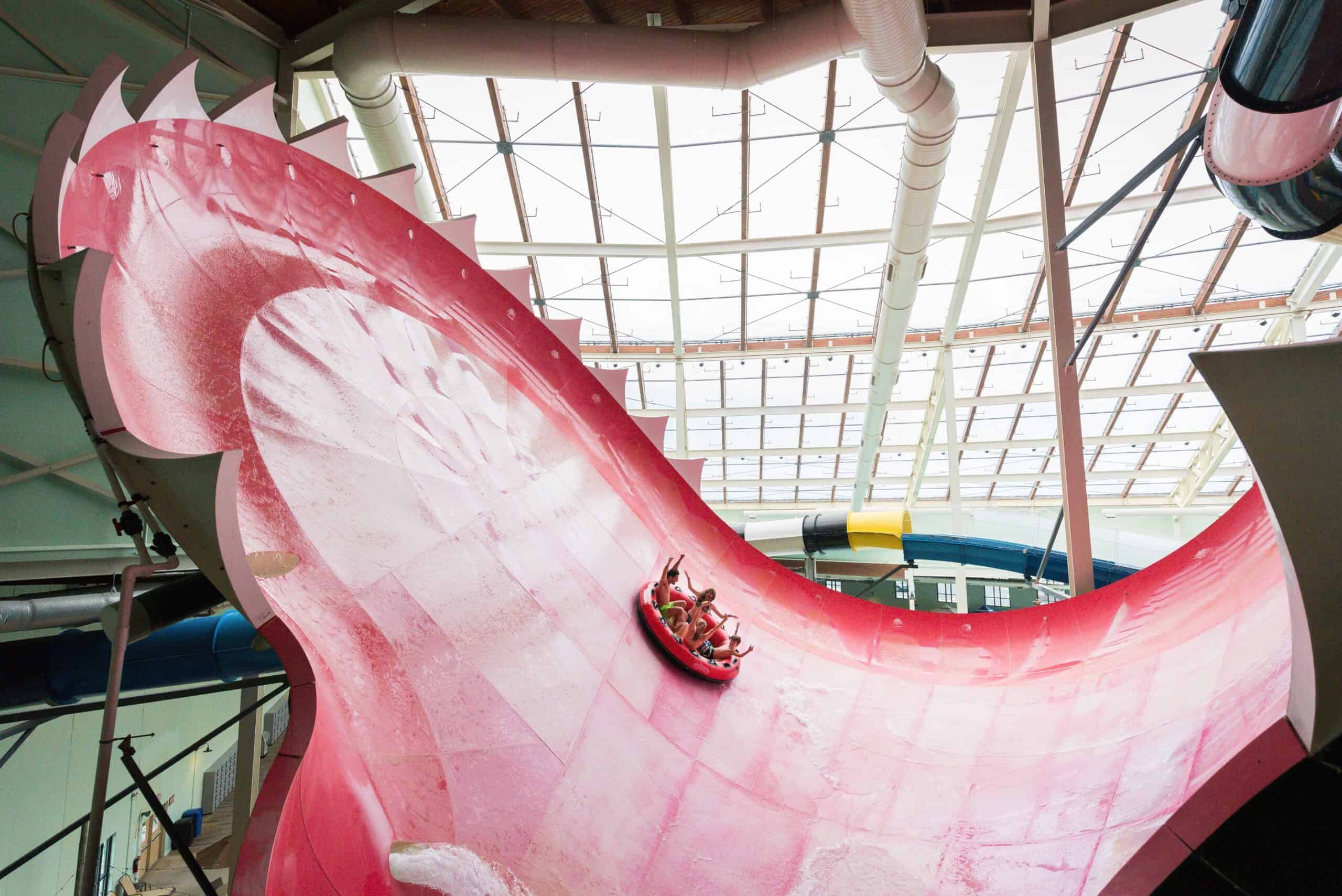 Every year readers of USA Today voted on a selected group of twenty indoor water parks shortlisted by a panel of experts. Aquatopia at Camelback Resort was once again voted the best indoor water park in North America.
So this summer, my family took a road trip to the Poconos to see why it is repeatedly crowned the best place for indoor water thrills and family fun.
We Went To The #1 Indoor Water Park. Here's Why Aquatopia Wins The Crown
TIME Magazine Announces The World's Greatest Travel Destinations for 2023
Want to explore our big beautiful world but need help figuring out where to start? Well, TIME magazine revealed its fifth annual list of the World's Greatest Places, highlighting 50 extraordinary travel destinations around the world. 
TIME Magazine Announces The World's Greatest Travel Destinations for 2023
25 of the Best Zoos In the World for Your Next Family Vacation
Many of us treasure our memories of a childhood trip to the zoo. It's easy to underestimate what a fantastic experience this can be for a child. It will likely be the first time that they get to see real-life animals they're so familiar with in books and cartoons. 
Also,  a zoo trip can be the highlight of your family vacation for little ones, so when building your trip itineraries, don't forget to add some of the Best Zoos in the World to your list.
25 of the Best Zoos In the World for Your Next Family Vacation
This article was produced by Planner at Heart.