We Previewed Dog Man The Musical; Here's Why Dog Man is Go!
TheaterWorksUSA brought Dog Man: The Musical back to New York City's New World Stages for a limited eight-week run. And we were there for the first day of preview performances because my kids could not wait.
Whether your kid is obsessed with Dog man books or you are looking for your family's first Broadway experience, this off-Broadway show is a parent's best friend.
Yes, They Made a Musical from the Dog Man Books, And It's Even Better Than You Think
A hilarious, heartfelt family adventure, the NY Times Critic's Pick, Dog Man: The Musical has been called an "epic musical" by The New York Times that is "non-stop enjoyment from beginning to end," according to Plays to See. 
And it's true. If your kids are Dog man fans, don't hesitate to go—book tickets today for a family experience that everyone will enjoy. The performances are shockingly outstanding, there are tons of Easter eggs for parents and Broadway fans, and you won't be able to get the music out of your head. 
We weren't sure if the actors from the pre-pandemic run would be returning, and we were so pleased that almost all of them did. It's a kid's show yes, but the caliber of actors are first rate, Broadway talent. 
The show celebrates its official opening night on Monday, March 13, at 7 PM and will run through April 30. Tickets are still available at Dog Man The Musical.
Children must be five and older to attend the 90-minute show. Tickets range from $41 – $101. We purchased the $41 seats and had a wonderful time in the third row at the furthest right hand side. For those looking to shave some money off the costs, tickets purchased at the box office theater are slightly lower as there are no Telecharge fees. 
What is Dog Man the Musical About?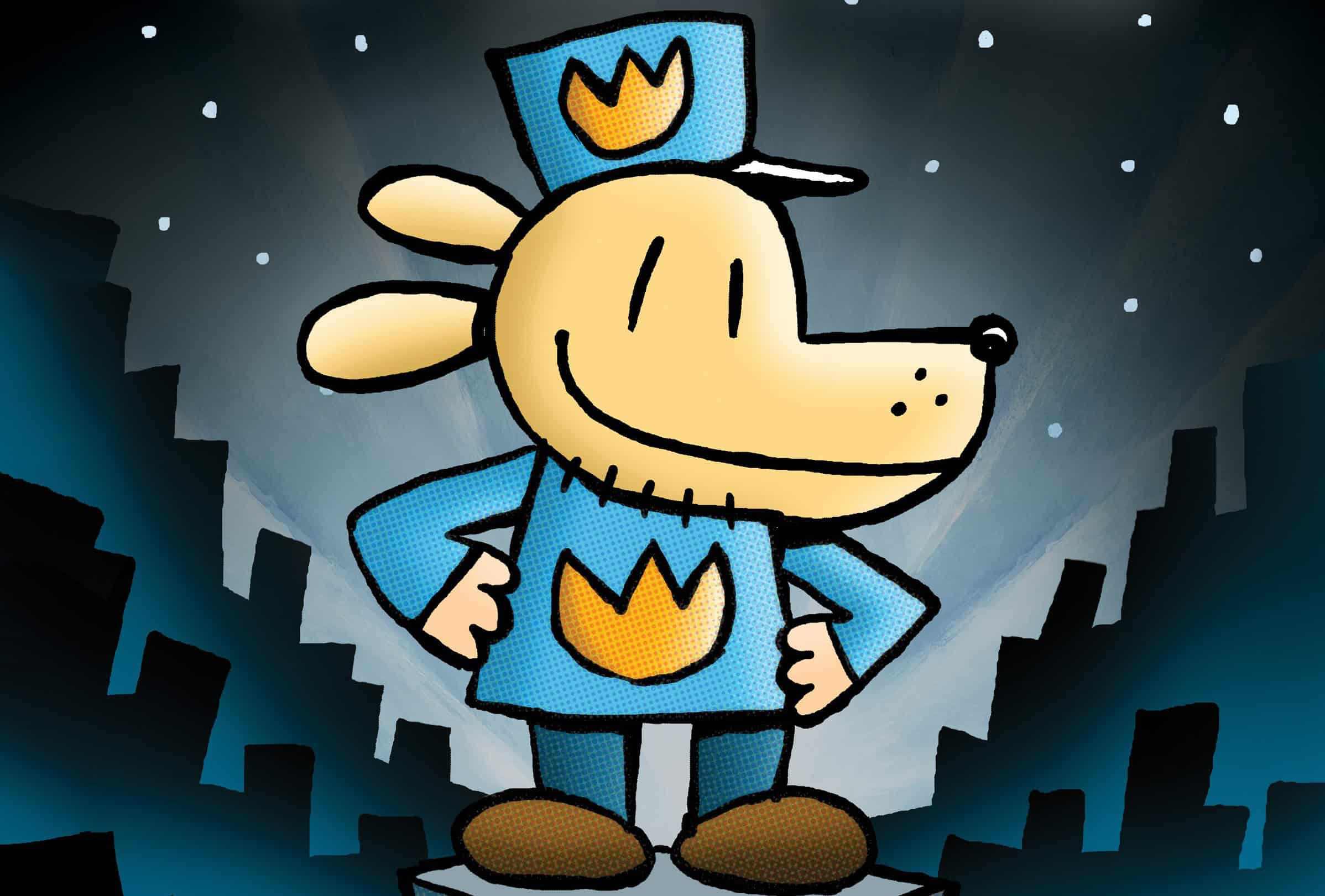 Dog Man follows the chronicles of a canine superhero who loves to fight crime and chew on the furniture. But while trying his best to be a good boy, can he save the city from Flippy, the cyborg fish, and his army of Beasty Buildings?
Can he catch Petey, the world's most evil cat, who has cloned himself to exact revenge on the doggy do-gooder? And will George and Harold finish their show before a mom-mandated lunchtime?
Find out in this epic musical adventure featuring the hilarity and heart of beloved characters from Dav Pilkey, the award-winning and worldwide bestselling author and illustrator of Captain Underpants and Cat Kid Comic Club. 
"I'm thrilled that the talented team at TheaterWorksUSA is bringing Dog Man back on stage. Dog Man: The Musical is the perfect mash-up of memorable music, humor, and love, and I'm so excited that even more kids and families will get to see it," said Dog Man creator Dav Pilkey.
"As we optimistically emerge from a few challenging years, what better way to do that than sharing laughter and joy with our families? We are thrilled to be able to partner with New World Stages to bring families back to the theater in New York City this Spring. And the return of the musical is just in time to coincide with the release of the next book in this globally bestselling series that encourages reading, imagination, and friendship," said TheaterWorksUSA's Executive Director, Michael Harrington. 
Not Coming to New York City Until This Summer? You're in Luck
In our Playbill was an announcement for the World Premiere of Cat Kid Comic Club, The Musical, at the same theater. This show will run from July 21 to August 27, 2023, perfect for families vacationing in Manhattan during the second half of the summer.
This Original Play and Music Will Captivate Your Family Now and For the Rest of 2023
Dog Man: The Musical has an original book and lyrics by Kevin Del Aguila (Two-time Emmy Award-winning writer of the PBS show Peg + Cat) and music by Brad Alexander (Drama Desk Nominated See Rock City & Other Destinations). It debuted as part of TWUSA's celebrated Family Summer Theater program in 2019, receiving rave reviews from families and critics alike.
We watched a pay-per-view performance during the pandemic and became hooked.  Schools and communities can bring the show to their town or watch for the announcement of additional traveling shows. Additionally, you can enjoy the soundtrack on Spotify, YouTube Music, Pandora, or Apple Music at home or on your 2023 family road trips.