25 of the Best Zoos In the World for Your Next Family Vacation
Many of us treasure our memories of a childhood trip to the zoo. It's easy to underestimate what a fantastic experience this can be for a child. It will likely be the first time that they get to see real-life animals they're so familiar with in books and cartoons. Also, a zoo trip can be the highlight of your family vacation for little ones, so when building your trip itineraries, don't forget to add some of the Best Zoos in the World to your list.
Best Zoos in the World: An Admission Deal Hack
If you are a zoo member in your hometown or home state, don't forget to look up what reciprocal membership benefits it provides. There are different Zoo associations and affiliations, but the concept is the same. Many zoos will honor your Zoo Annual Pass at theirs for either free admission or 50% off tickets. It's a great way to stretch your vacation dollar and use something you've already paid for.
We use this approach with our Library Science Center Membership and leverage their affiliation with the Association of Science and Technology Centers (ASTC) passport program to go to Science Museums free during our trips to Virginia, Florida, and Pennsylvania. It's the same concept with Zoos! If you don't know the details of your Zoo membership, send an email to the membership department at your home zoo.
25 of the Best Zoos in the World
If you're traveling to Europe, America, the Middle East, Asia Pacific with your family in the coming year, here are some of the Best Zoos in the World for you to consider. And if you've got a real animal lover in your family, why not see these glorious animals on a one-day safari in Africa.
1. San Diego Zoo – California, USA
San Diego Zoo is one of the world's most famous wildlife sanctuaries and one of the best zoos in the world. It's home to more than 3,500 rare animals (more than 650 species) and 700,000 exotic plants.
As you'd expect from a world-leading tourist attraction, there are plenty of activities for kids, including the bus tour, gondola rides, and the memorable Skyfari. San Diego is known as a perfect destination for a family trip in Southern California, and a trip to this Zoo is a must-do for your visit.
2. Beauval Zoo, France
Just a 2-hour drive from Paris, you'll find Beauval Zoo often voted one of the most best zoos in the world for its beauty. There are so many animals you'll need a full day to experience them all. Then, when you can't walk anymore, ride the fun cable car to cross the park. Highlights include a fun seal show and a spectacular bird display, when over 500 owls, cranes, pelicans, storks, and others swoop gracefully overhead- a magical and unforgettable experience.
3. Pairi Daiza, Belgium
Pairi Daiza was voted Best Zoo in Europe in 2019 and listed among the 50 must-see destinations for families in Europe. Spread over 70 acres, Pairi Daiz is home to 7,000 animals, including various endangered species which are part of a protection and breeding program. In addition, it's one of the best zoos in the world to see giant pandas.
4. Ueno Zoo, Japan
One of Japan's most famous zoos, the traditionally laid-out Ueno Zoo is home to many unusual animals, such as Hokkaido brown bears, Japanese macaques, and wild cormorants. In addition, there's a giant panda that always delights, as well as a fun children's zoo area.
5. Berlin Zoo, Germany
Zoo Berlin, one of Germany's most popular attractions, is home to the largest variety of zoo species in the world. You'll be wowed by the only giant pandas in Germany and endangered great apes such as orangutans, Eastern lowland gorillas, and chimpanzees – which are always a big hit with kids. You'll also get a chance to see critically endangered species, such as Przewalski's horses, which are bred for release back into the wild.
6. Taronga Zoo, Sydney, Australia
Lots of entertaining animals such as the squirrel & tamarin monkeys and the echidnas in this small, suburban zoo earned it a spot on this list of best zoos in the world. (By the way, an echidna is a toothless burrowing nocturnal egg-laying mammal aka a spiny anteater – and it's very rare!) The bird and seals shows are lovely for kids, and there are other tourist attractions, such as the ferry, right nearby.
7. Schonnbrun Zoo, Vienna, Austria
The world's oldest zoo is now better known for its giant Ferris wheel – which is a must-ride for kids of all ages! The zoo itself houses more than 4000 animals from each continent, so there's plenty to fascinate budding naturalists. And, of course, they'll be thrilled by the prospect of a visit to the Bat Cave!
8. Chester Zoo, England
Almost 2 million visitors per year flock to see over 500 different species of animals and insects, including some of the most endangered species on the planet. Chester Zoo is a year-round, full-day visitor attraction accessible for everyone. As well as the usual big cats and African giants, kids will be enchanted by the antics of the meerkats, lemurs, and bats.
9. Valencia Bioparc, Spain
This unique zoo offers a "zoo immersion" concept making it one of the best zoos in the world. You'll feel you're in Africa as natural habitats are accurately recreated, but you're really in Europe. Animals live in the way they would in the wild – alone, in social groups, or coexisting peacefully with companion species. Predatory animals are kept separate by invisible safety barriers, so you'll feel the excitement of being right up close to them. If you're in Spain, don't miss this amazing Spanish Serengeti – you'll be awestruck!
10. Tierpark Hagenbeck, Hamburg, Germany
Hamburg Zoo opened in 1863 and remains one of the best zoos in the world today. It now boasts a new elephant pavilion and a tropical aquarium. Animals are in naturalistic enclosures and expect to see rabbits, peacocks, and birds just wandering around. It's one of the most family-friendly zoos on our list. There's even an excellent adventure playground where kids can let off steam if they get tired or distracted.
11. Bronx Zoo, New York City, US
Take a step away from the bustle of downtown NYC and travel to the Bronx Zoo. You won't be disappointed! This is the largest urban zoo in the U.S., with over 6,000 animals within its 265 acres of parks, woods, and streams. But, of course, the kids' petting zoo will be the biggest attraction for little ones, as they will love hand-feeding their favorite animals. There is free admission on Wednesdays if you reserve online.
12. Toronto Zoo, Canada
Take a drive on the wild side and experience Toronto Zoo from the comfort of your vehicle with the Scenic Safari Drive-Thru, or wander around the enclosures with new one-way walking routes. For an even more unforgettable experience, add on a Wild Encounter – it's a fantastic way to get up close to the animals!
13. Conservation and Research Center for the Giant Panda, Dujiangyan, China
If your kids love to see pandas, forget the more traditional zoos and head for this fantastic, world-famous research center. Your kids will never forget the 'Panda Carer Experience' when they'll get to be very close to the pandas and feed them. There are numerous enclosures with pandas at all stages of life – the babies in their playground are not to be missed. You'll also see some black bears and red pandas in this park. It's accessible by train from Chengdu. Just be prepared for a steep walk to reach it. It's well worth the effort!
14. Wellington Zoo, New Zealand
What a great place for a picnic! Take a break from spotting your favorite wildlife in one of the many shady spots dotted between the enclosures! And if you already know what a bear looks like, it's time you met a sun bear! Well-cared-for animals in a beautiful environment make this zoo an unmissable visit when you're in New Zealand.
15. Singapore Zoo
Set in a natural rainforest environment, Singapore Zoo is home to over 300 species of mammals, birds, and reptiles, making it one of the best zoos in the world. Kids adore watching great apes at play – so check out the world's first free-ranging orangutan habitat in a zoo. And don't miss the unique 'Jungle Breakfast with Wildlife,' an internationally acclaimed, award-winning program that offers an exhilarating experience with these fascinating creatures.
16. Henry Doorly, Omaha, United States
With a fantastic variety of animals in well-designed viewing enclosures, there'll be something to delight everyone. In addition, there are plenty of wonderful children's activities – from the river area to the splash pad and more!
17. 1-Day Safari, Johannesberg, South Africa
Why come to South Africa to see the native animals in captivity when you can have the ultimate experience of seeing them in the wild? Companies such as Soul Adventures will pick you up for a private tour of the Pilanesberg National Park. Knowledgeable guides will find all the 'Big Five' for you, guaranteeing memories that will last a lifetime. Not the cheapest day out, true, but one which is fantastic value for money!
18. Prague Zoo, Czechia
At the second most visited tourist destination in the Czech Republic, you'll see over 5,000 animals and 676 species. There are 13 pavilions to explore, and kids will adore the Bororo Reserve, chairlift, mini-train, observation tower, paddling pool, and children's zoo. Elephant Valley, home to a herd of Asian elephants, is irresistible. But the Giant Salamander House, where you can see critically endangered Chinese Giant Salamanders – the largest amphibians in the world – is a unique experience.
19. Sao Paolo Zoo, Brazil
Not the most significant zoo, but still has plenty of animals with lots to see and do. So to get a break from the bustle of Sao Paolo, bring a picnic and relax as you enjoy the antics of local 'stars' such as the Brazilian howler monkey and the red-breasted toucan.
20. St Louis Zoo, Missouri, US
If you want to see over 6,600 animals and 15 major exhibit areas – you'll meet them in St. Louis! The zoo has added many new attractions recently to entertain visitors of all ages. It's a fun day out for all the family and, amazingly, the entrance is free! What's not to like?
21. Smithsonian's National Zoo Washington DC
This fantastic zoo, which is dedicated to conservation, welcomed two ultra-adorable baby pandas in May 2021- a rare event indeed. Get a pass so you can watch them playing and eating treats from behind a vast plexiglass viewing screen. Other exhibits are equally impressive. Entrance to this zoo is free (but be warned-parking is $30!).
22. Dubai Aquarium & Underwater Zoo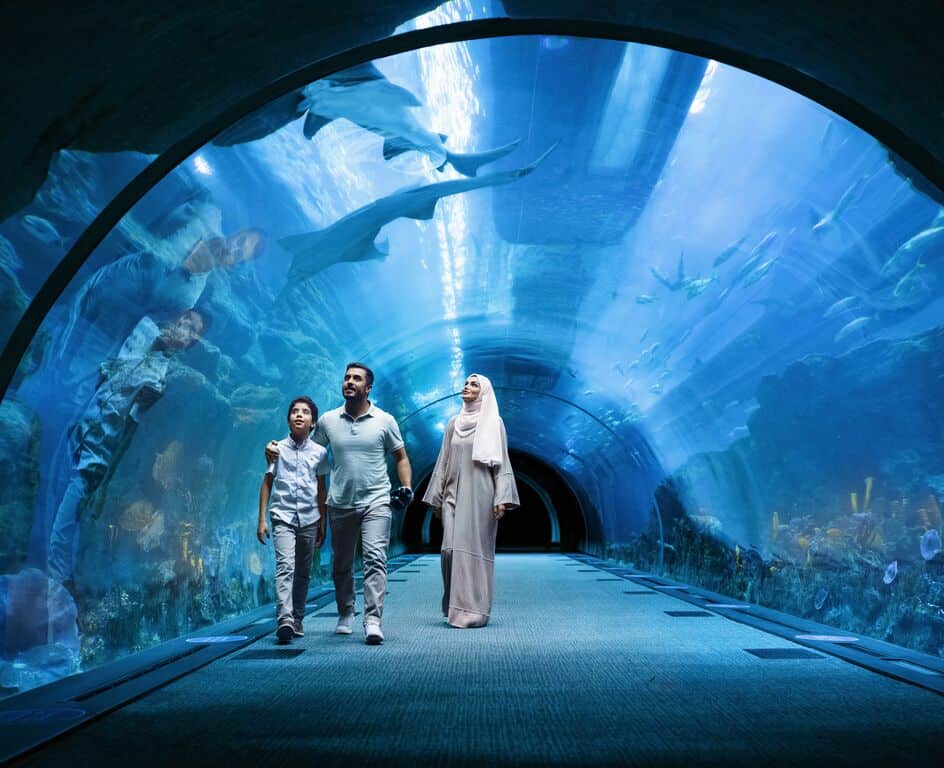 Dubai Aquarium is one of the largest indoor aquariums globally, and it showcases one of the most diverse collections of aquatic life you'll find anywhere. Located just above the aquarium, Underwater Zoo brings visitors close to penguins, piranhas, crabs, water rats, sea horses, jellyfish, and lots more. Marvel at the fascinating new addition – King Croc, one of the world's largest and rarest reptiles – over 5 meters long and weighing 750 kg plus!
23. Loro Park, Tenerife
Plan a brilliant day out for the family at another one of the best zoos in the world—a fantastic variety of animals, including big cats, monkeys, and birds of all types. There's a brilliant polar landscape for the penguins, complete with falling snow! The shark tunnel the jellyfish tanks are a must-see! The highlight for many is the dolphin and orca shows – but just be warned – while it's brilliant fun to sit in the splash zone – there are no drying facilities!
24. Arignar Anna, India
The oldest public zoo in India is so huge you can cycle around it or take a buggy. For excitement, book a Lion or Deer Safari first thing in the morning and tour around the zoo later. The magnificent white tigers are unforgettable, and you'll also see other zoo favorites such as rhinos and hippos in addition to more unusual species such as Asiatic lions and Asiatic wolves.
25. Taipei Zoo, Taiwan
Originally a private zoological garden, this is now the largest zoo in Asia. The giant panda house, Formosan animal area, the koala house, and Asian tropical rainforest area will amaze and enchant kids and adults. Pandas can sometimes disappoint as they tend to sleep all day, but you'll be able to spot their more entertaining cousins, such as red pandas.
Plan a Day Out to One of the Best Zoos in the World
Whichever zoo you choose, check out the best times to visit – so you'll miss the crowds. As you may be spending the whole day in a zoo, investigate the catering options – sometimes a picnic is a fun and affordable alternative. Get your kids involved in researching what the zoo offers, so you can plan your day and ensure everyone gets to see what they've set their heart on.
And when you get there, relax and take your time to observe the fantastic diversity of the creatures you'll see. Remember, your trip to one of the best zoos in the world will be creating memories that will last a lifetime.
This article was produced by Planner at Heart.