Legoland NY: 35 Reasons Everything is Awesome at Their Largest Amusement Park
Legoland New York is the largest Lego amusement park in the world! Located in scenic Lower Hudson Valley, 60 miles northwest of New York City, you can ride, climb, splash, explore and build in seven themed lands across 150 acres. As season pass holders, my family attended a Legoland NY Opening Sneak Peek event in May 2021 before the park opened and returned 6 times in 6 months over their first season! My kids can't get enough and ask to return over and over.
They open again for their second season on April 8th, 2022 with expanded offerings, so if you haven't experienced the park yet, 2022 is a perfect time to plan a trip.
Here are 35 reasons kids and parents will love a day trip or vacation to Legoland New York!
13 Fun-Filled Rides For Kids 2 to 12 Years of Age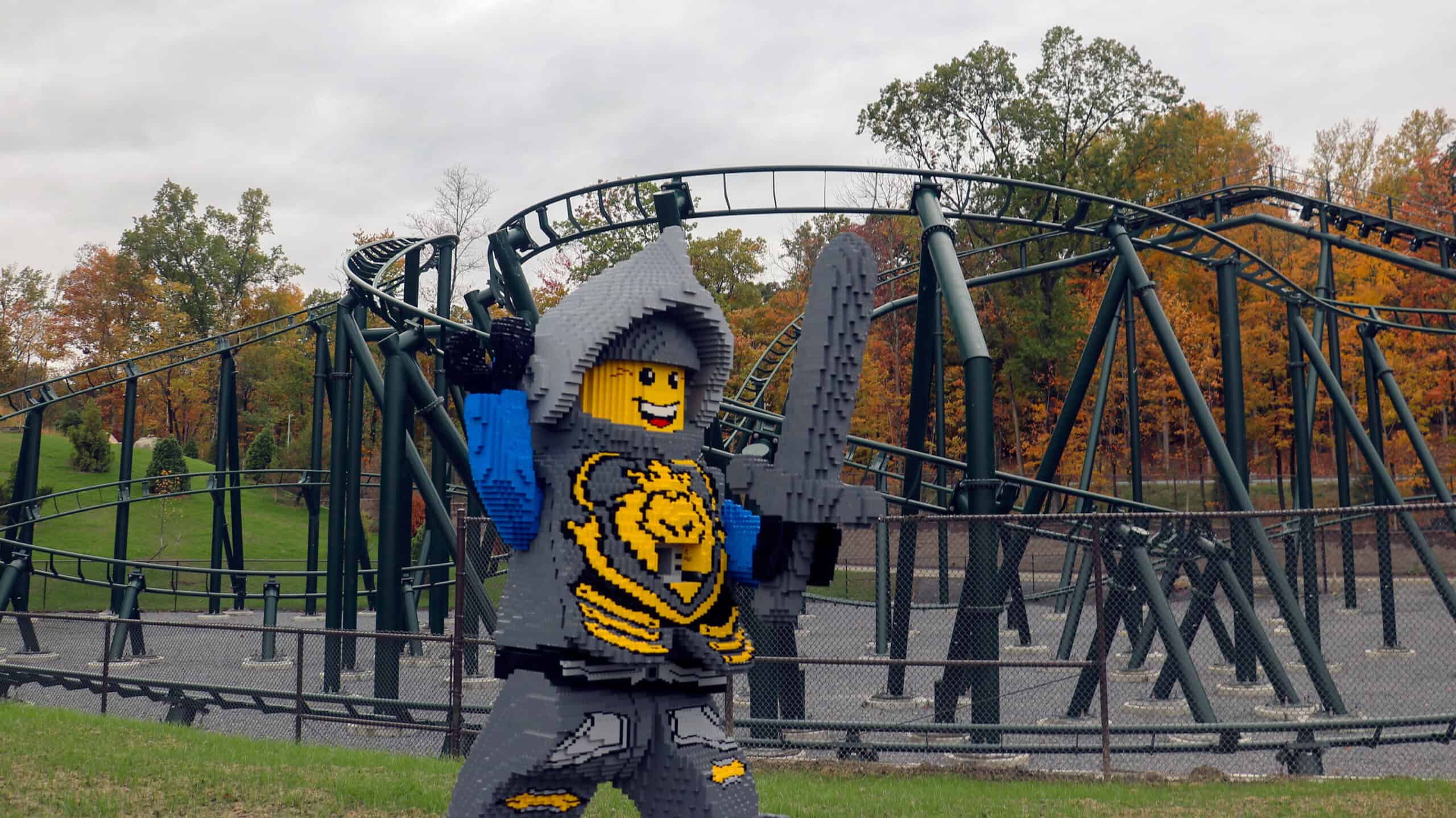 Family fun awaits in Legoland New York's seven lands: Brick Street, Bricktopia, MiniLand, Ninjago, Lego Castle, Lego City, and Lego Pirates Water Park (2023). Kids 2 to 12 years old will enjoy a wide range of thrills, from rides they can go on by themselves or the whole family can do together, their first roller coaster, fighting ninjas in 3D, or epic water battles.
1. Brick Party Carousel
The closest ride to the entrance is a colorful carousel made with oversized Duplo Legos. My preschooler picked an animal from her Duplo set at home, while my 9-year-old loved riding a motorcycle! Parents can pick from a tiger, chicken, giraffe, or hold a baby in one of the seated options There are no height requirements for the ride, as long as a parent joins too.
2. Duplo Express
All aboard the Duplo Number Train! My preschooler loved being able to go on a ride by herself, and my older kid even decided to hop into the caboose at the very last minute! Toddlers less than 34 inches tall need a parent to ride along the colorful track filled with playful learning. It's a cute photo-op. Get your cameras ready!
3. DJ Dizzy's Disco Spin
A hit with both my kids, DJ's Dizzy Disco Spin lets you twirl yourself silly while a Minifigure DJ blasts music. If you grew up enjoying the Tea Cups ride in Orlando, you'll love this too. There is no height requirement as long as parents ride with kids less than 42 inches tall. My kids had a blast spinning Mom so fast that she got dizzy!
4. Jay's Gravity Force Trainer
My Ninjago-loving son was pumped that Jay had his own ride! One of the few rides my preschooler wasn't tall enough to join, Jay's training machine uses Spinjitzu level speed and G Forces to see if you're ready to be a true Ninja.
5. Lego Factory Adventure Ride
A first-of-its-kind Legoland experience, the Factory Adventure Ride magically transforms you into a Lego Minifigure before your eyes. Riders of all ages can join Professor Brick on a fun Lego Factory adventure full of fun and surprises! With no height requirements, the whole family can ride together.
6. Ninjago, The Ride
Our Ninjago-obsessed kids loved fighting villains to save The World of Ninjago. Honestly, adults will have a blast too! Depending on where you sit in the car, you will be harnessing the power of fire, water, earth or air to defend Ninjago. Using the sensors built into the vehicle you blast fireballs, lightening and ninja stars at foes to collect points. Leave time in your day to ride again, as it takes practice to became a ninja and increase your score. Thankfully, kids of all ages are welcome on this marque ride as long as a parent rides too. This is our family's favorite ride in the park and we often fight those bad guys twice during every visit.
8. Merlin's Flying Machines
My little one was thrilled she was tall enough to go, while my 9-year-old loved that he could ride by himself! Power your machine by pedaling as fast as you can. It's a fun race to see how high you can raise The Wizard's Magical Machines while flying through the sky! Competitive kids will love trying to best their parents and siblings.
9. Tower Climb Tournament
Both of my kids, despite their 4 year age difference, were excited to hoist themselves to the top of the Tower. Playing the role of great knights, you pull yourself up to the top and then let go for a fun thrill to the bottom and start all over again! If you have kids under 8 years of age each child will need a parent to ride with them. The staff allows split rides so you don't wait in line again for the second kid to ride.
10. The Dragon Roller Coaster
My kids aren't tall enough to ride this larger roller coaster but you can chase after the thieves, reclaim the wizard's staff, and be named champion of the realm! Now open and running kids 52 inches and taller can ride with a parent.
11. The Dragon's Apprentice
As a parent of a thrill-seeking preschooler, it's fantastic that the park has a roller coaster option for kids who want to ride The Dragon but aren't tall enough. Mimicking what it's like to soar on the back of a dragon, kids 36 inches and taller can ride this Duplo roller coaster with a parent. We love this ride and my 5 YO daughter always asks to go more than once!
12. Driving School 
One of the main attractions in Lego City, kids 6-13 years of age can earn a Legoland Driving License by driving a Lego "go-cart" around the massive city park track, teaching them early the rules of the road! My kids are so proud to drive a car and show off their driver's license. The lines can be a little longer than others, so start at this section of the park and work your way back!
13. Junior Driving School
Kudos to Legoland for offering another Junior version of a popular ride for younger kids! Kids aged 3-5 can also earn a Legoland Driver's Licence and experience the thrill of driving a car around Lego City. Note to parents: this line moves slower than the other one, so bring a little bit of patience for the little guys and perhaps use waiting in line as snack time.
5 Lego Pirates & Lego City Water Rides
One of the coolest additions to the park in 2022, is the opening of the LEGO City Water Playground. Very few details have been released, but we look forward to splashing and cooling down there all summer long. In this area of the park, there are a lot of fun water-based rides that we love – nothing brings out the fun and laughter like splashing others!
1. Fire Academy
Stepping into the role of Lego City firefighter, families will work together to put out a "burning" building with a water cannon. Preschoolers 34 inches or taller can ride with a parent and join the firefighting team.
2. Coast Guard Academy
Kids will love driving a real life battery operating LEGO boat around a waterway course! Patrol the Wharf while avoiding obstacles just like Coast Guard! Kids 34 inches and taller can ride with a supervising sibling or parent. This is one the longer rides in Lego City, so keep that in mind as you plan your day!
3. Anchor's Away
A pint-sized pirate ship ride for little sailors that mimics the unpredictable life out on the high seas! Family fun laughs and thrills await guests taller than 36 inches! Will you like Pirate Life? Take a ride and see!
4.Rogue Riders
Mateys jump into a pirate racing barrel and navigate the dangers of the seas to return to shore. Guests 4 years of age and taller than 42 inches can sail the high seas along with a parent.
5. Splash Battle
A water gun fight on an epic scale, join a pirate ship of 8 people navigating pirate-invested water to get ye Treasure back! The whole family can join the pirate fun, with no height requirement as long as a parent joins. Or you can hang out on the sidewalk around the ride, get wet or blast water to those on the ride – my son's personal favorite!
7 Additional Activities and Attractions
While the rides were what initially drew us to Legoland NY opening day, the Lego building activities and other attractions were surprisingly a huge hit with my kids. There are days my son spends all his time on activities and doesn't go on one ride.
1. Build & Test
Described as the most incredible place to build and test anything you can think of, my building-obsessed son would have stayed here for hours if the park wasn't about to close! Here kids, can make a Lego car and race it, build tall towers and shake them, design Duple fish and see them swim through the oceans and more. A great indoor spot to cool off from the sun, or for parents to sit down and rest while! If it starts to rain, make a beeline for Build and Test to wait it out and have fun at the same time.
2. Builders Guild
If you're waiting for food at the nearby Royal Fest restaurant, kids can pop into Builders guild, a small alcove next to the Royal Market shop. You can add to a permanent Lego Castle to fortify the kingdom and furnish the castle.
3. Lego Creative Workshop
If you've got a Maker in your family, inquire about taking a class with a Legoland Master Builder. At the Creative Workshop, you can learn advanced Lego Techniques and level up your creations at home. This space is used for school group sessions, so if it's a must-do give the park a call before your trip!
4. Robotic Play Center
Older builders will love the Lego Mindstorms offered at the Robotic Play Center. Learn how to build a robot that obeys your commands! This area is also used for school groups, so inquire about availability before your visit.
5.Ninja Training Camp
My martial arts-loving kids enjoyed playing at the Ninja Training camp right next to The Ninjago Ride building. You'll learn how to think, move and train to master the Art of Spinjitzu on a spinner, climbing wall, and Reatrix.
6. Miniland
Don't miss the chance to see 10 city skylines built out of 22 million Lego bricks! If you're heading to the Water Park or Lego City, take the walking path right behind the Brick Street carousel and marvel at the Miniland buildings. They add fun "easter eggs" during various holidays making it a place everyone want to see over and over.
7. Palace Cinema
Kids will love the chance to see the latest Lego blockbuster in amazing 4D, and parents will enjoy the chance to rest their feet. Palace Cinema offers select screenings and a chance to interact and take pictures with Minifigure characters. I don't want to spoil any surprises, but there's a reason why it's called 4D! It's always a hit with the family and brings out the laughts.
10 Brick-tastic Surprises at Legoland NY
We've never been to a Legoland Amusement park before, so I didn't know what to expect. Besides the epic rides and other attractions, there were tons of pleasant surprises throughout our visit that added up to a wonderful Legoland NY opening Sneak Peek visit.
1. Outside Snacks Are Allowed
Honestly, I forgot all about the snacks in my backpack until we went through security, and they found them. Well, it was no problem! Whether you have a picky eater in your family or trying to cut down on the amount of food you purchase at the park, outside snacks are allowed at Legoland New York!
2. Complimentary Water Bottle Refilling Stations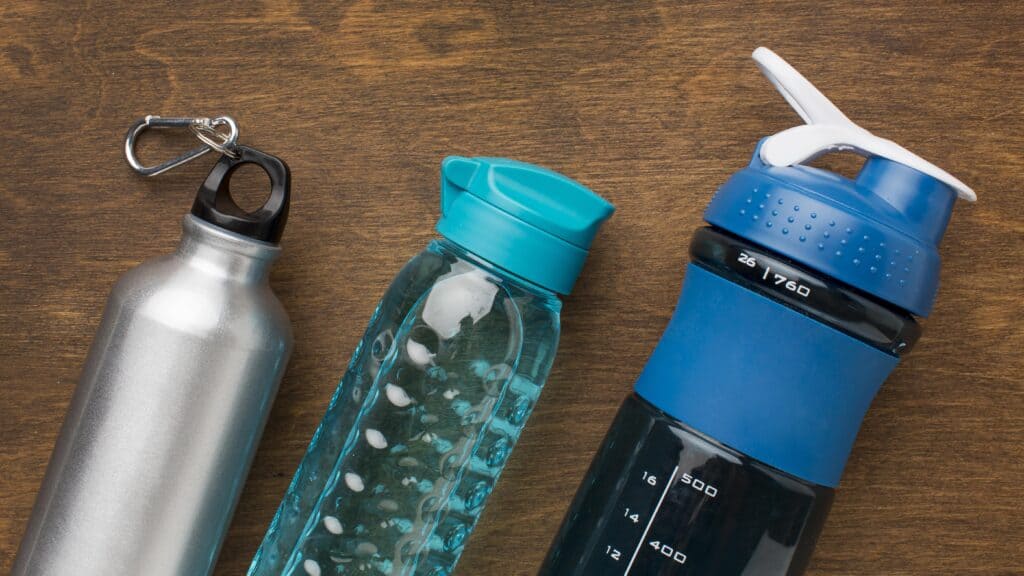 I was pleasantly surprised to see Water Bottle refilling stations all throughout the park. We visited during a hot day, and only brought one water bottle so it was fantastic to be able to re-fill ours over and over again, for free!
3. Fun Toy Stores
As Legoland Amusement Park first-timers, I didn't know that there would be some really special toy stores inside the park. It was another fun surprise that my kids really loved! You can make custom Minifigures at Bricktopia Bazaar or find exclusive items in Lego's Largest Big Shop. If you're looking for family gift ideas to celebrate a birthday or a board game to take back to your hotel, stop into The Big Shop at the front of the park.
4. Mini-figure Trading
When my son purchased a mini-figure surprise bag at The Royal Market, a staff member mentioned that if he didn't like the figure he got, he could trade it in at multiple places inside the park. How fun is that! If you want to trade check out what's available at The Big Shop or MiniMarket right next to the park entrance. Or, you can keep your eyes peeled for the mini-figures attached to staff member's name tags, and inquire about a trade. Their offer extends to any mini-figure including ones from home, so bring a couple with you on your visit.
5. Lego Creations Everywhere
It's probably not a surprise that there are amazing Lego Creations everywhere in the park. What was surprising was how excited my kids were by each and every one of them! My son loved attaching his mini-figures to the creations in various ways throughout the park.
6. Character Meet & Greets
Both my preschooler and 9-year-old enjoyed meeting life-sized Lego Characters throughout the park. My son got to show off his Martial Arts moves to Kai, and my daughter got a huge kick out of telling the Court Jester jokes. Despite not being able to talk, the characters had wonderful interactions with my kids, adding to the overall fun of the day!
7. Pop-up Games & Activities
Fans of The Price is Right's Plinko will get a kick out of Brick-o, one of the many pop-up activities around the park. My kids surprisingly stayed and played Brick-o longer than I thought, each wanting to get the Lego Ball into the winning section.
8. Legoland NY Opening Safety Efforts
I was very impressed with the park's cleanliness, extensive cleaning procedures, hand sanitizers everywhere, and ride safety. Having a preschool-age child, I loved that rides had not only a safety bar but a secondary seatbelt that a staff member's key could only remove. Legoland NY opening during a global pandemic certainly is tricky, and I was impressed with their efforts.
9. Warm and Helpful Staff
From the first staff member we met to the last person directing us to the parking lot exit, every staff member was warm, helpful, and cheery. As one parent managing two kids of varying heights, staff go above and beyond to accommodate split rides and help solo kids waiting to feel comfortable. Your Legoland New York day will be filled not just with fun but regular rings of "Have a Brick-tastic Day" from the staff wherever you go.
10. Pop-Up Dance Party to End our Legoland NY Opening Visit
As the park was closing and most people were making their way to the exit, we stumbled upon a Pop-Up Dance Party near the front of the park. The dancers were talented, high-energy, and interacted with the crowd. Ending the day dancing to "Everything Is Awesome" was the cherry on top of our visit.
They have this dance party a couple of times a day. It's something we always have to catch, my kids have a blast!
Seasonal Events at Legoland NY
In 2021, Legoland NY celebrated Halloween and Fall all October long with their Brick or Treat Events. In 2022, they'll be adding more seasonal fun with similar events to their other parks with Red, White and BOOM to celebrate July 4th and Holiday Bricktacular starting Thanksgiving weekend.
New York City residents and visitors can travel to the park on upcoming direct bus service from Short Line/Coach USA with roundtrip service from Port Authority.
This article is also available on Google Web Stories