19 Festive Activities to Celebrate the Holidays in New York City
Some say there is no better ' Christmas city' in the U.S.  than New York City. So whether you're traveling from afar to the Big Apple to experience the exciting holiday festivities or live nearby and are ready to get into the holiday spirit, there are many fun ways to enjoy the most wonderful time of the year. So add some extra magic to December with these 19 ways to celebrate Christmas in New York City.
1. Rockefeller Center Christmas Tree
The most iconic symbol of Christmas in New York City is the tree at Rockefeller Center, which has been a tradition since 1933. Each year, its first lighting takes place the Wednesday after Thanksgiving, and the tree stays lit 24 hours a day until New Year's, so visitors can come by to see it at all times throughout the day.
The best view of the tree is from Rockefeller Plaza, a small street lined with glowing, trumpeting angels that frame the tree perfectly.
2. Rockefeller Center – Other Ticketed Options
If skating underneath the tree at Rockefeller Center is on your Christmas list, be sure to plan for a stress-free experience.
With the advanced purchase of a ticket, you'll have a guaranteed time slot on the ice without any wait times. And with different packages available, you can customize your experience with tours to the Top of the Rock for a bird's eye view of the tree and admission to the heated skating chalets.
3. Check Out the Holiday Décor at Iconic New York City Hotels
New York City is home to some of the most famous hotels in the U.S., and they go all out when it comes to Christmas decorations. Plan to stop by the Lotte New York Palace hotel to see the gorgeous Christmas tree accessible to the general public in their courtyard.
The Plaza Hotel is transformed into an elegant Christmas wonderland with beautifully-decorated trees, and garlands hung at every turn. And even if you walk by the outside of The Peninsula, you'll be dazzled by the light display at the entrance.
4. Dyker Heights Christmas Lights
Venture outside of Manhattan, and you'll be rewarded with the most amazing displays of Christmas lights in the Dyker Heights neighborhood in Brooklyn. Since the 1980s, homeowners in this neighborhood have been pulling out all the stops to one-up each other in a friendly competition to see who can decorate their house for Christmas the best.
The light displays have become so popular that you'll also find food trucks selling popcorn, hot cocoa, and even ice cream around the streets. It's estimated that millions of lights are strung each season in Dyker Heights! It's one of the no-cost ways to celebrate Christmas in New York City.
5. Saks Fifth Avenue Light Show
One of the best decoration displays on 5th Ave's busy shopping destination is Saks Fifth Avenue, which puts on an exciting light show on the front of their building that can't be missed. Accompanied by music, the light show is played every 10 minutes between 5-11p every day during the holiday season. Even if you're short on time, you can mark Christmas in New York City.
6. Christmas At Macy's Santaland
Not only are the Macy's window displays a festive experience, but inside on the 8th floor, visitors can walk through Santaland, a completely decked-out Christmas village, complete with Santa's workshop and an enchanted forest.
The walkthrough Santaland ends with meeting Santa, where kids will be able to share what's on their Christmas list with the man himself. If you're looking for one of the best things to do with children at Christmas in New York City, this should be at the top of your list.
7. Slurp Frrrozen Hot Chocolate at Serendipity 3
Serendipity 3 is a New York City staple year-round, but it becomes extra magical at Christmas. With twinkling lights and brightly colored, whimsical decorations strung at every turn, you'll have the perfect backdrop while you sip on their famous dessert drink, the Frrrrozen Hot Chocolate (which is worth the hype!).
Fans of the movie Serendipity will especially love this experience of recreating a scene from the movie with a table for two.
8. Have Dinner at Rolf's German Restaurant
During Christmas in New York City, the most festive restaurant is Rolf's German Restaurant. Once you step foot inside, your jaw will drop at the sight of thousands of ornaments and lights dripping from the ceiling and wall-to-wall decorations surrounding the entire restaurant.
It's one of the most amazing things to see in New York City at Christmas. Visitors can either have a sit-down dinner at a table or choose a more casual meal and drink at the bar, which will be equally festive.
9. Hudson Yards Christmas Lights
One of the most elegant and magical light displays during Christmas in New York City is at Hudson Yards. You'll meander through paths lined with lit trees as you walk toward the shopping center.
Once you arrive, you'll be greeted with stunning hot air balloons covered in lights hanging from the ceiling and curtains of twinkle lights that go from floor to ceiling. While here, swing by William Greenberg Desserts and pick up some traditional Italian rainbow cookies, which are extra festive during this time of the year.
10. Enjoy a Rooftop Dinner
Many of the rooftop restaurants in NYC will adapt to the chillier weather, and this is a beautiful time of the year for a special rooftop dinner. One of the best places to consider is Haven Rooftop inside the Sanctuary Hotel in Midtown.
During the winter season, the rooftop is enclosed with clear windows to enjoy the incredible views of the city still, and special cocktails are crafted to make your spirits bright during Christmas.
11. Bryant Park Christmas Tree and Winter Village
During Christmas in New York City, one of the can't-miss markets is the Bryant Park Winter Village, which also has its own ice skating rink and Christmas tree. Inside the Winter Village, you'll find lots of shops full of unique gifts for everyone on your list and amazing food and drink vendors.
Be sure to stop by Chocolate Works for one of the most amazing hot chocolates you may ever have. The Bryant Park Winter Village is free to visit, making this a great family-friendly activity at Christmas.
12. Seaport District Christmas Tree
While the tree at Rockefeller is the most popular, the Seaport District Christmas tree is also beautiful and worth your time. The Thursday after Thanksgiving each year, the lighting of this 60-foot tree is one of the city's most exciting Christmas season kick-offs. During the tree lighting, be sure to stop by and visit Santa in the photo booth for an extra special photo.
13. The Rockettes Radio City Christmas Spectacular
You can't talk about Christmas in New York City and not mention the Christmas Spectacular Show at Radio City Music Hall, featuring the famous Rockettes.
Since 1933, this show has been a holiday staple in the city. It features a 90-minute performance that includes live animals, amazing decorations, incredible costumes, and, of course, an appearance by Santa himself.
14. Christmas Markets
While Bryant Park has one of the most popular and extensive Christmas markets in NYC, a few others throughout the city are just as fun and festive and shouldn't be missed. Be sure to stop by the markets at Union Square, Columbus Circle, and the World Trade Center for unique finds, festive treats, and lots of Christmas cheer.
15. Wollman Rink in Central Park
Skating at Wollman Rink in Central Park is another fun thing to do during Christmas in New York City. With a backdrop of the city's skyscrapers, and festive lights and music, this is one activity that can't be missed. Skate rentals are available at this rink, and there's also a little cafe for snacks after working up an appetite out on the ice.
16. Cozy Igloos
Cozy igloos pop up throughout the city every holiday season in NYC, providing the ultimate holiday dining experience. For amazing views, try 230 Fifth, which combines rooftop and igloo dining and will provide views of the city skyline.
For another incredible skyline view, try City Vineyard in Tribeca, which has igloos set up throughout its waterfront area. And finally, check out the cozy cabin-inspired igloos at Pier 17, along the city's waterfront with views of the Brooklyn Bridge.
17. George Balanchine's The Nutcracker
For a lot of people, it's just not Christmas until you see The Nutcracker, and the New York City Ballet puts on an incredible performance at Lincoln Center, featuring choreography from the famous George Balanchine. Children and adults will love this production for its fabulous costumes, iconic music, and talented dancers.
18. New York Christmas Window Displays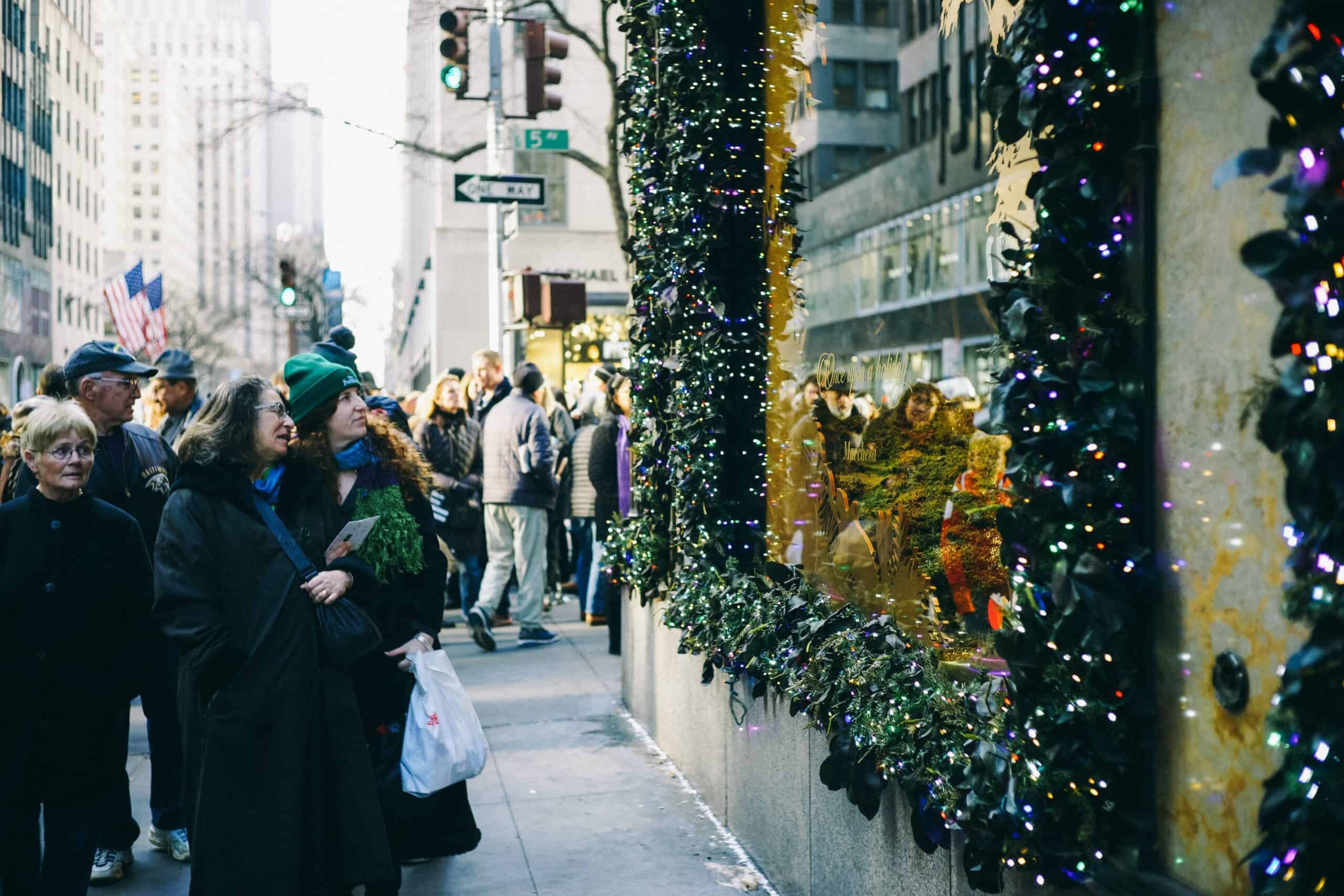 One of the free things to do for Christmas in New York City is to find the best window displays. Each year, retailers design some of the most inspiring and festive displays for the holiday season, and it's exciting to see what they come up with.
Some of the best ones to look for are at Macy's, Bergdorf Goodman, Barney's, Bloomingdales, and Saks Fifth Avenue. And bonus, it's a free activity to do with kids, your friends or family!
19. Stroll the Bronx Zoo's Winter Wonderland
Holiday Lights at the Bronx Zoo, one of the world's best zoos, is a fun way to do something a little different during Christmas in New York City. With over 12 acres of Winter Wonderland to explore, you'll encounter glowing animal lanterns, light displays, and firepits scattered throughout the grounds for s'mores. Grab hot cocoa for your zoo stroll, and celebrate the holiday season in a new and exciting way.
More From Planner at Heart