Williamsburg Christmas Vacation Guide: 15 Things to Do for a Magical Holiday Trip
If you're looking to live inside a Hallmark Holiday movie, book a Williamsburg Christmas vacation!  It turns into a magical place throughout the holiday season with romantic carriage rides, boat parades, epic holiday light displays, and charming holiday markets, to name just a few.
Its central Northeast location is within one day's drive for a large portion of the U.S. population. So skip those expensive holiday flights, and drive or even take Amtrak to a magical Willamburgh Christmas vacation.
15 Things to do during a Williamsburg Christmas Vacation
Even the town thinks the last week of the year is "the most wonderful week of the year in Williamsburg. There are many idyllic holiday things to do on a Williamsburg Christmas trip. Let's get to them!
Busch Gardens Christmas Town
Busch Gardens Christmas Town is a holiday activity for the entire family to enjoy. Busch Garden Williamsburg turns into a magical Christmas wonderland from November to January. Touting "10 million twinkling lights," Busch Gardens Williamsburg offers one of the largest Christmas light shows in North America!
In addition to your favorite amusement park rides, your family can enjoy ice skating, light shows, and delicious food from around the world! And let's not forget the ever-popular Christmas shows! Enjoy annual musicals such as 'Twas That Night and Up on the Haustop. Your Williamsburg Christmas vacation isn't complete without a visit to Busch Gardens Christmas Town!
Colonial Williamsburg Christmas Events
Colonial Williamsburg holds several different events during the Christmas season. First, the Grand Illumination is held three weekends in December. First, take a walk or carriage ride through the grounds and enjoy the beautiful Christmas décor. Then, enjoy holiday traditions from the 18th century and end the night watching spectacular fireworks at the Capitol Building.
Colonial Williamsburg also offers ice skating on the Historic Duke of Gloucester St. at the Liberty's Ice Pavilion Outdoor Ice-Skating rink. So enjoy a cup of hot chocolate or cider and watch the kids have fun on the ice. Or, better yet, join them out there! Ice skating season passes and day passes are available and skate rentals.
Enjoy many other holiday traditions such as the Yule Log celebration, the 12 Days and Nights before Christmas, and a Christmas decoration walking tour.
Christmas Tree Lighting
This year, take the family to the community Colonial Williamsburg Christmas tree lighting! Located in Market Square on Duke of Gloucester St., the annual tree lighting offers Christmas décor, holiday carols, and a 40ft Christmas tree with over 7,500 lights!
Another fun Christmas tree lighting ceremony occurs in nearby Yorktown at Victory Monument & Riverwalk Landing. This lighting tradition started in 1945 and has continued to this day. Enjoy live music local holiday traditions, and take the kids to see the Clauses!
Winter Carriage Rides in Williamsburg
Try something unique to the area this holiday season and take a Colonial Williamsburg carriage ride! Carriage rides, and wagon rides, can accommodate 1 to 4 people. Enjoy Christmas decor, holiday music, and the aroma of the holiday season while touring the grounds of Historic Colonial Williamsburg. Carriage rides are a great activity for families, friends, or for a romantic outing with your significant other!
Yorktown Lighted Boat Parade
Street parades are a traditional family activity during the holiday season, but have you ever been to a lighted boat parade? If not, you're in luck! Yorktown, just 15 minutes from Williamsburg, holds an annual lighted boat parade free to the public! So, grab a cup of hot chocolate, grab a seat, and marvel over the beautifully decorated boats floating along the York River this holiday season. Oh, and don't forget your flashlights and lawn chairs!
Williamsburg Christmas Market
If you love Traditional European Christmas Markets, then you'll want to head to the Downtown Williamsburg P6 parking lot on Francis Street this holiday season! Free to the public, the newly assembled Williamsburg Christmas Market offers live entertainment, fire pits, Christmas music, and 60 different vendors throughout the event. Drink cider and wine while shopping and trying locally made goods.
Williamsburg Symphony Orchestra: Holiday Pops
If you love the music and sounds of the holiday season, then you'll love the Williamsburg Symphony Orchestra's annual holiday concert, Holiday Pops! The December concert series occurs the weekend of the Grand Illumination in Colonial Williamsburg. Perfect for the entire family, the Holiday Pops series showcases classics, carols, and an atmosphere that will surely get you in the Christmas spirit.
Merchants Square Holiday StoryWalk
An educational Christmas activity for the kids, put on by the Williamsburg Public Library each year, is called the holiday StoryWalk. Each year the library chooses a children's Christmas story and partners with businesses on Merchant Square. Then, each business posts a page of the story in their window! So take the family on a stroll through beautifully decorated Merchant Square while reading about fun Christmas adventures! You can pick up a copy of the map at the Williamsburg Public Library or download it from their website.
Annual Williamsburg Christmas Parade
Now, who doesn't love a good Christmas parade? A local tradition since 1965, the annual Williamsburg Christmas Parade is a family fun community activity. So relax on the sidelines, bundled up with your loved ones, with a cup of hot chocolate in hand! Enjoy decorated floats with hundreds of twinkling lights, performances by local school bands, live entertainment, and even Mr. Clause himself! The parade begins on Brooks Street and Richmond Road and ends in the Colonial Williamsburg employee parking lot.
Yorktown Mistletoe Market at Riverwalk Landing
Presented by Yorktown Market Days, and for one day only– be sure not to miss the Yorktown Mistletoe Market at Riverwalk Landing! Explore local vendors for homemade pies, cookies, chowders, candles, and soaps, all while enjoying live music and performances. Next, join in on the fun and festivities of the annual Toyland Parade! Finally, take a loop around the excitement on the Riverwalk Landing Polar Express!
Christmas at Historic Jamestown
Presented by the Jamestown Rediscovery Foundation, you won't want to miss the annual "At Christmas Be Merry" holiday celebration. Sit by a bonfire with the family, and learn all about the Christmas traditions of the 17th century. Then enjoy caroling and holiday stories followed by the firing of "Christmas" guns. For a fun and educational Christmas activity for the kids, head over to Historic Jamestowne this holiday season.
Christmas at Jamestown Settlement and the American Revolution Museum at Yorktown
If you're a history buff, then you'll love learning about 17th and 18th century Christmas traditions at two popular living museums in Yorktown! An interactive outdoor learning experience will involve reenactments, live music, and lots of storytelling.
Referred to as "Christmastide in Virginia," you'll first want to visit the Jamestown Settlement outdoor living museum. See buildings decorated in greenery, watch traditional holiday cooking, and learn all about hunting in those times. Then visit the American Revolution Museum and learn all about what it was like for the Continental Army during Christmas time—they were living in camps! You will also learn about rationing, muskets, and Christmas traditions.
Yorktown Christmas Market on Main Street
If you're looking for unique and handmade Christmas gifts, the Christmas Market on Main Street just may help you cross a few things off your list! This annual event, held in Yorktown, is a local's favorite during the holiday season.
The two-day event is free to the public, bringing together nearly 100 vendors for you to shop. First, take a stroll down Historic Main Street while enjoying live Christmas music and watch an ice carving at York Hall. Then, take the kids over to meet Santa Clause! The Christmas Market on Main Street is the perfect family holiday outing.
An Enchanted Evening on Main Street
For one night only, head over to Historic Main Street this year for an enchanting evening Christmas Market! That's right! A brand-new event, Yorktown will be hosting a nighttime Christmas Market. There will be festive holiday music, cider, hot chocolate, and lots of shopping! An event not to miss! Check out VisitWilliamsburg.com to learn more about this event.
Holiday Dining in Williamsburg
Traditionally, Christmas meals are a big deal in Williamsburg. Many taverns and local restaurants are open for Christmas breakfast and brunch. Shield's Tavern, King's Arms Tavern, and Christiana Campbell's Tavern all have their waitstaff in costume. You'll also enjoy your Christmas breakfast or brunch while listening to carolers sing some of the classics.
If it's dinner you are looking for, be sure to make a reservation ahead of time. Popular Williamsburg Christmas dinner restaurants include the Colonial Williamsburg Lodge, Campbell's Tavern, Kingsmill Resort, and the Williamsburg Winery.
If given the opportunity, the experience at the Colonial Williamsburg Lodge is one of a kind. Attend the Yuletide Supper on Christmas Eve, and then have an 18th-century style feast for Christmas dinner while enjoying live classical music.
A Magical Williamsburgh Christmas Vacation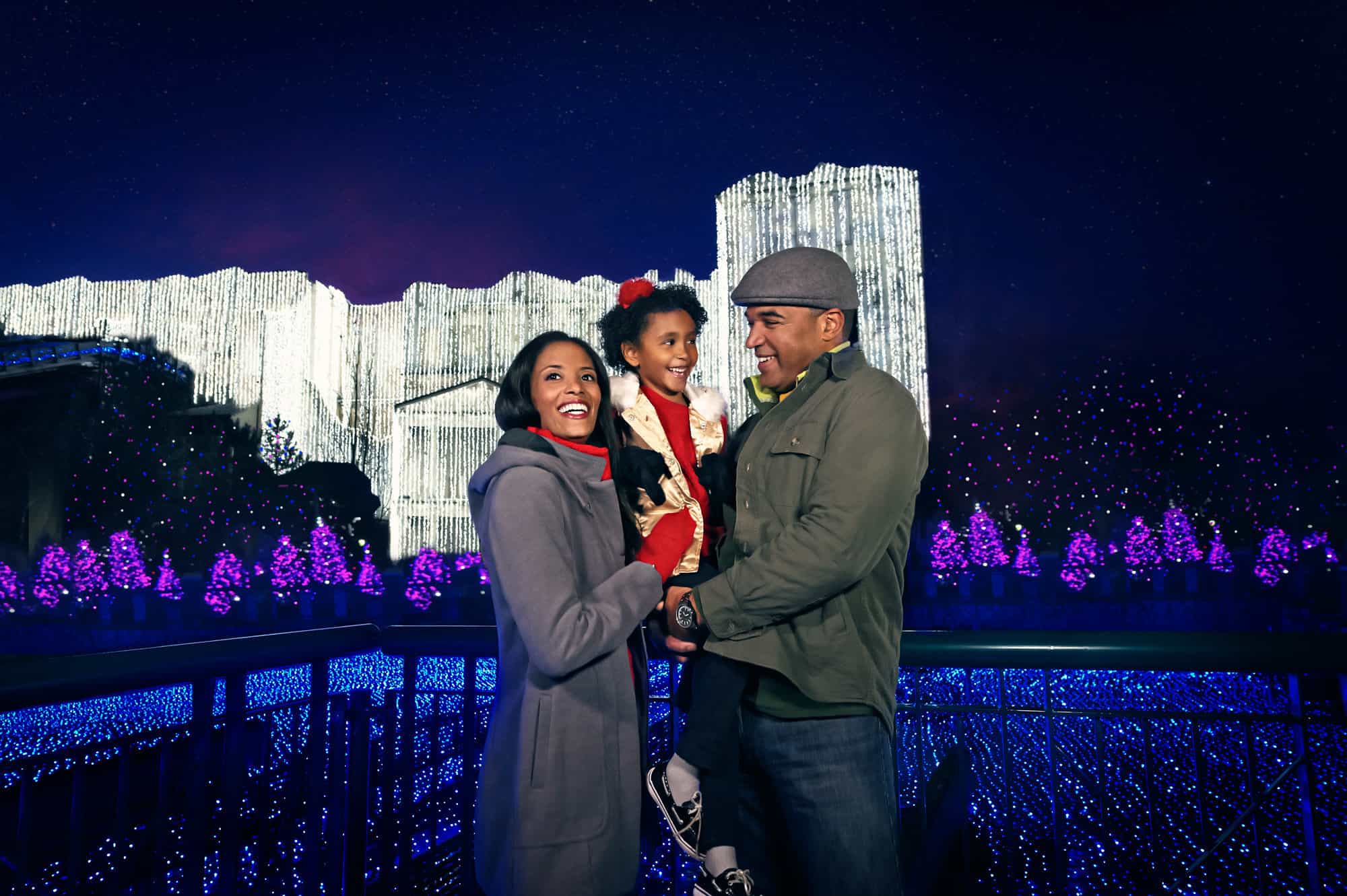 Many families make traveling to Williamsburg, Virginia, during Christmastime a family tradition! That's because Williamsburg is filled with many different things to do and see during the holiday season. From theme parks and musicals to parades and walking tours, there's a little something for everyone in the family.
This article was written by Williamsburg resident Wander With Alex.