15 Fun Things to Do & Reasons to Visit Yorktown Beach (Outside Williamsburg, VA)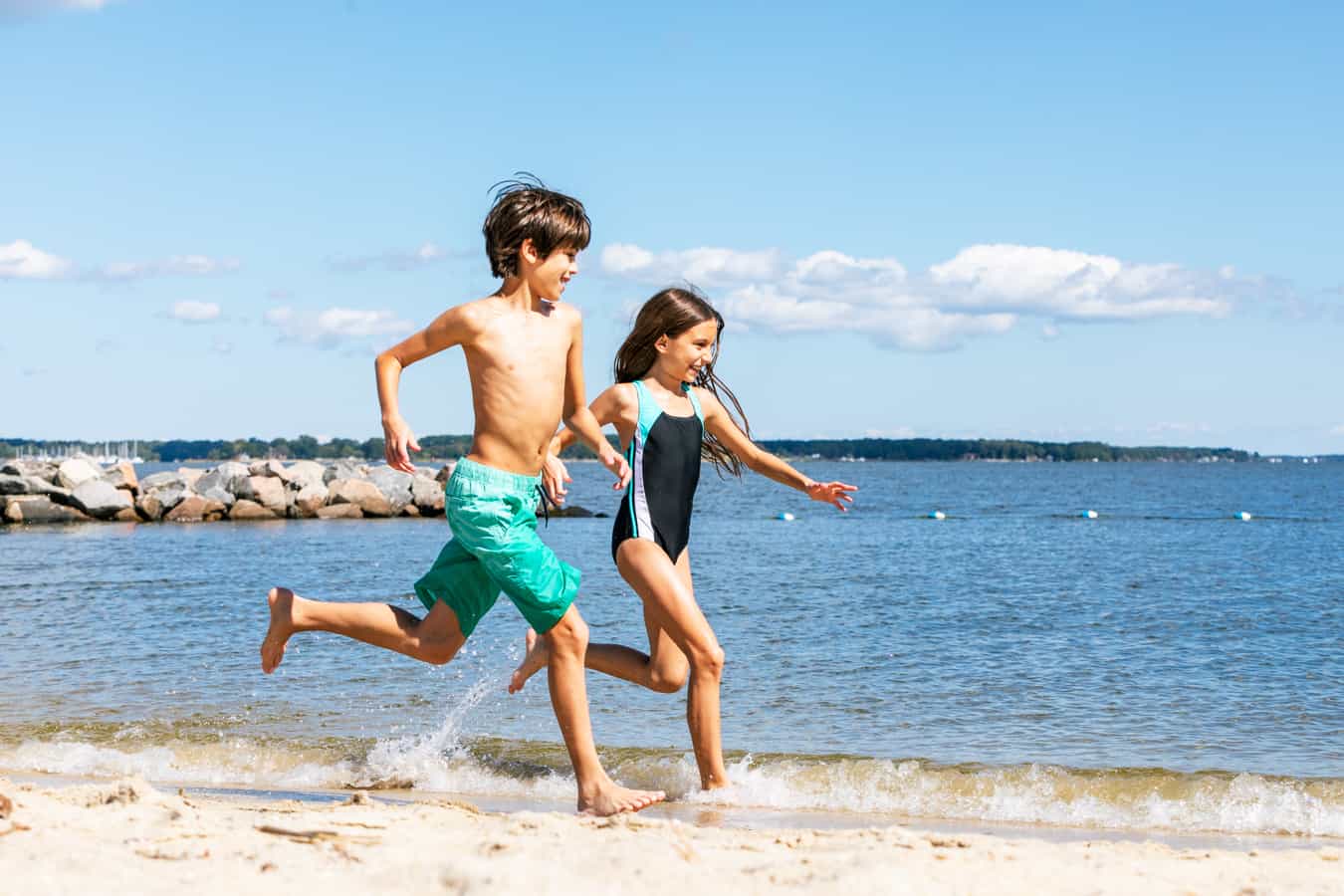 Located along the York River, Yorktown Beach is one of Hampton Roads' best outdoor family destinations.
Locals and nearby Williamsburg tourists flock to Yorktown Beach in the summer and on warm days to cool off and have a little fun. Yorktown Beach has a little something for everyone, from swimming and sunbathing to cruises and museums. Here are 15 things to do around in and around one of Virginia's more conveniently located beaches.
1. Yorktown Beach Offers Relief from The Summer Weather
Yorktown Beach is a popular destination for those looking to escape southeastern Virginia's hot and humid summers. When you need a break from the beach, walk to the Riverwalk Restaurant or Water Street Grille for a cold drink and a good bite.
2. Yorktown Beach Is One of The Top Virginia Beaches
Yorktown Beach is repeatedly labeled one of the best beaches in Virginia. In 2018, USA Today rated Yorktown Beach the second-best beach in Virginia.
Today, Yorktown Beach is named the top beach on the Peninsula by Coastal Virginia Magazine's "Best of 2021." Combining relaxation with history, Yorktown Beach continues offering top Virginia attractions locals and tourists enjoy.
3. Yorktown Beach Offers Families the Perfect Place to Relax or Play
Enjoying the day at Yorktown beach with the family is a beautiful bonding experience. It's also a good way for the entire family to let go of their worries and relax.
Take in the views of the York River, maritime activity, and cruise ships. So bring your beach chairs, volleyball, and skimboards, and enjoy a peaceful day at the beach. Once you're finished sunbathing, head over to the many attractions historic Yorktown has to offer.
4. Yorktown Beach Offers Great Views
While enjoying the beach, you'll also have beautiful views to marvel over. One view you can't miss is the George P. Coleman Memorial Bridge. The bridge is large and lovely and crosses over the York River.
You're also bound to spot cruise ships sailing up and down the river, giving tours to vacationers. And a little further downriver, you'll see Yorktown fishing pier filled with locals looking for their next catch. The river is a spectacular view featuring several rock jetties, beach grass, and gorgeous sunsets.
5. Family-Friendly Activities at Yorktown Beach
Before (or after) hitting the beach, take the family on a trolley tour of the historic area. They offer tours free of charge to the public, or you can book a Segway tour.
You can also rent kayaks or stand-up paddleboards from Patriot Tours & Provisions in the Riverwalk Landing area. Or you can take the family on a cruise of historic Yorktown. Yorktown Sailing Charters offers tours that the entire family will enjoy.
6. Riverwalk Landing Shopping Mall
Located right next to Yorktown Beach, you'll find the Riverwalk Landing shopping mall. This charming little area offers restaurants, local shops, and museums. Several restaurants have waterfront views, making for a gorgeous sunset dinner.
This area is also a pickup and drop-off location for the Yorktown Trolley Tours. These free tours will take you from the Yorktown Battlefield Visitors Center to the American Revolution Museum.
7. Watermen's Museum
The Yorktown Watermen's Museum is just a short walk from Yorktown Beach, next to Riverwalk Landing. Learn about the people who make a living off the Chesapeake Bay and how they shaped the waterways we rely on today.
They even offer field trips and activities for the kids during the summer. They even have a boat-building program to watch forging, blacksmithing, glassmaking, and pottery. Admission is $5 for adults and free for children under six.
8. American Revolution Museum
A living history museum, the American Revolution Museum in Yorktown, is a great place to visit with the family. Just a three-minute drive from Yorktown Beach, this museum lets you step back in time to the beginning of America.
The museum offers many exhibits, films, and outdoor re-creations and is right next to the Jamestown Settlement. Admission is currently $16 per adult and $8 per child.
9. Jamestown Settlement
Take a step back in time to the 17th century and visit the Jamestown Settlement. The location of the first English settlement, you can see the Godspeed, Susan Constant, and the Discovery ships.
The museum also has a large archaeology exhibit that allows the kids to dig for buried treasure. This museum is next to the American Revolution Museum; admission is $18 for adults and $9 for kids.
10. Yorktown Victory Monument
Located just minutes from Yorktown Beach, the historic district sits the Yorktown Victory Monument. The monument represents the surrender of Cornwallis' army in October of 1781.
The headstone was ordered to be built in 1781 but wasn't started until 1881. The memorial is dedicated to nationality, war, alliance, and peace. Visiting the Yorktown Victory Monument is free to the public and has a parking lot right across the way that is also free.
11. Yorktown Trolley Tours
Taking a Yorktown Trolley Tour is a great way to learn about historic Yorktown. The tour is guided and will make several stops along the way so that you can hop out and take in the history.
The tour begins at the Yorktown Battlefield Visitor Center and takes you all the way to the American Revolution Museum, with stops along the way. So ditch the car and enjoy the sights.
12. Yorktown Battlefield
If you're looking to visit the Yorktown Battlefield, you should stop at the Visitor Center first. You can see films and exhibits and set up a guided walking tour of the battlefield.
You can also drive through the area, where you'll see fortifications, cannons, and other historical sights. You will also find free parking along the way, allowing you to stop for photos.
13. River Cruises
Are you interested in learning more about the area by boat? You're in luck! Riverwalk Landing, right next to Yorktown Beach, offers two options for river cruises.
Check out Yorktown Sailing Charters or the Schooner Alliance for guided tours of the area by water! Schooner Alliance also offers sunset cruises as well as pirate cruises. Taking a York River cruise is excellent for all ages and is a fun way to learn a little history.
14. Colonial Williamsburg Living Museum
Colonial Williamsburg is the largest outdoor educational museum in the country. Tourists can visit dozens of original and recreated 18th century buildings, homes, and shops centuries-old buildings, homes, and shops that tourists can visit.
Many of the historic buildings even have guided tours with historical interpreters. And if you're feeling extra adventurous, take a carriage ride around the grounds. Colonial Williamsburg is a truly unique experience! The best part? It's only a twenty-minute drive from Yorktown Beach.
15. Nearby Amusement Parks
Yorktown Beach is located near two popular amusement parks Virginians and tourists enjoy. Located only twenty minutes away, awaits Busch Gardens Williamsburg and Water Country USA.
These theme parks have roller coasters, kid-friendly rides, waterslides, live events, and much more. So once you're finished sunbathing, take your friends and family over to one of these top-rated Virginia attractions.
Yorktown Beach FAQs
How much does Yorktown Beach cost?
Yorktown Beach is perfect for the budget traveler or family looking for something free to do! This public beach is open to locals and tourists and is free of charge.
Parking lots can be found throughout the area, and most are free to the public. So if you're looking for free things to do in Yorktown, Yorktown Beach is the perfect destination.
Is Yorktown Beach open to the public?
Due to COVID-19 precautions, Yorktown Beach was closed to the public from March 30, 2020. The beach has since fully reopened; however, there are still restrictions in place. For example, group sports, alcohol, and tents are not allowed at Yorktown Beach.
Is it Safe to Swim at Yorktown Beach?
Yes! It is safe to swim at Yorktown Beach. However, bad weather and other uncontrollable circumstances can cause the beach to be shut down.
Just like with any other beach, Of course, you can always check the Virginia Department of Health's Swimming Advisories and Monitored Beaches Map before you head out for a day of fun.
This article was produced by Planner at Heart