Mix Up A Mai Tai at Home With One of These 10 Recipes From Hawaii's Best Bars, Restaurants and Hotels
If you need a reason to enjoy paradise in a glass, well, now you have one.  Whether you like yours strong or sweet, here are ten Mai Tai recipes from the best cocktail creators to make at home. And if you're planning on visiting Hawaii, stop by one of these top bars, restaurants, and hotels to enjoy one in person. 
But First, Why Is It Called Mai Tai?
"The classic Mai Tai is an amazing fundamental tiki-style cocktail rumored to have received its name from the Tahitian word maita'i, which means good or excellent, an apt description for this drink," says Blaise A. Roberts, Food and Beverage Manager at the Hyatt Regency Maui.
How Did It Come To Be?
In 1944, Victor Jules Bergeron, or Trader Vic, was making a drink for his Tahitian friends in his California restaurant.  "I took down a bottle of seventeen-year-old rum. It was J. Wray Nephew from Jamaica- surprisingly golden in color, medium-bodied, but with the rich, pungent flavor particular to the Jamaican blends", he writes in Trader Vic's Bartender's Guide. 
He then mixed it with fresh lime, orange curaçao, rock candy sugar, and a bit of French orgeat syrup to create an enjoyable cocktail that let the rum flavors shine through. One of his friends said, "Mai Tai-Roa Aé," meaning "Out of this world; the best" in Tahitian. And the Mai Tai was born.
What Was The Original Recipe?
The recipe for the Mai Tai in Trader Vic's Bartending Guide Book is:
1 lime
1/2 ounce orange curaçao
1/4 ounce rock candy syrup
1/4 ounce orgeat syrup
2 ounces Trader Vic Mai Tai rum or 1 ounce dark Jamaica rum and 1 ounce Martinique rum
Notice the lack of tropical, sweet juices. That was added later when the drink became a mainstay in Hawaii. 
But How Did It Make Its Way to Hawaii?
Hawaii hotel owners hired Trader Vic to create tourist-friendly drinks for their properties, including the iconic, pink-hued Royal Hawaiian Hotel. One of the concoctions he provided was his Mai Tai.
Orange and pineapple juice were eventually added to the recipe to make it tropical and easy to drink for a broader audience. This version has become synonymous with Hawaii and the one most people know today. 
Now, Over 300 Mai Tais a Day are Made at The Royal Hawaiian Hotel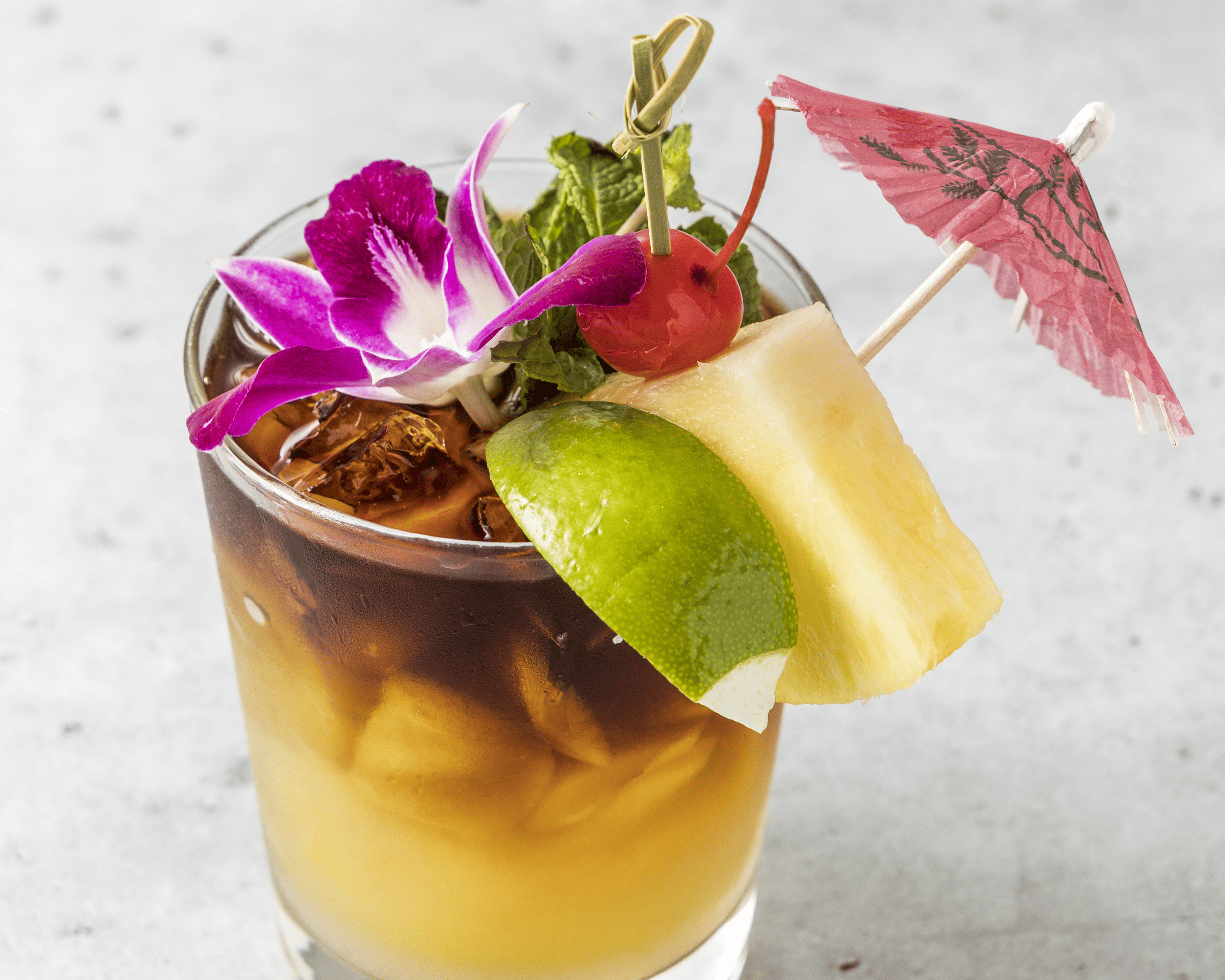 The original Mai Tai Bar opened in 1953 at The Royal Hawaiian Hotel along Waikiki Beach, and 70 years later, it is still going strong. The bar now serves five different Mai Tais, with The Royal as the perennial favorite. In fact, last year they served 120,000 of them. To make one at home, build in shaker with ice: 
1 oz Old Lahaina Light Rum
1 oz Old Lahaina Dark Rum
½ oz Orange Curacao
½ oz Orgeat
2 oz pineapple juice
1 oz orange juice
Roll in an ice-filled shaker and pour into a large bucket glass.  Pour a Whaler's Dark Rum floater and garnish with a cherry, pineapple, and lime wedge parasol.
Waikiki Beach Marriott Resort & Spa
Waikiki Beach Marriott Resort & Spa offers an off-menu Mai Tai around their property, including Queensbreak, Nanea Lounge, Kuhio Beach Grill, and the all-new Paina Waikiki Luau, where it is provided as a welcome drink.
This recipe can be made at home with:
1.5oz gold rum
1.5oz dark rum
1.5oz prepared Mai Tai mix    
Mix equal parts fresh lemon juice, orgeat, and simple syrup to taste
Serve over crushed ice
Hilton Hawaiian Village
While the Blue Hawaii cocktail was invented by Harry Yee here, the Mai Tai is their most popular drink. When in town, grab one from Hilton's Tropics Bar & Grill and stroll down the widest stretch of Waikiki Beach to grab a prime spot for their weekly Friday night fireworks. It's the perfect way to kick off the weekend. 
Halekulani Mai Tai
This luxury Oahu resort boasts a rich history, world-class amenities, and fine dining. Its award-winning oceanfront restaurant, House Without A Key, is known for its mai tai, one of its most popular drinks.
The Halekulani Mai Tai uses three types of rum: Bacardi Gold Rum, Bacardi Select, and Lemon Hart 151 Rum. This stronger recipe has brought people back for another for over 30 years. Lead mixologist Tuda Grehan says, "People like our mai tais because we always use fresh juice. We blend fresh lime juice and simple syrup, which allows for a perfect balance of tartness and sweetness."
Halekulani's Recipe
Make one at home with the following:
1/3 Ounce Orgeat Syrup
1/3 Ounce Orange Curacao
1/3 Ounce Rock Candy Syrup
1 1/4 Ounce Fresh Lime Juice
3/4 Ounce Bacardi Gold Rum
3/4 Ounce Bacardi Select
1/2 Ounce Lemon Hart 151 Rum (float)
Vandra orchid (garnish)
Pour orgeat syrup, orange curacao, rock candy syrup, lime juice, Bacardi Gold, and Bacardi into a glass. Pack with crushed ice. Float 1/2-ounce Lemon Hart 151 Rum. Garnish with a lime wheel, sugar cane stick, mint leaf, and Vanda orchid.
Mugen at Espacio
The French-Japanese fine dining restaurant at this boutique hotel takes the traditional Mai Tai to a golden level. The $50 signature cocktail Mugen Mai Tai is another reimagining of the classic 1944 version.
It is made with rare top-shelf Rums (Appleton Estate 15-year-old Black River Casks, Kirk and Sweeny Xo) and finished with locally made Ko Hana Koa Hawaiian Agricole Rum. The liquor is mixed perfectly with lime juice and orgeat and topped with edible gold. 
Ilikea's Mai Tai at Trump International Hotel Waikiki
This tropical drink has caramelized pineapple and lime orange notes, perfect for lounging by the pool in the Hawaiian sun or relaxing at home.   Shake and pour into a highball glass, layer with 1.2oz Bacardi Black, and top with Pineapple Bacardi Gold Sorbet Garnish, Pineapple Wedge, and Orchid. Steep 20 kaffir leaves in water, simmer on very low heat for ten minutes. After the water is fragrant, make simple syrup with equal parts kaffir water and sugar.  Simmer syrup with peel from one orange for about 20 minutes, then cool.
Their Recipe:
1 oz Bacardi 8
0.5 oz DiSaronno Amaretto
0.25 oz Domain de Canton Ginger Liqueur
0.75 oz homemade Kaffir Lime-Orange Syrup
0.5 oz Perfect Puree Caramelized Pineapple Concentrate
0.75 oz fresh Lime Juice
Turtle Bay Resort on Oahu's North Shore
You can watch surfing pros catch epic waves at the North Shore of Oahu's only expansive resort. Take it all in on Turtle Bay Resort's 1,300 oceanfront acres while enjoying their signature double-rum Mai Tai at Off the Lip bar. 
Made with Plantation Rum, Old Lahaina Dark Rum, Orgeat, Ferrand Dry Curaçao, Pineapple, Orange, and Lime, whip one up at home to transport yourself to the islands. 
Sheraton Kauai Coconut Beach
If you plan on staying at the Sheraton Kauai Coconut Beach, don't miss the chance to take their weekly Mai Tai class on Wednesdays. You'll learn to make all their offerings including The Vintage and The Luau. Participants can learn more about Kauai-local Koloa Rum and try out different varieties. Their coconut rum, our family's favorite, is a must-try. 
Coconut Beach Mai Tai
To make at-home combine:
Koloa Light Rum
Fresh squeezed lime juice
Pineapple juice
POG (Pineapple / Orange / Guava juice) 
Grand Marnier and Amaretto Disarrono
Koloa Dark rum
Garnished with a half-moon pineapple slice and leaf, Bordeaux or Luxardo Cherry, and lime.
Koʻa Kea Resort on Poʻipu Beach
Available at the resort's Pool Bar and onsite restaurant Red Salt, Koʻa Kea's signature Mai Tai is a staple for guests at the resort.  Guests will receive a coupon for one free signature Mai Tai during their stay at check-in. Want another one? Hit up the daily happy hour from 3 – 5 PM with $3 off specialty cocktails and small bites.
Make one at home with:
Light rum 1.5oz
Orange Curacao .25oz
Pineapple juice 1oz
Lime juice .5oz
Orgeat .25oz
Dark rum float .5oz
Sheraton Maui Resort and Spa
Sheraton Maui Resort & Spa, situated on 23 oceanfront acres at iconic Pu'u Keka'a (Black Rock) on Ka'anapali Beach, is offering a $60 Mai Tai on the menu throughout 2023 in honor of the resort's 60th anniversary.
The elevated libation features a blend of Bacardi Gran Reserva Limitada – a rare, luxurious selection of limited barrel-aged reserve rums; Pierre Ferrand dry curacao, lilikoi juice, Reynold's Falernum all-natural cocktail syrup with flavors of ginger, almond, clove and fresh lime zest; and Angostura Bitters. It is topped with a house-made pineapple orgeat foam and gold leaf. It is served in a keepsake golden pineapple to take home and make more tropical cocktails. 
Wailea Beach Resort
Wailea Beach Resort believes that the Mai Tai isn't just a well-known cocktail –  it's synonymous with Hawaiian hospitality. That's why they offer guests two complimentary drink tickets at check-in.
The resort's Mai Tai offerings spotlight locally grown ingredients and flavors, evoking tropical memories and the warm Pacific breeze. It's the perfect welcome and introduction to an unforgettable Maui visit at the ocean's edge.
Their Makani Bar Mai Tai
Wailea Beach Resort's brand-new Makani lobby bar serves the classic Mai Tai (sometimes referred to as the 1940s Mai Tai), featuring a locally made Macadamia Nut Orgeat combined with pineapple and lime.
They mix it with silver rum and the traditional dark rum float for a light, tropical version of the drink that is refreshing rather than overly sweet. Guests can redeem their drink coupons for one while enjoying the incredible view from the Grand Lanai lobby.
Makai Mai Tai at Olakino
Available at the resort's new adults-only wellness pool experience Olakino, the Makai Mai Tai is an all-vegan, eco-friendly take on the cocktail. It consists of a local aged rum, Kuleana Nanea, Ferrand Dry Curacao, and Macadamia Nut Orgeat and is topped with Pineapple-Lilikoi Foam.
The macadamia nut orgeat is crafted on Maui by Sugar Cane Dane, and the Pineapple-Lilikoi Foam is made from aqua faba (garbanzo bean juice). This unique ingredient creates a delicious foam without the use of egg whites and uses an item that's usually food waste. 
Or DIY It in Your Room
It's 5 o' clock somewhere with the resort's DIY Mai Tai Kit.  Available for advance orders, it contains one 375ml bottle of OTR (On the Rocks) Mai Tai cocktail blend (sufficient for two drinks) and two 50ml bottles of Koloa Dark rum so guests can make their own happy hour at any hour. 
Grand Wailea
Available at this luxe Maui property's newly opened oceanfront dining venue, Olivine, their Mai Taliano is an Italian take on the classic tropical cocktail, featuring an aromatic blend of Plantation Xaymaca rum, orange infused Amaro Nonino, and pistachio rose orgeat.
Honoring the natural beauty of its lush surroundings, Olivine specializes in coastal Italian fare prepared with local ingredients, as well as craft cocktails and an expansive wine list with views of the Pacific Ocean.
Hyatt Regency Maui
"Here at the Hyatt Regency Maui, we use local Kohola, Kula, and Mahina rum to showcase the spirits produced in the Hawaiian Islands. The best part of cocktails is experimenting with different spirits to see the results, so get to shaking and sipping some Mai Tais," Roberts continues.
Hotel guests or Maui visitors can order Mai Tai's from various dining destinations, including Japengo, Umalu, & Son'z Steakhouse. 
The Hyatt Regency Maui Mai Tai
Make one at home with:
2 oz of light rum
 1 oz of dark rum
 3 oz of pineapple juice
 1 oz of orange curacao
2 teaspoons of orgeat syrup
 2 oz of sweet and sour mix
Piece of pineapple as a garnish
Merriman's Mai Tai
Merriman's signature Mai Tai, one of my favorites, will transport you to Hawaii's warm paradise. It is made with Hawaii Sea Spirits' Kula Organic Silver Rum and Kalua Dark Rum, a local organic farm and distillery on Maui Island. It is topped with a honey-lilikoi foam, which gives it a subtly sugary yet tart flavor. This masterful concoction is a must-drink and must-savor island cocktail.  The only question is to stir or not to stir the foam in!
Merriman's Hawaii has locations on all of Hawaii's main islands – Merriman's Honolulu (Oahu), Merriman's Kauai (Kauai), Merriman's Kapalua (Maui), and Merriman's Waimea (Hawaii Island/Big Island).
Merriman's Recipe
Enjoy one at home with:
1 oz Kula Organic Silver Rum 
1 oz Kula Dark Rum 
.5 oz Macadamia Nut Orgeat 
.5 oz Bols Orange Curacao 
.75 oz Fresh Lime Juice 
Honey Lilikoi Foam 
Add lime, orgeat, Orange Curacao, and Silver Rum to a mixing glass with ice.  Shake and pour into a highball.  Float Dark Rum. Top with Honey Lilikoi Foam and a pineapple half-moon slice. 
Merriman's Is A Must-Stop When In Hawaii
Driven by a long-standing commitment to Hawaii Regional Cuisine, where 90% of ingredients are locally sourced, Merriman's Hawaii offers sophisticated dining in an unpretentious and kid-friendly atmosphere. As the pioneer of Hawaii Regional cuisine, Chef Merriman's restaurants shine bright in a destination where visitors have many options. 
Enjoy thoughtfully crafted dishes like ahi ginger poke with homemade Molokai sweet potato chips and macadamia nut-crusted Kona kampachi, along with heartier dishes like the kalua pig and sweet onion quesadilla and the Waipio taro enchiladas. Don't skip the ramen and saimin options; they were my kids' favorite. 
Monkeypod Kitchen
Another of Chef Merriman's delicious creations is Monkeypod Kitchen, with four locations across Oahu and Maui. Their newest spot, 20 years in the making, completes Outrigger Reef's $85 million transformation right on top of the Waikiki Beach sand and surf with epic Diamond Head views.
After our dinner and drinks there, I think Waikiki's newest restaurant might just be their best.
Their Mai Tai is Beloved
"Monkeypod is a great spot for casual eats and delicious cocktails, with a side of ocean sunset views. Their Mai Tai is my favorite on the island—the honey-lilikoi foam that they top it off with is hard to beat," said Elise Armitage, Founder of What The Fab. 
Royal Kona Resort
When on the Big Island, a stop at Kailua-Kona's largest open-air oceanfront bar, Don's Mai Tai Bar, is a must. The home of the Mai Tai Festival, they serve a version described as "all booze and a squeeze of lime rather than the juicy sweet cocktails served in most resorts and swilled by tourists throughout the land," says Jeff Isbister, Director of Food and Beverage at The Royal Kona Resort.
"The 1944 Mai Tai is my favorite," he continues. "It is probably more closely related to the original recipe."
Their 1944 Mai Tai Recipe
Press lime and reserve the spent shell.  Add lime, orgeat, and liquors to mixing glass with ice.  Shake and strain over ice into a bucket. Garnish with spent lime shell, healthy mint sprig, and freshly grated nutmeg.
1 oz Ron Zacapa 23 yr. Rum.
.5 oz Smith & Cross Jamaican Rum
.5 oz Ferrand Dry Curacao
.5 oz Orgeat Syrup
.75 oz Fresh Lime Juice
Bar Leather Apron
Justin Park, Co-Owner of Bar Leather Apron, has not only won three of Royal Kona Resort's Mai Tai Festivals, but recently, the bar received a James Beard Award.  "He does absolutely amazing things with a bottle of rum," adds Isbister.
Perhaps it's no surprise that their technique-driven drinks are helping to put Honolulu on the map for cocktail lovers. 
Their Small, Intimate Location Means a Super Personalized Experience
You'll find Hawaii's most extensive whiskey collection and unique signature cocktails in an unassuming space on the mezzanine level of the TOPA Financial Center. Justin Park's award-winning E Ho'O Pau Mai Tai is the most well-known of their offerings.
It is made with raisin-infused rum, coconut water syrup, spiced orgeat, vanilla ohia blossom honey, lime, and absinthe. It's smoked in a custom-made Tiki box to give it another subtle level of flavor. 
Duke's Restaurant
Many say the most iconic place to sip a Mai Tai in Hawaii is Duke's Outrigger Waikiki Beach Resort, over the same sand where legendary Duke Kahanamoku surfed. If you're not planning on visiting Oahu, don't worry.
They also have oceanfront locations in Kauai and Maui and three California beach spots.  Dukes is famous for their Mai Tai and authentic live music, entertainment, as well as their  Hula Pie dessert. 
Before Your Next Trip To Paradise – Learn The Origin of The Blue Hawaiian Drink Plus 5 Recipes From Hawaii Bars
A dry martini doesn't hit the same in Hawaii. Or an Old Fashioned. The crisp freshness of a mojito is not bad. And when you're at a bar overlooking the Pacific Ocean with the warm breeze flowing through your hair, a Mai Tai is close to perfection. But it's hard to beat the blue-colored Hawaiian drink, the iconic Blue Hawaii.
This legendary cocktail is almost synonymous with the Aloha State, offering a taste of the tropics since the 1950s. Let's dive into its history and recipes from five Hawaii bars so you can transport yourself back to these islands whenever you'd like.
Before Your Next Trip To Paradise – Learn The Origin of The Blue Hawaiian Drink Plus 5 Recipes From Hawaii Bars
Locals Explain Hawaiian Food: From Traditional Fare to Today's Must-Try Dishes
In a place where food is culture and love combined, take the chance to get to know this special place and its people through its cuisine. So on your next trip, skip familiar fare to sample delicious Hawaiian food prepared with local's love, the Aloha spirit.
A melting pot of cultures and culinary influences, Hawaiian food is a true (and tasty!) reflection of its history. So if you're heading to the Aloha State on vacation this year, here's a food primer as explained by local chefs to inform your trip. 
Locals Explain Hawaiian Food: From Traditional Fare to Today's Must-Try Dishes
Did You Fall in Love With Lilikoi Fruit in Hawaii? Here's 8 Ways to Enjoy It at Home
What comes to mind when you think of Hawaii? For most people, it's the 750 miles of coastline paradise, with ancient volcanoes, rainforest adventures, glorious white sand beaches, or world-class surfing Others might think of its unmistakable culture and generous Aloha spirit. However, for others, Hawaii's food grabs them during their vacation.
Hawaii is often described as a destination where East meets West, and its culinary culture reflects this unique mixture. From their popular Poke Bowls to the local favorite Plate Lunch or Shave Ice, you'll crave Hawaii's food once your vacation is over and you've returned home.
Did You Fall in Love With Lilikoi Fruit in Hawaii? Here's 8 Ways to Enjoy It at Home
This Affordable Hawaii Resort Named The #1 Eco-Friendly Hotel in America and a Top Resort in The World
What if you could take a Hawaii vacation at an affordable, beloved hotel? It's possible at The Cliffs at Princeville in Kauai.
It's a four-diamond, award-winning resort recently named by TripAdvisor as a 2023 Travelers' Choice within the top 10% of hotels worldwide. And just this week, it was also voted the number one Eco-Friendly Hotel in America in USA TODAY's 10Best Readers' Choice for Best Eco-Friendly Hotel. 
This Affordable Hawaii Resort Named The #1 Eco-Friendly Hotel in America and a Top Resort in The World
When's the Best Time to Visit Hawaii? Here's 13 Answers Based On What's Important To You
With its unique aloha spirit, volcanic mountain terrain, tropical rainforests, national parks,  Hawaiian flowers, and world-class beaches, it's not a surprise that Hawaii is a top destination on people's vacation wish lists. If you're planning your first trip to Hawaii, you probably have many questions, including When is the Best Time to Visit Hawaii?
Well, that's not an easy question to answer. That's because if you're a surfer, you'll want to come at a different time of the year than someone who wants to whale-watch. And if you're on a tight vacation budget, you'll want to steer clear of the most popular times to visit the Aloha state when prices double or triple!
When's the Best Time to Visit Hawaii? Here's 13 Answers Based On What's Important To You