15 Delicious Places to Eat and Fun Things to Do In Kihei Maui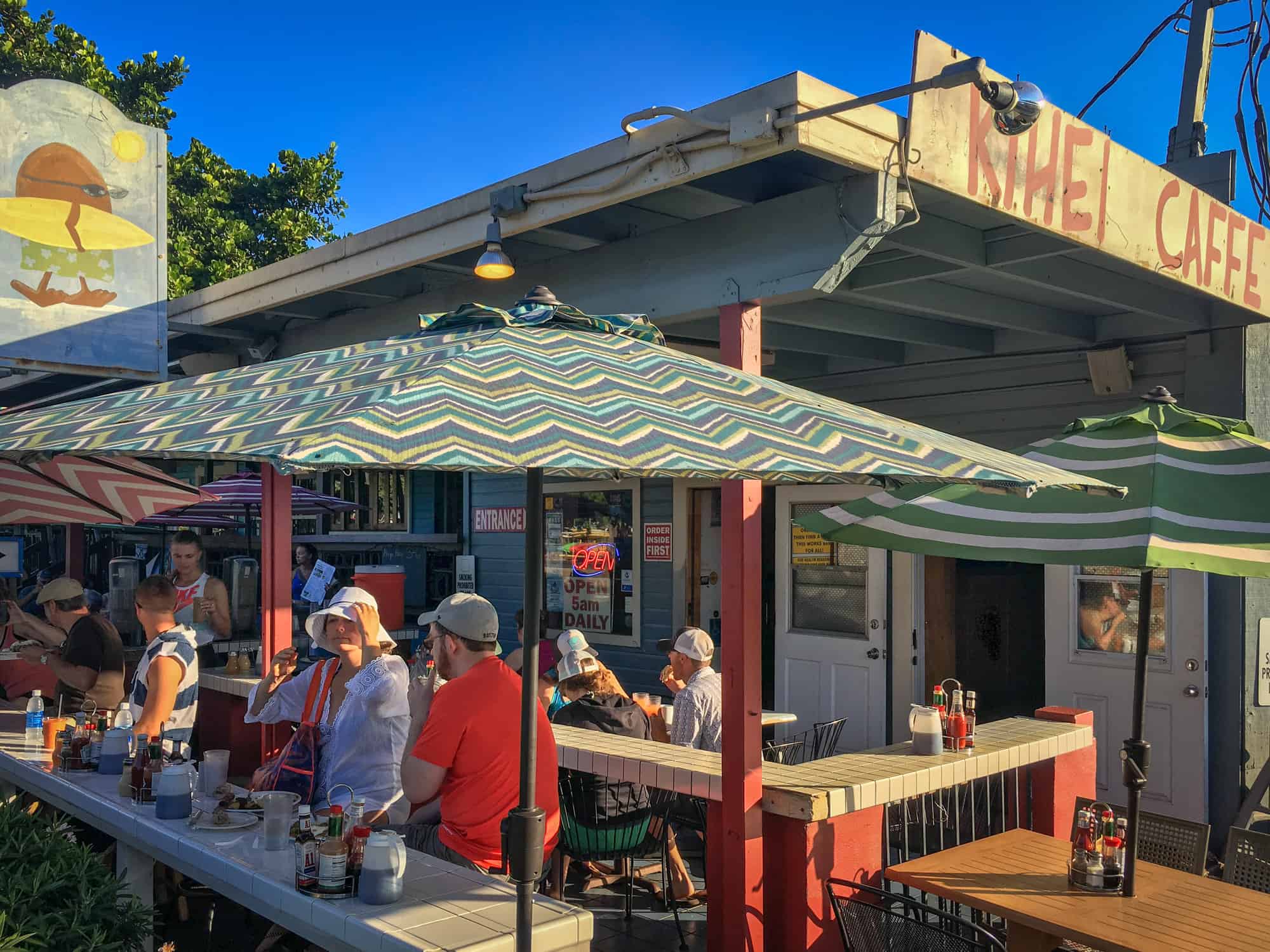 Are you one of three million people visiting Maui this year? Whether you're staying in nearby Wailea or just starting your Hawaii travel planning, this guide of things to do in Kihei Maui is for you!
We've been to Maui multiple times, and on a group trip, we rented a house in a Kihei neighborhood one street from the beach. It was a wonderful way to experience Maui outside of a resort.  Additionally, by sharing a 5 bedroom house with 4 other couples, a Hawaii vacation actually fit in everyone's budget!
So if you think that a trip to paradise might be too rich for your budget, vacation rentals can bring a trip without budget. 
Where is Kihei Maui?
Before I get into the things to do in Kihei Maui, many of you might be thinking, where exactly on the island is it?
Kihei is a beachfront town on Maui's southwest coast, a sunny and dry part of the island. It's about 25 minutes from the airport and neighbors Wailea, one of the island's most popular resort towns.
With six miles of beautiful beaches featuring views of Molokini, Lanai, and Kahoolawe Islands, it's not surprising that this part of Maui also features a lot of beautiful real estate including various condos and homes. Not surprisingly, many of the residents in Kihei were once visitors themselves who fell in love and decided to make the move. 
Things to Do in Kihei Maui: 9 Places to Eat or Grab a Drink
Whether you're coming to Kihei for the day, travel through on your way to other Maui activities, or are staying in town, there are so many fantastic places to eat or grab a drink. One of the best things to do in Kihei Maui is eat. And eat, and eat!
1. Maui Brewing Company
"A visit to the Maui Brewing Company is the perfect way to spend an afternoon. They have 36 specialty and craft beers on tap, which you can enjoy in the restaurant or out in the beer garden. The Kihei location is actually their main brewery as well, so you can take brewery tours to see how they make all of their beer," said Luke from WildAboutBC.
"As well as offering the usual range of lagers, IPA's, etc., they also have some great fruit-infused beers like the pineapple Mana Wheat and the Coconut Hiwa Porter, which will give you a great taste of Hawaii."
2. The Cinnamon Roll Place
"While The Cinnamon Roll Place offers a selection of baked goods and sandwiches, as the name suggests, it is famous for its delicious Cinnamon Rolls. These rolls can come with or without cream cheese, and you certainly won't be hungry after eating one of them as they are absolutely huge," said Roxy of The Coastal Campaign.
"They are made fresh every morning, and you can even watch as the dough is hand pressed and rolled by the expert team. It does tend to get busy on weekends, but even if there is a queue, they are worth the wait."
3. Ululani's Shave Ice
"My favorite place in Kihei is hands down Ululani's Hawaiian Shave Ice. If you don't know what shave ice is, it's finely shaven ice topped with yummy fruit syrups and other items for an incredible frozen treat. It's a million times better than a snow cone," says Marcie Cheung of Hawaii Travel with Kids.
"Ululani's makes the best shave ice on Maui! They make their own syrup with fresh fruit, and you can even add mochi balls or "snowcap" it with condensed milk. It's perfect after a day at the beach."
4. Nalu's South Shore Grill
A Maui resident recommended this casual, family-style restaurant. Stop in the centrally located Azeka Shopping Center for seasonal locally sourced Hawaiian food. 
5. Kihei Caffe
"No matter what you plan on doing when you wake up on Maui, you can't start your day without a good cup of coffee and a hearty breakfast. Kihei Caffe offers all of that with a laid-back atmosphere," says Steve from Maps Over Coffee.
"Don't be intimidated by the line. It moves quickly and is well worth the wait. The French toast is made with Portuguese sweet bread to create an international powerhouse of amazing. And the Loco Moco is the best dollar per pound exchange rate this side of the UK. So for $14, you will gain a couple of very happy pounds."
6. Da Kitchen
Suppose you're a Food Network Diners, Drive-Ins, and Dives fan. You might have already heard about this award-winning casual eatery loved by locals. Proud to serve quality food in epically large portions, drop in for Hawaiian comfort food that deliciously combines food and flavors from many cultures, such as plate lunch, loco moco, katsu, saimin, poke bowls, and even a kids' menu.
7. Coconut's Fish Cafe
"If you're in search of the best fish tacos in Kihei (or even just a delicious meal), then look no further than Coconut's Fish Cafe! This restaurant is famous for its seven-layer fish tacos topped with mahi-mahi, ono, coleslaw, tomatoes, mango salsa, and cheese," says Jen from Glasses and Boarding Passes.  
"Although Coconut's is located in a strip mall, the surf-inspired interior and sidewalk patio offer plenty of spots to sit and enjoy your tacos. Also, make sure to stop by the neighboring Wow Wow Lemonade Stand for a fresh-squeezed, refreshing drink after your meal!"
8. Cafe O'Lei
"Conveniently located at the Rainbow Mall in South Kihei, Cafe O'Lei is the go-to for fresh seafood, shellfish, and sushi in a relaxed setting. The casual family-friendly atmosphere is matched with warm service and good cuisine, featuring fresh local ingredients and exotic foods," says Rai from Rai of Light.
"Local favorites include the onion soup and blackened mahi-mahi fish special. For dessert, you can't go wrong with the pineapple upside-down cake. This family-owned restaurant is open 7 days a week."
9. 808 Deli
"One of the best places to eat in Kihei for a quick lunch, takeaway meal, or a grab-and-go breakfast before you head off to the beach or an adventure is the 808 Deli.  Our family loves this spot to grab one of their specialty paninis, gourmet hotdogs, or unique sandwiches," says Keri of Bon Voyage With Kids.  
"What makes this very popular deli great is their fresh ingredients with local flavors, gourmet sandwiches, delicious food, and friendly staff. Be sure and check out their World Famous Pudding in a variety of flavors (including lilikoi). This spot has limited indoor seating, so it is our go-to deli on our way to one of our favorite things to do in Maui with kids. "
Things to Do in Kihei Maui: 6 Activities
One of the many things I love about Hawaii is that you could fill your entire vacation enjoying all that the aina (land) has to offer as almost all of the nature activities are free. Still, most importantly, spending time outside of your resort and in the land the Hawaiian people hold so dear really is a unique travel experience. There's a nice variety of things to do in Kihei Maui for those staying nearby or on a shorter trip.
1. Hawaiian Islands Humpback Whale National Marine Sanctuary
"Visiting Hawaiian Islands Humpback Whale National Marine Sanctuary Visitor Center in Kihei is one of the great free things to do on Maui. It is a small but very educational museum with videos, interactive exhibits, and generally lots of information about the whales that frequent the waters around the islands, " says Tatiana of Family Roadtrip Guru.
"It is a must-do before any whale watching tour to learn more about these majestic animals. It is also worth stopping by for a great protected beach right behind it called Maui Fishpond, which is perfect for young children."
2. Makena State Park: Gorgeous Beach and Sunsets
"Hop in your convertible and drive south of Kihei to Makena State Park, where you will find a gorgeous beach called Big Beach. The white sand beach is 1 km long and feels unspoiled since it's located in a park," says Cecily of Groovy Mashed Potatoes.  
"You won't see any resorts here. It's a beautiful spot worth adding to your Maui itinerary. "Come for a beach day and stay until sunset. If you take a path north of Big Beach over a rocky outcrop, you will find Little Beach, a clothing-optional beach known for its drum circles at sunset."
3.Whale Watching
"Whale watching is one of the most popular things to do in Kihei Maui from December to April. While it is possible to view the humpback whales from shore, an even better and more adventurous option is via raft or kayak, " says Rai of Rai of Light.
 "The boats depart from Lahaina Harbor, Ma'alaea Harbor, and Ka'anapali. Witnessing these magnificent animals up close and personal is on the bucket lists of many and should not be missed when exploring this beautiful tropical island."
4. Start a Molokini Excursion at Kihei Boat Landing
"If epic snorkeling is on your Maui bucket list, you're going to want to plan some time at Molokini Crater in Maui. Its beautiful, clear waters have a visibility of up to 150 feet, making it the perfect place to see over 250 different kinds of colorful fish," says Karee of Our Woven Journey.
"There are several boat tours that leave from the Kihei Boat Landing, and most include snorkeling gear, along with breakfast and lunch. All you need to do is show up in Kihei ready to spend a gorgeous day exploring one of the most famous snorkeling locations in the world!"
5. Kamaole Beach Parks
One of the best things to do in Kihei Maui is enjoy and explore the beautiful beaches. 
"One of the most popular snorkeling spots around Kihei are the three Kamaole beach parks one to three, which are both fantastic beach areas with snorkeling spots in between. Separating each of the beach parks are rocky outcrops that are a spot for tropical fish, coral, and marine life habitats and a great spot to go snorkeling at all of the three beach parks," says Noel of Oahu Travel Now.
"Popular times to visit the beach areas and go snorkeling is mostly in the mornings when the waters and waves are relatively calm. Towards the afternoon time frame, the wind picks up along with waves that kick up more in the afternoon timeframe, he said. "Also, the parking lots gets very busy during the afternoon, and not as easy to find parking in any of the beach parks."
"Each of the Kamaole beach parks has full amenities to include: parking, restrooms and showers, picnic tables, grassy areas, and lifeguard stations. Kamaole Beach 3 is the smallest but is popular because of the kid's playground area at the beach park," Noel said. "There is also a variety of restaurants within walking distance from all three beaches. Each of the beach parks has nice sandy bottoms and drops off quickly. "
"Outside of the rocky outcrops dividing some of the beaches, there are also large rocky areas exposed from the water at Kamaole 3. Outside of beach time and snorkeling at the Kamaole beaches, spending the end of day and sunsets here are also a magical timeframe here, " he said. "When you want to spend more beach time in the Kihei area of Maui, consider having a fun beach day at Kamaole 1 to 3 in the area."
6. Kihei Fourth Friday Town Party at Azeka Shopping Center
The long-running free community event in the Azeka Mauka Shopping Center gives you a chance to be a local. Every fourth Friday of the month, from 6 pm to 9 pm, the local shopping center hosts a family-friendly "party" in their parking lot.
There's local live Hawaiian music, a Keiki (kids) Zone, local food and flower vendors, and food trucks. Kids can bounce to their heart's content, enjoy tons of activities, while parents can enjoy complimentary performances or shop at the various stalls. It's one of the most affordable things to do in Kihei Maui for a night out!
Already Have Your Trip to Maui Booked?
Nothing can bust a budget more than forgetting things at home. That's especially true in Maui, as most items in Hawaii are more expensive, not just because of touristy shops, but everything has to be shipped or flown onto the islands. So after you book your hotel and flights, and make your list of things to do in Kihei Maui make sure to create a Maui packing list too!
This article was produced by Planner at Heart.