The Best Public Golf Courses in Virginia's Shenandoah Valley
Less than two hours outside of Washington, D.C., lies a close destination right off the interstate, a world away from the area's urban centers and suburbia. With one of America's favorite mountain towns, Virginia's first national park, and the iconic Appalachian trail, The Shenandoah Valley is packed with epic adventures to love.
And that includes some epic golf courses for every player that don't require pricey memberships to play. After spending the day among beautiful topography that makes for excellent mountain golf,  you can celebrate your best holes along the Shenandoah Valley Spirits Trail, featuring over 45 vineyards, craft breweries, and distilleries.
Shenandoah Valley is for Golf Lovers
This often-overlooked region spans about 140 miles and offers a variety of golf experiences for casual players and family fun to the more serious player.
Thanks to moderate temperatures, spring and fall rounds typically feature ideal playing conditions for a golf round (or two). Winters are mild enough that most courses stay open almost year-round, and summers are comparable to the Florida climate most east coast golfers know all too well.
14 Can't Miss Courses
Visitors can test their skills at various courses and then cap off each day, weekend, or longer getaway at one of their many award-winning resorts and beloved attractions. 
Here are some must-visit public courses nestled throughout the Valley and some bonus can't-miss greens while you're in the area. 
Heritage Oaks Golf Course (Harrisonburg)
This William Love-designed course opened in 2001 and is a local favorite in the Harrisonburg area. Heritage Oaks is a city-owned course known for top-level playing conditions; a walker-friendly layout adds various links and style holes. Par for the course is 70.
This course is also the official home for both James Madison University and Eastern Mennonite University, so shooting par here definitely qualifies for some bragging rights. 
Lakeview Golf Club (Harrisonburg)
Any golf trip to Harrisonburg should also include a visit to Lakeview Golf Club. Though Heritage Oaks may offer slightly better playing conditions, the team at Lakeview Golf Club does a great job of maintaining this hidden gem.
Some Harrisonburg area golfers argue that Lakeview's layout is the better of the two courses, but the only way to know for sure is to play them both!
Golfers can expect scenic mountain views, water hazards, and sand traps. 
Mountain Greens Golf Course (Massanutten)
Mountain Greens is one of two golf courses at Massanutten Resort, just 25 minutes from Harrisonburg.  Most golf courses on this list are located at the base of a mountain, but Mountain Greens Golf Course is actually a part of the mountain.
Besides the scenic views, golfers should expect plenty of unique challenges, including tight fairways, many trees, and several creeks. This course isn't for the faint of heart, but playing a mountain course is an incredible milestone and a Shenandoah Valley highlight.
Woodstone Meadows (Massanutten)
After taking a beating at Mountain Greens, golfers can then pivot to the resort's easier course, Woodstone Meadows. This executive golf course features generous fairways and plenty of mountain views.
Massanutten Resort is around the bend from the Swift Run Gap entrance of Shenandoah National Park, making it easy to do both in one trip.  As a result, the mid-Atlantic's premier all-season timeshare resort's award list is almost as long as its extensive list of on-site amenities.
From the top family-friendly ski resort in the Southeast to one of the top mountain resorts in the world to the best indoor water park, there are over 100 daily activities across their 6,000-acre property, one of the most beloved resorts in the state. So if you're looking to plan a golf trip that caters to many interests and ages, Massanutten has something for everyone. 
Caverns Country Club (Luray)
Caverns Country Club perfectly pairs the Blue Ridge Mountains and Shenandoah River views. Scenery like this can't be found in Florida or Myrtle Beach golf courses.
Those considering a golf trip to the Shenandoah Valley will be happy to learn that Caverns Country Club has vacation packages catered specifically to golfers. These offerings include:
Lodging at the Luray Caverns Motel
Unlimited golfing
Breakfast and dinner vouchers for nearby restaurants
Hole 5 of this course features a small opening that drops into the Luray Caverns, the largest caverns on the east coast of the United States. Don't worry; the USGA has authorized a free drop if you lose one of your golf balls in this hole.
Caverns Country Club is just 25 minutes from The Schoolhouse Nine, so you can play both greens if time allows.
The Club at Ironwood (Staunton)
Tucked away in the heart of the Shenandoah Valley is a small city called Staunton (pronounced Stant-IN).
The Club at Ironwood is one of the best-kept courses in the area. This course is open to the public, but rates are higher for those who don't have a membership, so plan your trip budget accordingly. This course features rolling hills throughout, and with a par of 71, the biggest challenge exists in the variety of lies that a golfer is forced to play from (uphill, downhill, and sidehill). 
After finishing a round at Ironwood, golfers should head to Staunton's charming downtown. There are restaurants to suit every fancy, and every meal should be capped off by a trip to the Split Banana for Italian-style gelato or a quick tour of Woodrow Wilson's Presidential Library. 
Shenandoah Valley Golf Club (Front Royal)
Golf Digest recognized this course as one of the ten best places for a round of golf in Virginia, so put it on your golf course bucket list. Conveniently located just 45 minutes from Washington, D.C., this course consists of three nine-hole options (Red, White, and Blue).
Raymond Loving, a famed golf course architect, designed the course to maximize the land's natural topography. As a result, golfers can expect scenic views during their round, as Shenandoah Valley Golf Club sits at the base of the Blue Ridge and Massanutten mountain ranges. 
Blue Ridge Shadows Golf Course (Front Royal)
Front Royal is a two-for-one deal. While you're there, you should also play Blue Ridge Shadows. This public course makes the most of the landscape as it winds through hardwood forests and presents several challenges along the way (think: split fairways and double greens).
Unlike the nearby Shenandoah Valley Golf Club, Blue Ridge Shadows features water hazards on half of the eighteen holes. There is even an eye-catching 60-foot waterfall on the final hole.
Rock Harbor Golf Course (Winchester)
Water. Check. Sand. Check. Island green. Check. The Rock Harbor Golf Course has it all. 
This course is well-suited for golfers of all skill levels, and each hole features six sets of tees. Seniors, juniors, and beginners can choose from orange, yellow, or green (closer) tees, while the gamers in the group can choose from the longer black, blue, or white options.
Rock Harbor is perfect for that group golf trip, as the course features 36 holes that can be split over multiple days. Those planning a multi-day trip here should play the Rock Course first and the Boulder Course second, but if you only have one day to enjoy Rock Harbor, play the Boulder Course.
Shenvalee Golf Resort (New Market)
One Virginia golfer calls Shenvalee his "favorite layout of any course in the Valley." This is one of the oldest continually operating courses in the Shenandoah Valley, so if you want to play a round on a nearly one hundred years old course, be sure to "swing" by.
Shenvalee Golf Resort offers 27 holes, and each nine-hole set plays dramatically differently from the other. This setup creates a unique course that gives golfers three unique playing experiences from one venue.
Golf packages are available for those who want to stay and play. This is the most cost-effective way to enjoy lodging, breakfast, and an 18-hole round at Shenvalee.
Bryce Golf Course (Basye)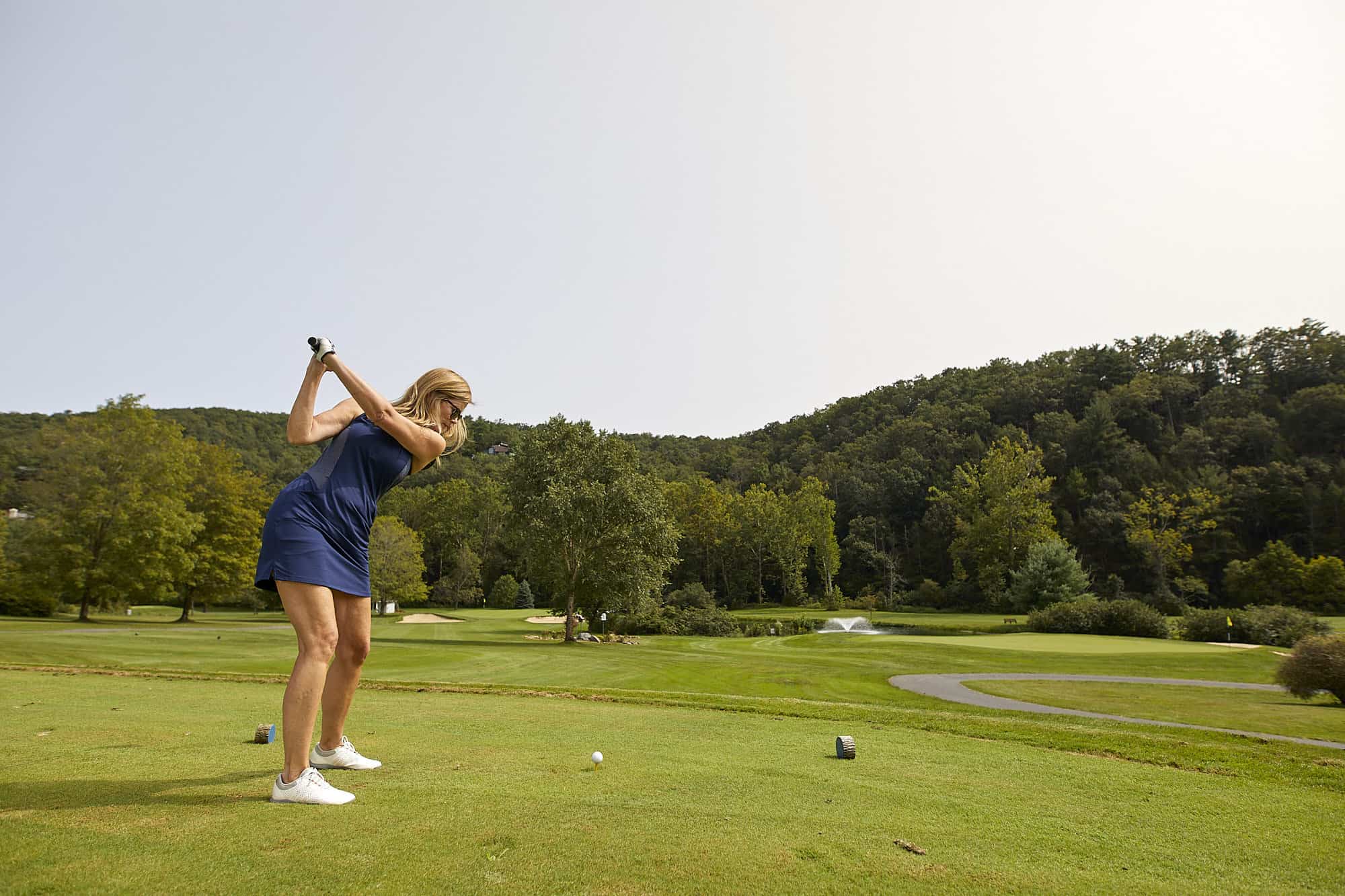 Water. Water. Water.
That's what golfers should expect at the Bryce Resort Golf Course. This beautiful tree-lined course features mountain scenery, 43 strategic bunkers, and water on 12 of the 18 holes. Wise planners will bring an extra golf ball or two in case the round goes south.
Golf should always be paired with food or drink, and Bryce Resort covers those categories. There are two bars and three dining options for a golf day out.
Capon Springs (High View, West Virginia)
Just over the border is a golf course with both a unique origin story and a new golf innovation. On land that was initially a baseball field, its creation can be credited to women in the community who helped secure funding during The Depression Era. Come to play on one of the two lush, well-maintained courses surrounded by The Shenandoah Valley's epic beauty. 
Or, bring your not-so-into-golf family or friends to try a new golf-lacrosse hybrid gaining popularity – Fling Golf. With just one club (that closely resembles a lacrosse stick), most people and kids can get the hang of flinging the golf ball down the golf course. 
Bonus Iconic Course: Stoney Creek Golf Course (Nellysford)
If you're a more skilled player, no trip to the region is complete without a visit to the Rees Jones' designed Stoney Creek, even just for a look at Jones' brilliant design. 
Ranked as one of the Top 50 resort courses in the United States, Stoney Creek is set alongside the Blue Ridge Mountains and is sure to challenge golfers of the highest skill level.
This course offers three nines (Monocan, Shamokin, and Tuckahoe), including plenty of elevation changes, water hazards, and bunkers. Golfers can try their hand at 27 holes in a day or alternate the nines they play for a varied golf experience.
Bonus Family Course: The Schoolhouse Nine (Sperryville)
While not in Shenandoah Valley, this nearby nine-hole par 3 course is a must-visit for families, seniors, and the golf purists out there. It is the perfect venue for a day when you want to sneak in a round of golf or dial in your short game without spending 4+ hours on the course.
The Schoolhouse Nine was built in 2015 and features holes ranging from 85-171 yards. Each hole is appropriately named with memorable titles, including:
Out to Pasture
You Ain Gon Make It
In a Pickeral
Golfers will enjoy the scenic mountain views and a play-all-day rate that can't be matched. This par 3 golf course is for walking only, but push carts are included free of charge. Conservationists will be impressed with natural wildlife areas and the course's commitment to minimizing water usage.
Ready to Plan a Virginia Golf Trip?
The Shenandoah Valley offers so much to love; bonus, it is within one day's drive for more than 50% of Americans and most East Coast Canadians. 
So what are you waiting fore? 
Robert Trent Jones Golf Trail: 11 of the Best Public Golf Courses in America
Yet, with how hard it is to find great public golf courses, legendary golf course architect Robert Trent Jones somehow managed to create eleven of them in Alabama, called the Robert Trent Jones Golf Trail (often referred to as The Trail). 
Debuted in 1992 to increase tourism to Alabama, The Trail has slowly but steadily gained recognition, with Golf Digest recently naming it as the best value in the USA for golf and recognizing two of its courses as some of the best in the country.
Robert Trent Jones Golf Trail: 11 of the Best Public Golf Courses in America
The golf scene at Myrtle Beach is one of the best in America. Situated in South Carolina, Myrtle Beach is home to some of the best, most unique, and most challenging golf courses in the United States.
There are so many Myrtle Beach golf courses in the area that it can get overwhelming trying to choose which to play. A top player picks the best Myrtle Beach golf courses to play. From light courses that are inexpensive and fun to enjoy with friends to challenging tracks that will challenge even the best players, there's sure to be something on this list for you!
The 8 Best Myrtle Beach Golf Courses Picked by A Top Player
The 10 Best Golf Courses in New England Hand-Picked by a Top Player
Despite having a shorter golf season,  New England is home to some of the most beautiful golf courses in the US. From links-style courses to beautiful tracks enclosed in the trees, here are 10 of the best golf courses in New England curated by a top player.
The 10 Best Golf Courses in New England Hand-Picked by a Top Player
A Top Player Picks The 10 Best Public Golf Courses in The South
When it comes to enjoying golf, there's nothing that quite beats spending afternoons on the course with friends or family. Unfortunately, with so many private golf courses and exclusive memberships, the high price of playing a round can keep you off the greens. 
If you're looking not only for accessible golf courses but ones that you can play year-round, this list of public golf courses in the South is for you. This list includes top public golf courses in states that the U.S. Census Bureau considers to be in the South.
A Top Player Picks The 10 Best Public Golf Courses in The South
The Golf Achievement So Rare and Difficult Even Tiger Woods Couldn't Get One
An albatross in golf is one of the rarest achievements, revered by all. And despite all of his record-breaking wins even Tiger Woods doesn't have one.  But just what is an albatross, and how can you score this brag-worthy achievement?
The Golf Achievement So Rare and Difficult Even Tiger Woods Couldn't Get One
This article was produced by Planner at Heart.