Skip Disney for This Real-Life Fairytale Town in Europe
Imagine a quaint European village that's described as the Venice of the Netherlands plus the lush shire of the Lord of The Rings. Mix in luxurious accommodations and a Michelin-star restaurant, and you've got a bucket list-worthy trip. It's not a dream, its Giethoorn. 
It is The Dreamy Netherlands Town Giethoorn
Giethoorn Netherlands is located in Overijssel province in the northern part of the Netherlands. Founded around 1230, it is one of the oldest towns in the country. When the earliest settlers arrived, they had just missed a huge flood that covered the entire area and drowned inhabiting goats. The new arrivals discovered goat horns buried in mud and thus named the place "Goat Horn" or "Giethoorn."
Giethoorn may look like a well-maintained open-air museum, but in reality, it is an actual town with residents. People living in Giethoorn are friendly and welcoming, willing to share the peaceful life they enjoy with tourists. Many of the residents have converted their farms or homes into small B&Bs, restaurants, or shops.
It's a Car-Less Village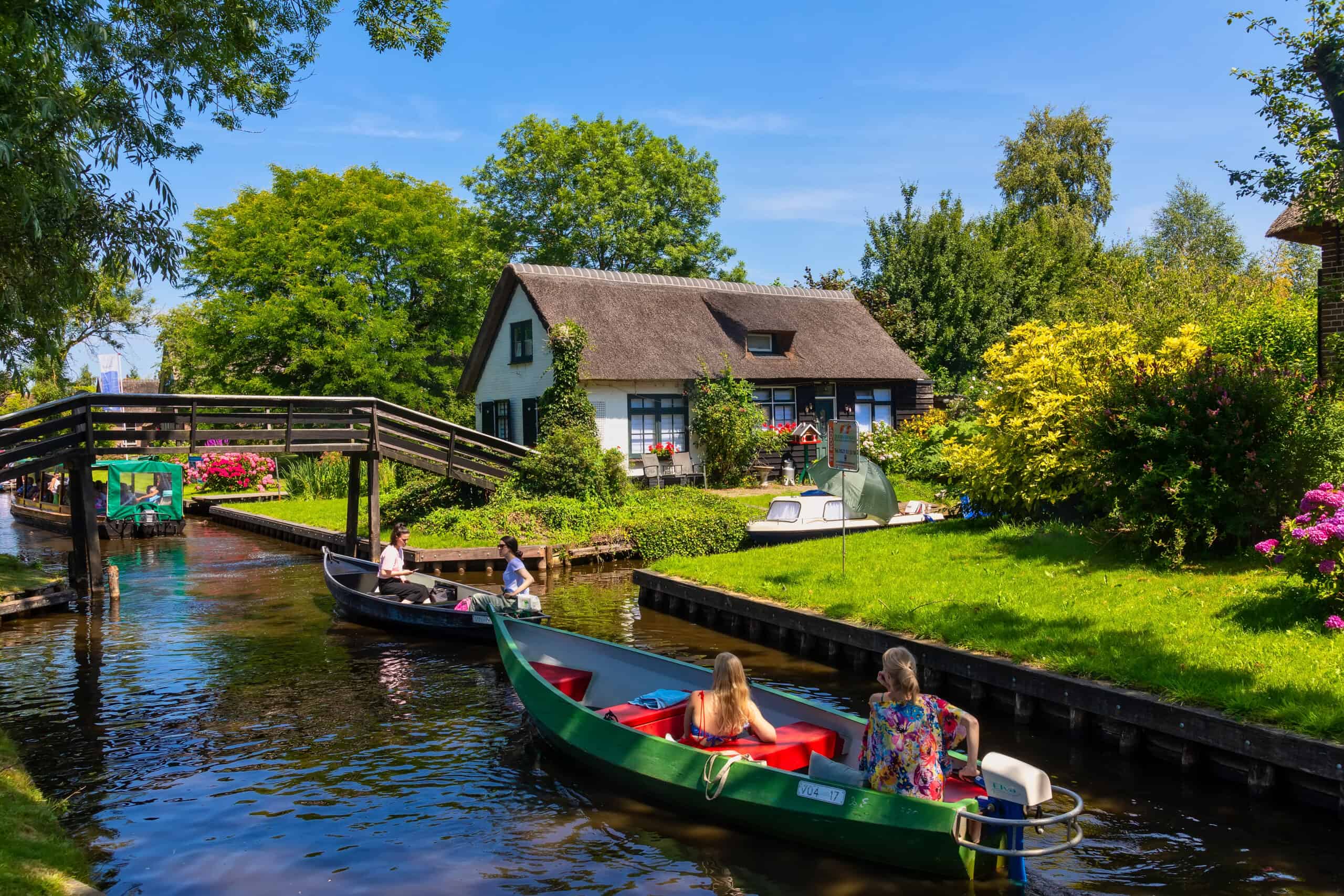 Cars and motorized vehicles are not allowed inside most of the village. This is one of the things that make this charming village so unique and inviting. Tourists leave the modern and motorized comforts behind and enjoy walking, cycling, or canoeing around Giethoorn, as the locals do.
Come see thatched-roof houses, cottages, and picturesque wooden bridges that set Giethoorn apart from many European destinations. There are also intriguing museums, medieval churches, parks, and cafés. In addition, Giethoorn is surrounded by lakes, reed beds, farms, and forests.
What to Do in Giethoorn Netherlands
The first thing to do when visiting Giethoorn Netherlands is to leave your car behind as you arrive in the village. There are several car parks where you can leave your vehicle for free.
Walk along the main walking strip, the most popular path in the village, only accessible by footpath or canal. This will take you to the cafés, shops, restaurants, and hotels where you can rent a boat to use during your stay.
Cruise the Canals
The village is known as the "Venice of the Netherlands," with all its artificial canals. The boats here are mostly without engines, and those that do have engines use silent motors. Hence, they are called "whisper boats." You can also rent or ride a punter, a traditional narrow Giethoorn boat pushed along the water using a long pole by a punteraar.
When you are with family and friends, there are bigger boats that you can enjoy riding together. The boats are padded, and the rides are safe for everyone, including little children.
Hike or Cycle at De Weerribben-Wieden National Park
De Weerribben-Wieden National Park is home to an array of wildlife endemic to the Netherlands. This vast nature reserve is home to otters, egrets, and cormorants, among other animals. The park is also known for its many lakes, forests, swamps, and a wide meadow of flowers, with stunning trails for you to hike. In addition, the park's calm, open water is the perfect home for several water plants, such as water gentian, frog bite, or crab shear, as well as swamp life that includes birds, insects, and especially otters. 
From here, several cities are worth a quick visit on a bicycle. Not far away are the old towns of Vollenhove and Blokzijl. Come here to see historic buildings, old churches, and ancient castles. You can also relax for a while on a terrace by the water's edge before cycling back to Giethoorn.
Visit Museums
The most popular museum is Olde Maat Uus Museum. It is housed in a typical old farmhouse to represent how the villagers lived from days of old. This lovely museum aims to help you understand and appreciate the origins of this unique village. Actors in costumes demonstrate how Giethoorn residents built homes and boats and worked together to develop their town hundreds of years ago.
Meanwhile, the De Oude Aarde museum is known for its beautiful collection of jewelry, precious gemstones, natural treasures, fossil minerals, and rare stones worldwide. The gems are truly worth seeing. Some of the displays are for sale, in case you wish to bring home a precious souvenir. Also on display here is the world's largest egg.
If you love shells and the sea, Giethoorn's third museum, Gloria Maris Shell Gallery, is for you. This museum is known for its rich collections of shells, corals, and beautiful ocean treasures.
Where to Stay and Eat in Giethoorn Netherlands
There is no shortage of accommodations in Giethoorn, Netherlands . However, locals and experts will recommend staying in a boathouse since the village is best enjoyed on the water. Here are six recommendations on places to stay and eat.
Water Villa Intermezzo
Bed-on-a-Boat
De Lindenhof
Café-Restaurant Smit
De Eetkamer van Giethoorn
De Grachthof Restaurant Bootverhuur
When to Visit Giethoorn Netherlands
Giethoorn Netherlands is fast gaining popularity around the world. What used to be an important summer destination for Dutch families is now a sought-after vacation place for European and Chinese tourists.
The best months to visit Giethoorn are just before summer in April and May, before huge tourists arrive during the peak season. May is a fun month, if only for the Flinke Pink Festival in Leek, just a few minutes away from Giethoorn. It is a popular four-day festival during the Whitsun weekend, where people dance and have fun for three evenings.
What is Summer Like?
Peak season is in June, just when summer begins. The village could get really crowded around this time until September. Giethoorn is loveliest in summer when the weather is perfect and colorful flowers are in full bloom. De Weerribben-Wieden National Park is also very popular in summer.
What to Avoid
When in Giethoorn, avoid walking over the gardens and farms and picking flowers just anywhere. Chances are you are trespassing into private property. The village is so beautiful that it is easy to forget that families live in an actual town. There are about 2,600 residents here who would really appreciate having some form of privacy.
Also, when traveling to Giethoorn by train through Steenwijk, avoid talking to strangers who offer a boat + bus ticket for 15 euros. One-way bus ticket from here to Giethoorn is only 4 euros, and you can pay directly to the driver. About boat rentals, it is easy to get one when you get to Giethoorn.
How to Get There
You can reach Giethoorn by taking the train from Amsterdam Centraal to Steenwijk or a connecting train via Zwolle. NS operates all trains, and the first train leaves Amsterdam at 6:00 AM.
In Steenwijk, take Bus 70 for a 30-minute ride to the Dominee Hylkemaweg stop. From the Giethoorn village bus stop, the village is just a 10-minute walk away.
Another option is to take the train from Amsterdam to Meppel and on to Wolvega and Steenwijk. All of these destinations are just a few meters from Giethoorn.
13 of the Best Things to Do in Amsterdam, The Netherlands
Amsterdam is the capital city of The Netherlands and one of the most popular weekend trips in Europe and top global travel destinations. Amsterdam has a lot to offer, with food, history, art, and culture appealing to many people. 
Here are some of the best things to do in Amsterdam at any time of year for a memorable experience. Whether it's your first time in Amsterdam or you've been here multiple times, there is something on this list for you to discover.
13 of the Best Things to Do in Amsterdam, The Netherlands
The Dolomites Italy: What I Learned Spending Last Summer in the Most Beautiful Mountains In The World
The Dolomites are a group of mountains in northeastern Italy, and they rank as some of the most stunning mountain ranges in the world, up there with Patagonia, the Rockies, and the Swiss Alps. It's not a surprise that UNESCO proclaimed the Dolomites Italy as one of the world's most attractive mountain landscapes.
The Dolomites in Italy known for their dramatic peaks, picturesque villages, and world-class skiing. The air is clean and crisp, and there is a sense of peace and stillness here that can't be found in a city.
The Dolomites Italy: What I Learned Spending Last Summer in the Most Beautiful Mountains In The World
Lonely Planet's 50 Best Places to Travel in 2024 Unveiled
Wanderlust is here, and it's not going anywhere. 64% of global travelers say they'll reduce other areas of their personal spending to prioritize trips in 2024. If you're still searching for a fantastic vacation spot for next year, stop looking.
Lonely Planet's vast network of local travel experts, writers, and publishing partners named the most sought-after destinations of 2024 across five key categories. Each category features ten destinations chosen for their topicality, unique experiences, 'wow' factor, and ongoing commitment to sustainability and community.
The 50 Best Places to Travel in 2024 Unveiled
Small Vacation Budget? No Problem! New Report Unveils The Top 10 Cheapest Destinations
If you're one of the 20% of recently surveyed Americans whose financial concerns significantly impact the decision to travel soon, this new report could save your next vacation. If you're over road trips and ready to explore more of the world, here are the top 10 cheapest destinations on average for US travelers based on flight prices.
Small Vacation Budget? No Problem! New Report Unveils The Top 10 Cheapest Destinations
Experts Weigh In on How to Prevent and Minimize Flight Delays to Keep Your Travel Plans on Track
Americans are packing airports looking to fulfil their wanderlust. Add in storms, old technology, sold-out flights, packed airspace, plus staffing issues, and getting to your  destination on time seems more like a getaway game of chance.
So, if you're flying soon, increase your odds of smooth travels with these tips from full-time travelers, pilots, and flight attendants.
Experts Weigh In on How to Prevent and Minimize Flight Delays to Keep Your Travel Plans on Track
This article was produced by Planner at Heart.