Israeli Food Spots: A Local Picks the Best Street Food Stalls and Cafes
Are you planning a trip to Israel?  There is no better way to explore the country, its roots, and history than also through its local cuisine. Known as a melting pot of Eastern and Western civilizations, Israeli food is as diverse and vibrant as its culture. And while hotels and flights to Israel can be expensive, there are plenty of affordable food stalls and cafes to eat your way through Israel. 
What's Israeli Food About?
Israel's culinary scene reflects the meeting point that it plays in many ways—ancient and modern, local and international, traditional and innovative. A forward-thinking take on the culinary arts, it's always been farm to table as multi-gen families long residing and working the land. 
Israeli Food Is Diverse and Vegetarian Friendly
Israel's cuisine combines the many influences of its diverse population and immigrants who bring a wide range of customs and cuisines. In addition, there are deep ties and influences of its Middle Eastern and Mediterranean surroundings.
So whether it is your first time or a return visit, avoid the tourist traps and follow the locals to their favorite casual Israeli food spots.  You're in for an exquisite culinary adventure.
A Guide To The Best Street Food Spots Locals Love
Israelis love their street food. It is fast, convenient, and considerably healthier than the big-chain alternatives. And before your trip ends, you too will conclude that anything served on a plate can be loaded into pocket bread.
Falafel and Hummus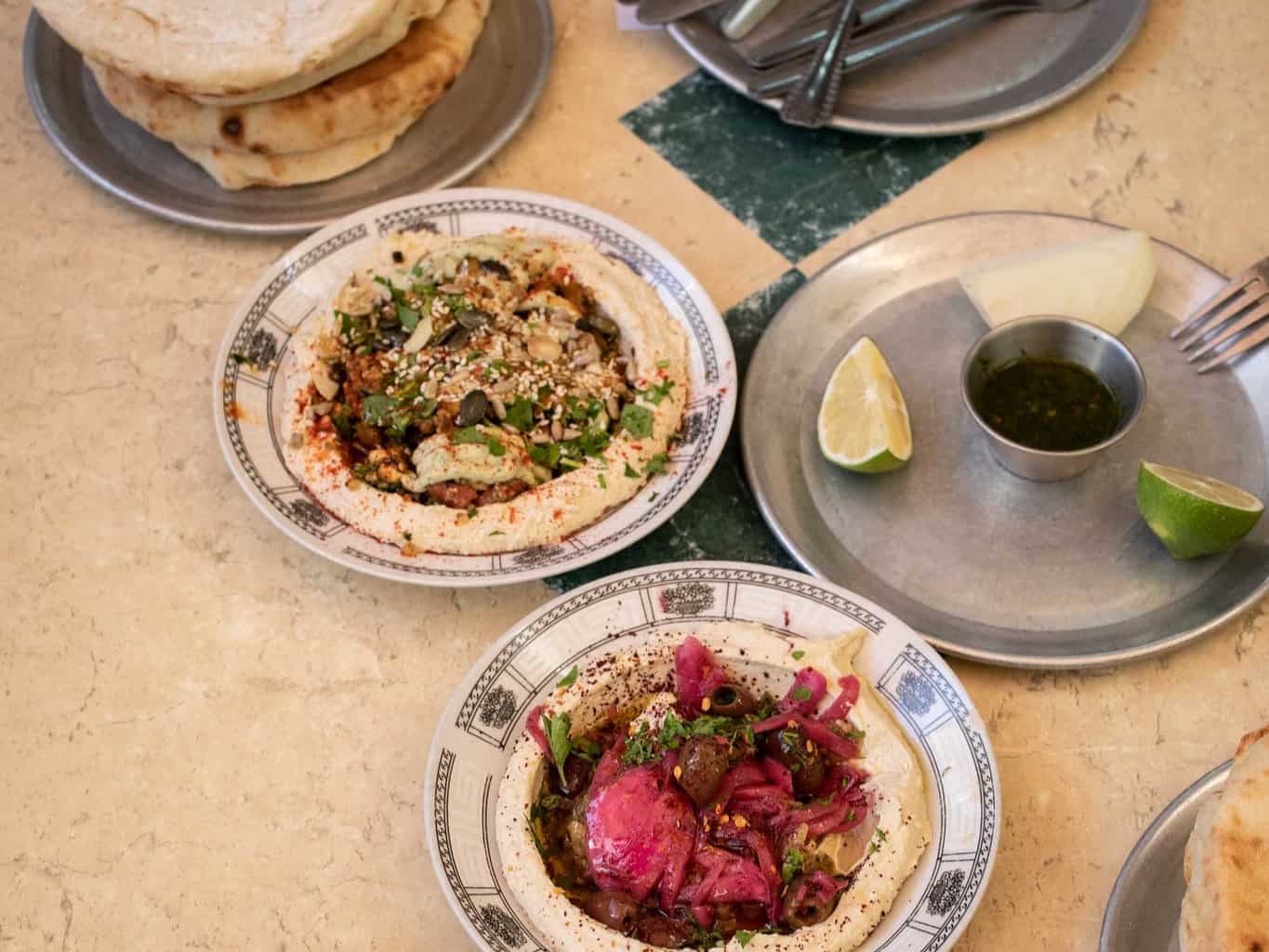 Falafel and hummus – the national staple – can be found in almost every bustling city corner. You haven't 'Israeled' until you've wiped a hummus plate at some Haifa, Tel Aviv, or Jerusalem hole-in-the-wall. The perfect falafel – a ball of deep-fried chickpea paste – is crispy on the outside and soft and moist on the inside.
If you only have one Israeli food during your trip, make it this one. 
Where To Eat Them
At Ramat Yishai's Habutke Restaurant, you will discover the most delicious falafel in northern Israel. One worthy of having been included on your itinerary. Made to order, it is served hot with a side of tahini sauce and pita. And their silky hummus is served with a selection of toppings such as warm mushrooms, fava beans, and caramelized onion.
For a flavorful, green falafel, try Hakosem in Tel Aviv.
Habutke: Ha-Dekel St 2, Ramat Yishai.
Hakosem: Hamelech Shlomo 1, Tel Aviv-Yaffo.
Shakshuka
Shakshuka, a dish of eggs poached in a robust tomato-pepper sauce, was initially introduced to the country in the 1950s by North African Jewish immigrants. Though some slight variations exist today, it is, without a doubt, a cornerstone of the Israeli brunch scene.
Where To Get Shakshuka
Dr. Shakshuka, located in the heart of Tel Aviv-Yaffo, specializes in a wide variety of shakshukas – from onion, mushroom, eggplant, shawarma, or chicken to eggless and vegan alternatives. So bring a healthy appetite and enjoy a tasting menu of Tripolitan delicacies, including Vegetable Soup, Couscous, Mafrum, Lamb Shawarma, a daily chef's special, and a selection of salads and desserts.
Dr. Shakshuka: Beit Eshel St 3, Tel Aviv-Yafo.   
Tunisian Fricassee
 Think fluffy fried dough stuffed with egg, potato, tuna, harissa, and olives. This little sandwich packs a flavorful punch. Tunisian Jews usually eat this grab-n-go classic at the beginning of the month of Av – when meat consumption is religiously prohibited.
Where the Hungry Line Up For One
You will find the best Tunisian sandwich in the country at Simon's Corner Post. In Netanya's industrial district, this small sandwich stall is not challenging to find – follow the long line of hungry patrons stretched around the block. Served on a deep-fried fricassee or baked baguette, the tuna, egg, and potato are topped with hot harissa, preserved lemon, eggplant, capers, and a spicy pumpkin-carrot paste called Chirshi.
Simon's Corner Post: David Pinkas St 18, Netanya.
Sabich
Named after its inventor, Sabich Halabi – an Iraqi immigrant, the Sabich is an Israeli classic. Hardboiled eggs, fried eggplant, chopped salad, tahini, and yellow Amba sauce stuffed in a pita.
The first version of this dish is traced back to a small hut in the 1950s Ramat Gan.  Sabich Halabi and his Partner, Yakov Sasson, wanted to sell the traditional Iraqi breakfast, usually served on a platter, to busy workers on the go. Thus, they packed all the ingredients into pita bread, and the Sabich was born.
Where To Find It
Ovad's Sabich in Givataim has become a destination for Sabich lovers. This legendary little stand has been dishing out the Iraqi specialty and the owner's colorful jargon since the 1980s. However, if you happen to be in Be'er Sheva, make a pit stop in Beit Haful – a hut serving one of the tastiest Sabichs in the country since 1952.  
Ovad's Sabich: Sirkin St 7, Giv'atayim.
Beit Haful: Yitshak Ben Zvi St, Be'er Sheva.
Shawarma
Shawarma ranks high on the chart of Israel's top street food. Originating in the Ottoman Empire, where it was traditionally made with lamb, Israeli Shawarma is mainly made of turkey, chicken, or beef.
Try It a Different Way
Shawarma Hazan in Haifa is an 'institution' among the locals. Be adventurous and try their Croissant Shawarma – a sweet French croissant piled high with veal shawarma shavings. If yours is a more traditional palate, go for the turkey shawarma wrapped in laffa (a type of flat bread), which also includes a variety of salads, pickles, and dressings.
Shawarma Hazan: Jaffa Road 140, Haifa.
Schnitzel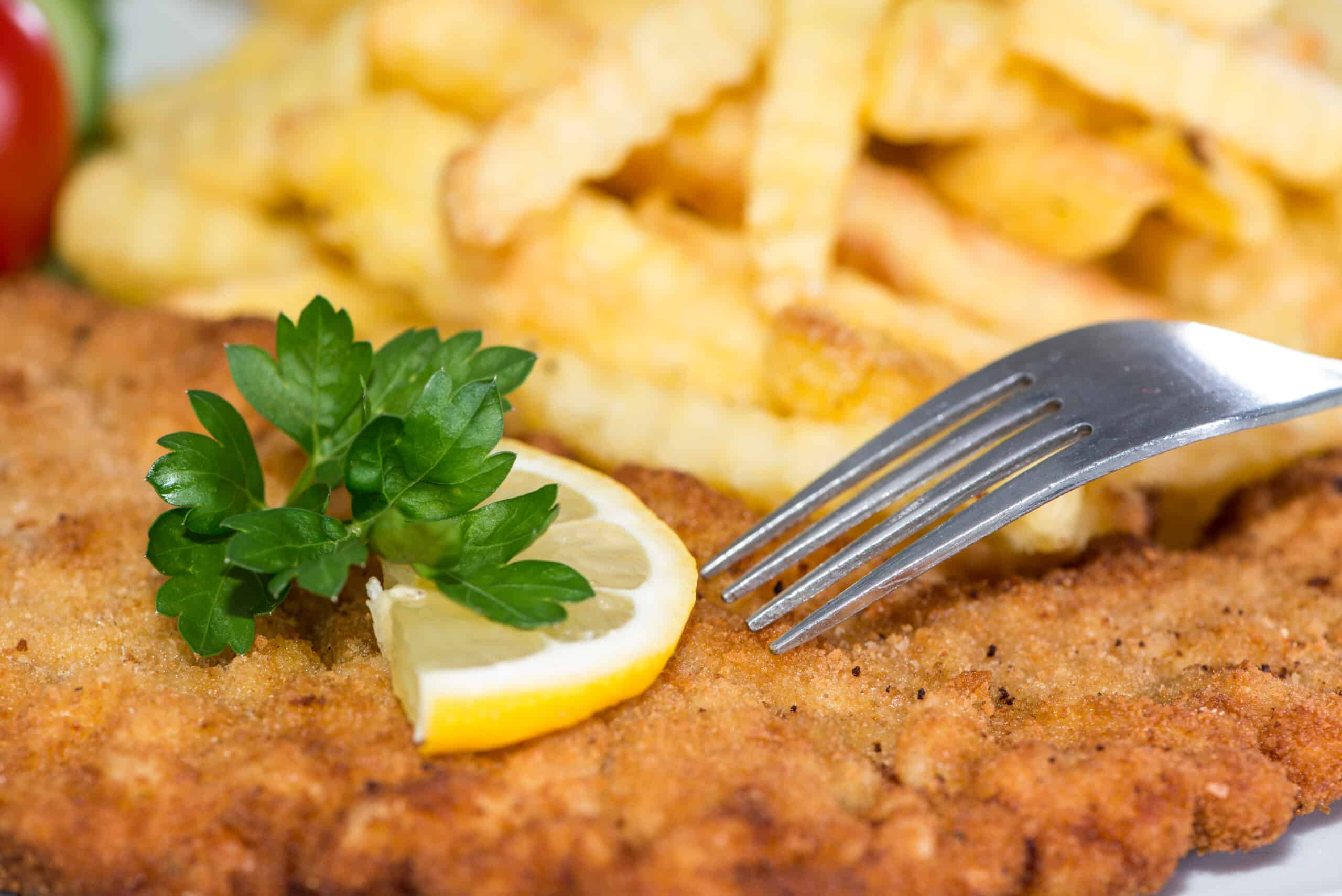 Schnitzel is the ultimate comfort food and a special childhood dish on which nearly all Israelis, regardless of ethnic background, grew up. Brought to Israel from Europe by Ashkenazi Jews, this staple is practically offered in every restaurant – on a plate, in a pita, or on a challah roll. The breaded, deep-fried chicken breast is customarily served with chopped salad, hummus, ketchup, French fried, or mashed potatoes.
Grab One Here
The schnitzel sandwich served at Hashomer Restaurant in Carmel Market never disappoints. A perfect bite of crispy chicken, chili-garlic aioli, cilantro, peppers, tomatoes, lettuce, and lemon on a sesame seed challah roll. The ingredients are fresh and locally sourced in the market itself.  
If authentic Wiener Schnitzel is what you crave, visit Vienna restaurant in Tel Aviv. This eatery, which has been in business for over half a century, serves a sizable, tender cut with a side of velvety mashed potatoes and cabbage.
Hashomer: Carmel Market, HaShomer St 2, Tel Aviv-Yafo.
Vienna: Ben Yehuda St 62, Tel Aviv-Yafo.
40 Fast Food Items from Around the Globe
You may not be able to travel the globe right now, but you can bring the flavors of the world into your home. While you plan your next vacation, spice up your meals with inspiration from these 40 fast food items from around the globe.
Are you out of ideas for this week's meals? Fire up your grill, get out your air-fryer, stroll the supermarket international aisle, or order in from a new restaurant.
40 Fast Food Items from Around the Globe
Did You Grab Gochujang Paste at Trader Joe's? Here's 7 Quick Ways to Use It
I love the spice and sauce aisles at Trader Joe's. It is filled with items from around the world that can mix up your meals and bring newness to your regular dinner meals. But I've had gochujang paste in my cabinet for three months now and haven't used it. So if you're in the same boat, here's a guide on this tasty paste and how to incorporate it into your cooking.
Did You Grab Gochujang at Trader Joes? Here's 7 Quick Ways to Use It
Locals Explain Hawaiian Food: From Traditional Fare to Today's Must-Try Dishes
In a place where food is culture and love combined, take the chance to get to know this special place and its people through its cuisine. So on your next trip, skip familiar fare to sample delicious Hawaiian food prepared with local's love, the Aloha spirit.
A melting pot of cultures and culinary influences, Hawaiian food is a true (and tasty!) reflection of its history. So if you're heading to the Aloha State on vacation this year, here's a food primer as explained by local chefs to inform your trip. 
Locals Explain Hawaiian Food: From Traditional Fare to Today's Must-Try Dishes
Did You Fall in Love With Lilikoi Fruit in Hawaii? Here's 8 Ways to Enjoy It at Home
What comes to mind when you think of Hawaii? For most people, it's the 750 miles of coastline paradise, with ancient volcanoes, rainforest adventures, glorious white sand beaches, or world-class surfing Others might think of its unmistakable culture and generous Aloha spirit. However, for others, Hawaii's food grabs them during their vacation.
If you had a fresh fruit plate, pancakes with lilikoi syrup, or spent a happy hour with a lilikoi martini, then you know exactly what I'm talking about. This locally grown food is just one example of how Hawaii imported an item from the West and made it distinctly their own.
Did You Fall in Love With Lilikoi Fruit in Hawaii? Here's 8 Ways to Enjoy It at Home
15 Delicious Places to Eat and Fun Things to Do In Kihei Maui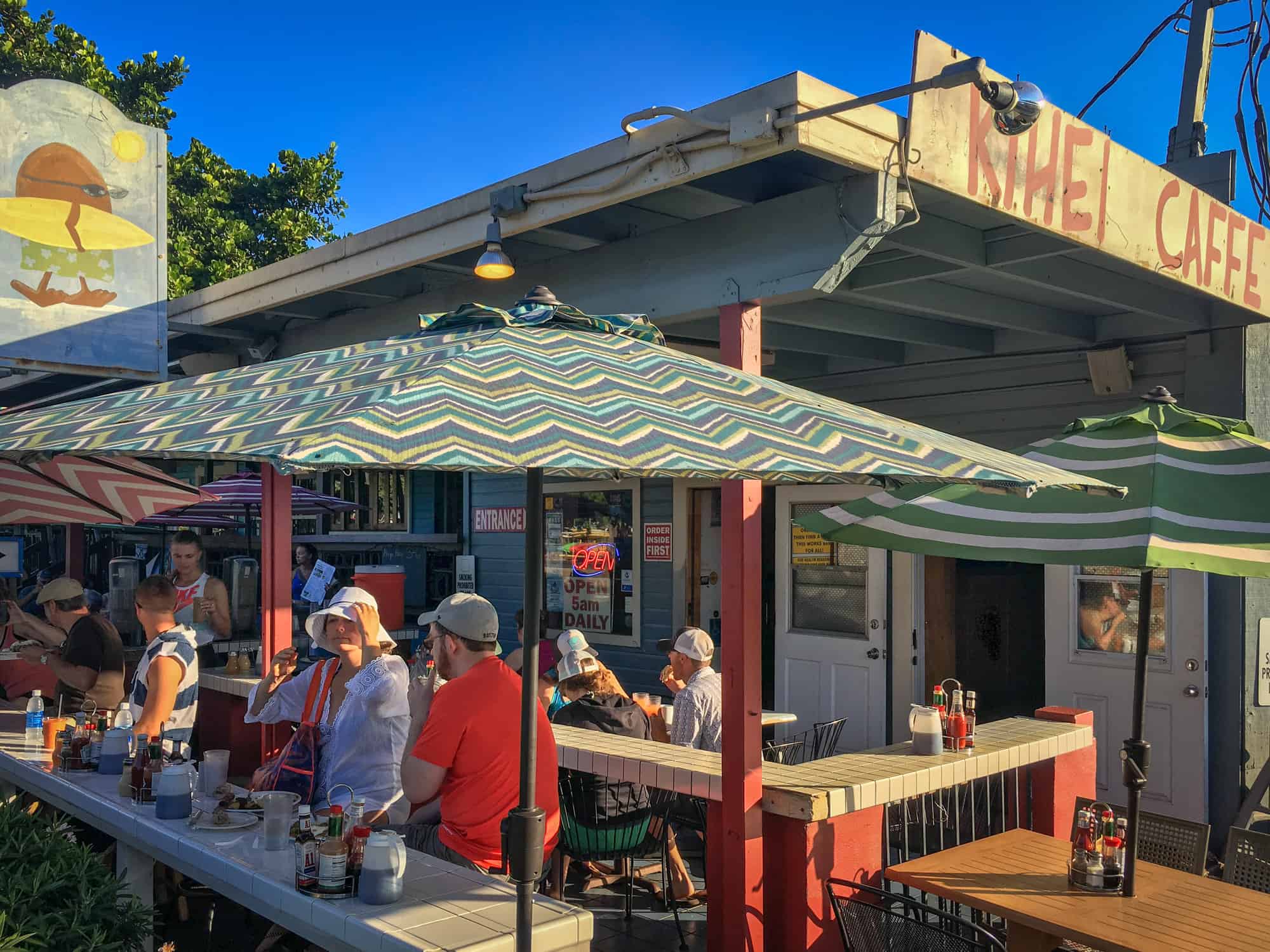 With six miles of beautiful beaches featuring views of Molokini, Lanai, and Kahoolawe Islands, it's not surprising that this part of Maui also features a lot of beautiful real estate including various condos and homes. Not surprisingly, many of the residents in Kihei were once visitors themselves who fell in love and decided to make the move. 
Whether you're coming to Kihei for the day, travel through on your way to other Maui activities, or are staying in town, there are so many fantastic places to eat Hawaiian food or grab a drink. One of the best things to do in Kihei Maui is eat. And eat, and eat!
15 Delicious Places to Eat and Fun Things to Do In Kihei Maui
This article was produced by Planner at Heart.