Stunning Photos of 30 Places to Visit in Hawaii to Inspire Your Trip
With its unique aloha spirit, volcanic mountain terrain, tropical rainforests, national parks, and world-class beaches, it's not a surprise that Hawaii is a top destination on vacation bucket lists.  The six islands of Oahu, Kauai, Maui, Molokai, Lanai, and the Big Island welcome over 10 million people a year. Until you can visit the Aloha State, you can daydream with these jaw-dropping pictures of places to visit and things to do in Hawaii.
Places to Visit in Hawaii: The Beautiful Contrasts of Oahu
Oahu, home to Honolulu, Waikiki Beach, and most of the state's residents, is known as The Heart of Hawaii. Here you'll find a mix of East and West cultures combined with the traditions of Native Hawaiian people. From large modern cities to small surf towns, Oahu is an island of beautiful contrasts and one of the most popular places to visit in Hawaii.
Kualoa Ranch
Known as the filming location of the Jurassic Park movies, this 4,000-acre private nature reserve has two designations in the National Register of Historic Places. Stewarded by eight generations of the same family, they are committed to preserving the undeveloped land for generations to come.
Koko Head Park
Despite being Hawaii's most densely populated island, Oahu has large scenic, undeveloped areas like Koko Head Regional Park. Located on the eastern side of the island it features one of Oahu's most beautiful beaches and the infamous Koko Head stairs hike.
Halona Cove
This spot in Koko Head Regional Park is popular with tourists, locals, and Hollywood. Fans of the movie 50 First Dates or rapper Nicki Minaj will recognize this cove nicknamed Eternity Beach.
Diamond Head
This 100,000-year-old crater got its nickname, Brow of the Tuna, from the ridge's resemblance to a tuna's dorsal fin.  This iconic landmark rewards the 1 million hikers a year who climb to its peak with panoramic views of Honolulu, Waikiki, and the Pacific Ocean. One of the most popular places to visit in Hawaii, try to climb Diamond Head outside of peak times.
North Shore
This seven-mile stretch of beach on Oahu's North Shore draws the world's best surfers. Waimea Bay, Sunset Beach, and Banzai Pipeline host premier surfing competitions in the winter months when waves can swell up to 30 feet in height. Most Hawaii Surfer Guides include the North Shore a must-do stop. Casual beachgoers can enjoy the North Shore from May to September when the waves subside.
Don't forget to stop at one of the many food trucks serving up a variety of Hawaiian food. 
Duke Kahanamoku Lagoon
Named after Hawaiian surfer and Olympic swimming champion, this artificial five-acre salt-water lagoon at the base of The Hilton Hawaiian Village is a family favorite beach spot for locals, tourists, and hotel guests. Adjacent to the #1 Beach in America, it's a safe place for young kids to play and enjoy water sports.
Places to Visit In Hawaii: Breathtaking Scenery of the Big Island
The island of Hawaii got its nickname, The Big Island, from its sheer size. It is nearly twice as large as all the other islands combined. On one isle you can experience a variety of the world's climates from tropics to tundra and scenery from mountains to green valleys and black sand beaches.
Hawaii Volcanoes National Park
Here, you experience nature's awe-inspiring creation and destruction in one sacred place.  One of 63 National Parks in the United States, it's the size of the entire island of Oahu and home to volcanoes, deserts, rainforests, and 150 miles of otherworldly hiking trails. It's one of the best places to visit in Hawaii!
Kilauea Volcano
One of two volcanoes in Hawaii Volcanoes National park, Kilauea is often called "the world's only drive-in volcano" as you can see it from your car.  Its massive crater, pictured here, is known as the home of Pele, the volcano goddess. Kilauea was filled with a lake of lava for ten years but disappeared in 2018 when crater walls fell.
A Growing Island
As lava from Kilauea flows downhill and meets the sea, it slowly extends the island's shoreline. Over 100 acres of new oceanfront land was created in Hawaii Volcanoes National Park from Kilauea's eruptions.
Punalu'u Black Sand beach
Located in the shadow of Kilauea, Punalu'u is one of the most famous black sand beaches in Hawaii.  Created when Kilauea's hot lava met the cool ocean, these tiny lava pieces leave behind an unforgettable site. Popular with tourists and Hawaiian Green Sea Turtles who both love basking on this jet black shore. When weighing places to visit in Hawaii, a black sand beach should be high on your list!
Waiānuenue Falls
Located in Wailuku River State Park is an 80-foot waterfall nicknamed Rainbow Falls. Reliably, on most sunny mornings around 10 a.m., you can spot rainbows in the waterfall mist.
Laupahoehoe Point
According to Hawaiian myths, this rocky, jutting peninsula is the aftermath of an epic battle between Poliahu, the goddess of snow, and Pele, the goddess of fire.  Today, it's a great place for a picnic or a tide pool adventure.
Mauna Kea
At 13,000 feet above sea level, the state's tallest mountain can be snow-capped.  Mauna Kea's summit has the largest telescopes on earth and offers some of the best stargazing in clear skies above the clouds. It's one of the very few places to visit in Hawaii with snow!
Mauna Loa
Translating to Long Mountain, Mauna Loa is 74 miles tall from the southern tip to the northeast coastline. It's considered the largest volcano on earth, and it is among the most active volcanoes with 33 eruptions.
Places to Visit in Hawaii: Marvelous Maui
Maui, also known as "The Valley Isle," has been voted "The Best Island in the U.S." by vacationers for more than 20 years. This island has something for everyone, from its infamous beaches, sacred valleys, farm-fresh cuisine, breathtaking wildlife, and stunning sunrises. It's a family favorite with so many things to do in Maui with kids as well as a romantic honeymoon destination with so many things to do for couples. If you're not sure which places to visit in Hawaii, you can't go wrong picking Maui!
Maui Moonstruck
It's not hard to imagine why the northwest coast of Maui was Hawaiian royalty's retreat. Today, Lahania is home to incredible resorts, sunsets, and stunning views of Lanai and Molokai across the channel.
Sunrise at Haleakala
Also known as the House of the Sun, almost 1.5 million people a year visit Haleakala National Park, perched 10,000 feet above sea level. According to Hawaiian legend, demigod Maui (from Moana fame), lassoed the sun from the top of the volcano and pulled it across the sky. See it for yourself why viewing the sunrise or sunset from the top of Haleakala is one of the top places to visit in Hawaii and Maui!
Whale Watching
The coastline of Maui features some of the best whale watching in the world. December through May, whales travel to the Aura Channel's shallow waters between Maui, Molokai, and Lanai to give birth and tend to their babies.
Honu Turtles
Honu, Hawaiian Green Sea Turtles,  can be seen frequently on many Hawaiian Islands swimming alongside snorkelers.  They are beloved and protected animals, so don't feed, touch or disturb these beautiful creatures.
Road to Hana
Considered one of the last unspoiled Hawaiian regions, the eastern shore of Maui is mostly undeveloped. While it's only 52 miles in length, leave a whole day for an iconic road trip along the Road to Hana to explore rainforests, waterfalls, and plunge pools.
Places to Visit in Hawaii: The Dramatic Beauty of Kauai
Known as the Garden Island, Kauai is full of emerald-hued valleys, tropical rainforests full of Hawaiian flowers, rivers, and waterfalls. Portions of the island are only accessible by the ocean or air, providing out-of-this-world vistas and scenery for thrill seekers.
Napali Coast
A 17-mile stretch of the island's north shore features razor-sharp cliffs perched high above the Pacific ocean, waterfalls  and beautiful beaches.  This mountainous shoreline and its nearby valley is a sacred place home to some of the first Hawaiian communities.
Waimea Canyon
Located on the west side of the island, The Grand Canyon of the Pacific is 14 miles long, 1 mile wide, and more than 3,600 feet deep. For panoramic views of Kauai's dramatic interior, take Waimea Canyon Drive to access vistas of this geological wonder.
Tunnels Beach
Kauai's north shore has 50 miles of gorgeous white-sand beaches such as Tunnels Beach with beautiful views of Mount Makana. This casual beach spot features shallow reefs, perfect for snorkeling.
Queen's bath
Outside of the resort town of Princeville Kauai is an infamous beachfront tide pool carved by the sea over centuries. A favorite bathing spot of Hawaiian royalty, it's a great place to see small fish, sea life, or take a quick dip.
Places to Visit in Hawaii: Thoroughly Unmodern Molokai
Visitors to Molokai step back in time to the quiet, rural Hawaii of centuries ago. A mostly Native Hawaiian population of 8,000 preserves a slower, simpler lifestyle. With only a handful of hotels and rental properties, the island can accommodate only 1,000 visitors at a time. Vacationers looking for a trip off the beaten path will appreciate their time on Molokai.
Sea Cliffs
Did you know that Molokai is home to the tallest sea cliffs in the world? Kalaupapa National Historical Park includes 88 miles of undeveloped beachfront land with soaring cliffs 4,000 feet above the Pacific Ocean.
Kahiwa Falls
Nested in between the Wailau and Papalaua valleys on the northern shore of Molokai is Kahiwa Falls. On a windy day, this six tiered waterfall can be seen rising upwards.
Laid Back Lanai
Formerly a Dole Pineapple farm, this 141-square mile island has no traffic lights and few paved roads. The smallest of the inhabited islands of Hawaii, it is only nine miles from Maui but it feels like a world away.
Places to Visit in Hawaii: Lovely Lanai
Taken from the shores of Maui, the sun sets over the rocky shores of Lanai. Near Shipwreck Beach, this oceanfront portion of the island is ideal for exploring poiawa, the reddish-brown earth, and rock formations, covering Lanai.
Moon over Paradise
For incredible views, head to Lanaihale, the highest peak on the island over 3,000 feet above sea level. To explore along the island's unpaved roads, rent a four-wheel-drive vehicle and enjoy the road less traveled.
Cathedrals
When light shines through these underwater lava caves, it looks like sunlight is streaming through cathedral stained glass windows. For experienced scuba divers, Cathedrals is one of Lanai's most beloved diving spots.
Hulopoe Bay
Home to one of the island's world-class resorts, Hulopoe Bay is an idyllic island paradise. Enjoy the gorgeous beach or neighboring marine preserve full of exotic fish, honu sea turtles, and dolphins.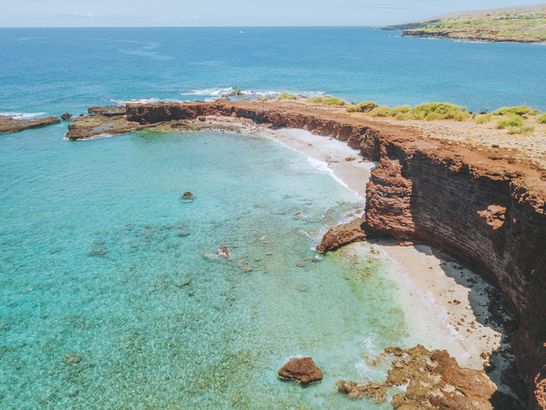 Shark's Bay
Connected to Hulopoe Bay by a small trail, Shark's Bay is one of the most scenic spots on the island and one of the most popular things to do in Lanai. Hike along the red lava rocks, enjoy the small cove beach or take in views of Sweetheart Rock 150 feet offshore.
Want to turn your dream of visiting Hawaii into reality? With resort rental deals and the option of traveling on reward points, a vacation to one of these six islands may be closer than you think!
This article was produced and syndicated by MediaFeed.org and is also available on Google Web Stories