A Guide To The Blue Lagoon Iceland: A Wonder of the World Says National Geographic Magazine
National Geographic magazine published its own Wonders of the World list, hand-picking 25 of The Earth's Most Awesome places. These honors were divided into three categories: Sky, Land, and Water. And one of the places to experience the magic of this awe-inspiring natural resource is The Blue Lagoon Iceland.
The Blue Lagoon Is A Special Place
The location of the Blue Lagoon and its vistas are amazing, but it's a wonder of the world because of the power of this geothermal seawater. This volcanic earth spa allows visitors to harmonize with nature. Found nowhere else on Earth, its water is made of both ocean water and freshwater plus bioactive microalgae, silica, and minerals, with a long list of transformative benefits.
No trip to Iceland is complete without a visit to the famous Blue Lagoon, which has brought healing and well-being to visitors worldwide for 30 years. Here is your essential guide to the Blue Lagoon, Iceland, to help you maximize your experience there.
But First, Here is a Quick History of The Blue Lagoon Iceland
Not many people know this, but the Blue Lagoon is a man-made wonder! This doesn't take away from the fact that it's an extraordinary attraction, with its waters full of skin-healing nutrients heated by a geothermal plant.
Locals first began swimming there around 40 years ago, and research showed that the water had healing and soothing properties – so the Blue Lagoon company was formed and has developed into so much more than just a reservoir now.
Skincare products were developed, the spa was created, and even a dedicated psoriasis treatment clinic was opened. Since then, millions of guests have visited and enjoyed the relaxation and health benefits of the Blue Lagoon.
Where Is The Blue Lagoon Iceland?
The Blue Lagoon is just a twenty-minute drive from Keflavík International Airport in southwest Iceland. Reykjavik is only about fifty minutes north of the airport, and the Lagoon is easy to reach from both places.
How To Get There
If you've hired a car, you can put the Blue Lagoon into your map and go there. Car parking is free for guests. However, getting a taxi would be incredibly expensive, so I wouldn't recommend doing that, and there are no public bus routes to the Blue Lagoon.
You can also get bus transfers from the capital or the airport. A return transfer from either will cost around $60 per person. Book these in advance and consider combining your arrival/departure day with a visit to the Blue Lagoon to save on transport.
If you don't have a car but are visiting Iceland on a budget, join a couple of many Iceland travel Facebook groups and speak to anyone else who might be driving to the Blue Lagoon at the same time. You can negotiate a cheaper rate than the bus, and they can get a bit extra fuel money – win-win!
How Much Does It Cost to Experience The Blue Lagoon?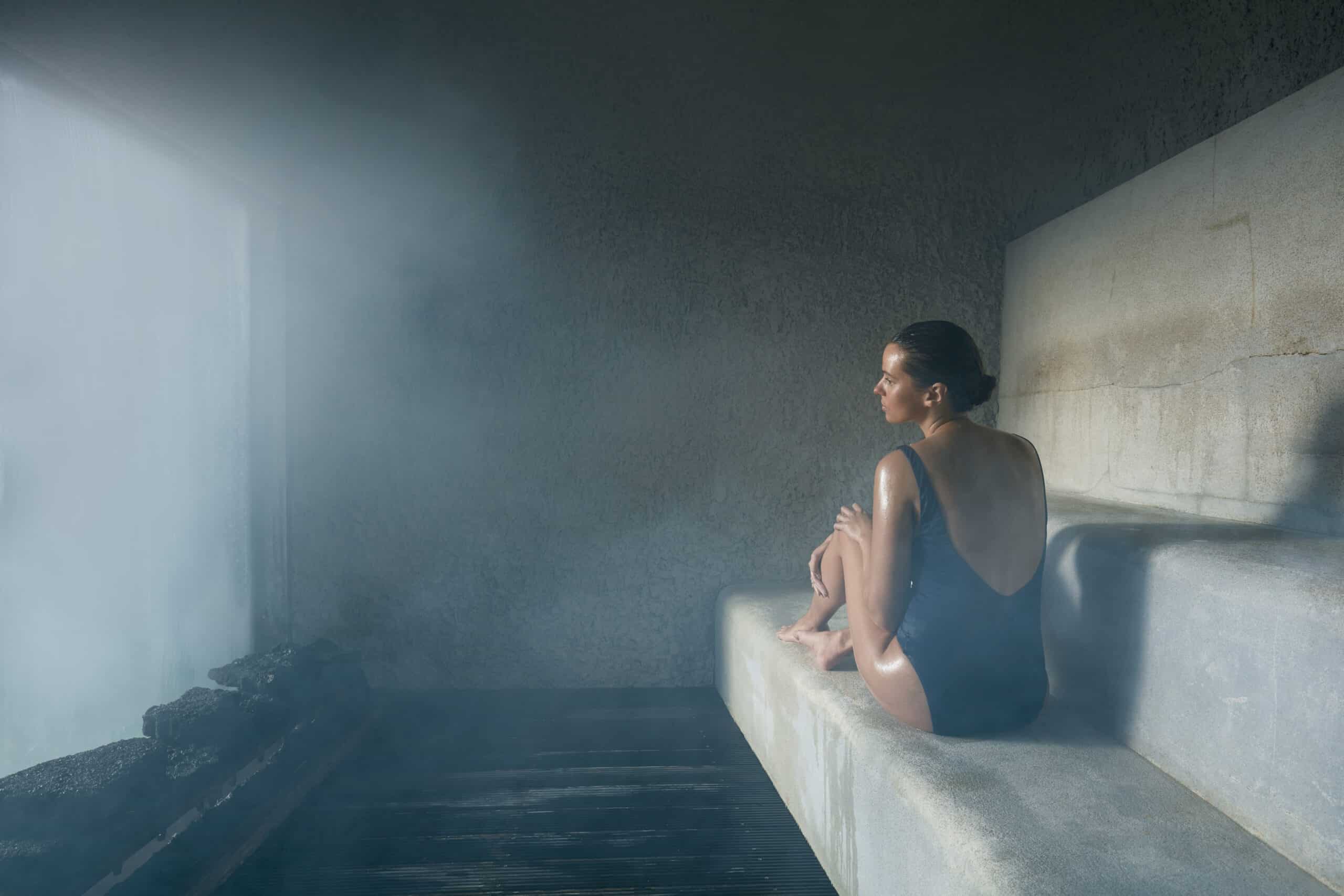 There are a few different packages to enjoy at the Blue Lagoon in Iceland, and prices vary depending on your choice and the time of day and year.
The standard package price starts at around $65 per person and includes a mud mask, a towel, and a drink at the swim-up bar.

If you would like two extra face masks, a robe, and a glass of bubbles (when eating at the Lava restaurant), your ticket will cost you upwards of $85.

You can upgrade your package with in-water massages, float therapy, and dining options.
When Is The Best Time To Visit The Blue Lagoon Iceland?
There is no absolute best time to visit the Blue Lagoon – it's open all year round, and Iceland is a great place to visit whatever the month! However, all seasons have pros and cons, so don't feel you shouldn't book a Blue Lagoon visit just because you're visiting at a particular time of year.
To avoid crowds, go as early as you can. This can vary from 7 – 8 am depending on the time of year. Most travelers don't want to wake up too early, especially when it's dark in the winter, but it means that you'll have more space to swim in and more time to enjoy the water. Your ticket gives you access all day, so make the most of it!
Blue Lagoon –  Winter or Summer?
If you're on an Iceland trip during the winter, there is more chance of rain – plus it is colder – so this might put you off. However, swimming in the geothermal water while cold in the above air is pretty nice! You also can spot the Northern Lights during the winter months, so that's a bonus. Go once it's dark for the best odds of seeing them.
In the summer, you'll have up to 24 hours of daylight, and the Blue Lagoon is open for most of them! Check opening times for specific months but visiting in summer means you have more opportunity to book a time slot.
Are There Restaurants On-Site?
There are four places to eat at the Blue Lagoon, each serving different options.
The Blue Café offers sandwiches, snacks, and hot and cold drinks, so this is the place to go if you want a quick bite to eat after swimming all day! 

If you want a main meal and dining experience, choose Lava, Moss, or the Spa restaurant.

The Spa Restaurant is the place to visit if you want a relaxed atmosphere with great food. You can even eat in your robe! You don't need a reservation here, so it's a good choice if you're not sure whether you'll eat at the Blue Lagoon – you might plan on staying for two hours but enjoy yourself for much longer.

Lava is Blue Lagoon's on-site restaurant, providing a gourmet dining experience. There's an à la carte menu and a tasting menu for your whole table, and there are vegan options on each. Children are welcome and have their menu.
Reserve a table at Moss in the Blue Lagoon's Retreat Hotel for something a little more grand. Choose something to drink from the wine cellar, and enjoy dishes from one of the seasonally changing set menus.
6 Things To Do At The Blue Lagoon
Apart from relaxing in the beautiful, silky water, there are a couple of exciting things to do that add to the experience! Some of these activities are included in your ticket price, but others are added extras.
Experience a Face Mask
A mud mask is included in your ticket, so make your way to the Mask Bar and redeem it! Leave it on for around 15 minutes and then rinse – you will immediately notice the difference in your skin. There are also other mask options for you to buy at the bar.
Enjoy A Drink At The In-Water Bar
Everyone is offered a drink at the bar, and you can choose whether you want this to be soft or alcoholic. You're also allowed to buy two more drinks that will be charged to your electronic band – there is a limit on the amount for guest safety and enjoyment.
Have an In-Water Massage
You might want to pay for this extra as it's a pretty unique experience! You'll move to a separate part of the lagoon and lie on a mat floating on the water with a blanket covering you. A member of staff will then start your massage through the mat. There are options ranging from 30-minute to two-hour sessions.
The standard half-hour Relaxing Massage massage will cost you around $115, and prices increase with 30-minute increments. A Signature Massage, which includes a salt scrub, silica/algae wrap, and a full body massage, will set you back around $365.
Try Float Therapy
Imagine being completely weightless and floating around in the water! You'll be given a special cap and leg supports to help you drift along in the water, and your dedicated float therapist will help alleviate pressure from your back, bones, and joints. It's similar to the In-Water Massage but with a gentler approach. You'll be completely relaxed and free up your body to the water.
You can enjoy a solo float therapy session for $180, as a couple for $145 per person, or in a group for $95 per person, and each session lasts around 45 minutes.
Stand Under The Lagoon Waterfall
Although small, the waterfall at the Blue Lagoon is pretty powerful, so stand under it if you want to relieve a little shoulder pain! You can find the waterfall in the main complex.
Sit In The Sauna + Steam Room
No pamper day is complete without some time in the sauna! So take your pick from either room whenever you want – there's no time limit; just be mindful of other guests.
What To Bring and What Not To Bring
There are lockers in the changing rooms for you to keep your belongings inside, but there really isn't much you need to bring to have a great time. However, there are a few things that you should keep in your hotel!
Money
You don't need to bring cash or any waterproof money wallet to the Blue Lagoon. Instead, when you enter, you'll be given an electronic bracelet that keeps track of anything you buy in the complex. You'll return it and pay the bill at the end of your visit.
Swimwear
Even though Iceland is very open to nudity in public swimming holes, you must wear a swimsuit at the Blue Lagoon. However, be prepared to shower without a bathing suit before entering – this is important and required. There are open showers for those of you who aren't bothered by this, but there are also showers with doors if you want to do it privately.
Toiletries
Shower gel and hair conditioner are free, so you don't need to bring your own.
If you've got long hair, tie it up. The minerals in the water will dry it out, so it's also a good idea to slather conditioner on it in case you get the ends in the water.
Jewelry
Leave any fancy rings, necklaces, and bracelets in your bag because there is a chance that the minerals in the water could damage them!
Phone
You can take your phone into the Blue Lagoon, and I'd recommend doing so to get some photos and videos of this amazing place! However, you should also bring a high-quality waterproof case to protect it as the chances you'll find a submerged phone here are very slim!
Last Minute Tips for Visiting The Blue Lagoon
If you're looking for cool Icelandic souvenirs, you can buy official eco-friendly skincare products from the lagoon itself. However, you can wait until you get to the airport, where you'll pay lower (but still high!) prices for the same products. 
Don't worry if you're not a strong swimmer – lifeguards are always on duty, and the deepest water is only 1.4m. There are shallow ends at less than a meter, so if you're not confident going out to the middle of the lagoon, you can relax by the edges and still have a great time.
More Articles From Planner at Heart
Are you a golf lover looking for your next big adventure? You probably haven't considered Iceland golf courses, but you should!
This land of fire and ice is known not only for its stunning landscapes and incredible natural wonders but also for its thriving golf scene.
Swing in the Midnight Sun: The Thrills of the 10 Best Iceland Golf Courses
Traveling Internationally? Here's How to Survive Those Super Long Vacation Flights and Make Time Fly
Do you want to travel across the world but are nervous about the long flight? Or perhaps you've already booked a dream trip and want to start to prepare? We got you covered. After a recent poll on the internet, these are the top-voted tips for surviving long flights.
Traveling Internationally? Here's How to Survive Those Super Long Vacation Flights and Make Time Fly
TIME Magazine Announces The World's Greatest Travel Destinations for 2023
Want to explore our big beautiful world but need help figuring out where to start? Well, TIME magazine revealed its fifth annual list of the World's Greatest Places, highlighting 50 extraordinary travel destinations around the world.
TIME Magazine Announces The World's Greatest Travel Destinations for 2023
The Safest Places to Travel In 2023 Announced
For the eighth year in a row, travel insurance provider Berkshire Hathaway has combined travelers' feedback with data to create the State of Travel Insurance Safest Destinations report.
So if you want to book an international vacation in 2023, take a travel planning shortcut and book a trip to one of their 15 safest countries or 15 safest cities.
The Safest Places to Travel In 2023 Announced
The Best Time to Visit New Zealand from Someone Who Lived There
New Zealand is many things. Home to more sheep than people, it's raw, stunning, and wild. It's scenic, diverse, and a land of spectacular contrasts- not to mention jam-packed with natural beauty and a sense of adventure. But it's also really, really far away.
For most of us, the Land of the Long White Cloud is literally on the other side of the planet! Now, this isn't necessarily a bad thing (any closer, and it'd be saturated with tourists all year round). But it has practical implications for people who wish to visit. Case and point –  Deciding when to go!
After all, if you're flying thousands of miles and spending lots of money to get there, you want to ensure you travel at the right time. So it begs the question: When is the best time to visit New Zealand?
The Best Time to Visit New Zealand from Someone Who Lived There