Hawaiian Food 101: Locals Explain Everything You Need to Know Before Your Hawaiian Getaway
In a place where food is culture and love combined, take the chance to get to know this special place and its people through its cuisine. So on your next trip, skip familiar fare to sample delicious Hawaiian food prepared with local's love, the Aloha spirit.
It's a Delicious Melting Pot of Different Cuisines
A melting pot of cultures and culinary influences, Hawaiian food is a true (and tasty!) reflection of its history. So if you're heading to the Aloha State on vacation this year, here's a food primer as explained by local chefs to inform your trip. 
What Do Locals Consider Hawaiian Food?
"Hawaiian food is truly traditional food native to the Hawaiian islands, such as poi, laulau, kalua pork, taro, luau leaves, sweet potatoes, and raw and cooked seafood. However, it is also a blend of Polynesian, Asian, and some Western influences," said Felix Tai, Executive Chef, Polynesian Cultural Center.
"The influences and blend are a result of the plantation era of Hawai'i and its people, and the cultures it brought, which certainly brings the food of its people to an evolution," he continued.
From Traditional Fare to Today's Cuisine
Local chef and writer Kiki Aranita explained that Hawaii's traditional cuisine comes from ingredients introduced and cultivated by the original Polynesian settlers. In the past, meals would have consisted primarily of Kalo (or taro), used as a base and staple starch – food cooked in an imu (an underground oven) and steamed with Hawaiian sea salt.
Aranita adds, "Hawaiian food is also dishes with ingredients that came later." For example, lomi lomi salmon, which uses tomatoes and onions. While it is fresh produce that grows beautifully in Hawai'i it isn't endemic. As the dish has been around so long and is so commonplace in the Aloha state, it's considered Hawaiian by many even though it isn't traditional per se. 
Immigration Influenced Hawaiian Food, Just Like It Did in Countries Around the World
A visitor to the islands pops into a fast-casual restaurant and decides to order the uber-popular plate lunch. However, they might not realize that their many choices of sides and main dishes represent Hawaiian immigrant's origin countries and cuisine.  Just as Hawaii's geographical location is a meeting point between Asia Pacific and The Americas, so is its cuisine. 
"The development of plate lunches is a true beauty of all cultures melting together, sharing with everyone their foods and collectively making a new food today," said Chef Tai.
Unmissable Hawaiian Food to Try on Your Next Trip: 13 Delicious Dishes
Whether traditional Hawaiian food or newer mash-ups, here's a list of 13 dishes, you must try on your next trip to the Aloha State. And the great news is, that in a destination where food can be expensive, all of these dishes can be found at food causal places for a meal that will make your taste buds and wallet happy.
Poke
Poke means "chunk" or "something cut away" in Hawaiian and is one of the most popular dishes on the islands. However, it isn't traditional cuisine. Michael Murdy, a food scientist and founder of Robust Kitchen, told us it's actually "a fusion of Hawaiian cuisine and Japanese sushi." If you love sushi, you'll love Poke dishes with many of the same ingredients, just in a deconstructed manner.
If you're new to poke, expect small cubes or cuts of raw fish served in a bowl (Poke Bowl) with rice, salad, various sauces and toppings. The result is a custom, colorful and tasty dish that's now trendy around the world. One of the go-to local spots for Poke is the grocery store chain Foodland.
Poi
Ready for a taste of traditional Hawaiian food? Poi is a go-to side dish made from taro roots cooked and mashed into a paste. While harder to find at fast-casual places or restaurants, you'll most likely get to try it at a luau.
With its brown-gray hue and paste-like texture, it might not look overly appetizing, but give it a try as part of your cultural experience in Hawai'i.  Poi has an important history in Hawai'i as a staple of the local diet, deemed a sacred, sustaining part of life.
Luau Stew
Another traditional Hawaiian dish made using taro, it is island comfort food. Whereas poi comes from taro root, luau stew's made using taro leaves cooked with water and salt until they melt in your mouth.
 It's commonly accompanied by beef brisket or pork shoulder. Other ingredients, such as onions, coconut milk, and ginger, are also added for extra flavor or variation.
Lomi Lomi Salmon
Lomi lomi salmon is a newer dish that's been adopted into the umbrella of Hawaiian food. A staple on the islands, you'll find it almost everywhere, accompanying kalua pig, poi, and other traditional dishes.
It is raw salmon rubbed (lomi translates as "rub" in Hawaiian) with sea salt, chopped into small pieces, and mixed with onions and tomatoes. It may also have some chili peppers thrown in for good measure. 
Shave Ice
No trip to Hawai'i  is complete without enjoying a shave ice on a hot day. A frozen treat that's beloved on the islands, fine ice shavings are covered in sweet syrups of various flavors. Mainland Americans will recognize this treat as a Snow Cone.
It's a refreshing  treat brought over by Japanese laborers in the plantation days who used their tools to shave ice off of giant ice blocks to create a cool, refreshing treat. Today, it can be downright gourmet – with everything from local chocolate, ice cream, and other sweet additions to choose from. 
Loco Moco
Put a burger patty on a rice bed, add a fried egg or two to the top, and then pour gravy over it. What do you have? The very popular dish known as Loco moco, meaning crazy burger. It might sound like an unusual mixture of ingredients, but trust us; it's very popular for a reason.
While far from traditionally, it's become incredibly popular. Ron Stewart told us that it was first served around 1949. Apparently, the dish was put together to appease Hawaiian high school students who wanted something different on their lunchtime menu.
Laulau
Laulau's another traditional Hawaiian dish made using taro leaves. You take the leaves, clean them, and then wrap them around marinated meat (pork fish, beef, or chicken) before placing the packages inside an imu, where it cooks over steam for hours.
Pipikaula
Meaning "beef rope" in Hawaiian, pipikaula is Hawai'i's answer to South Africa's biltong. Very similar to beef jerky it is strips of salted, dried beef that make for an incredibly tasty, chewy, satisfying, and protein-packed snack or appetizer.
One difference between pipikaula and other jerkies is that it's often marinated in soy sauce before drying. This adds to the flavor and serves as another reminder of the Asian influence on modern Hawaiian food.
Mochi
On the subject of Asian influences, don't miss Hawai'i's mouth-watering mochi. A type of sweet Japanese rice cake, it's made from short-grain rice and sugar that's been turned into a paste and then molded to shape. You'll find it used on toppings for shave ice alongside waffles and donuts or even served alone. 
Don't overlook Hawai'i's butter mochi! A similar dessert, it transforms butter, mochiko flour, coconut milk, and a second type of milk into a delicious custardy rice cake that's chewy on the inside and crispy on the outside.
Kalua Pork
Hawaiian food doesn't get much more traditional than Kalua pork. Said to be one of the oldest Hawai'i dishes, you take a pig, clean it, season it with sea salt, put it in an imu, and slow roast it throughout the day.
When it's ready, the meat has a lovely smoky flavor and is so tender it practically melts in your mouth! Expect something similar to pulled pork – minus the tangy BBQ sauce. Instead, you eat it with hot rice or noodles, often served at luaus.
Plate Lunch
Cheap, filling, and flavorful, plate lunch is a type of Hawaiian fast food that dates back to the islands' sugar and pineapple plantations. It's a must-try that your taste buds and wallet will love.  If it's good enough for a former President, it's good enough for you! If you're at Rainbow, you might see Barak Obama, as it is one of the former resident's go-to places for plate lunch.
They vary from place to place. But, generally speaking, plate lunches consist of rice, macaroni salad or other sides and a choice of meat, such as teriyaki beef, fried chicken, kalua pork, or Portuguese sausage to name a few. 
Huli Huli Chicken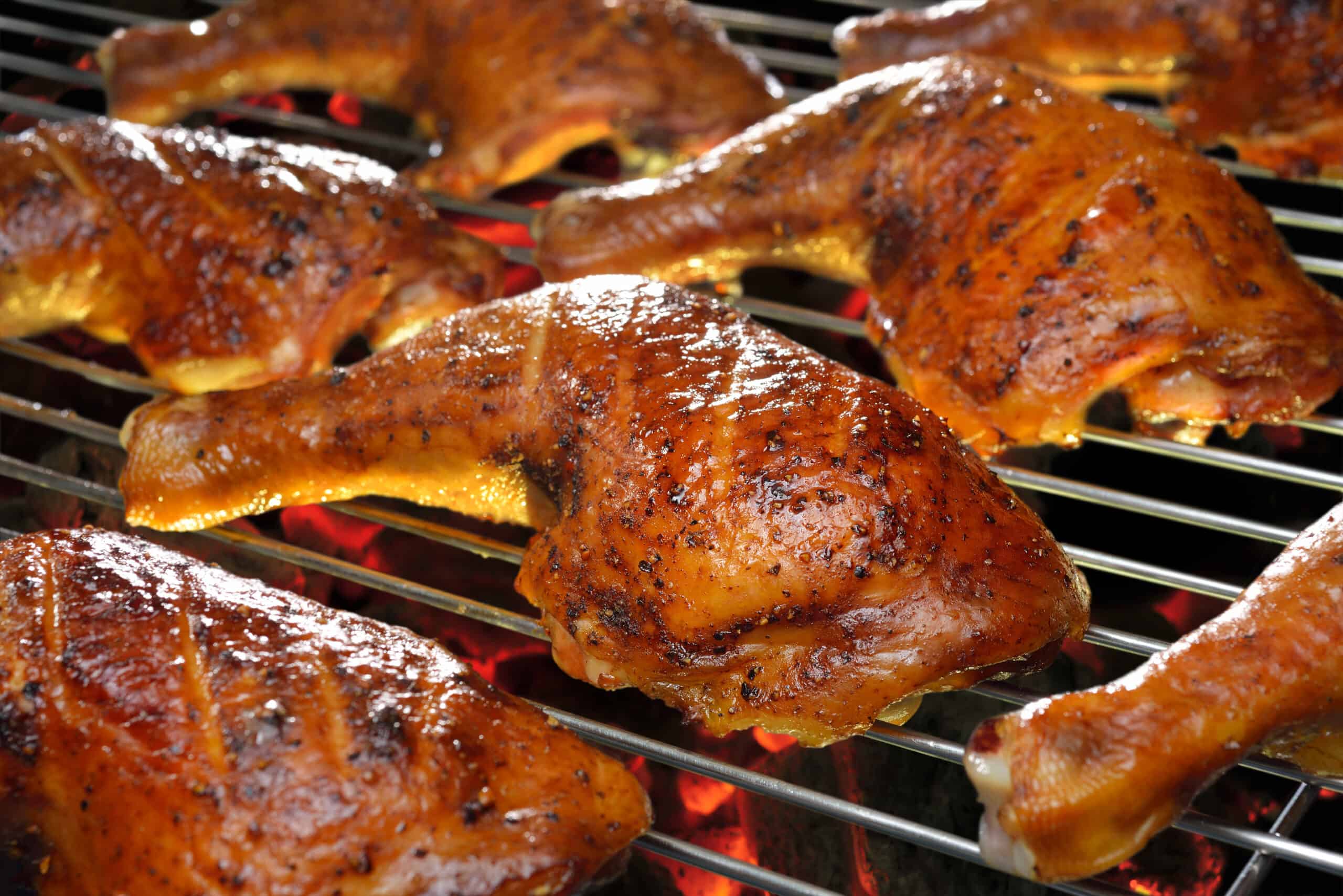 The word "huli" means turn in Hawai'i, which should give you a clue as to how this chicken's cooked.  After being covered in a sweet sauce made from pineapple juice, soy sauce, brown sugar, and a few other ingredients, the chicken was traditionally placed on a spit above a colossal grill, rotated until it's ready to eat.
Simple, tender, and perfect as part of a plate lunch, you can't go wrong with huli huli chicken. Pick up a bottle of the pre-made sauce while in the islands or purchase it off Amazon to bring a taste of Hawai'i to your meals or cook-outs at home. 
Spam Musubi
No list of Hawaiian food is complete without spam musubi, another example of the Asian influence on the island's dishes. This time, Hawai'i meets Japan to create a snack where white rice and grilled spam get wrapped in nori seaweed.
It tastes great and is available everywhere. From grocery stores to gas stations, you're never far from Spam musubi, so why not give it a try?
Enjoy This Beautiful Expression of Aloha
"We certainly cannot talk about food in Hawai'i without talking about its cultures, and that is a very beautiful aspect that the rest of the world must adopt when we see food, talk food, cook food, eat food, and share food. This is, in an essence a true meaning of aloha. This aloha must be shared," said Chef Tai. 
More Articles From Planner at Heart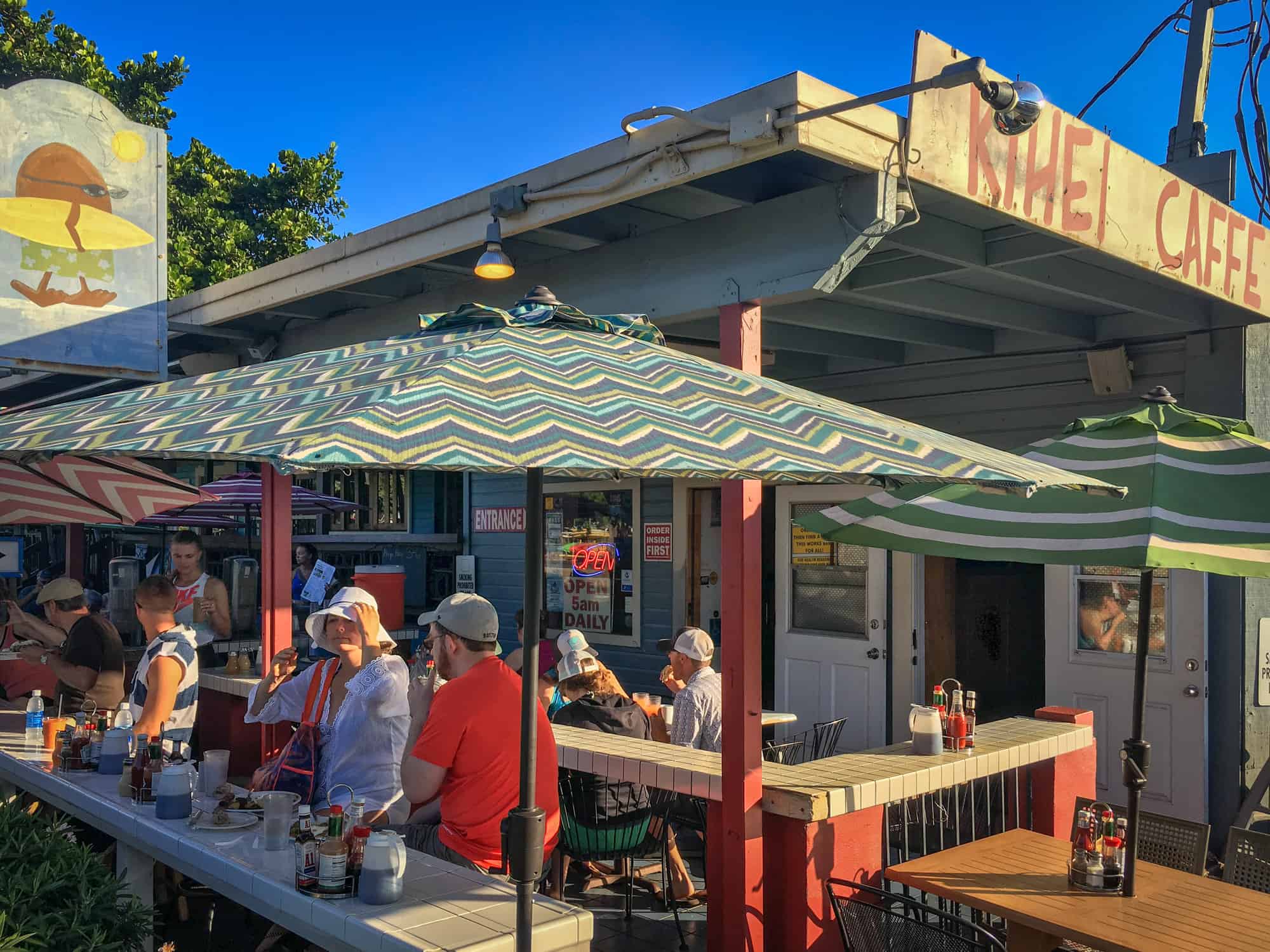 Whether you're coming to Kihei for the day, travel through on your way to other Maui activities, or are staying in town, there are so many fantastic places to eat Hawaiian food or grab a drink. One of the best things to do in Kihei Maui is eat. And eat, and eat!
15 Delicious Places to Eat and Fun Things to Do In Kihei Maui
The Best Road to Hana Stops: 22 Tips, Eats, and Must-See Sites from Travelers
If you're planning a vacation to Maui, odds are The Road To Hana, one of the best road trips, is on your bucket list. According to Frommers, 500,000 people a year do the Heavenly Hana drive during their Maui vacation. It's essential to do some planning to avoid crowds, see some of the best places and make sure your day is enjoyable.
The Best Road to Hana Stops: 22 Tips, Eats, and Must-See Sites from Travelers
A Local's North Shore Oahu List: The Best 11 Things to Do
If the ideal wave exists, it can be found on The North Shore Oahu in Hawaii. The legendary surf mecca's towering, glassy winter waves attract the world's best surfers, while smaller and gentler summer waves are ideal for smaller kids. But what else is there to do there if you're not an epic surfer?
So if you're visiting Hawaii and coming through Oahu, save time on your itinerary for a road trip to The North Shore Oahu. We've asked Oahu locals and the surfing experts at Hans Hedemann Surf School to recommend the best things to do on the North Shore Oahu. You won't regret adding this to your vacation must-do list!
A Local's North Shore Oahu List: The Best 11 Things to Do
Did You Fall in Love With Lilikoi Fruit in Hawaii? Here's 8 Ways to Enjoy It at Home
If you had a fresh fruit plate, pancakes with lilikoi syrup, or spent a happy hour with a lilikoi martini, then you know exactly what I'm talking about. This locally grown food is just one example of how Hawaii imported an item from the West and made it distinctly their own.
Lilikoi's versatile too. It works in everything from juices and purees to cocktails, cakes, and even savory dishes. Here's a some lilikoi recipes and drinks ideas to get your own creative culinary juices flowing.
Did You Fall in Love With Lilikoi Fruit in Hawaii? Here's 8 Ways to Enjoy It at Home
Say Aloha to 18 Stunning Hawaiian Flowers (Plus Mainland Friendly Ones)
With rainforests, volcanoes, waterfalls, and a whole island nicknamed The Garden Isle, you can't help but rhapsodize at all the beauty of this special land. It titillates your senses at every turn too. The colors, flavors, smells, sounds, and scenery hold a unique and spellbinding allure that draws you in and doesn't let you go.
One of those pieces is part of the warm welcome visitors receive in the form of a lei –  Hawaiian flowers. So whether you want to read up before your next trip to Hawaii or grow a piece of its beauty back at home, read on to learn all about the 18 beautiful flowers of Hawaii.
Say Aloha to 18 Stunning Hawaiian Flowers (Plus Mainland Friendly Ones)
This article was produced by Planner at Heart.