Luxury Travel for Less: Here's the Top Voted Tips to Upgrade Your Trip on The Cheap
Wouldn't it be nice to book a luxury vacation? Well, that's not in the cards for most people. But it is possible to upgrade your vacation in some way with minor tweaks that have a big luxe factor.
The Top Voted Tips for Luxe Travel On the Cheap
While browsing my favorite online discussion board, someone recently asked, "What are some luxury traveling tips to share?" Here are the top-voted responses on how to make affordable changes to your upcoming travels.
Splurge On The Hotel at The End of Your Trip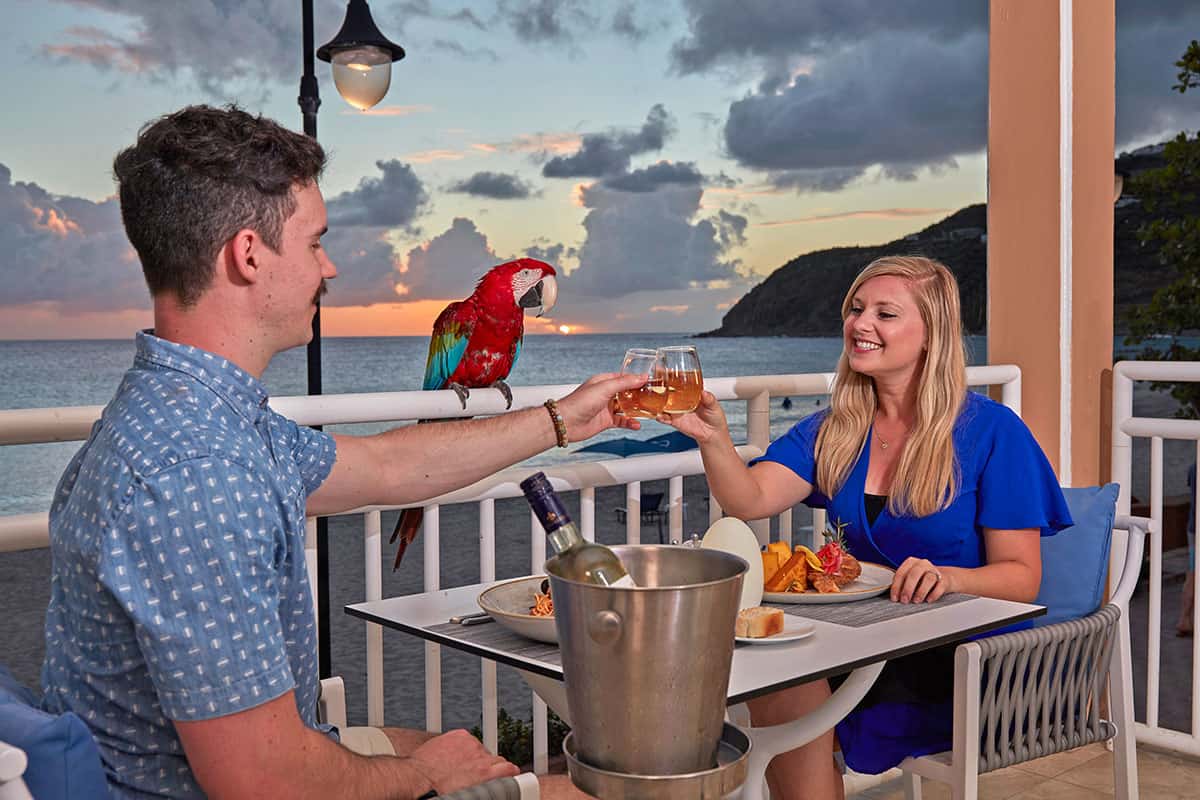 "If I'm staying at a place for four nights or more, I'd rest the first few nights at an affordable hotel and the last night or two at a luxury one and spend more time enjoying the amenities to create a lasting memory," someone confessed.
"I do this too, partially because I'm hardly in the hotel for the first few days. I used to have the mindset of 'I'm only going to be sleeping there,' but I found that splurging more on a place makes a huge difference over the years." 
Get a Day Pass for the Airport Lounge
Someone noted, "A day pass in any lounge usually costs $60 and includes free food, drinks, and alcohol. Some have sleeping areas, and you can't imagine the peace you can find in these lounges on long layovers."
"Yep! Some people don't realize it would cost you way more in a restaurant. Plus, it's way way more chill," another confirmed. "I only recently discovered that lounges have free food and drinks: seating space, separate toilets. I always thought it was fancier seating space to wait for your flight. I was so wrong—life-changing for sure."
Book Directly Through the Hotel
"Here's something I've picked up on in the last decade of traveling," shared one. "Book directly through the hotel instead of third-party sites (Expedia, Priceline, Hotel Tonight, etc.)."
"You sometimes get better deals if you call to book or, if you know where you want to stay in advance, subscribe to their email updates, and you'll get notified on deals/packages so you can book for the low."
Many spots have rooms blocked off for third-party sites. Even the nicer rooms sometimes look dilapidated. Also, travel during low tourist season, and you'll increase your chances of free upgrades and other perks at your hotel."
Remember Time Is More Important Than Money
"Remember that your time is more important than your money on vacation. If I can avoid it, I'm not standing in a taxi line, taking a shuttle to a remote car rental place, or doing a non-direct flight. Pay to avoid delays, crowds, and hassle whenever you can."
"This right here," another agreed. "It applies in spades to people who have limited vacation time. If you get two weeks off, those days are golden. Don't waste them with a layover to save $75 on your ticket."
Take a Couple of Days Off After You Are Home Too
One person said, "Take the next one or two days off work after you return from your vacation. Then, take the time to rest and settle back into your home routine. I never regret doing this."
Another added, "And if you can swing it, take off the day before leaving too. We use it for errands, cleaning the house (post-trip cleaning sucks), and ensuring we're entirely packed and not forgetting anything."
Hire a Black Car Service
"Hire a black car service instead of Uber / Taxi / Mass Transit for airport (or train station/port) transit. In most cities, hiring a car costs only 20% / 30% more than an Uber. Also, when you arrive at the airport, the driver's waiting for you out front or in the baggage claim—no waiting for an Uber or standing on a subway," replied one. 
"Going somewhere with amazing views? Or travel out of the country? Hire a driver. You'll be free to enjoy the scenery, which makes for a more luxurious vacation," shared another. 
Travel Credit Cards Upgrade Your Travels
"Travel credit cards," said one. "Treat it like debit cards, pay off every month and enjoy the free perks. Chase Sapphire Preferred is a good start!!" Another stated, "I have Amex Platinum, and it's a good send for travel stuff. Plus, the airport lounge access is perfect when you get stuck with long layovers."
Global Entry and TSA Pre Makes You Feel like a VIP
"If you're an American, get your Global Entry Trusted Traveler! It has been a game changer for my wife and me. Getting back from a long trip and bypassing the huge lines is fantastic," one replied. 
"I suggest getting a great travel credit card such as the Chase Sapphire Preferred. Bonus – as a benefit, most travel cards will credit you for the cost of Global Entry." Another confirmed, "Global entry is great. It took me 8 minutes to get through customs the last time I used it."
If you're traveling to America's #1 Destination, Orlando, TSA Pre is a must. This airport is known for super long security lines. 
Splurge On the Tour Guide
"Consider splurging on a private tour guide! I didn't see the point at first when my friend suggested it, but we got a personal tour guide in Rome, and our experience at super crowded places like the Vatican was fantastic," another expressed. 
"We could navigate everything much easier than being in a big group. Our guide was knowledgeable, tailored the day to what we wanted, and ended up hanging out with us afterward and taking us to her favorite pizza place because we vibed so well. Worth it, and I would do so again!"
Book a Lower Price Room, Then Ask About Upgrades
Finally, someone admitted, "This can be a gamble, but anytime I book a hotel, I usually book the lowest-price room I feel comfortable with and ask about upgrades when I'm checking in."
"Then, if any suites or penthouses are available, they will usually be significantly discounted since they haven't been booked yet, and it's easier to fill the cheaper rooms."
19 of the Cheapest Places To Travel To Around The World
Finding affordable places to travel to may not be the easiest thing to do. Many places worldwide offer cheap and affordable to your wallet and travel budget, but not all are pleasurable to visit. 
For the price that someone may pay for a fancy dinner in one of your favorite restaurants, you can pay that amount on a whole day's worth of travel expenses in countries such as Vietnam, Mexico, The Philippines, Indonesia, and Portugal, and more. It can cost anywhere from $30-$ 50 a day per person.
19 of the Cheapest Places To Travel To Around The World
6 Ways to Score Atlantis Bahamas Discounts and Even Free Rooms
Whether you're looking for a couples trip, an upscale honeymoon, or the ultimate family vacation, Atlantis Paradise Island in the Bahamas is often on people's wish lists. But this once-in-a-lifetime experience is costly. Even booking an off-season trip will cost thousands of dollars for the most affordable room.
But it's no myth that a getaway to Atlantis Paradise Island is possible even for travelers with a small budget. So if you found a scorching hot flight deal or have frequent flyer miles to use, it's possible to book Atlantis accommodations on sale or get a free room and only pay the small daily resort fee.
6 Ways to Score Atlantis Bahamas Discounts and Even Free Rooms
Think Luxe Sint Maarten Is Out of Reach? Here's How This Caribbean Island Can Be Surprisingly Affordable
When an international vacation runs $6,000 for a family of four, you might say adios or au revoir to your getaway plans. But don't give up hope just quite yet!
What if I told you about a small island nestled in between The Caribbean Sea and The Atlantic Ocean with one idyllic setting after another? It's a fabulous beach vacation with an international flair. It's called Sint Maarten. If you've only considered this destination expensive and out of reach, here's what we discovered on our trip to the island.  
Think Luxe Sint Maarten Is Out of Reach? Here's How This Caribbean Island Can Be Surprisingly Affordable
Dream Destinations Unveiled: TIME Magazine's Exclusive List of the World's Greatest Travel Spots for 2023
Want to explore our big beautiful world but need help figuring out where to start? Well, TIME magazine revealed its fifth annual list of the World's Greatest Places, highlighting 50 extraordinary travel destinations around the world. 
To compile this list of the top spots to visit this year, TIME solicited nominations from its international network of correspondents and contributors, with an eye toward those offering new and exciting experiences. The result is a combination of far-flung and familiar spots plus can't miss U.S. destinations for those staying closer to home. 
Dream Destinations Unveiled: TIME Magazine's Exclusive List of the World's Greatest Travel Spots for 2023
Maui Communities Reopening After Devastating Wildfire: Here's What Locals Want Visitors to Know
"Beginning October 8, travel restrictions will end, and West Maui will be open to visitors again, so people from Hawaiʻi and around the world can resume travel to this special place and help it begin to recover economically. This difficult decision is meant to bring hope for recovery to the families and businesses on Maui that have been so deeply affected in every way by the disaster," said Hawaii Governor Josh Green, M.D.
For people with Maui vacation plans and those considering booking a trip, here's what local businesses and residents want travelers to know.
Maui Communities Reopening After Devastating Wildfire: Here's What Locals Want Visitors to Know
This article was produced by Planner at Heart